aka Trained to Kill
USA. 1982.
Crew
Director – Sam Fuller, Screenplay – Sam Fuller & Curtis Hanson, Based on the Novel by Romaine Gary, Producer – Jon Davison, Photography – Bruce Surtees, Music – Ennio Morricone, Production Design – Brian Eatwell. Production Company – Paramount.
Cast
Kristy MacNichol (Julie Sawyer), Paul Winfield (Keys), Burl Ives (Carruthers), Jameson Parker (Roland Gray)
---
Plot
Driving home one night, actress Julie Sawyer accidentally runs down a dog. She takes it to the vet and then places ads in the neighbourhood to try and find its owner. When no owner is forthcoming, she decides to adopt the dog herself. It is only when the dog starts attacking Black friends of hers that she realises that it is a 'white dog' – one that has been trained by White supremacists to kill Blacks.
---
When it came out, White Dog was the cause of some controversy because of its racial themes. This led to it receiving very spotty distribution at a few film festivals and cities before Paramount decided to cancel wide US release, something that further enhanced its reputation. It was apparently taken from a true incident that happened to French writer Romaine Gary and elaborated in his autobiographical Chien Blanc (1970), detailing the experiences very similar to the film when he and his wife actress Jean Seberg found a stray dog.
Despite all of this, White Dog remains an efficient but unsatisfactory thriller. It is directed by the legendary Sam Fuller, renowned for his gritty crime thrillers and war films, including the likes of Underworld USA (1961), Shock Corridor (1964) and The Big Red One (1980). However, Fuller, who was working on a tight budget and schedule, directs without much of his customary flair. Scenes have an odd patchiness of rhythm with Fuller seemingly unable to sustain mood from one shot to the next. The actual dog attacks are so choppily edited it is difficult to make out what is going on.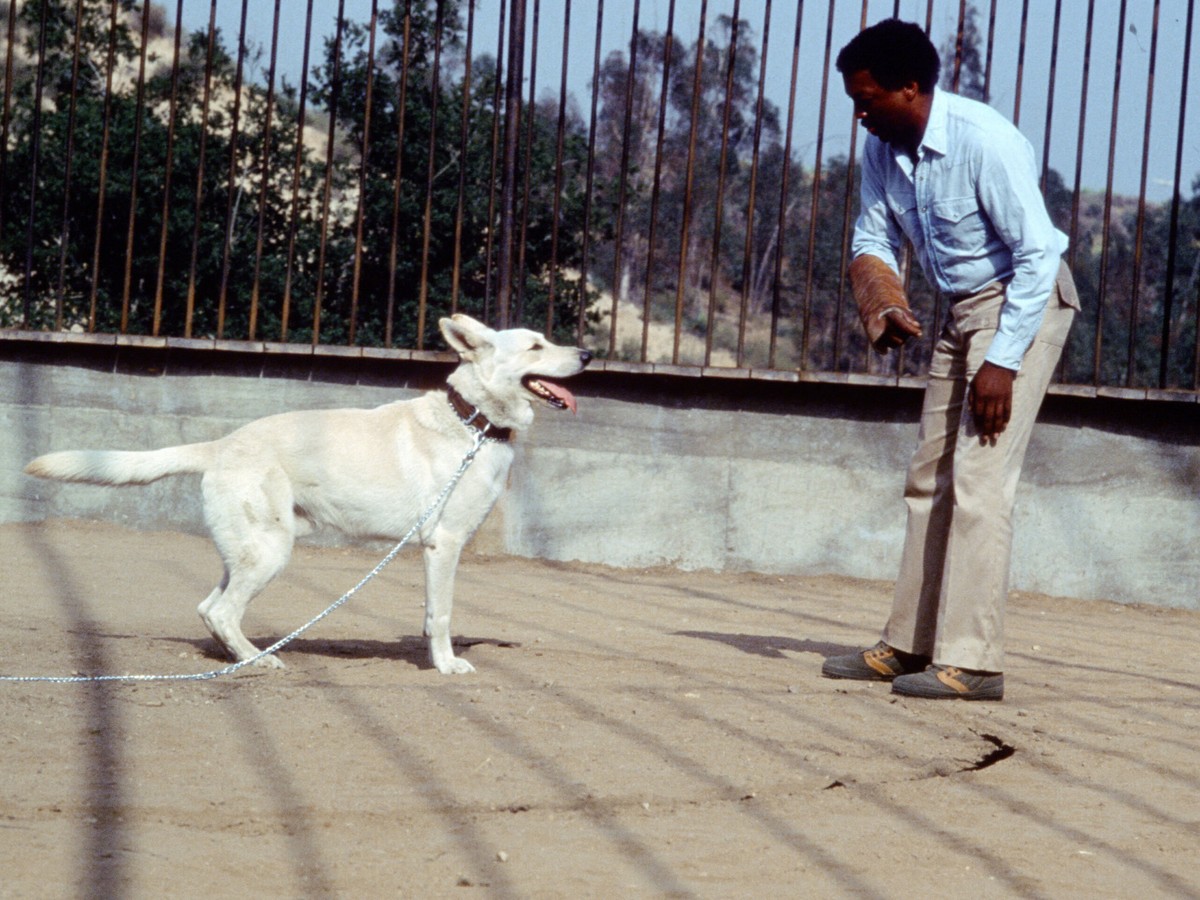 As a thriller, it is a fleshless story – the characters are thin, the dialogue often rudimentary. For a story that found its fame on such outraged subject matter, it lacks the wheels to take its premise anywhere beyond the basic set-up of the situation. The plot is all concentrated on dramatics such as the efforts to break the dog's conditioning and artificial suspense sustainers like its escape, whereas the more interesting question of who conditioned the dog in the first place is left unanswered. It also comes with far too downbeat an ending. The film's one plus is an entrancingly vulnerable performance from woman-child Kristy MacNichol.
The script was co-written by Curtis Hanson, later the director of film such as Bad Influence (1989), The Hand That Rocks the Cradle (1992), L.A. Confidential (1997), Wonder Boys (2000) and 8 Mile (2002).
---
Trailer here
---