---
Crew
Director – Steve Miner, Screenplay – David E. Kelley, Producers – David E. Kelley & Michael Pressman, Photography – Daryn Okada, Music – John Ottman, Visual Effects – Digital Domain (Supervisor – Andre Bustanoby), Additional Visual Effects – Digiscope (Supervisor – Dion Hatch) & Visual Concepts Engineering (Supervisor – Peter Kuran), Special Effects Supervisor – Dean Lockwood, Creature Effects – Stan Winston Studio (Supervisor – Stan Winston), Production Design – John Willett. Production Company – Fox 2000 Pictures/Phoenix Pictures/Rocking Chair Productions.
Cast
Bridget Fonda (Kelly Scott), Bill Pullman (Jack Wells), Oliver Platt (Hector Cyr), Brendan Gleeson (Sheriff Hank Keough), Betty White (Delores Bickerman), Meredith Salenger (Deputy Sharon Gare), Adam Arkin (Kevin)
---
Plot
After an affair with her boss ends unhappily, Kelly Scott, a palaeontologist with a New York museum, is sent to Black Lake in Maine to get her out of the way. There she is given the job of identifying the tooth found inside a human body that has been bitten in half. As the search for the creature responsible is joined by the sheriff's department, game wardens and an eccentric millionaire, they discover that they are dealing with a giant-size crocodile that lives inside the lake.
---
Ever since Scream (1996), the horror genre has been infected with a mockingly self-aware horror tone, one where characters constantly vocalize how the situation they enter into is akin to a particular film of the past. If Scream and I Know What You Did Last Summer (1997) are the 1990s equivalents of films like Halloween (1978) and Friday the 13th (1980) then Lake Placid is surely the postmodern equivalent of Jaws (1975). Lake Placid comes from the pen of tv producer David E. Kelley, creator of the likes of The Practice (1997-2004), Ally McBeal (1997-2002), Boston Public (2000-4) and Boston Legal (2004-8). It even reads like Ally McBeal Does Jaws, with the script pitting a neurotic cosmopolitan woman with a failed relationship history against hick locals and a monster. Unfortunately, David E. Kelley's tv fans came to Lake Placid with raised expectations and upon seeing the B monster movie it is, dismissed Lake Placid as one of the worst horror movies ever made. While not great, the film is far from that.
Lake Placid is directed by Steve Miner. Steve Miner is a B-budget horror veteran from the 1980s. Miner started out as assistant producer on Friday the 13th (1980) and graduated to director with films like Friday the 13th Part 2 (1981), Friday the 13th Part III in 3D (1982), House (1986) and Warlock (1989). It was not until the wittily clever Warlock that Steve Miner showed promise of being anything other than a low-budget hack. Thereafter Miner graduated to, if not exactly A-budget films, then at least B+ films like Wild Hearts Can't Be Broken (1991), Forever Young (1992), Halloween H20: Twenty Years Later (1998), Texas Rangers (2001) and the remake of Day of the Dead (2008), although has yet to make anything – other than Warlock – that has seemed more than average.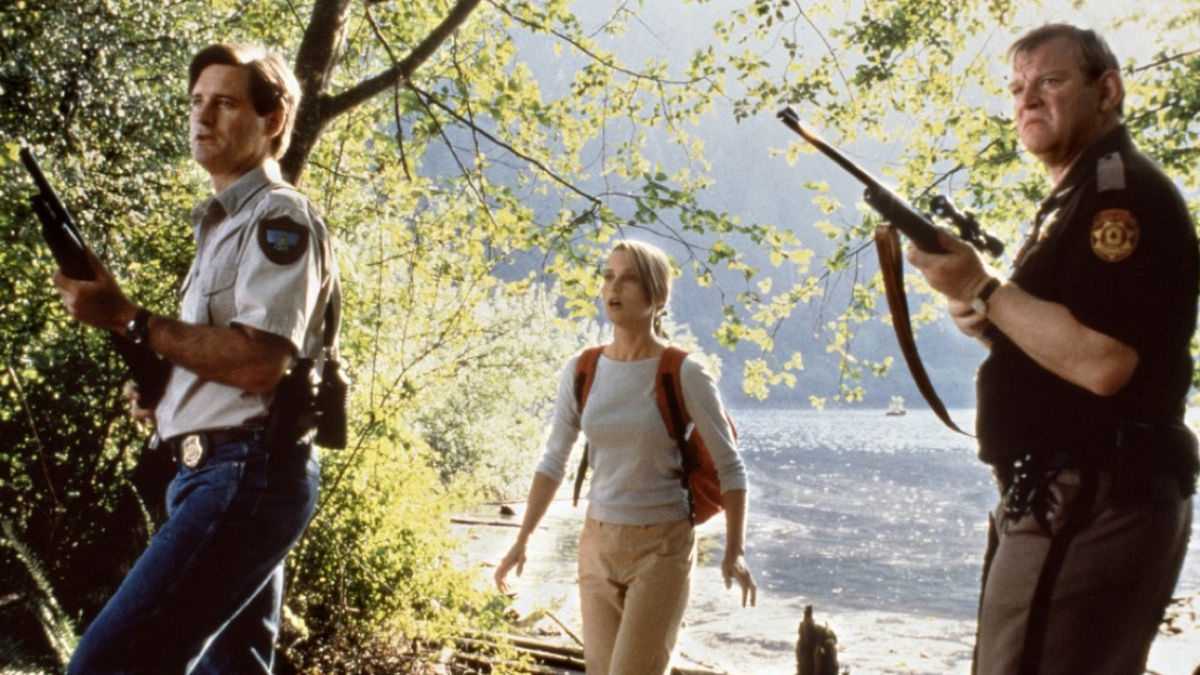 Once Lake Placid gets past the far-too-cute business of Bridget Fonda's neurotic cosmopolitan sparring with the locals in acerbic smartass one-liners, it settles down to a passable monster movie. The photography of the lake area is very good and Steve Miner crafts the suspense with reasonable competence. Stan Winston turns in some fine creature effects in scenes with the crocodile devouring bears and cattle whole. The crocodile is left only briefly glimpsed so as to heighten the effect.
On the minus side, Lake Placid never amounts to much. There is only a single scene where the suspense goes from effective to seat-edge – a scene with Bridget Fonda being pursued underwater by the crocodile with only a pole protecting it from closing its jaws around her. In terms of the formula of the monster movie, Lake Placid also feels unsatisfying – the climax is underwhelming, it lacks any all-out face-off between man and monster and instead fades out on an ecologically-friendly scene of the crocodile being taken off to a zoo instead of being killed. The romantic interest between Bill Pullman and Bridget Fonda is also left unrequited until a last scene flirtation.
David E. Kelley's script often seems uneasily caught between a mockingly self-aware tone and B-movie psychology. If he had not tried to make Lake Placid a character-driven film some of the hokier elements – Betty White as an eccentric housewife who feeds cattle to the crocodile and particularly Oliver Platt as an eccentric millionaire who wants to "swim with the crocodiles" because of the highly disputable notion that "historically crocodiles have been worshipped more than Jesus Christ" – would have felt a good deal more at home.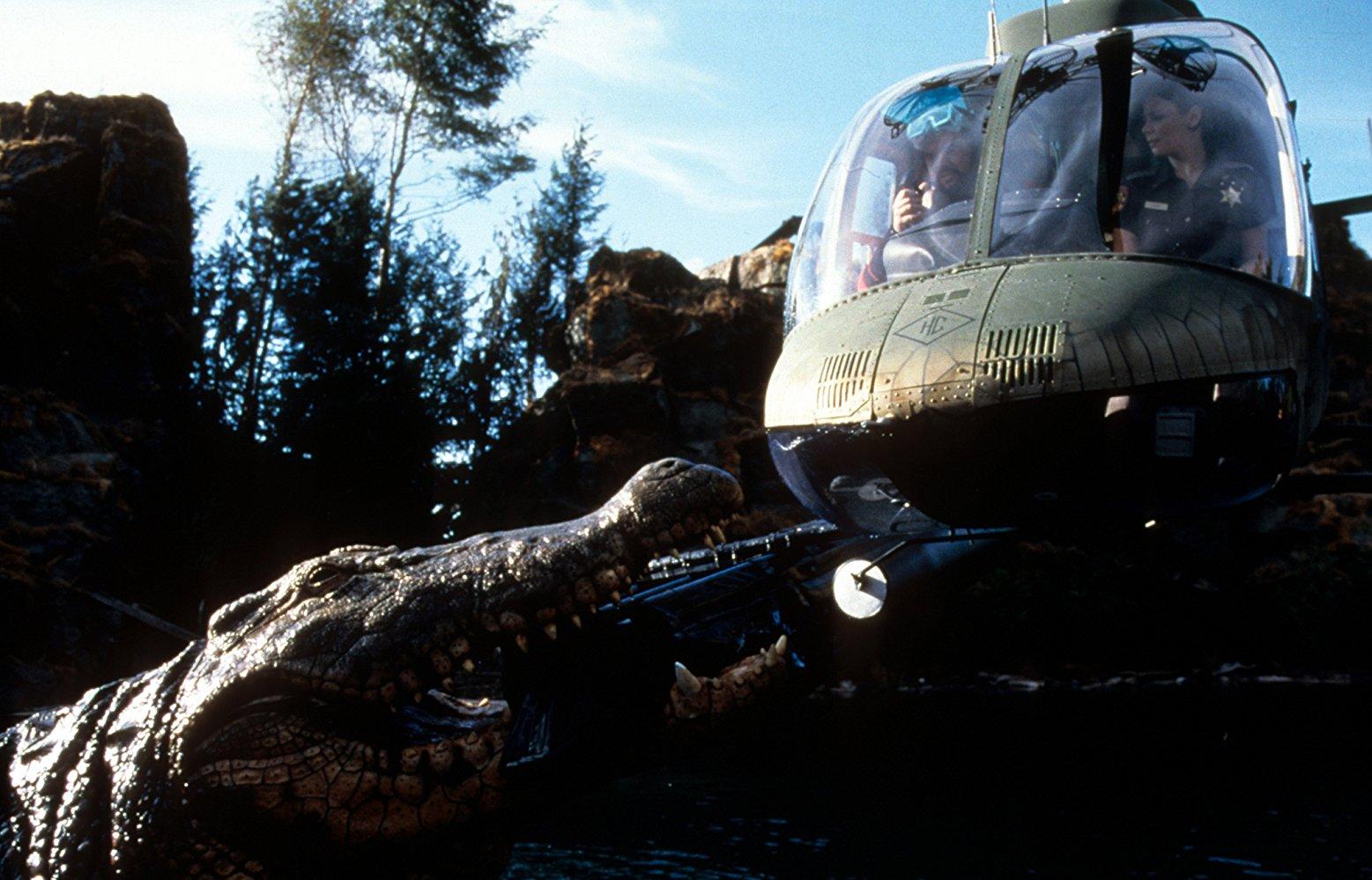 The cast generally hold up well. Bill Pullman gives another of his likeable good-natured performances but the film underuses him. One has never liked Bridget Fonda as an actress – there are few actresses who play so humourlessly, she radiates a hostility that is capable of making Shannen Doherty seem warm-blooded by comparison. Irish actor Brendan Gleeson, cast as the hick sheriff, is very good whenever he is on screen.
There were four sequels with Lake Placid 2 (2007), Lake Placid 3 (2010), Lake Placid: The Final Chapter (2012) and Lake Placid vs Anaconda (2015).
David E. Kelley's only other film of genre interest is the script for New Age ghost story To Gillian on Her 37th Birthday (1996), while on television he was also responsible for an unsold tv pilot for Wonder Woman (2011) and the Stephen King tv series adaptation Mr. Mercedes (2017-9).
---
---