---
Crew
Director – Gore Verbinski, Screenplay – Ehren Kruger, Based on the 1998 Film Ring Written by Takahashi Hiroshi and the Novel by Koji Suzuki, Producers – Laurie MacDonald & Walter F. Parkes, Photography – Bojan Bazelli, Music – Hans Zimmer, Visual Effects Supervisor – Charles Gibson, Visual Effects – Asylum (Supervisor – David M.V. Jones), Method Studios (Supervisor – Alex Frisch), Pacific Title and Digital (Supervisor – David Sosalla) and Rhythm & Hues (Supervisor – Mark Rodahl), Special Effects Supervisor – Burt Dalton, Makeup Effects – Rick Baker, Production Design – Tom Duffield. Production Company – Bender-Spink Inc/DreamWorks SKG.
Cast
Naomi Watts (Rachel Keller), Martin Henderson (Noah), Brian Cox (Richard Morgan), David Dorfman (Aidan Keller), Amber Tamblyn (Katie Embry), Rachael Bella (Becca), Jane Alexander (Dr Grasnik), Lindsay Frost (Ruth Embry), Daveigh Chase (Samara Morgan), Shannon Cochrane (Anna Morgan)
---
Plot
Seattle journalist Rachel Keller becomes intrigued with the mysterious circumstances surrounding the sudden death of her niece Katie. She learns how both Katie and Katie's also now-deceased boyfriend are reputed to have watched a cursed videotape – after one watches the tape, they purportedly receive a telephone call telling them that they have seven days before they die. Investigating further, Rachel finds a copy of the videotape. She watches it and is spooked to receive such a phone call immediately after. She then begins to experience a series of supernatural occurrences. Within the seven days she has left, she tries to trace the images on the videotape and uncover a disturbing tragedy involving murder and suicide.
---
The Japanese-made horror film Ring (1998) was an enormous hit throughout Asia. It inspired not only two sequels, The Spiral (1998) and Ring 2 (1999), a prequel Ring 0: Birthdays (2000) and a tv series Ring: The Final Chapter (1999), but also an unofficial South Korean remake Ring (1999). In America, such popular hits never go unnoticed and The Ring is the inevitable English-language Hollywood remake of Ring. The original Japanese films were followed a few years later by two further Japanese sequels Sadako 3D (2012) and Sadako 3D 2 (2013), followed by Sadako vs Kayako (2016), a crossover with the Ju-on/The Grudge series, and Sadako (2019).
Ring 1998, for all its massive success, was a relatively crude film that had a novel idea and a couple of good shocks, which sat alongside some often cheap directorial effects and a messy plot explaining everything. The simple Hollywood polish that has been lavished on Ring 2002 evens much of that out. Furthermore, the script from Ehren Kruger does an eminently worthwhile job of padding out of the backstory to the events.
Ring 1998 was somewhat murky in terms of explaining the suicide of the mother and the death of the girl down the well. The Ring devotes time to telling a much more coherent (slightly different) story, not to mention explaining the nature of the ring and the seven-day warning. There is the slightly contrived addition – such as now making the heroine's son prescient in an unnecessary attempt to mimic the eerily mediumistic children of The Sixth Sense (1999).
That said, Ehren Kruger is still stuck with a plot that never seemed that easy on the screen first time around – Ring 1998 started off well as the story of a haunted videotape but never sustained this as it segued into a story about events from the past demanding retribution in the present. Ehren Kruger smooths it out a great deal but there is still an incongruity in the essential nature of Samara – at some points, she seems a maligned murdered ghost child simply wanting peace and at others a malevolently evil force.
What makes Ring 2002 work is the superbly brooding atmosphere that director Gore Verbinski manages to evoke. Gore Verbinski began directing at DreamWorks SKG with the enjoyably silly children's film MouseHunt (1997) and then went onto the flop Brad Pitt-Julia Roberts romance The Mexican (2001) and later the huge successes of Disney's Pirates of the Caribbean: The Curse of the Black Pearl (2003), Pirates of the Caribbean: Dead Man's Curse (2006) and Pirates of the Caribbean: At World's End (2007), followed by the animated Rango (2011). the big-screen remake of The Lone Ranger (2013) and A Cure for Wellness (2016) about a sinister health sanatorium, as well as producing The Secret Life of Walter Mitty (2013). Verbinski inherited The Ring after the project passed through the hands of several directors. (It was at one point to have starred Jennifer Love Hewitt). Gore Verbinski's other films suggest that he no more than a competent commercial craftsman. However, he makes The Ring into a remarkable film. In fact, he succeeds in sustaining the suspense and atmosphere far better than the Japanese original and its sequels ever did.
Gore Verbinski and cinematographer Bojan Bazelli succeed in imbuing every frame with a superb sense of disquiet and unease. Bazelli shoots wonderfully beautiful and bare Washington State exteriors – lushly subdued greenery beneath grey skies, barren seashores. Images of ladders against a wall, something as trivial as Naomi Watts reaching up to a shelf or Martin Henderson opening a file drawer seem to brood with an ominousness. There is one exquisitely lovely shot where Naomi Watts steps out onto her apartment balcony and we see her outlined against the grey facade of the entire apartment block before she turns and looks into the other apartments around her at the sheer normalcy of the tv images that other people are watching.
Verbinski replicates most of the major scares from Ring 1998 to variable effect – the scene with Sadaka/Samara's hand reaching up from the well fails to produce the same jump the second time; although Verbinski does a good variant on her climactic emergence from the tv. Verbinski produces a number of eerily original shocks of his own – the incredibly uncanny moment where Naomi Watts starts choking and reaches down her throat to pull out a strand of hair several feet long, finally ending in of all things an electrode; the startling image of a horse escaping from its pen and rearing about on the deck of a ferry, before in a shock image diving overboard; and the eerie moment where Naomi Watts is able to reach into the paused video screen and pluck out a live fly.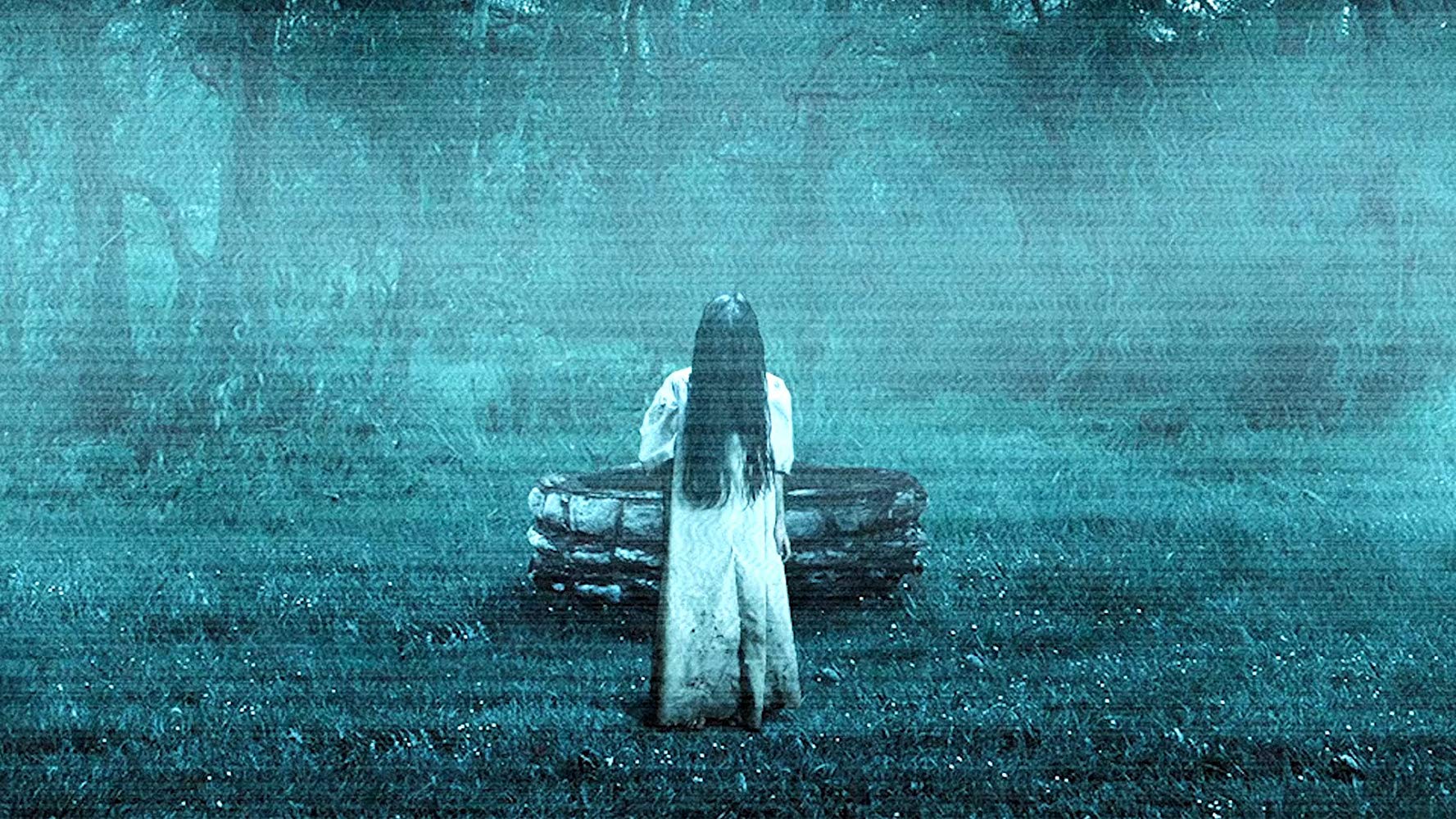 Most of all, Gore Verbinski's success is in creating a sense of something haunted making itself manifest and an eerily overlapping tapestry of supernatural imagery beneath the fabric of everyday life. There is something in the sense of the loomingly preternatural and the constant mandala of repetitive visual motifs that suggests that all-time classic Don't Look Now (1973).
The Ring Two (2005) was a disappointing sequel. For a number of years, a further sequel was announced with The Ring 3D to finally emerge as Rings (2017). The Ring was parodied in Scary Movie 3 (2003) and Stan Helsing: A Parody (2009).
The success of The Ring prompted a spate of other Asian horror Hollywood remakes including The Grudge (2004), Dark Water (2005), Pulse (2006), The Echo (2008), The Eye (2008), Mirrors (2008), One Missed Call (2008), Shutter (2008), Don't Look Up (2009), Possession (2009), The Uninvited (2009), Apartment 1303 3D (2012), 13 Sins (2014) and Death Note (2017). Indeed, The Ring's executive producer Roy Lee, who later formed the Vertigo Entertainment production company, has come to specialise in buying up Asian film properties for remake by Hollywood.
Screenwriter Ehren Kruger received a reputation with non-genre works like Arlington Road (1999) and Reindeer Games (2000). Since then, Kruger has begun to specialise in genre scripts with the likes of Scream 3 (2000), Impostor (2002), The Brothers Grimm (2005), The Skeleton Key (2005), Blood and Chocolate (2007), Transformers: Revenge of the Fallen (2009), Transformers: Dark of the Moon (2011), Tin Man (tv movie, 2014), Transformers: Age of Extinction (2014), Ghost in the Shell (2017) and Dumbo (2019). Kruger has also produced Dream House (2011).
(Winner in this site's Top 10 Films of 2002 list. Nominee for Best Director (Gore Verbinski), Best Actress (Naomi Watts), Best Cinematography, Best Musical Score and Best Makeup Effects at this site's Best of 2002 Awards).
---
---