(Gamera 3: Iris Kakusei)
---
Crew
Director – Shusuke Kaneko, Screenplay – Shusuke Kaneko & Ito Kazunori, Producers – Nanri Miyuki, Sato Naoki & Tsuchikawa Tsutomu, Photography – Tozawa Junichi, Music – Koh Ohtani, Visual Effects – Hajime Matsumoto, Special Effects Director – Hinji Shijuchi, Production Design – Hajime Oikawa. Production Company – Daiei.
Cast
Ai Maeda (Ayana), Shinobu Nagayama (Nagamine), Ayako Fujitani (Asagi Kusanagi)
---
Plot
A young schoolgirl Ayana enters a locked shed in the hillside and picks up a strange rock that she finds there. Her friend Moribe learns that he is the hereditary guardian of the cave and that the rock should not be moved. The two are witness as the rock gives birth to a creature, which Ayana names Iris after her cat. Iris quickly grows in size and becomes a giant tentacular flying creature. It develops a psychic link with Ayana after taking her inside it. At the same time, the Japanese military are trying to deal with an onslaught of new generation Gyaos creatures and now believe that Gamera is a menace rather than a defender of Japan. As Iris grows to giant-size, it too becomes a city-destroying menace. Others realise that Ayana is poisoning Iris with her psychic link and is driving it to kill Gamera because she holds Gamera responsible for the death of her family.
---
Once upon a time, the Japanese monster movie and its legendary men in rubber suits were a joke, the archetype of the cheesy monster movie. However, the second wave of Japanese monster movies from the mid-1980s onwards made great efforts to catch up with Western levels of effects technology. This reached a peak with Godzilla 2000 (1999) and Godzilla: Final Wars (2004), which had visual effects of sufficient quality that they could be released in US theatres.
Even better was what happed at Daiei with Godzilla's lesser known rival Gamera. Gamera was originally the subject of eight films beginning with Gammera the Invincible (1965). (See below for the other Gamera titles). The Gamera series was revived in the 1990s with the critically acclaimed Gamera, The Guardian of the Universe (1995), a visual effects fest that raised the Japanese monster genre to artistic heights, and to which Gamera 3: Revenge of Iris was the second sequel.
Gamera 3: Revenge of Iris starts out slowly. There is one real knockdown effects sequence over Tokyo about twenty minutes in but for the most part the film tries to rely on plot. This is unfortunately a relatively slight affair, involving a number of female characters that it becomes difficult to tell apart and many of the recyclable elements of the Japanese monster movie genre – schoolkids finding a talisman/ancient inheritance that gives them a link to the monster, evil mutant versions of the good hero monster.
In a couple of interesting developments, Revenge of Iris seems to be a New Age Japanese monster movie with Gamera feeding upon 'mana' and more eco-friendly themes. There is one amusing scene that starts to dig around the meta-edges of the Japanese monster movies with people gathered at a symposium to ask why so many monsters attack Japan.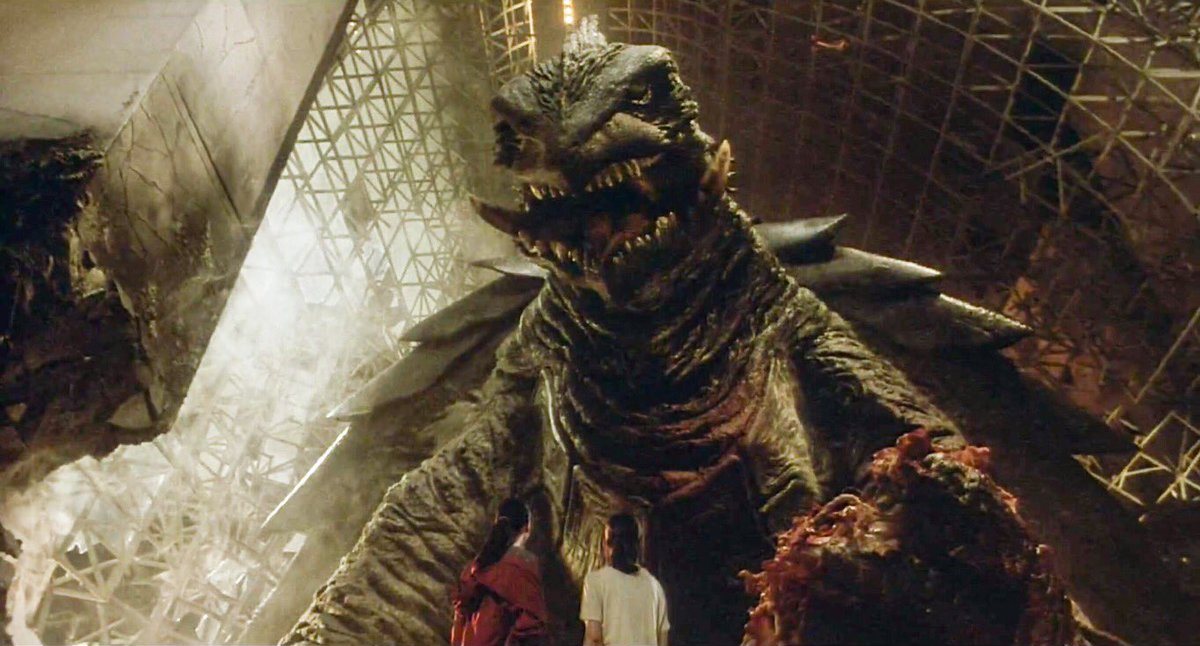 However, any sense that Gamera 3: Revenge of Iris might turn out to be a forgettable entry, as the 1960s and 70s sequels were, is soon overcome with the devastating effects extravaganza of the first battle over Tokyo. This contains stunning sequences with Gamera and Gyaos grappling, fireballs smashing down on crowded streets and people being ignited in blasts. It left the audience I was with audibly gasping and wowing. The middle of the film is filled with extraordinarily beautiful images – the Iris creature unfurling its glowing wings or enfolding Ayana inside its tentacles.
However, it is the mass destruction scenes that make Gamera 3: Revenge of Iris so exciting – the enthralling scene with fighter planes taking on Gyaos and Gamera above the clouds; Iris attacking the soldiers in the woods; and especially the huge-scale climax with Gamera and Iris battling over Tokyo and inside a railway station. This climactic scene manages such a scale of small and the colossal, of detail in its models and conviction in its effects that the results are stunning.
The other Gamera films are:– Gammera the Invincible (1965), Gamera vs Barugon/War of the Monsters (1966), Gamera vs Gyaos/Return of the Giant Monsters (1967), Destroy All Planets/Gamera vs Viras (1968), Attack of the Monsters (1969), Gamera vs Jiger/Gamera vs Monster X/War of the Monsters/Monsters Invade Expo 70 (1970), Gamera vs Zigra (1971), Gamera: Super Monster (1980), Gamera, The Guardian of the Universe (1995), Gamera 2: Assault of Legion (1996) and Gamera the Brave (2006).
Shusuke Kaneko has directed other genre films such as the The Cold episode of the H.P. Lovecraft anthology Necronomicon (1993), School Ghost Story 3 (1997), the spectacular pyrokinesis film Cross Fire/Pyrokinesis (2000), Godzilla Mothra and King Ghidorah: Giant Monsters All-Out Attack (2001), the fantasy musical Toast of Love (2002); the hit horrors of Death Note (2006) and Death Note: The Last Name (2006); and Danger Dolls (2014) about an all-girl sf action team.
(Nominee for Best Special Effects at this site's Best of 1999 Awards).
---
---