---
Beats Being Dead (Etwas Besseres als den Tod)
Crew
Director/Screenplay – Christian Petzold, Producers – Florian Koerner von Gustorf & Michael Weber, Photography – Hans Fromm, Music – Stefan Will, Production Design – K.D. Gruber. Production Company – Bayerisch Rundfunk/Schramm Film Koerner & Weber.
Cast
Jacob Matschenz (Johannes), Luna Zimic Mijovic (Ana), Vijessna Ferkic (Sarah Dreier), Rainer Bock (Dr Dreier)
Don't Follow Me Around (Komm Mir Nicht Nach)
Crew
Director – Dominik Graf, Screenplay – Markus Busch & Dominik Graf, Producers – Andreas Bareiss, Sven Burgemeister & Gloria Burkert, Photography – Michael Wiesweg, Music – Sven Rossenback & Florian van Volxem, Production Design – Claus-Jurgen Pfeiffer. Production Company – Burkett Bareiss Productions/TV60 Film.
Cast
Jeanette Hain (Johanna), Susanne Wolff (Vera), Misel Maticevic (Bruno Castel), Lisa Kreuzer (Jo's Mother), Rudiger Vogler (Jo's Father), Malou (Lucinda)
One Minute of Darkness (Eine Minute Dunkel)
Crew
Director – Christoph Hochhausler, Screenplay – Christoph Hochhausler & Peer Klehmet, Producer – Bettina Broekemper, Photography – Reinhold Vorschneider, Music – Bert Wrede, Special Effects Supervisor – Bjorn Friese, Production Design – Renate Schmaderer. Production Company – Heimatfilm.
Cast
Stefan Kurt (Frank Moelsch), Eberhard Kirchberg (Marcus Kreil), Timo Jacobs (Dimitrios), Holger Doellmann (Guido)
---
Plot
Beats Being Dead:- In the German town of Dreileben in the Thuriniga region, the male nurse Johannes goes to sleep on the side of a lake. He sees a girl having sex with her biker boyfriend and then being abandoned after she insults him. He takes her back to stay the night at his dormitory, learning that she is Ana and works at a maid at the nearby hotel. As the town around them is mobilised in the search for a missing killer, Johannes and Ana fall in love. Don't Follow Me Around:- The psychologist Johanna is called in to consult on the manhunt for the missing killer. When her hotel booking is mixed up, she goes to stay with her old friend Vera and Vera's writer husband Bruno who run a guesthouse. As they catch up on old times, Johanna and Vera both realise that they had the same lover Patrik at the same time. Johanna urges Vera to follow the feelings she still has and go and find Patrik. Vera then surprises them by leaving Bruno to do so. One Minute of Darkness:- The convicted killer Frank Moelsch is brought to Dreileben to pay his respects to his late mother but makes an escape after Johannes unwittingly leaves the door of the hospital chapel open. He flees into the forest, seeking shelter in the wild while evading the police manhunt for him. At the same time, the aging local detective Marcus Kriel conducts his own investigation, determined to seek the truth of Moelsch's guilt for himself.
---
Dreileben is a mini-series that was made for German television. It received a great deal of claim and was shown as one long screening at various international film festivals. It is a work where three renowned contemporary German directors have come together to each make one feature-film of 90 minutes in length. Each of the episodes can stand as films on their own but each also interweaves with the other and contains background plot elements about the search for the escaped criminal that come together as a single story.
You cannot help but think that the spirit of tv's Twin Peaks (1990-1) hangs over Dreileben – both are concerned with the catching of a murderer, or at least the solving of a crime, but expand out beyond a simple detective story to show us the lives of the people in the town. The difference might be that Dreileben is a much more straightforward and less wilfully bizarre work than Twin Peaks was.
The first episode, Christian Petzold's Beats Being Dead, works the best of the three films – at least for three-quarters of its running time. It is a romantic story that charts the attraction between male nurse Jacob Matschenz and maid Luna Zimic Mijovic after he offers her shelter. The two actors work very well together and their romance contains a freshness and sparkle that is naturalistic rather than generic cliche.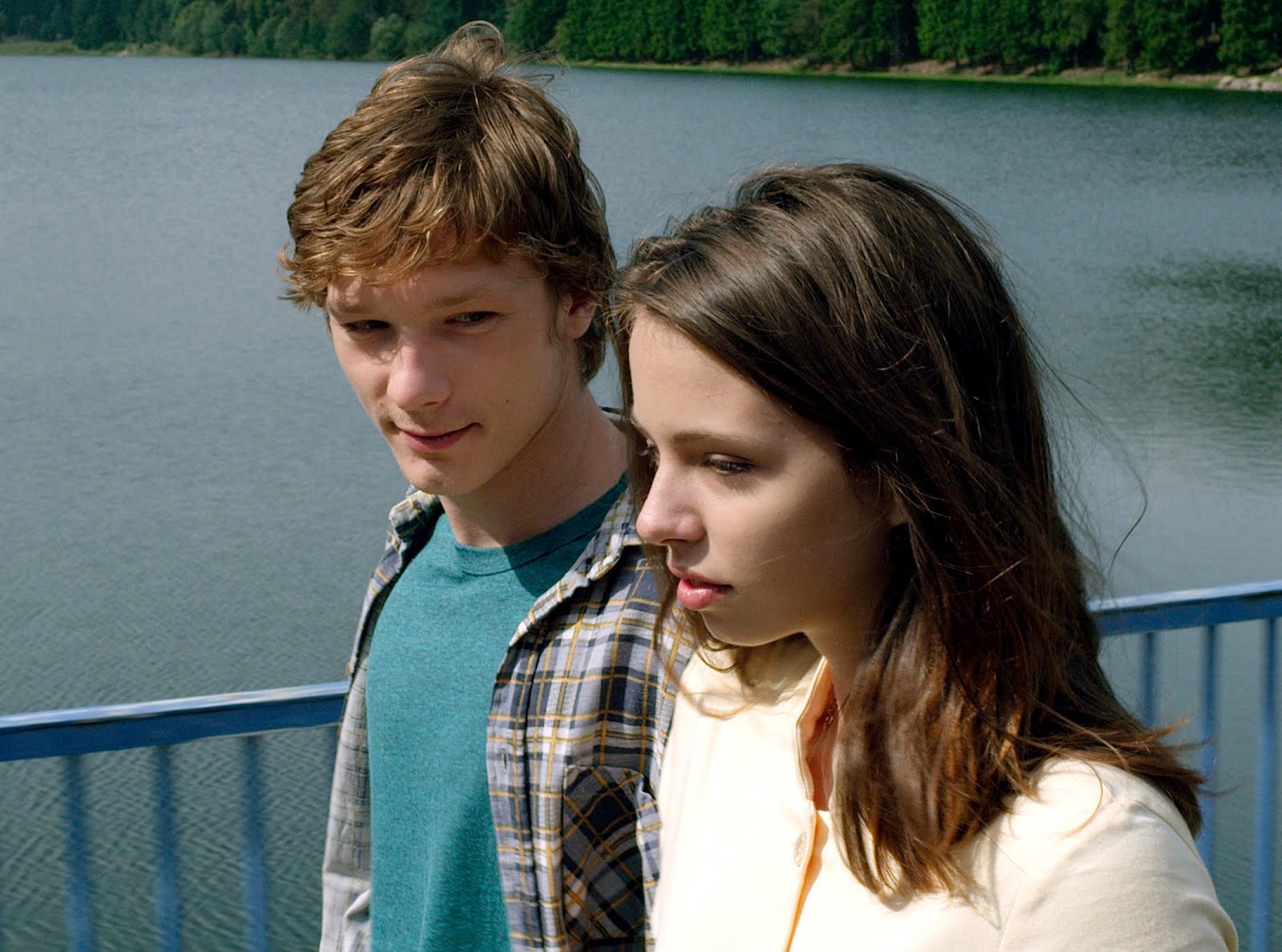 The only failing of Beats Being Dead is its last quarter where a number of plot elements – Jacob Matschenz's apparent background from a society family that he is avoiding for unknown reasons, his past relationship with Vijessna Ferkic and abrupt decision to dump Luna Zimic Mijovic and leave for Berlin with Ferkic – come out of nowhere, are given insufficient explanation and make for an abrupt and unsatisfying downer of an ending.
The second film, Dominik Graf's Don't Follow Me Around, is very different in tone. The freshness of the two romantic leads in the first film is replaced by the older and more cautious Jeanette Hain who is brought in as a psychologist to advise on the hunt for the escaped killer. While this section gives the appearance of getting its teeth more into the detective story aspect, this is not the case and the film spends most of its time dealing with Jeanette Hain as she settles into the guesthouse of her friend (Susanne Wolff) and husband (Misel Maticevic) and going over old times, discovering that they shared a mutual boyfriend at the same time.
The characters in this section are all well-played, especially the very likeable Susanne Wolff and the haplessly happy-go-lucky Misel Maticevic. The detective story is there but not given a huge amount of prominence. The scenes with the three characters work engagingly well but just when the film seems to be holding no great direction, Dominik Graf pulls it together in an ending that contains an effective and subtle surprise that makes the whole knit together very nicely.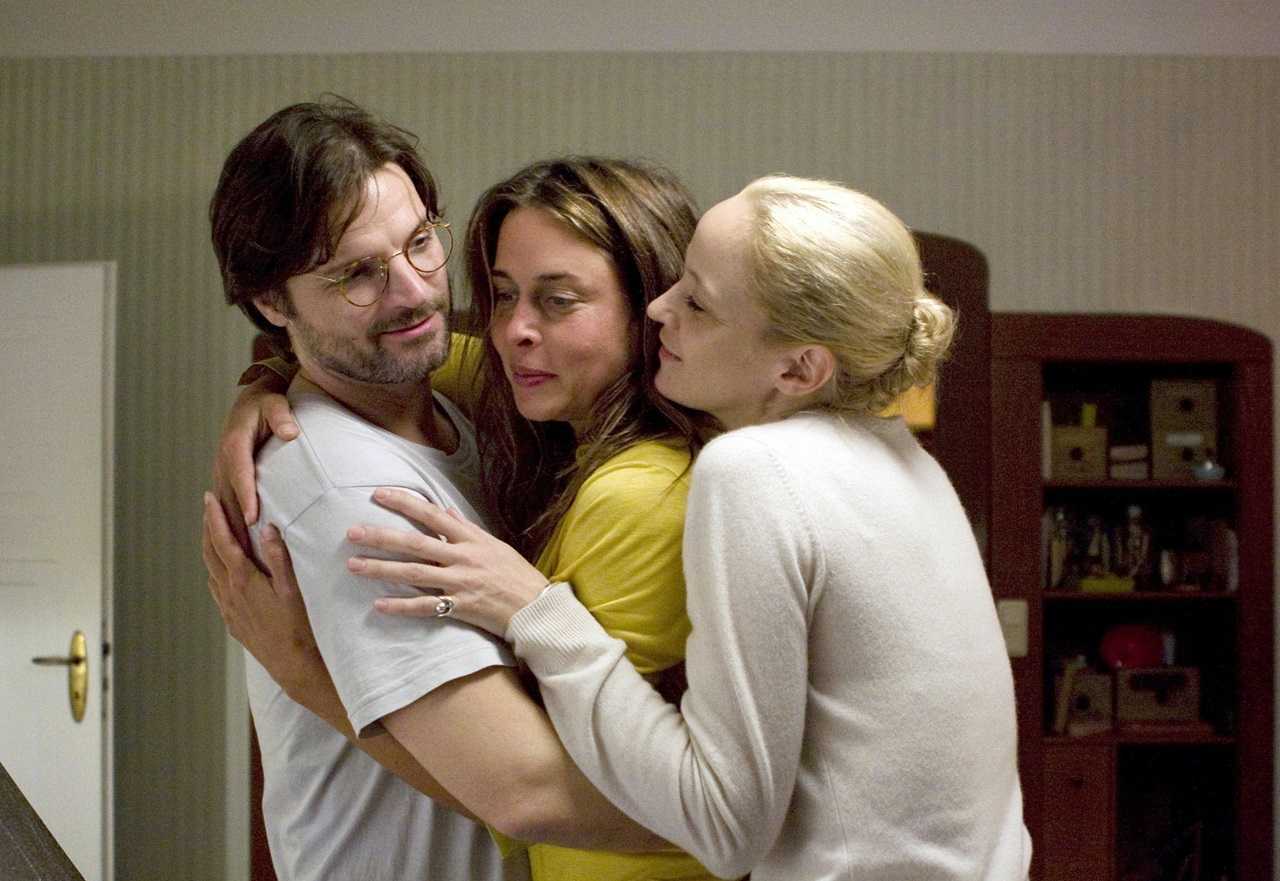 The third film, Christoph Hochhausler's One Minute of Darkness, tells the story of the escaped killer. Most of this focuses on the unexceptional and ordinary seeming Stefan Kurt and his escape into the forest and evasion of the pursuing authorities. After building him up as something dangerous throughout the preceding two films, even maniacally blood-covered in the first film, Stefan Kurt's everyday blankness is a surprise. Christoph Hochhausler even gives us a scene, just like the classic one in Frankenstein (1931), where Kurt befriends a child in the wilds and we do not know whether he is going to kill her or what.
The escape scenes are interspersed with a B-plot where an aging detective (Eberhard Kirchberg) investigates the original crime and the crucial missing minute on the security camera footage, which serves to subtly cast doubt on our assumptions about whether the killer is or isn't guilty. The final scene of the film holds a bleak surprise that shows what we assumed all along was wrong too.
---
Trailer here
Clip from One Minute of Darkness here:-
---