---
Crew
Director/Screenplay – Karen Lam, Producers – Karen Lam & Karen Wong, Photography – Michael Balfry, Music – Patric Caird, Visual Effects – Dreamcatcher (Supervisor – Liubomir Savov), Special Effects Supervisor – Brant McIlroy, Production Design – Athena Wong. Production Company – Opiate Pictures Inc./RNR Media Inc./Super Channel.
Cast
Kat De Lieva (Evangeline Pullman), Richard Harmon (Michael Konner), Mayumi Yoshida (Shannon), David Lewis (Mr K), Kelvin Redvers (Billy), Nelson Leis (Dee), Anthony Shim (Mark), Dejan Loyola (Ali), Madison Smith (Mitch), Natalie Grace (Molly), John Shaw (Jim)
---
Plot
Shy Evangeline Pullman signs into a university dorm and is roomed with Shannon. Evangeline stays behind while everybody else goes home for the long weekend. She meets Michael Konner, the head of one of the fraternities, who charms her and takes her to a cabin in the woods – only to drug her and for he and his fraternity mates to then take turns having their way with her. Afterwards Michael strangles and leaves Evangeline for dead in the woods. However, she returns to life. Mute and numbed by what happened, she is found by the friendly Native guy Billy and makes a slow recovers at his campsite. When one of Billy's associates tries to molest her, the dark forces that now inhabit Evangeline's head take over her body to exact revenge against her tormentors.
---
Evangeline was the second feature film of Asian-Canadian director Karen Lam. Lam had previously made Stained (2010) about a woman with psychological issues, as well as a series of short films, all of which seem to have a bent towards horror material. She later went on to contribute an episode to 7 from Etheria (2017), a horror anthology consisting of contributions from women directors, and worked as a script editor on the tv series Van Helsing (2016-21) and Ghost Wars (2017-8).
Often a new director's debut and/or early films can be an astonishing breath of originality that hits between the eyes. Other times you feel like it is a director searching for their voice and what they are trying to say but never quite getting there. At worst, particularly when it comes to genre material, it feels like people filled with a love for one particular genre launching in with a desire to pay tribute or copy their sources of inspiration with more fannish enthusiasm than talent.
Evangeline falls somewhere around the second of these. It is a well made film, has clearly capable actors – Richard Harmon in particular has gone into an increasing wider exposure – but suffers from a directorial timidity. It feels more like a director telling a story and methodically working their way through each shot list than someone willing to experiment, improvise with the cast, discover style or pepper scenes with small touches that turn the film into something living and breathing.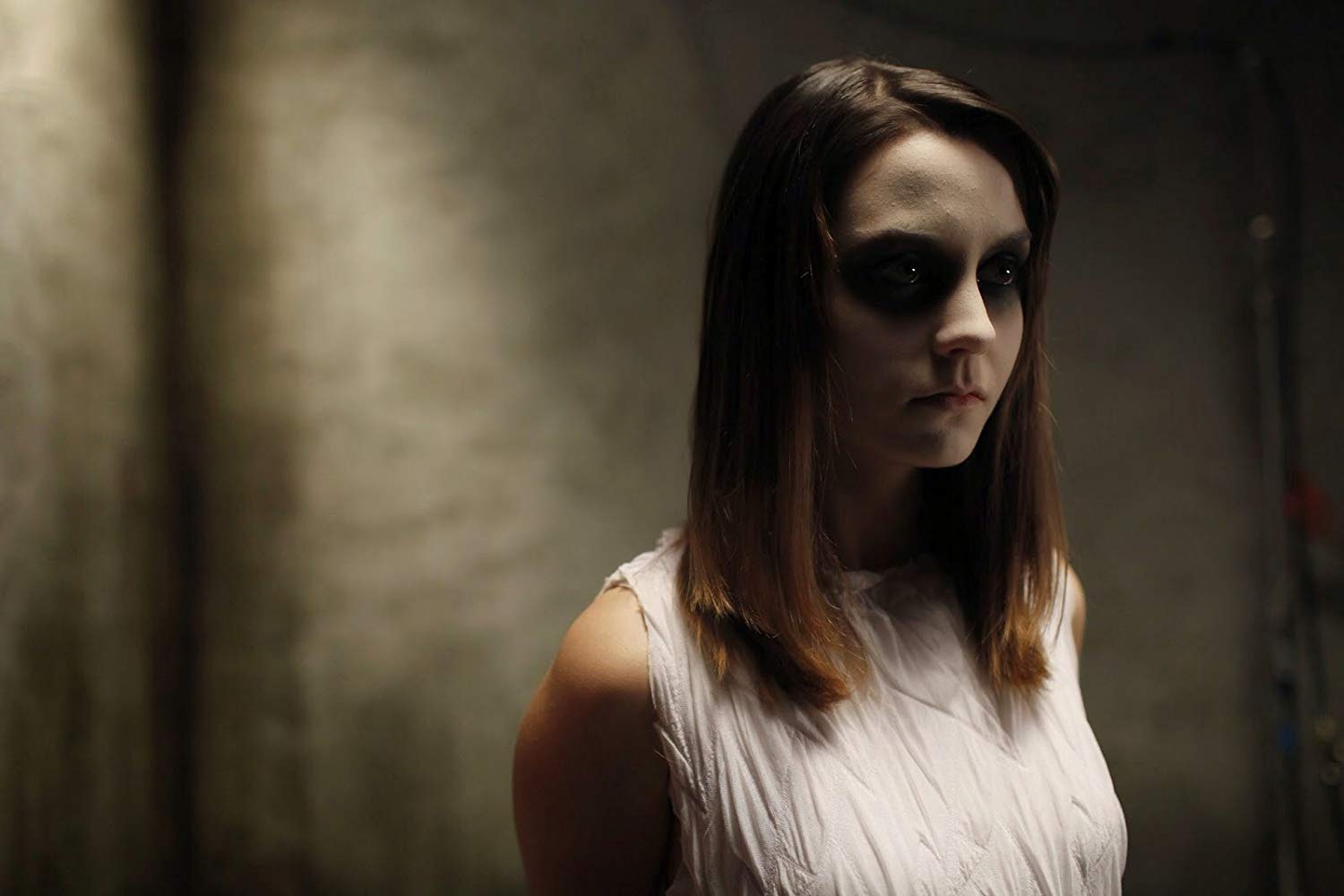 Evangeline feels like a tepid variant on I Spit on Your Grave (1978). Maybe I Spit on Your Grave crossbred with the supernatural avenger film The Crow (1994) – the homage to the latter becomes overt when Kat De Lieva puts on black-and-white face makeup. Karen Lam's approach immediately gives the film a problem. The initial scenes where Kat De Lieva are raped and assaulted are tastefully depicted off-screen. The problem for an I Spit wannabe is that giving the film a tasteful, commercially polished sheen is something that seems to water down any effect it might have. The original I Spit on Your Grave had all its effect in the sheer savagery of what took place so much that you could not help but get worked up along with Camille Keaton as she took vengeance against her attackers.
When what happens to Kat De Lieva here is left largely unsaid, there is no corresponding sense of red-blooded rage stirring in an audience when it comes to her standing up against her attackers. Even standard revenge films like Death Wish (1974), Death Sentence (2007) and Harry Brown (2009) work hard to make us outraged about what occurs before their protagonist snaps. Evangeline, by contrast, feels like a film that comes so by the numbers that it fails to engage you. At most it gives us a series of allegorical scenes that takes place inside Kat De Lieva's head as the dark forces awaken, which an astonishingly tame comedown for all that it could have been.
---
---