aka The Surgeon
---
USA/Germany/Canada. 1995.
Crew
Director – Carl Schenkel, Screenplay – Patrick Cirillo, Based on a Screenplay by Bernard Sloane, Producers – Willi Baer, Alan Beattie & Chris Chesser, Photography – Thomas Burstyn, Music – Christopher Franke, Special Effects Supervisor – Gary Paller, Makeup Effects – Steve Johnson's XFX Inc (Supervisor – Steve Johnson), Production Design – Douglas Higgins. Production Company – Beattie-Chesser/Connexion Film Ventures and Productions GmBh and Co KG.
Cast
Isabel Glasser (Dr Theresa McCann), Sean Haberle (Dr Julian Matar), James Remar (Dr Benjamin Hendricks), Charles Dance (Dr Ed Mittlesby), Malcolm McDowell (Dr Roger Stein), Mother Love (Milly), Peter Boyle (Lieutenant McElwaine), Charles Bailey-Gates (Sergeant Ross), Juliette Jeffers (Lisa Wilson)
---
Plot
Theresa McCann, a doctor at Edmiston General Hospital, is witness as Dr Roger Stein conducts an experiment, giving a baboon untested drugs that he claims can substitute for kidney dialysis, only for the baboon to go crazy and then collapse dead. Theresa is then shocked to find that Stein is administering the drugs to human patients. She intervenes to save one of the patients who is in a critical condition – only for someone to enter and inject the patient's IV with deadly chemicals that kill them. Theresa is suspended because of this. With the aid of student Benjamin Hendricks, she goes back to get evidence about Stein's illicit experiments, only to see Stein being hung by a man disguised as a surgeon. The man is apprehended in a fight and Theresa realises that this is Julian Matar, her former lover and a doctor that she was instrumental in having suspended for conducting illicit experiments. Matar was left in a coma after jumping from a window but has somehow made a miraculous recovery. The arrested Matar is taken to another hospital but escapes custody by breaking his thumb to slip the cuffs. He returns to the hospital, hiding in the air ducts from where he starts killing the doctors who were responsible for his dismissal. Every time Matar is damaged he regenerates his body using a serum he has developed that is taken from human pituitary glands. Theresa realises that Matar will be coming after her last.
---
Exquisite Tenderness comes from Swiss director Carl Schenkel. Schenkel first started directing in West Germany with the sex comedy Dracula Blows His Cool (1979) and then found minor acclaim with the arthouse released psycho-thriller Out of Order (1984). Schenkel would go onto other works like the occult tv movie Bay Coven (1987), the Jamaica-set detective story The Mighty Quinn (1989) and various other genre films for English-speaking audiences such as the chess-playing serial killer film Knight Moves (1992) and Tarzan and the Lost City (1998), before his death in 2003.
Exquisite Tenderness starts out seeming like a Robin Cook medical thriller, a la Coma (1978). The writers have made a modicum of effort to make the medical doubletalk and the hospital environment seem convincing. As the plot follows junior doctor Isabel Glasser as she suspects Malcolm McDowell's scientist of illicit experimentation, it seems like the formula of a Robin Cook book falling into place wherein the young female doctor finds evidence of illicit experimentation and/or conspiracy among the senior staff at the hospital where she works.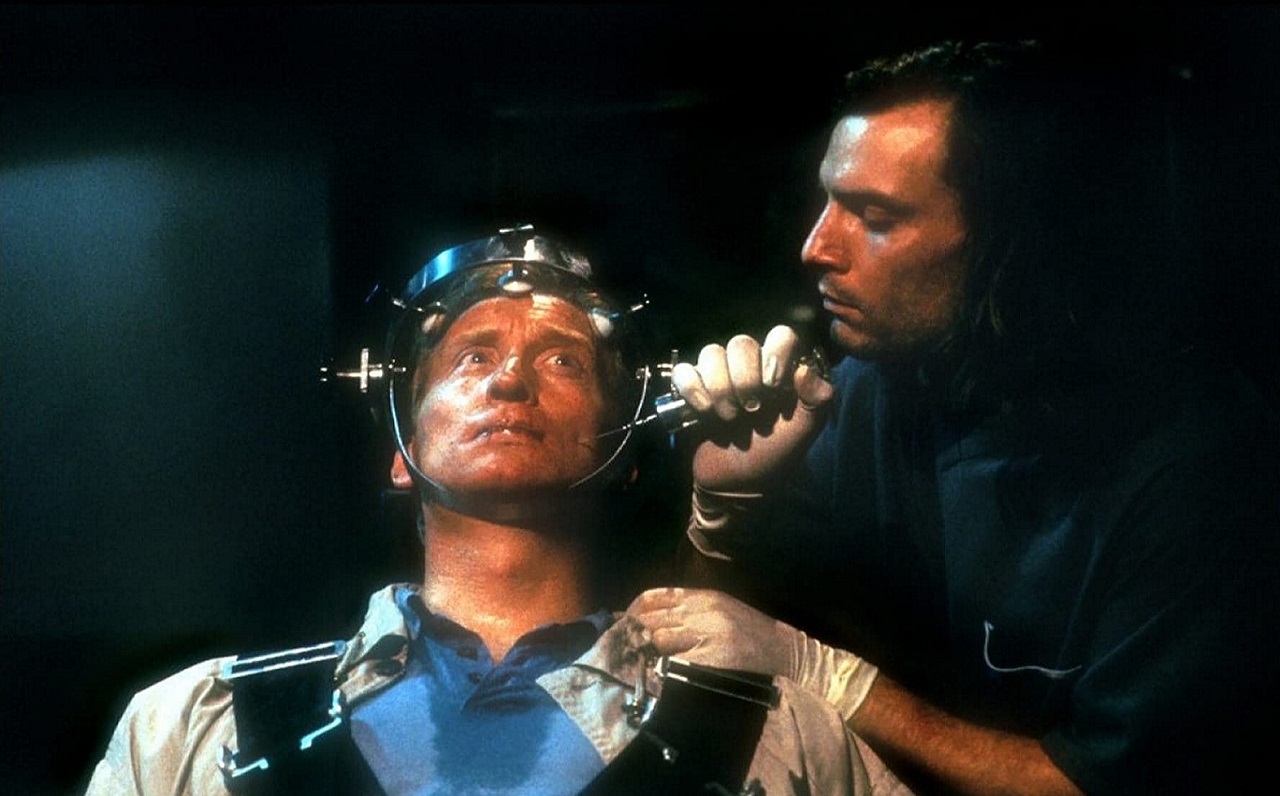 However, this plot direction is abandoned – Malcolm McDowell is quickly disposed of early in the show – and Exquisite Tenderness promptly twists around into a psycho medic story. Indeed the title, Exquisite Tenderness, makes the film sound more like an Italian giallo psycho-thriller than a medical horror film – either that or a work of arthouse erotica. The film increasingly abandons all likeness to a Robin Cook medical thriller and becomes a schlock slasher movie a la Dr Giggles (1992).
Carl Schenkel has fun throwing in scenes of nasty sadism – a scene where psycho medic Sean Haberle repeatedly slams a metal drawer on his hand in order to break his thumb so that he can escape a set of handcuffs; injections of gunk up people's nose using a very long needle; a nasty scene where Charles Dance is tied up, his lips sewn together and he is forced to watch as all of his blood is drained out in a dialysis machine; a scene where a detective pops his head up into the ceiling to investigate noises there and gets a scalpel plunged into his eye. The film displays no real style upon Carl Schenkel's part but he makes up for this with the sheer ferocity of sadistic imagination (again not unlike an Italian giallo thriller). Indeed, this is an approach that would have enlivened Schenkel's earlier serial killer thriller, the dull Knight Moves, to no end. It all makes for a modestly effective film.
---
Trailer here
Full film available online here:-
---