---
Crew
Director – Jeff Burr, Screenplay – Dan Mazur & Reed Steiner, Producers – Barry Bernardi & Steve White, Photography – Tom Callaway, Music – Jim Manzie, Visual Effects – Cosmus Paul Bolger Jr. & Peter W. Moyer, Mechanical Effects – FTS SFX Inc., Makeup Effects – David Miller, Production Design – Mick Strawn. Production Company – Republic Pictures/Steve White Entertainment
Cast
Elizabeth Barondes (Claire Goodman), John Mese (Dillon Hale), Gary Lockwood (Mayor William Goodman), Bruce Glover (Reverend Thaddeus Goodman), Stephen Root (Sheriff Frank Goodman), Howard Swain (The Scarecrow), John Hawkes (Danny Thompson), Christi Harris (Stephanie Goodman), Dirk Blocker (George Goodman), Martine Beswick (Barbara Goodman), William Joseph Barker (Kyle), John Lazar (The Warlock)
---
Plot
Claire Goodman returns to her home town of Hanford where her father is the mayor. She flirts with Dillon Hale, one of her father's employees. That evening, Danny Thompson, who has just been fired by Dillon, drunkenly starts driving the digger, only to crash into and crack open a stone covering in the field. Something emerges from the ground and possesses a nearby scarecrow. The scarecrow then starts to kill members of Claire's family. As she and Dillon try to understand what they are facing, she learns how her family settled the town in the 17th Century, only to find the ground was fallow. A warlock came, making the fields and crops fertile but at the same time swaying the townspeople to corruption. Her ancestor fought this by crucifying the warlock in the field and burying its bones. It has now returned to life, seeking the spell it needs to regain human form.
---
Night of the Scarecrow – not to be confused with the earlier tv movie Dark Night of the Scarecrow (1981) about a wrongly executed man returning in the body of a scarecrow – is one of the films from director Jeff Burr. Burr made a fine directorial debut with the horror anthology From a Whisper to a Scream (1987) and has since gone on to a regular output of horror films and other genre material that has included the likes of Stepfather 2 (1989), Leatherface: Texas Chainsaw Massacre III (1990), Pumpkinhead II: Blood Wings (1994), Puppetmaster V: The Final Chapter (1994), Johnny Mysto, Boy Wizard (1997), Spoiler (1998), The Werewolf Reborn (1998), The Boy with X-Ray Eyes (1999), Phantom Town (1999), Straight Into Darkness (2005), Devil's Den (2006), Mil Mascaras vs the Aztec Mummy (2007), Resurrection (2010), Gun of the Black Sun (2011) and Alien Tornado (2012).
As was wont with horror films of the 1980s and 90s, much of the show is driven around a series of makeup effects set-pieces and gory despatches – Bruce Glover getting his lips sewn together; Dirk Blocker ground up in a combine harvester; Gary Lockwood impaled to a wall by swords and torn apart from the inside by straw. The standout set-piece of the show is one where Christi Harris is making out in the back of a panel van only for the van to be invaded by the scarecrow who forces its arm down her throat causing her to explode with a mass of creepers from every orifice. Night of the Scarecrow is not a film that pretends to offer too much more than these set-pieces. Nevertheless, Jeff Burr treats the material seriously with a reasonable degree of effect. The film arrives at a moderately intense climax.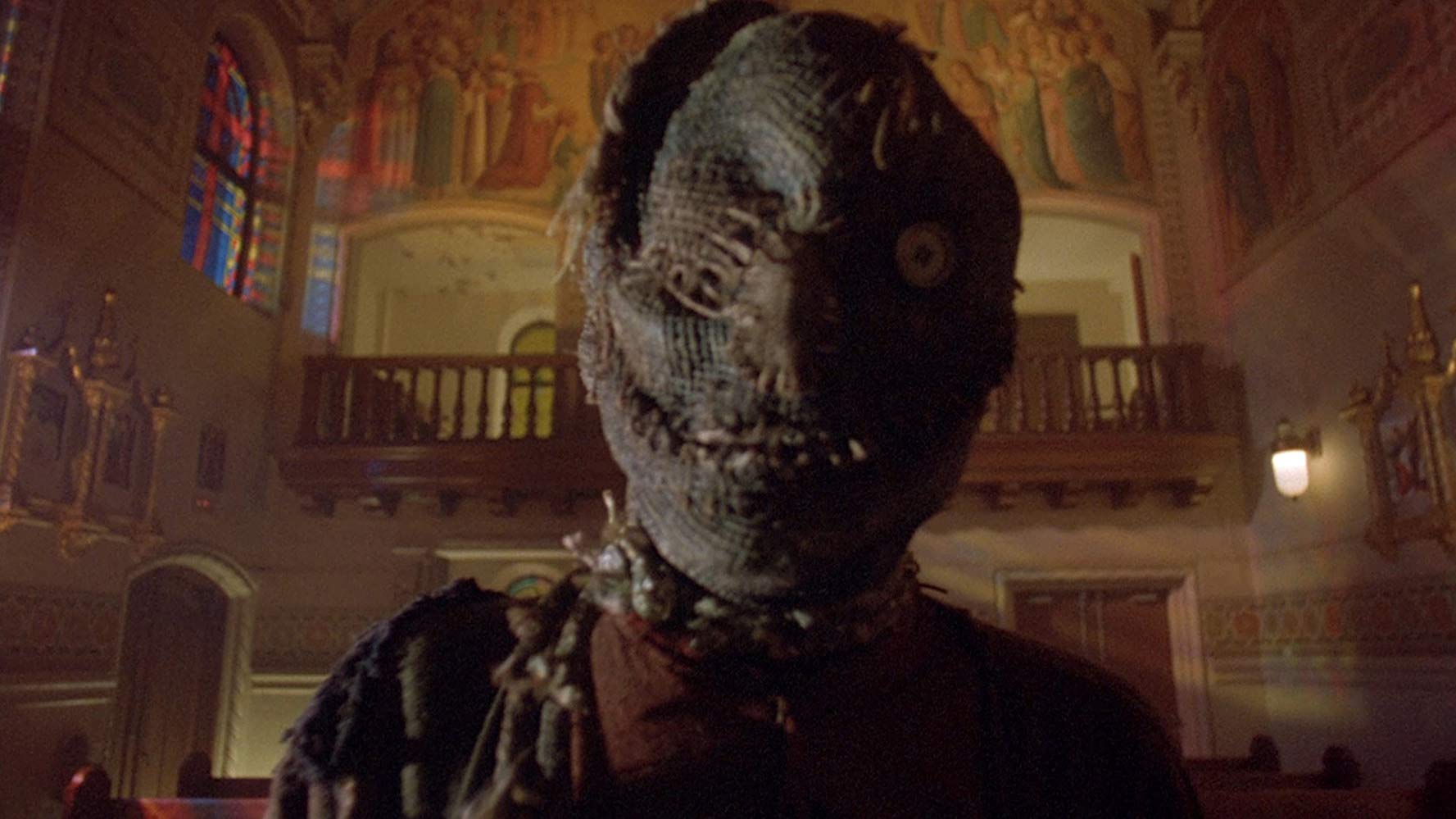 Jeff Burr always casts a number of faces with a genre history. Here these include Gary Lockwood, most remembered as Keir Dullea's companion on The Discovery in 2001: A Space Odyssey (1968); Martine Beswick, an English horror star, most famous as the female half of Hammer's Dr Jekyll and Sister Hyde (1971); and Bruce Glover, a veteran of a great many B movies. There is also the odd young and unknown face like that of John Hawkes, later of tv's Deadwood (2004-6), as a surly youth.
Bruce Glover makes for one of the oddest pieces of casting – he is playing a Catholic priest (or at least you think he is a Catholic – he wears the black shirt and dog collar but at contradiction to this also has a family, whereas in reality members of the Catholic clergy are required to take a vow of celibacy and remain unmarried). Glover has a harsh appearance and manner (one that has frequently had him cast as goons) and seems an odd fit as a parent – when he starts trying to control daughter Christi Harris, the results seem weirdly creepy.
---
---