---
France. 1987.
Crew
Director – Jess Franco, Screenplay – Fred Castle, Adaptation – Fred Castle, Michael Lebrun, Jean Mazarin & Pierre Ripert, Producer – Rene Chateau, Photography – Jean-Jacques Bouhon & Maurice Fellous, Music – Romano Musumarra, Special Effects Supervisor – Jacques Gastineau. Production Company – Rene Chateau Productions.
Cast
Helmut Berger (Dr Frank Flamand), Brigitte Lahaie (Nathalie Flamand), Chris Mitchum (Sam Morgan), Caroline Munro (Barbara Hallen), Christiane Jean (Ingrid Flamand), Gerald Zalcberg (Gordon), Anton Diffring (Dr Karl Heinz Moser), Telly Savalas (Terry Hallen), Stephane Audran (Madame Sherman), Howard Vernon (Dr Orloff), Florence Guerin (Herself), Marcel Philpott (Maxence), Amelie Chevalier (Melissa), Henri Poirier (Commissaire Legris), Tilda Thamar (Madame Francois), Laura Sabardin (Angela), Nicki Gorska (Vitriol Woman), Alain Barbier (Rachid)
---
Plot
Dr Frank Flamand, a successful Parisian plastic surgeon, is followed by a former patient whose surgery was badly botched. She throws acid at him but misses and instead gets Flamand's sister Ingrid in the face, leaving her hideously disfigured. Sometime later, Flamand's wife/chief nurse Nathalie abducts American model Barbara Hallen. Barbara is made a prisoner at Flamand's countryside chateau surgery, the Clinique des Mimosas, where he is planning to conduct an operation to graft her face onto Ingrid. Barbara's father, a wealthy businessman, hires private detective Sam Morgan who comes to France to conduct an investigation. Flamand recruits a former Nazi doctor Karl Moser to help conduct the face graft operation. As plans go wrong, he and Nathalie are forced to abduct other women.
---
The late Jesus (who was commonly Anglicised as Jess) Franco was the world's most prolific director. Between the late 1950s and his death in 2013, Franco made 199 films. Franco worked in numerous exploitation genres throughout his career, including horror, science-fiction, spy films and historical dramas, although his most prolific output has been in horror films and pornographic material. (See below for a full list of Jess Franco's other genre films).
Franco's heyday was during the 1960s and 70s. By the 1980s with Faceless and as he entered his late sixties, Franco was starting to slow down. This was also about the same time as the rise of magazines such as Fangoria, Samhain, Psychotronic Video and Video Watchdog, which began to sing the praises of the Franco cult and undertook the valiant effort of tracking their way through the labyrinth of titles and alternate versions in search of what was (for the pre-internet at least) the holy grail of a definitive Franco filmography. Franco's back catalogue was resurrected and redistributed by cult and arts video labels. At the same time, his ongoing output tended to become increasingly more obscure and off the beaten track.
Faceless is Jess Franco revisiting his heyday – it could almost be considered a swansong to the particular era of film he almost singlehandedly created. Franco's first genre film was The Awful Dr Orloff (1962) featuring Howard Vernon as a mad surgeon who was abducting women in order to graft their faces onto his disfigured daughter. It was a blatant copy of the French Eyes Without a Face (1959) but proved a hit for Franco who returned to the character of Dr Orloff four times over the years. Although Howard Vernon does make a single scene appearance here as Orloff, Faceless is not strictly a Dr Orloff film per se. Rather it is more of a homage to the mad surgeon genre beginning with Eyes Without a Face that The Awful Dr Orloff was an indisputable part of. Extending the homage, Franco also casts Anton Diffring, a German actor who developed a career principally in English horror playing Teutonic villains and who had the key role in the British mad surgeon film Circus of Horrors (1960).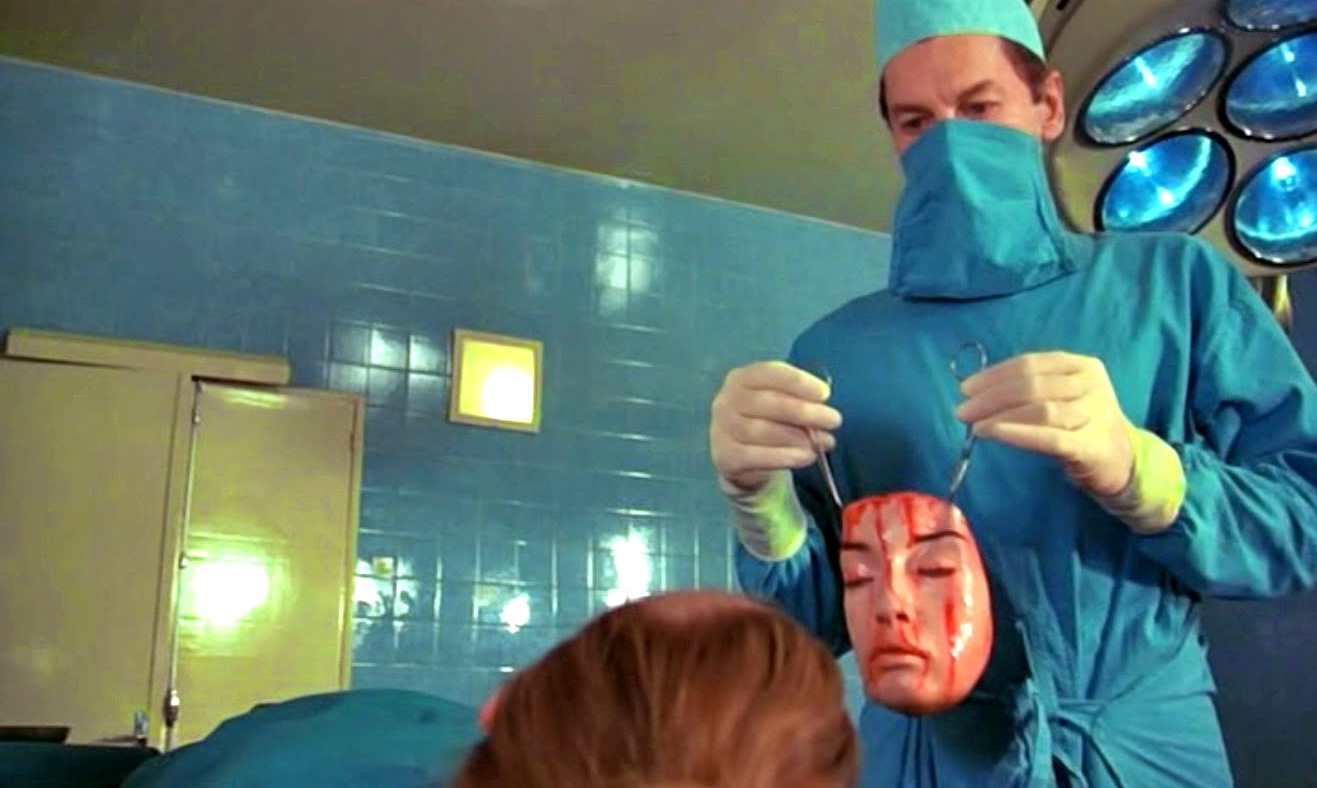 The one thing that Franco has been able to do here that he never did in his heyday is corral an amazing cast. This includes:- Caroline Munro, a British actress who gained a cult following in films such as The Golden Voyage of Sinbad (1973), At the Earth's Core (1976), Star Crash (1978) and Maniac (1980); French porn actress Brigitte Lahaie who went respectable and had a number of roles in horror films of the era; Gerald Zalcberg, a Dutch actor with serial killer features best known for playing Mr Hyde in Walerian Borowczyk's Dr Jekyll and His Women (1981); American actor Telly Savalas, most famous as tv's Kojak (1973-8) who also made a number of appearances in 1970s Euro horror with films like Horror Express (1972) and Lisa and the Devil (1972); Stephane Audran, a French actress in numerous Euro arthouse films; Robert Mitchum's son Chris who had a minor career as an actor in European action movies throughout the 1970s and 80s; the aforementioned Anton Diffring; Franco regular Howard Vernon; and French actress/model Florence Guerin playing herself.
About the only thing that Faceless has going for it are some extremely gory despatches. This is something that had the film banned in some countries and cut in others, although the gore often tends to look fake today. In one effective scene, we see Stephane Audran stabbed in the eyeball with a syringe. In another scene, a woman's face is peeled off during a surgical operation but this goes wrong and we see the skin ripped off and, in a very fake effect, the eyeballs rotating inside the torn face. Elsewhere, there is another very fake scene where we see Gerald Zalcberg chainsawing the victim's head off and then, with typical Franco perversity, kissing the severed head on the lips. A man is brought in to the disfigured sister Christine Jean for the night, he insists on ripping off her mask and recoils in fright whereupon Brigitte Lahaie comes up behind and stabs him in the neck with a pair of scissors and he falls face down impaling the scissors out through the back of his neck. Clinic receptionist (Laura Sabandin) hides in Gerald Zalcberg's cupboard only to be spotted and he to repeatedly ram a power drill through the door to impale her. What this suggests is one of the Dr Orloff films from Jess Franco's heyday having been resurrected by way of the Italian giallo films of Dario Argento with its focus on extravagant despatches – or perhaps less Argento and more the unimaginative gore-drenched hackery of an imitator like Lucio Fulci.
The main problem with Faceless is that it drags. The plot is all build-up to the operation, which means that we get long interludes set around the various dramas going on at the clinic; B plots such as Caroline Munro's attempts to escape and P.I. Chris Mitchum's efforts to find her; patient Gerald Zalcberg who likes to molest and kill the girls at the clinic for no apparent reason; and scenes where Helmut Berger decides that the girl they have is not right and someone else must be stalked/seduced. These scenes are lethargically developed and endlessly drawn out. There is not even much of the erotica that we expect of Franco – especially given that he has porn actress Brigitte Lahaie in a leading role – and what there is is fairly tame even by the standards that were the norm for the 1980s. You often get the feeling that many scenes were improvised and written around whatever stars that Franco was able to bring in for a couple of days – the parts of Telly Savalas and Stephane Audran could have been cut without notice. As with most Franco films and a good many video era Euro imports, the film suffers from bad dubbing. This has a tendency to make some aspects – like a flamboyantly gay character played by Marcel Philpott – seem even more of an appalling cliche today.
Jess Franco's other films are:– The Awful Dr Orloff (1962), The Sadistic Baron Von Klaus (1962), The Secret of Dr Orloff (1964), Attack of the Robots (1966), The Diabolical Dr Z/Miss Death (1966), The Blood of Fu Manchu (1968), Necronomicon/Succubus (1968), The Castle of Fu Manchu (1969), Justine (1969), Kiss Me Monster (1969), 99 Women (1969), Sadisterotica/Red Lips (1969), The Girl from Rio (1969), Venus in Furs/Paroxysmus (1969), The Bloody Judge/Night of the Blood Monster (1970), Count Dracula (1970), Eugenie/Philosophy in the Boudoir (1970), Nightmares Come at Night (1970), Vampyros Lesbos (1970), Dracula, Prisoner of Frankenstein (1971), She Killed in Ecstasy (1971), The Corpse Packs His Bags (1972), The Daughter of Dracula (1972), The Demons (1972), Doctor Mabuse (1972), The Erotic Adventures of Frankenstein (1972), The Silence of the Tomb (1972), The Bare-Breasted Countess/Erotikill/Female Vampire (1973), The Erotic Adventures of Maciste in Atlantis (1973), The Obscene Mirror/The Other Side of the Mirror (1973), The Sinister Eyes of Dr Orloff (1973), A Virgin Among the Living Dead/Christina, Princess of Eroticism (1973), Lorna the Exorcist (1974), The Perverse Countess (1974), Eugenie (1975), Doriana Grey (1976), Jack the Ripper (1976), Night of the Assassins (1976), Sexy Sisters/Satanic Sisters (1976), Greta the Mad Butcher/Wanda the Wicked Warden/Ilsa: Absolute Power (1977), Call of the Blonde Goddess/Voodoo Passion (1977), Wicked Women (1977), Demoniac/Exorcism/The Ripper of Notre Dame (1979), Man Hunter/The Devil Hunter (1980), White Cannibal Queen (1980), Bloody Moon (1981), Oasis of the Zombies (1981), Revenge of the House of Usher (1982), Grave of the Living Dead (1983), The Treasure of the White Goddess (1983), The Sinister Dr Orloff (1984), Mansion of the Living Dead (1985), The Killer Barbies (1996), Lust for Frankenstein (1998), Marie-Cookie and the Killer Tarantula in 8 Legs to Love You (1998), Tender Flesh (1998), Vampire Blues (1999), Vampire Junction (2001), Incubus (2002), Killer Barbies vs Dracula (2002), Snakewoman (2005), Paula-Paula (2010), Al Pereira vs the Alligator Ladies (2012), Crypt of the Condemned (2012) and Revenge of the Alligator Ladies (2013).
---
---