aka Flight 7500
---
Crew
Director – Takashi Shimizu, Screenplay – Craig Rosenberg, Producers – Taka Ichise & Roy Lee, Photography – David Tattersall, Music – Tyler Bates, Visual Effects – Hollywood Visual Effects (Supervisor – Jason Howey), Special Effects Supervisor – Ron Bolanowski, Makeup Effects – Todd Masters, Michael Mosher & Mark Vinielle, Production Design – Jaymes Hinkle. Production Company – Vertigo Entertainment/Ozla Pictures.
Cast
Ryan Kwanten (Brad Martin), Leslie Bibb (Laura Baxter), Amy Smart (Pia Martin), Nicky Whelan (Liz Lewis), Scout Taylor-Compton (Jacinta), Jerry Ferrara (Rick Lewis), Jamie Chung (Suzy Lee), Johnathon Schaech (Captain Pete Haining), Alex Frost (Jake Young), Christian Serratos (Raquel Mendoza), Rick Kelly (Lance Morrell)
---
Plot
Vista Pacific Flight 7500 departs from Los Angeles bound for Tokyo. Soon into the flight, one of the passengers has a seizure and bloodily expires despite the efforts of paramedic Brad Martin to save him. Soon after, the plane undergoes a freak cabin depressurisation but the captain manages to pull them out of it. Afterwards, the passengers find that all is not right on board – the body of the dead man has disappeared, while something is moving through the plane killing passengers.
---
Japanese director Takashi Shimizu gained major world attention with the international hit of Ju-on: The Grudge (2003). Shimizu has directed five other films in the Ju-on universe with the earlier Ju-on (2000) and Ju-on 2 (2000), the sequel Ju-on: The Grudge 2 (2003), and the English-language remake The Grudge (2004) and its sequel The Grudge 2 (2006). Outside the Ju-on/Grudge series, he has made Tomie: Rebirth (2001), the strange and unclassifiable Marebito (2004), the ghost story Reincarnation (2005), an episode of the anthology Ten Nights of Dreams (2006), The Shock Labyrinth (2009), Rabbit Horror 3D (2011) and the live-action version of Hayao Miyazaki's Kiki's Delivery Service (2014), A Rain Woman (2016), Innocent Curse (2017) and Howling Village (2019).
7500 was Shimizu's third English-language film, his first original effort outside of the Grudge series. It was produced by Asian-American Roy Lee and his Vertigo Entertainment production company, which has specialised in buying up Asian films for remakes and was principally behind the spate English-language remakes of Japanese horror films that we had in the latter half of the 2000s, which included The Grudge.
With 7500, Takashi Shimizu takes on the airplane horror genre. This is something that has 'taken off' in recent years from non-genre thrillers like Red Eye (2005), Flightplan (2006) and Non-Stop (2014) to horror oriented ones like Tail Sting (2002), Snakes on a Plane (2006), Flight of the Living Dead: Outbreak on a Plane (2007), Quarantine 2: Terminal (2011) and Lost in the Pacific (2016). The film also has clips from Nightmare at 20,000 Feet (1963), the classic The Twilight Zone episode with William Shatner seeing a gremlin on a plane wing, screening at one point. Although what we have here, at least during its initial scenes, suggests that it is coming closest to the The Last Fright episode of the Thai anthology Phobia (2008) with a lone flight attendant terrorised by a corpse aboard the plane.
On the basis of Takashi Shimizu's commendable work elsewhere, I came expecting that he would do amazing things with the airplane horror genre. The film certainly has an intriguing build-up and you keep watching just to find out what is going on. On the other hand, you keep waiting for Shimizu to do something astounding directorially or to introduce something of the uncanny dread he did in the Grudge films – only he never does. 7500 gets in some mild eeriness but there is nothing of note that would not have been brought to the show by a run of the mill director.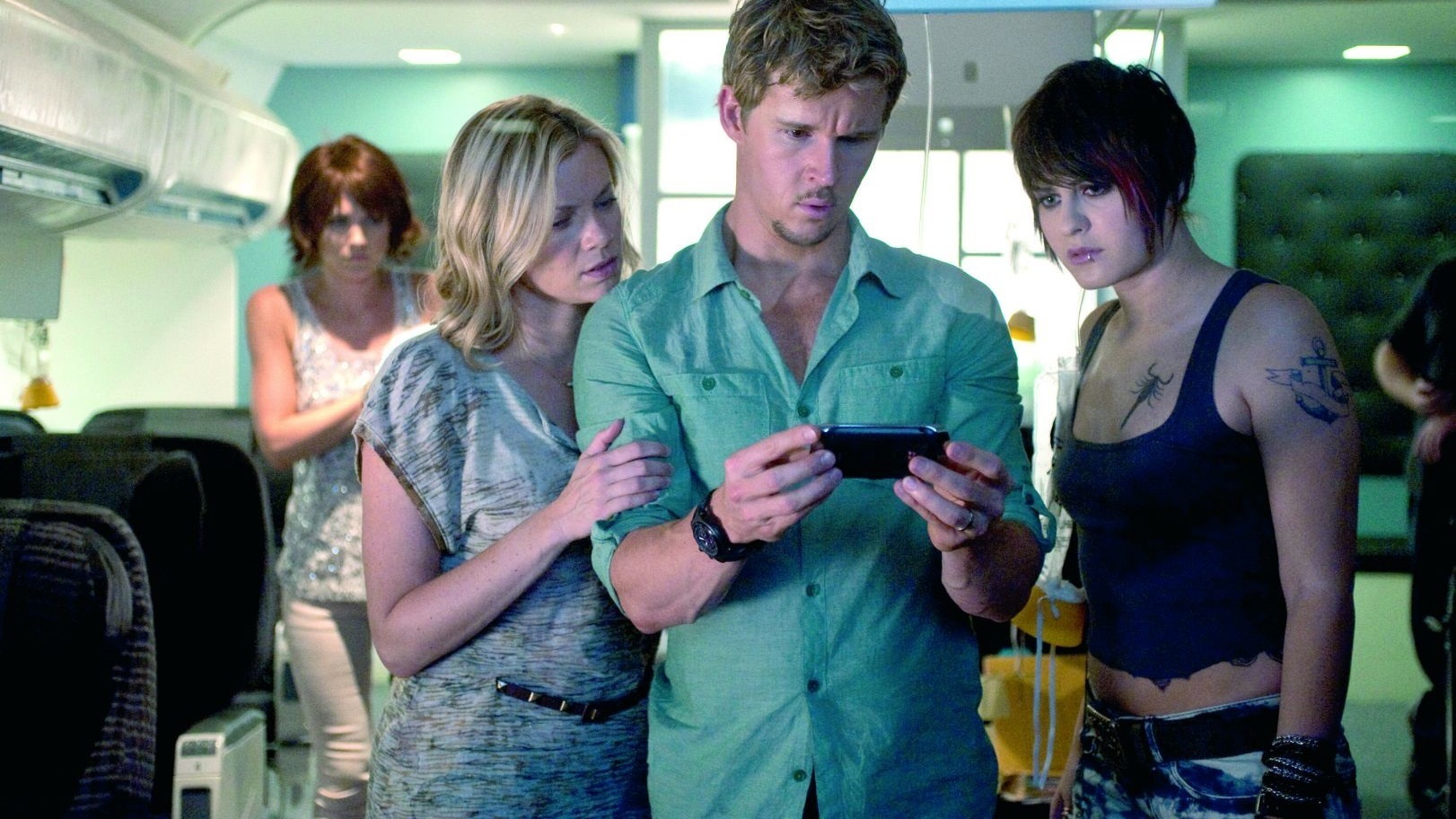 The film keeps what is going on from us until right at the end – only when it does reveal its hand, it ends up being a major disappointment. [PLOT SPOILERS]. It turns out all that we get is yet another variant on the deathdream film in which a series of bizarre and uncanny happenings are revealed to be the hallucinations of people in their dying moments. There have been a great many of these beginning with An Occurrence at Owl Creek Bridge (1961) and continuing through the likes of Carnival of Souls (1962), Seizure/Queen of Evil (1974), Siesta (1987), Jacob's Ladder (1990), Final Approach (1991), A Pure Formality (1994), The Others (2001), Soul Survivors (2001), The Brown Bunny (2003), Dead End (2003), I Pass for Human (2004), Hidden (2005), Reeker (2005), Stay (2005), The Escapist (2008), The Haunting of Winchester House (2009), Someone's Knocking at the Door (2009), The Last Seven (2010), Wound (2010), A Fish (2012), Leones (2012), The Abandoned/The Confines (2015) and Shadow People (2016) and, of course, The Sixth Sense (1999). Indeed, the specific plot of airline crash passengers not realising that they are dead as spooky happenings occur around them has been done in several other films with The Survivor (1981), Sole Survivor (1983) and Passengers (2008).
The great irritation about the deathdream twist, aside from the fact that it has become overused in recent years to the point it is well and truly time to put it out to pasture, is that all of the films require a massive amount of misdirection to convince us to look one way and become absorbed in things that are happening before pulling out the rug. 7500 gives us lots of cryptic mystery about the dead passenger having possibly been killed by a Japanese death doll, the mysterious disappearances possibly due to some type of creature on board snatching passengers, maybe the first dead passenger not being dead after all, before the twist frustratingly renders all of this build-up meaningless. What makes this even more frustrating is that once what is happened is explained, the film goes out with a final jump with something lurking in a garbage can that contradicts this explanation.
---
---