aka Freekz; Hideous Mutant Freekz; Very Special People
---
Crew
Directors – Tom Stern & Alex Winter, Screenplay – Tom Stern, Alex Winter & Tim Burns, Producers – Harry J. & Mary Jane Ufland, Photography – Jamie Thompson, Visual Effects – Fantasy II Film Effects (Supervisor – Gene Warren Jr), Digital Effects – Pacific Data Images, Claymation – Chiodo Brothers Productions, Special Effects Supervisor – Martin Bresin, Makeup Effects Supervisor – Thomas C. Rainone, Makeup Effects – Alterian Studios (Supervisor – Tony Gardner), Screaming Mad George & XFX (Supervisor – Steve Johnson), Production Design – Catherine Hardwicke. Production Company – Pandora Cinema/20th Century Fox/Tommy Productions.
Cast
Alex Winter (Ricky Coogin), Randy Quaid (Elijah C. Skuggs), Michael Stoyanov (Ernie), Megan Ward (Julie), Alan Zuckerman (Stuey Gluck), William Sadler (Dick Bryan), Keanu Reeves (Ortiz the Dog Boy), Derek McGrath (Worm), Karyn Sercell (Sockhead), Bobcat Goldthwait (Voice of Sockhead), John Hawkes (Cowboy), Jeff Kahn (Nosey), Mr T (Bearded Lady), Patti Tippo (Rosie the Pinhead), Lee Arenberg (Eternal Flame), Tim Burns (Frogman), James Cardiche (Toad), Brooke Shields (Skye Daley)
---
Plot
Movie star Ricky Coogin appears on a tv talkshow to tell his story. He tells how he travelled to the South American republic of Santa Flan as paid spokesperson for the Everything Except Shoes Corporation to help sell their plan to dump Zygrot 24 toxic waste there. However, in Santa Flan, he, his best friend Ernie and environmental protestor Julie were taken prisoner in the circus freakshow of Elijah C. Skuggs. Skuggs then used Zygrot 24 to meld Ernie and Julie's bodies together and turn Ricky into a monster down one half the side of his body. Banding together with Skuggs's other freaks, Ricky became their leader and tried to lead them to stand up against Skuggs and EES.
---
Freaked was the directorial debut feature of Alex Winter – previously best known as the Bill half of Bill and Ted's Excellent Adventure (1989) and sequel – and Tom Stern. Winter and Stern met while working together on the MTV series The Idiot Box (1991). Both were in their twenties and launch into the film with fast and sarcastic attitude and a genuinely outre sense of humour.
20th Century Fox appear to have been deeply uncertain what to do with the finished film, having shuffled it around under various different titles – Very Special People, Hideous Mutant Freekz, Freekz – before dumping it into a cinematic release with no advance trade screening right on the Christmas holiday season as though trying to sweep it under the rug.
What surprises about the finished film is the cocksure freshness of Tom Stern and Alex Winter's attitude and the amazing degree of directorial self-assurance they display. The two take a vulgar joy in their cynicism. The film welcomely walks all over any potential seriousness of its messages. Despite familiar anti-corporate and corporate pollution themes, they take the piss out of environmental protesters and mercilessly slam the mock New Age sensitivity of its characters.
The film also allows a number of Hollywood names to send themselves up – including Alex Winter's Bill and Ted co-star Keanu Reeves unrecognisable under makeup as a dog boy, Brooke Shields as a tv host and particularly mid-80s icon Mr T parodying his strong and silent machismo as a mutant whose transformation from a truck driver into a bearded lady has "allowed him to get in touch with his sensitive side".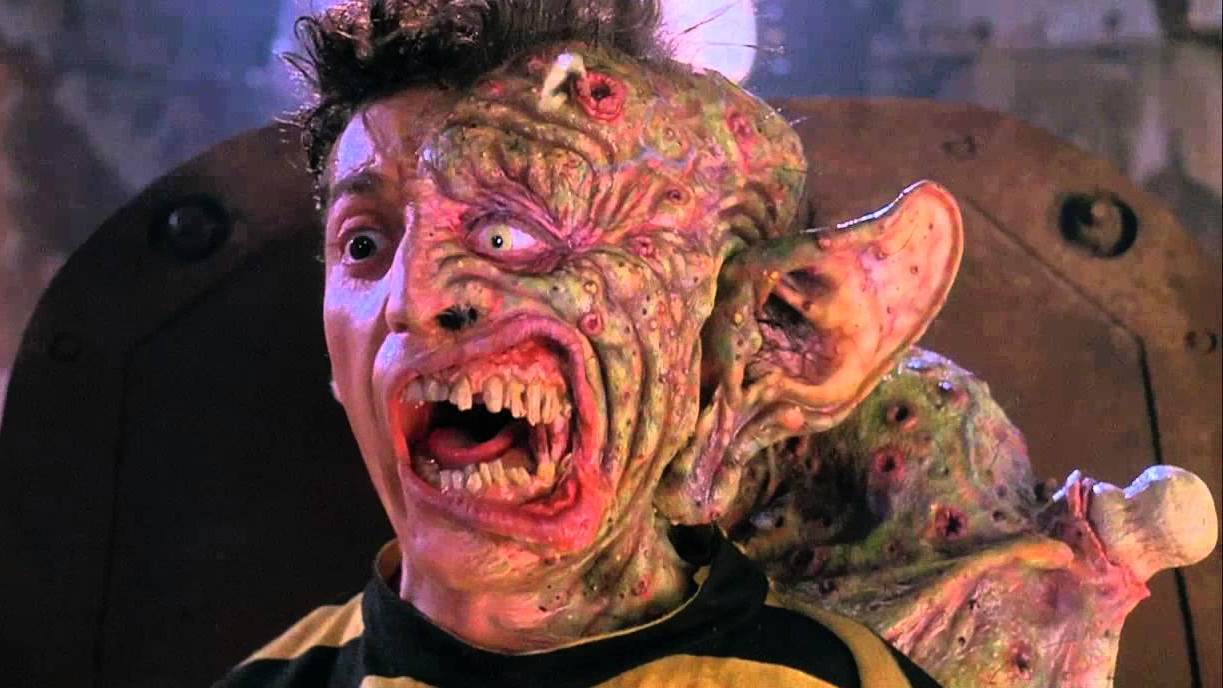 The appeal of Freaked comes in the hilariously offbeat weirdness of its humour – the toad guard who can catch rabbits and later small passing planes with his tongue; the suspense scene with Alan Zuckerman's geeky nerd creeping through a conference room and freezing when he drops something, the camera pulling back to reveal he is standing frozen in the middle of the room, in everybody's view but completely unnoticed; an hilarious scene where several people, including Alan Zuckerman and a good deal of junk are sucked out of an open plane door, which a stewardess then walks over to and calmly closes.
The makeup effects – which combine the efforts of three separate effects companies – offer an amazing parade of oddities, including large worms with human features, dog boys, a (literal) cowboy and ambulatory Rastafarian eyeballs. Performances rise to a high standard, with Randy Quaid, who plays the mad scientist role as a sort of demented snake oil salesman, stealing most of the film with a joyously OTT dementia where he seems to be having the most fun he has had in a film in some time.
Subsequent to Freaked, Alex Winter has made various other acting appearances. He has directed one other theatrical film, the claustrophobic psycho-thriller Fever (1999), several Ben 10 tv movies and two documentaries about various aspects of internet culture with Downloaded (2013), Deep Web (2015) and Trust Machine: The Story of Blockchain (2018), as well as the documentary The Panama Papers (2018), while he also produced Bill & Ted Face the Music (2020). Tom Stern works as a gag writer and occasional director on various comedy series. His one other contribution to genre cinema was co-writing the screenplay for An American Werewolf in Paris (1997).
---
Trailer here
Full film available online here:-
---