---
Crew
Director – Francis Ford Coppola, Screenplay – Jim V. Hart, Based on the Novel by Bram Stoker, Producers – Francis Ford Coppola, Fred Fuchs & Charles Mulvehill, Photography – Michael Ballhaus, Music – Wojciech Kilar, Visual Effects Supervisor – Alison Savitch, Visual Effects – Fantasy II (Supervisor – Gene Warren Jr), Special Effects Supervisor – Michael Lantieri, Makeup Effects – Greg Cannom & Matthew Mungle, Production Design – Dante Ferretti. Production Company – Columbia/American Zoetrope/Osiris Films.
Cast
Gary Oldman (Dracula), Winona Ryder (Mina Murray/Elizabeta), Anthony Hopkins (Dr Abraham Van Helsing), Keanu Reeves (Jonathan Harker), Sadie Frost (Lucy Westenra), Richard E. Grant (Dr John Seward), Bill Campbell (Quincey P. Morris), Cary Elwes (Arthur Holmwood), Tom Waits (Renfield)
---
Plot
In 1462, Elisabeta, the wife of Vlad Dracula, the ruler of Transylvania, throws herself to her death, wrongly believing that her husband has been killed while defending against the Turks. When the church that he has been defending condemns her soul to Hell for taking her own life, Dracula damns them and accepts the powers of darkness to become a vampire. In the 1890s, clerk Jonathan Harker travels to Transylvania to enact the sale of several properties in London to Dracula. Instead, Dracula gives Harker to his vampire wives and journeys on to England. Once in London, Dracula believes Harker's fiancee Mina Murray to be the reincarnation of Elisabeta and determines to seduce her to join him in darkness.
---
Placing the author's name above the title as Bram Stoker's Dracula does puts the onus on a film of either providing a definitive adaptation or of being dismissed as pretentiously presumptive. Luckily, this adaptation of Dracula (1897) emerges as a strong and original reworking of Bram Stoker. This film comes from Francis Ford Coppola, who had established himself as an enfant terrible and one of the finest directors of his decade with works like The Godfather (1972), The Godfather Part II (1974) and Apocalypse Now (1979). Coppola had an unusual connection to the story in that while working as a summer camp counselor in his teens, he would read the Stoker novel as a nighttime horror story to the children in his care.
Coppola has made a scrupulous attempt to return to the Stoker novel and reinterpret in new ways. In the script, many aspects of the book rarely touched upon in other adaptations are brought to screen – like the climactic chase across Europe tracing Dracula using the hypnotised Mina and Dracula's staking with a Bowie knife, while the character of the Texan Quincey P. Morris makes his first screen appearance.
Of course, any straight adaptation of Dracula has its problems, notably in that after a strong opening Bram Stoker allows the title character to drop off centre stage for the greater part of the story. Screenwriter James V. Hart is aware of this and embellishes the story by turning Mina into a reincarnation of Dracula's wife and making the seduction of her into a sensuous romance at the heart of the story. Hart also identifies Dracula directly with Vlad the Impaler (although Hart has clearly not researched the historical Vlad and repeats the common fallacy that Vlad was the ruler of Transylvania rather than Wallachia).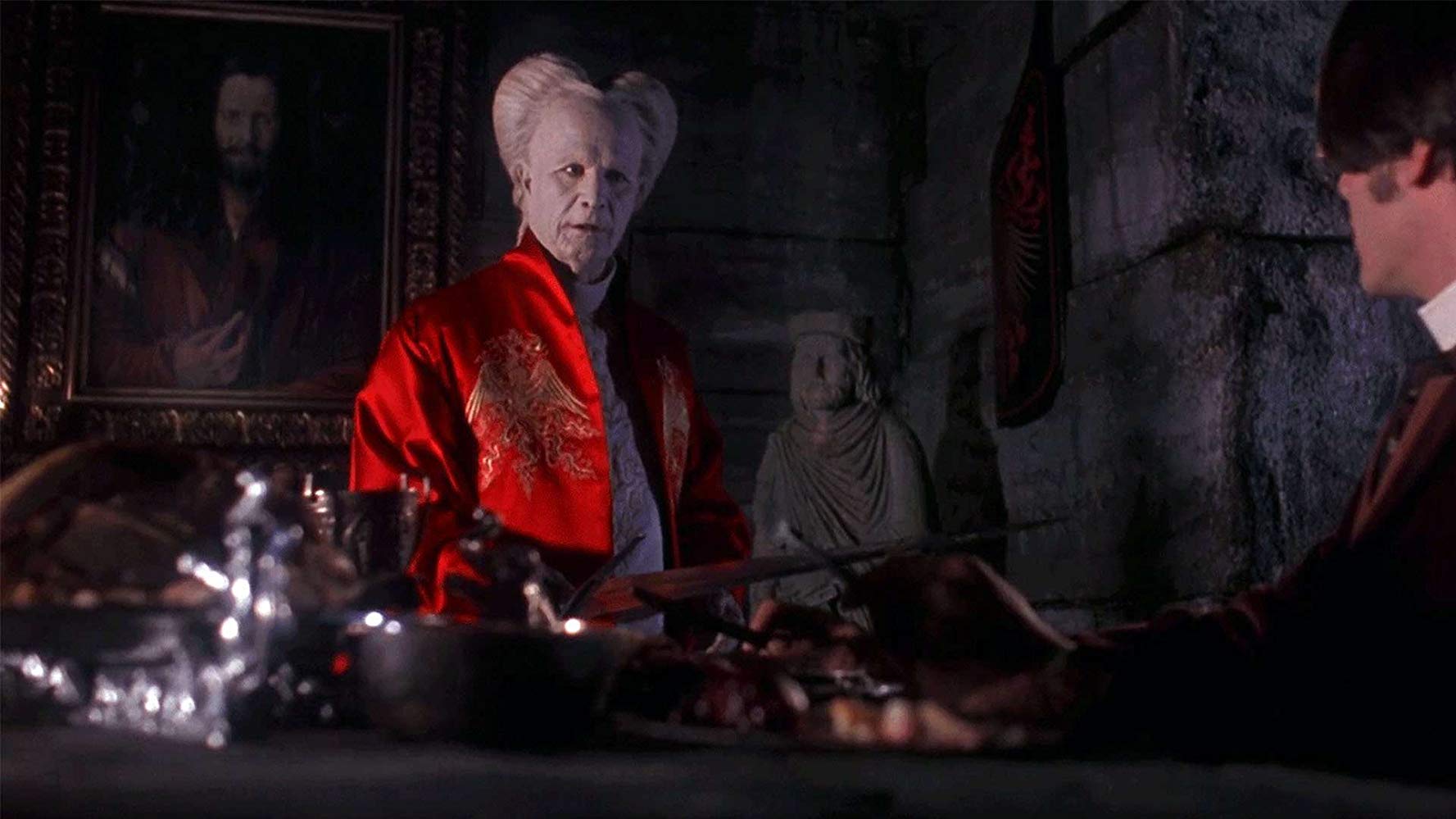 Most previous adaptations of the Dracula story (see below) tend to directorially follow Bram Stoker's wake, allowing the story to dramatically carry the film. Here though, Francis Ford Coppola leaps in with a rapturous visual excess that bursts from every frame of the film. The blood comes in explosive gouts and the film erupts with an upfront sexuality that would surely have made Bram Stoker blush.
Coppola made a concerted effort not to use modern CGI and visual effects and to in many cases return to some of the early cinema techniques that would have been available at the turn of the 20th Century. He directs the way artists paint graphic novels – every frame is packed with self-conscious effect – extraordinary fades, cuts and double-exposures where the eye of a peacock feather becomes a tunnel or bites on the neck change into eyes glowing in the dark. In one extraordinary shot, Jonathan's diary becomes the track his train runs along, its shadow moving across the words written below.
Francis Ford Coppola makes a conscious effort to break his version of the story away from the dinner-suited vampire film images of cliche. The Transylvanian sequences take place in a Gothic Romantic Twilight Zone – Castle Dracula is a dark, twisted edifice built out of nightmare where rats run along the ceiling and water drips upward and in the most unsettling scenes Dracula's shadow carries out actions independent of its owner, including reaching out toward Jonathan's neck while Dracula carries on a perfectly normal conversation.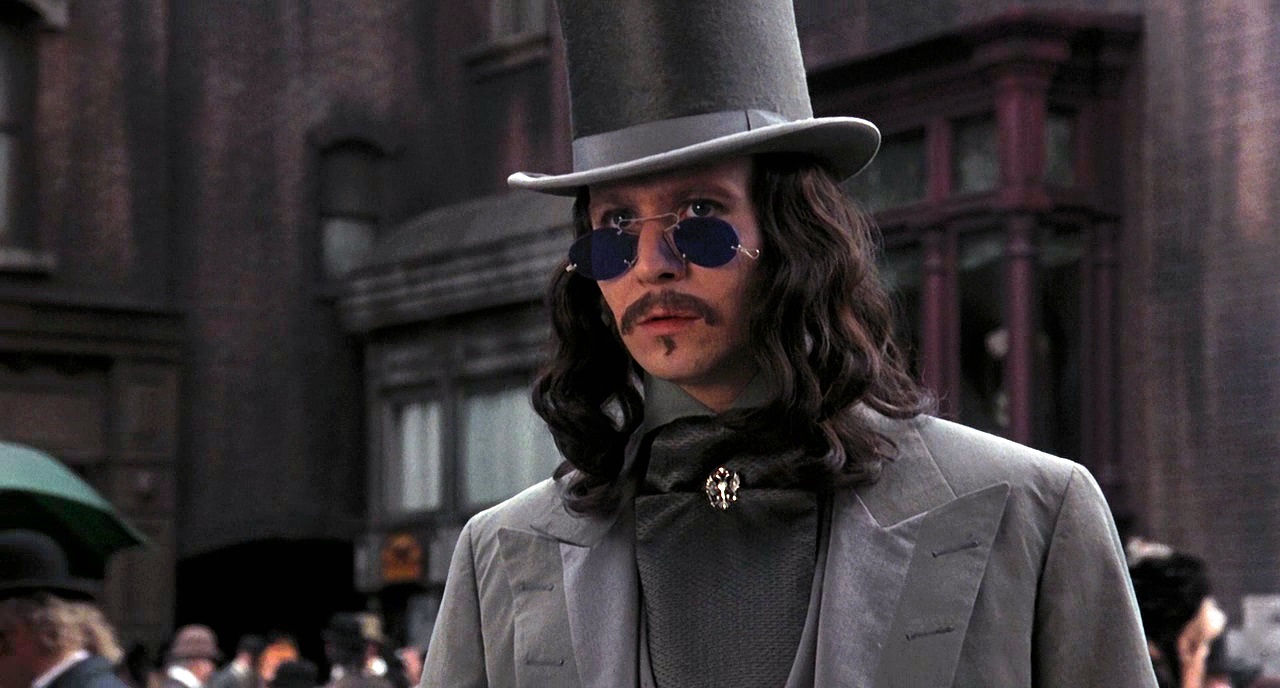 There are times where the film's artistic ambitions undeniably collapse into the pretentious. The popular youth appeal cast was a major mistake. Winona Ryder fails to convince as a repressed Victorian schoolteacher and her flat performance makes the romantic angle less than it should have been. That is not as bad as Keanu Reeves who woefully fails to evince an English accent or even remotely convince as Jonathan Harker. Bad acting is not solely limited to the teen cast – Anthony Hopkins thoroughly overacts and hams up the Van Helsing part.
Despite this, there are some good performances buried in the film – Tom Waits invests Renfield with a touchingly pathetic quality, making this the most sympathetic screen Renfield so far. Gary Oldman is not the most ready of actors to come to mind when thinking of a romantic figure and his Dracula swims between a wild theatricality and moments of effectiveness. Nevertheless, despite odd moments of excess, Bram Stoker's Dracula is a dazzlingly sensual attempt to breathe a new kind of life into the oft-told story and one that succeeds far more than not.
Other adaptations of Dracula are:- the silent classic Nosferatu (1922); Dracula (1931) with Bela Lugosi; the Spanish language version Dracula (1931) shot on the same sets as the Lugosi version starring Carlos Villarias; Hammer's classic Dracula/The Horror of Dracula (1958) with Christopher Lee; Dracula in Pakistan (1967), an uncredited remake of the Hammer film; Count Dracula (1970), also starring Christopher Lee; Dan Curtis's tv movie Dracula (1974) starring Jack Palance; the BBC mini-series Count Dracula (1977) with Louis Jourdan; Dracula (1979) with Frank Langella; Werner Herzog's Nosferatu the Vampyre (1979) with Klaus Kinski; Guy Maddin's ballet adaptation Dracula: Pages from a Virgin's Diary (2002); the tv movie Dracula (2002) with Patrick Bergin, which conducts a modernised adaptation; the BBC tv movie Dracula (2006) with Marc Warren; the low-budget modernised Dracula (2009); Dario Argento's Dracula (2012) with Thomas Kretschmann as Dracula; the low-budget Canadian Terror of Dracula (2012) with director Anthony D.P. Mann as Dracula; the tv series Dracula (2013-4) with Jonathan Rhys Meyers; the BBC mini-series Dracula (2020) starring Claes Bang; Bram Stoker's Van Helsing (2021), which actually features no Dracula; and The Asylum's Dracula: The Original Living Vampire (2022) with Jake Herbert.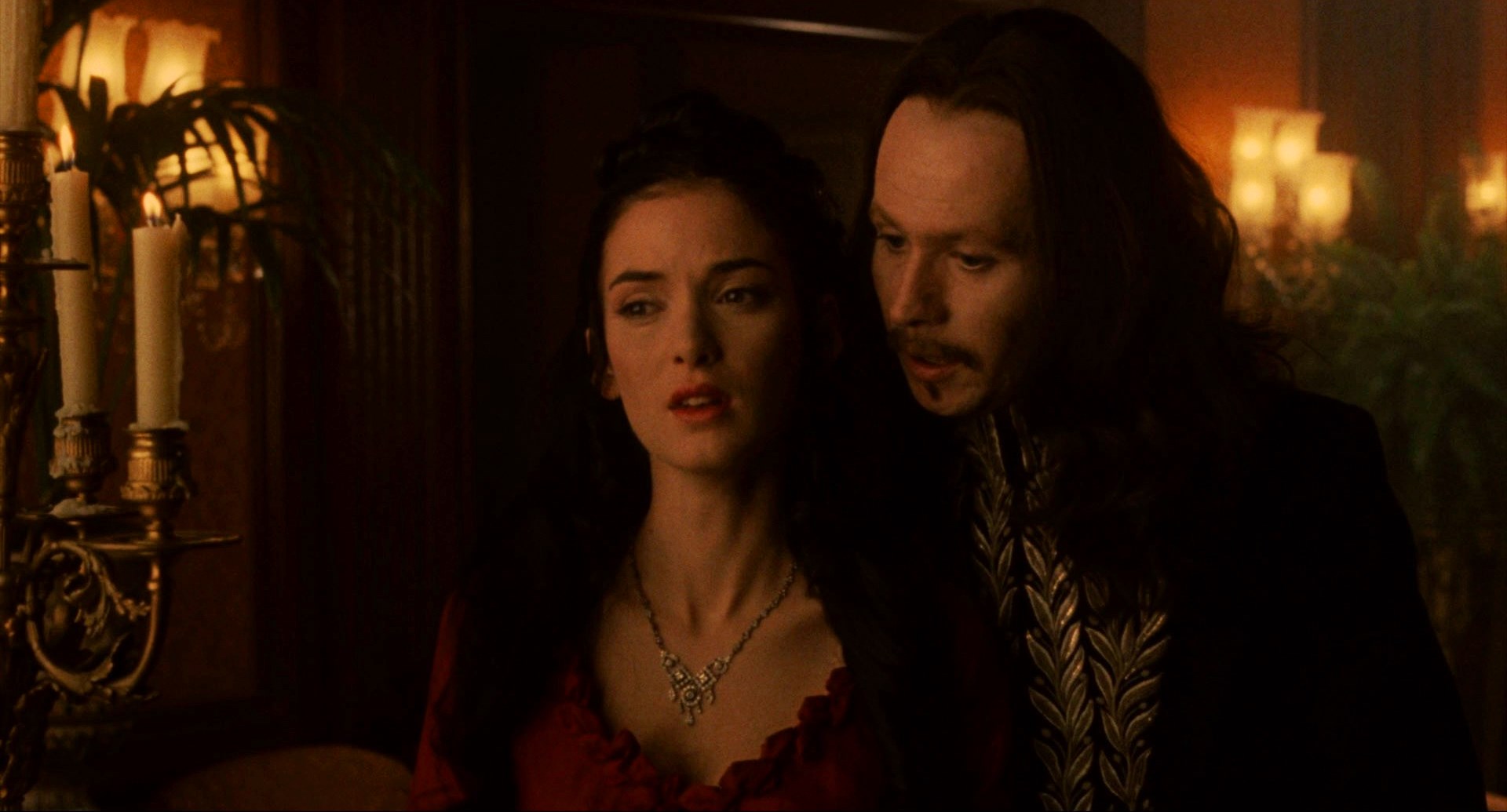 Adaptations of Dracula almost invariably are followed by adaptations of Frankenstein or vice versa and Francis Ford Coppola went onto executive produce an adaptation of Frankenstein with Mary Shelley's Frankenstein (1994). Coppola also later produced a frankly bizarre tv movie adaptation of Dr Jekyll and Mr Hyde (1999), which resurrected the title character as a martial arts superhero. Bram Stoker's Dracula was also parodied in Mel Brooks's Dracula: Dead and Loving It (1995).
Francis Ford Coppola has had a number of other associations with the genre, beginning with reputed directorial work on Roger Corman's The Terror (1963), his pseudonymous re-editing of a Russian sf film for Corman as Battle Beyond the Sun (1963), to the Gothic melodrama Dementia 13/The Haunted and the Hunted (1963), the leprechaun musical Finian's Rainbow (1968), the time travel fantasy Peggy Sue Got Married (1986), Youth Without Youth (2007) about a man who miraculously becomes youthful and the ghost story/vampire film Twixt (2011). Coppola has also produced work within the genre from George Lucas's debut feature THX 1138 (1971), the alien visitor tv movie The People (1972), the ghost story Haunted (1995), the tv mini-series White Dwarf (1995) set on an alien world, Andrei Konchalovski's epic mini-series version of The Odyssey (1997), the X Files ripoff tv series First Wave (1998), the Hawaiian supernatural revenge film Lanai-Loa: The Resurrection (1998), Agnieszka Holland's Catholicism and miracles drama The Third Miracle (1999), Victor Salva's Jeepers Creepers (2001) and Jeepers Creepers II (2003) and the eccentric Hal Hartley monster movie No Such Thing (2001).
---
---