aka The Freakmaker
---
Crew
Director – Jack Cardiff, Screenplay – Edward Mann & Robert D. Weindack, Producer – Weindack, Photography – Paul Beeson, Music – Basil Kirchin & Jack Nathan, Photographic Effects – Ken Middleham, Special Effects – Mike Hope, Makeup – Charles Packer, Art Direction – Herbert Smith. Production Company – Getty Pictures Corp.
Cast
Donald Pleasence (Dr Nolte), Tom Baker (Lynch), Brad Harris (Brian Redford), Scott Anthony (Tony), Michael Dunn (Burns), Julie Ege (Heidi), Jill Haworth (Lauren)
---
Plot
University lecturer Dr Nolte is kidnapping his students to use as subjects in an experiment in merging human and plant-life. Some of the students then discover their mutated and hideously disfigured classmates, the unsuccessful results of Nolte's experiments, discarded as exhibits in a nearby circus freakshow.
---
The Mutations is somewhat of a mutation itself. It is a genetic throwback that could easily have been one of the poverty row mad scientist films of the 1930s and 40s. Back then in any PRC or Monogram production it would have been absolutely mandatory that Bela Lugosi have filled Donald Pleasence's lab-coat. The plot is constructed out of mad scientist genre cliches, albeit with a few modern touches like gratuitous shower scenes from Julie Ege.
Perhaps the oddest thing about The Mutations is that it is directed by the former Oscar-winning cinematographer Jack Cardiff. Cardiff had a highly respectable curriculum vitae, having lensed like Michael Powell classics A Matter of Life and Death/Stairway to Heaven (1946), Black Narcissus (1947) and The Red Shoes (1948) and other works such as Pandora and the Flying Dutchman (1951) and The African Queen (1952) where he became famed for his epic work with Technicolor. Cardiff had also directed a handful of titles with the acclaimed D.H. Lawrence adaptation Sons and Lovers (1960) and the first Smellovision film Scent of Mystery (1960).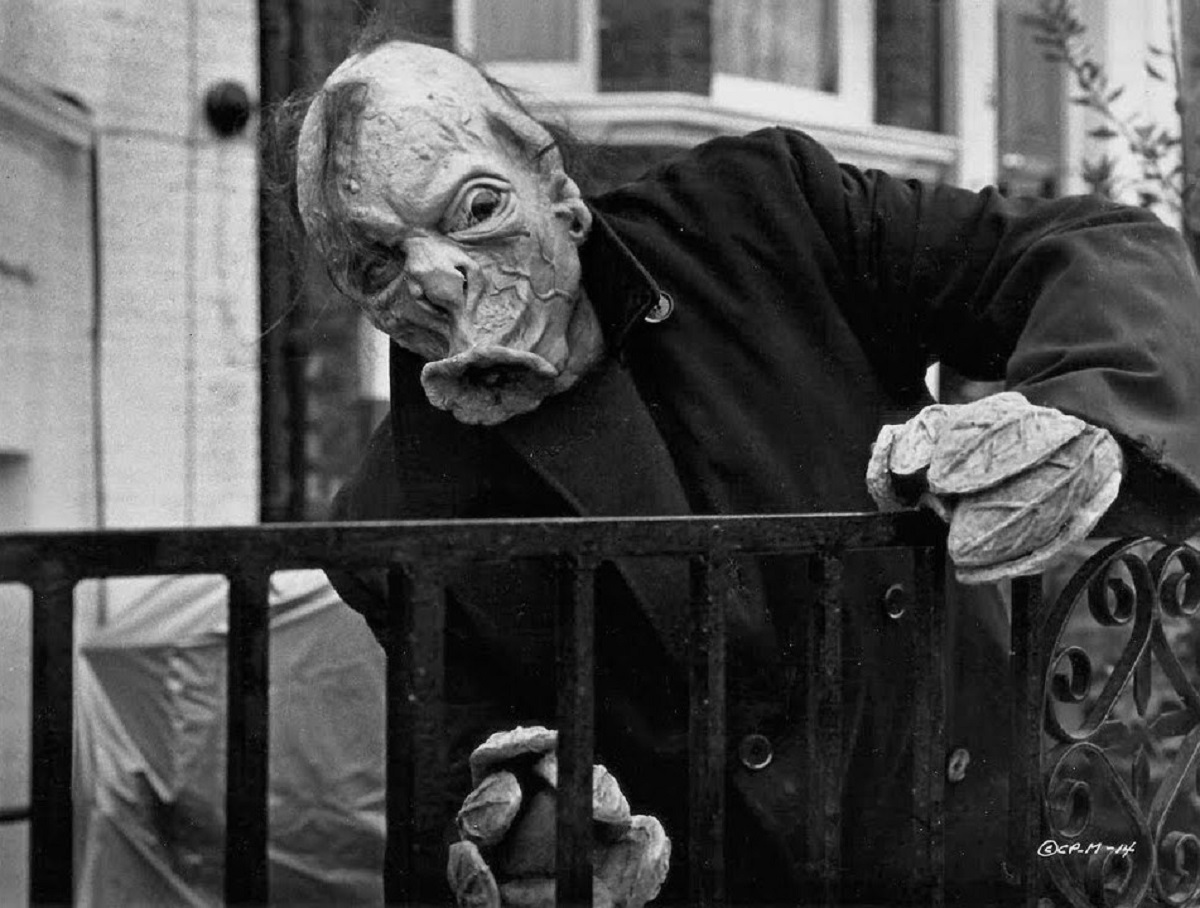 The Mutations is a strange recapturing of Freaks (1932), casting real human deformities as the mutated creatures at the circus. Although the tastelessness with which characters crack puns about the various human deformities certainly puts the film into dubious regard. Certainly, Jack Cardiff fails to imbue the deformities with any of the pathos that Tod Browning did in Freaks.
The Mutations is a bad film – Jack Cardiff directs at a tedious pace and the plot is so uninvolving that nobody could care less what happens. Even the usually reliable Donald Pleasence fails to enliven his part, which seems to mostly consist of reciting dialogue from scientific textbooks. Ken Middleham, best known for his insect photography on The Hellstrom Chronicle (1971) and Phase IV (1974), contributes some modest time-lapse photography. The film also features Tom Baker as the circus master, just prior to Baker being cast as the fourth incarnation of Doctor Who (1963-89, 2005– ).
---
---