---
USA. 1986.
Crew
Director – Gil Bettman, Screenplay – Anton Fritz & Steven Paul, Story/Producer – Steven Paul, Photography – David Worth, Music – Michael Kingsley, Iren Kosler, Ralph Lane, Lennie Nichaus & Chip Taylor, Special Effects Supervisor – Roger George, Makeup – Michael Spatola, Production Design – Dale Allen Pelton. Production Company – Paul Entertainment.
Cast
John Stamos (Lance Stargrove), Vanity (Danja Deering), Gene Simmons (Velvet Von Ragnar), George Lazenby (Drew Stargrove), Peter Kwong (Cliff), John Anderson (Arliss), Robert Englund (Riley)
---
Plot
While at boarding school where he studies gymnastics, Lance Stargrove receives news that his father has been killed. Attending the funeral, Lance discovers that his father was not the oil company trouble-shooter he always thought he was but a secret agent. Meeting up with his father's former colleague, the luscious Danja Deering, Lance is plunged into a series of breakneck escapades as they try to find the killers. The trail brings them up against the androgynous criminal mastermind Velvet Von Ragnar and his army of bikers. Von Ragner is trying to get back a computer disc stolen by Lance's father that contains his plans to flood the Los Angeles water supply with radioactive waste.
---
Never Too Young to Die is 1980s exploitation cinema at its best. It is a completely madcap patchwork of elements. It seems to be all at once a teen boffin film with a punk ethos, a seeming head-on collision between Mad Max 2 (1981) and an urban James Bond film.
The elements thrown into the stew collide in ways that are positively hysterical – James Bond gadgetry galore, comic-book splatter, Robert Englund as a wacky scientist creating mutant goldfish, an hysterically OTT villain in drag, and bikers charging around everyday surroundings in completely fake three-foot tall mohawks, bare chests and skull-embossed motorcycles (one knows these bikers are real party animals, they have special drive-in bars where they don't even get off their bikes to dance).
There is not a shred of reality to the film; in fact, it seems deliberately designed to flaunt any resemblance to the real world – George Lazenby, for instance, charges into gunfire with an armoured umbrella, and it seems perfectly natural for people to have caches of arms hidden behind swivel doors in their barn or up the kitchen chimney ready for every opportunity.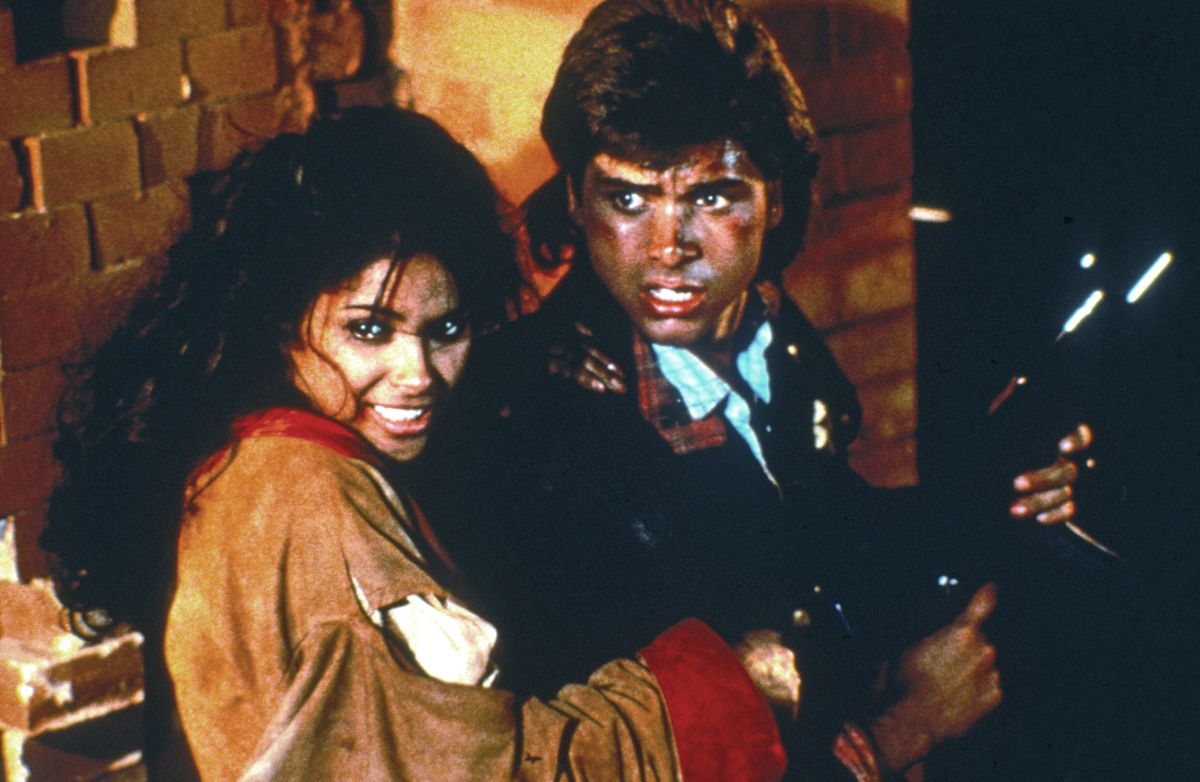 Never Too Young to Die is a film of excesses and the most shining excess among these is former Kiss bassist/frontman Gene Simmons who had a brief acting career around this period. Simmons spends the entire film strutting about in gold chintz lingerie and studded leather, obscenely waggling his infamous 7″ tongue, and, in one hilariously scene, getting to strut about on stage in something resembling a leftover Cher costume and an eight-foot tall iridescent pink wig. It is a performance of shrieking, eye-rolling camp posturings. The funniest scene surely comes at the film's climax where Gene Simmons manages to turn hero John Stamos in mid-attack by convincing him he is a poor, helpless female; where Stamos's rejoinder is to momentarily dissuade Simmons by appealing to his vanity, whereupon Stamos stabs Simmons with his/her deadly fingernail as he/she comes in for a kiss. Every moment of the film is delirious entertainment.
The film has an amazing cast line-up. The young well-muscled hero is John Stamos, who found his fame shortly after as the lead in tv's Full House (1987-95), although has not done a huge amount since. (Indeed, John Stamos is better known as the Stamos formerly attached to the hyphen in his ex-wife Rebecca Romijn-Stamos's name).
The lead actress is former Prince protege Vanity who had a brief cultish career in the 1980s with films such as the bizarre softcore Tanya's Island (1980), the disco/martial arts film The Last Dragon (1985), Action Jackson (1988) and a handful of other roles, before she spurned the excesses of her Hollywood career and became a Christian evangelist. This is surely one of Vanity's finest screen moments. She spends much of the film in a decorous state of undress and her crowning moment of glory is a surprisingly erotic five-minute scene where she undresses and seduces John Stamos (all of which incredulously takes place before the eyes of supposedly watching military).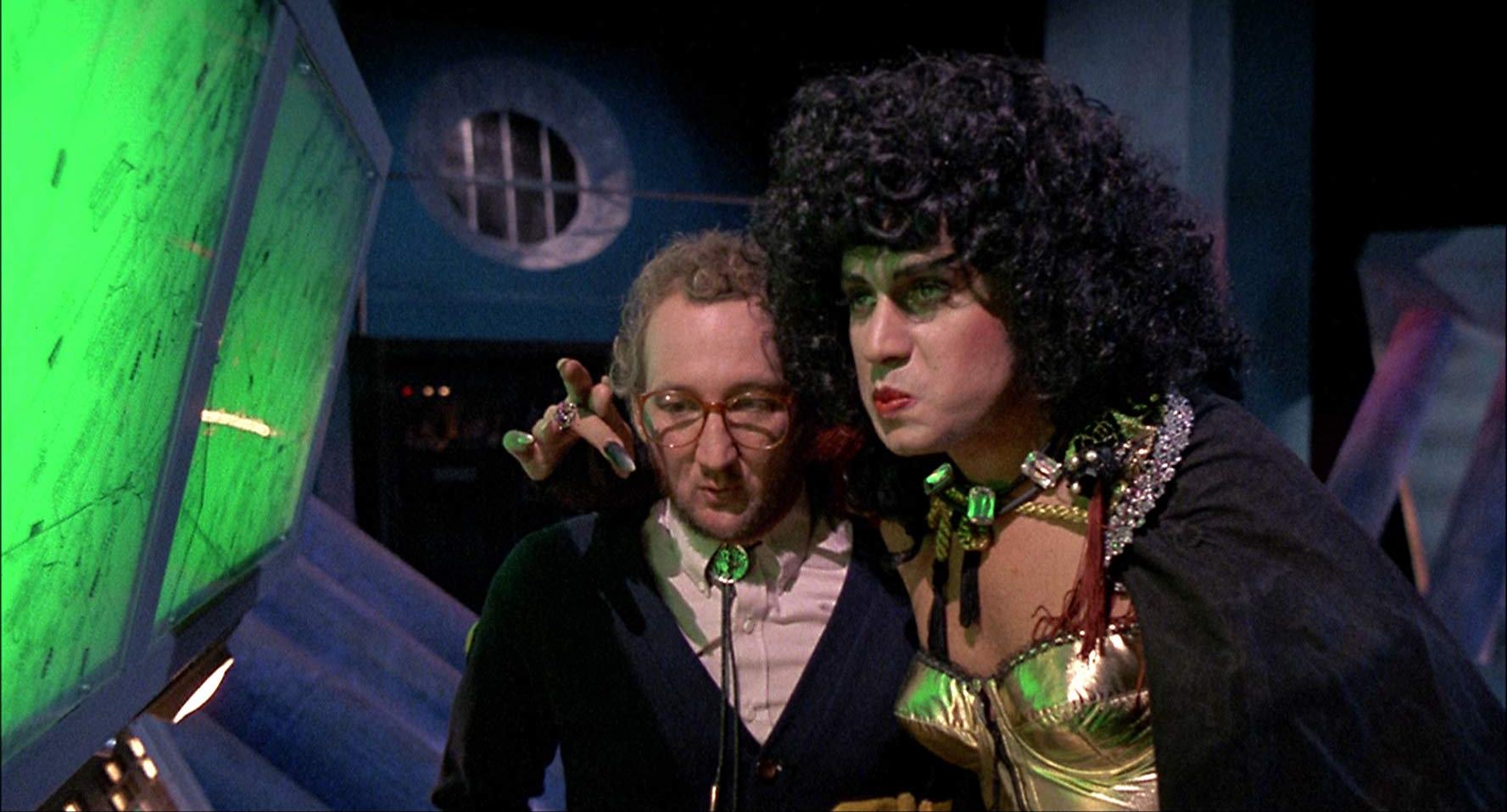 John Stamos's spy father was played by George Lazenby, who was once Sean Connery's replacement as James Bond in On Her Majesty's Secret Service (1969) and has since eked out a meagre career in various action and Hong Kong martial arts films. There is also a minor appearance from Robert Englund, who was caught just between the point of his cult fame as Freddy Krueger in the A Nightmare on Elm Street films, who turns up here as Gene Simmons' mad scientist.
Disappointingly, director Gil Bettman has never made anything else with the exception of a minor serial killer film Night Vision (1997). One of the great disappointments is that Never Too Young to Die has only had a sporadic release on VHS but never on DVD and is no longer available. Someone should bring it back out of mothballs.
---
---