aka Deadalive
---
Crew
Director – Peter Jackson, Screenplay – Peter Jackson, Stephen Sinclair & Frances Walsh, Producer – Jim Booth, Photography – Murray Milne, Music – Peter Dasent, Creature & Gore Effects – Richard Taylor, Makeup Effects – Bob McCarron, Production Design – Kevin Leonard-Jones. Production Company – Wingnut Films/NZ Film Commission/Avalon Studios/Japan Cinema Associates.
Cast
Tim Balme (Lionel Cosgrove), Diana Penalver (Paquita), Elizabeth Moody (Vera Cosgrove), Ian Watkin (Uncle Les), Stuart Devenie (Father McGruder), Brenda Kendall (Nurse McTavish)
---
Plot
Wellington, New Zealand, 1957. After she is bitten by a Sumatran rat monkey, Lionel Cosgrove's mother is transformed into a flesh-eating zombie. Lionel cannot bear the thought of burying his dear mother and sneaks her back home. Lionel's Uncle Les gets wind of what is happening and tries to blackmail Lionel. However, Lionel's attempts to protect his mother inadvertently end up creating an entire army of zombies that overrun the house during a party thrown by Uncle Les.
---
New Zealand wunderkind Peter Jackson premiered with the low-budget splatter gem Bad Taste (1988). Jackson next went onto make Meet the Feebles (1990), his hilarious gross-out take on The Muppet Show (1977-81). With Braindead/Deadalive, only his third film, Jackson achieved truly remarkable heights. Ahead yet would be the superstardom and Hollywood A-list fame afforded by The Lord of the Rings trilogy. However, back in 1992 with his trilogy of low-budget films, Peter Jackson was jumping on the splatter comedy bandwagon created by 1980s films like The Evil Dead (1981) and Re-Animator (1985) where he quickly established himself a master of the genre par excellence. (Splatter Films).
Between Peter Jackson's penchant for cartoonish unserious gore and Bob McCarron's off-screen makeup effects manipulations, Braindead achieves something that approaches inspired genius in the heretofore unknown artform of human carnage. The film is filled with moments of joyous slapstick tableaux – hilarious scenes with a luncheon amid a group of stuffy society women where Liz Moody's body parts splatter into the custard and she munches unnoticing on her own ear; or the nurse with the plaster bird impaled in her forehead who has to have her sliced neck tipped back to force food into her throat.
However, it is in the last twenty minutes or so that Jackson and McCarron go for broke – with hero Tim Balme being pursued through the house by a severed torso and still ambulatory sets of legs and a set of intestines that mutate into their own body and twist their way up his trouser leg as he helplessly hangs from a light socket; or where Balme attempts to escape from the zombies but finds he cannot make any progress because he is running on blood only to then find he can make his escape by jumping between decapitated heads. And then there is that moment where Braindead finally breaks through to achieve a transcendentally surreal glory of excess where Tim Balme wades into battle against the zombies armed with a lawnmower, drenching an entire room in showers of blood. (Braindead holds the record for the greatest amount of artificial blood ever used in a film). The film is a work of perverse genius.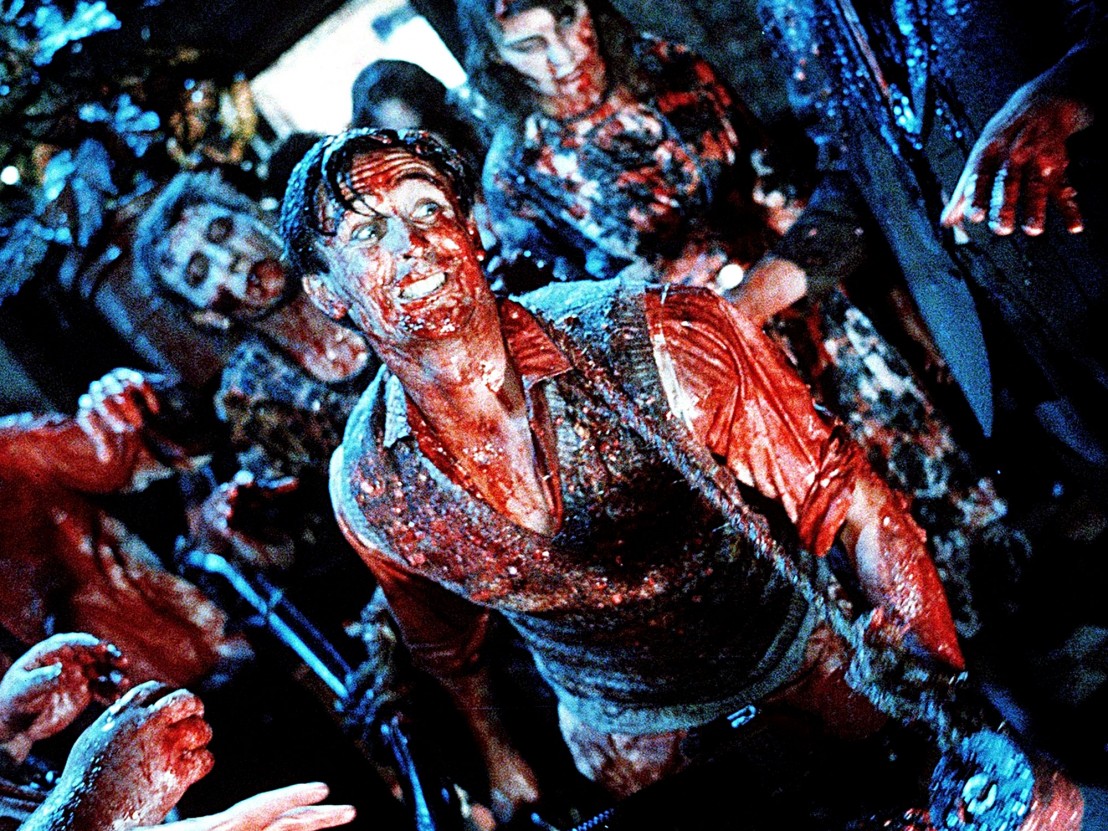 One cannot go without mentioning the wonderful sense of period the film achieves. Peter Jackson has a great affinity for the sheer banality of Kiwi culture – of baked bean lunches, of plaster garden gnomes and bathroom ducks, the trams, the brand-name cleaning powders – all recreated here with a loving nostalgia that no other New Zealand filmmaker has yet succeeded in tapping. There was an enormous furore among the respectable establishment – the same establishment that celebrated Jackson's overrated Heavenly Creatures (1994) – when the New Zealand Media Awards named Braindead Best Film of 1992. For all that, Braindead achieves a far more accurate picture of New Zealand's recent past than any other more respectable film had done up to that point.
Braindead was later recreated as a stage musical Braindead: The Musical (1995), one where curtains had to be placed between the stage and the audiences during the climactic finale to prevent them being drenched in gore.
Braindead should not be confused with the other similarly titled films, the fascinating reality bending Brain Dead (1990) and a further but far less effective zombie splatter film Brain Dead (2007).
Peter Jackson subsequently went onto make:- the international arthouse hit Heavenly Creatures, the flop ghost comedy The Frighteners (1996) and then recovered to the great acclaim of The Lord of the Rings: The Fellowship of the Ring (2001), The Lord of the Rings: The Two Towers (2002) and The Lord of the Rings: The Return of the King (2003), his remake of King Kong (2005), the afterlife film The Lovely Bones (2009) and The Hobbit: An Unexpected Journey (2012), The Hobbit: The Desolation of Smaug (2013) and The Hobbit: The Battle of the Five Armies (2014). Jackson has also produced District 9 (2009), The Adventures of Tintin (2011) and produced/written Mortal Engines (2018).
---
---