---
Crew
Director/Screenplay – Justin McConnell, Producers – Avi Federgreen & Justin McConnell, Photography – Sasha Moric, Music – Sean Motley, Visual Effects Supervisor – Nick Flook, Makeup Effects – Form & Dynamics (Designer – David Scott), Production Design – Christine Urquhart. Production Company – Federgreen Entertainment/Unstable Ground/9 Light Entertainment.
Cast
Lora Burke (Julia), Jack Foley (Robert), Sam James White (Sam Richardson), Rachel Vanduzer (Rachel Martin), Elitsa Bako (Emily), Steve Kasan (Detective Freddie Ransone), Bill Oberst Jr. (Voice of Drew), Brian Quntero (Tommy), Mark Rainmaker (John), Adam Buller (James), Uche Ama (Jen)
---
Plot
In Toronto, Drew is someone who since 1954 has had the ability to transfer between bodies, a process that always kills the previous body he occupied. Recently he discovered that he had fallen in love with Julia. He now makes every effort to return to the bar that Julia frequents and spend time with her, either befriending her or attempting to develop a relationship with her in each new body. However, he is finding that while the new body he transfers into used to last for days, now it is only lasting for a matter of hours before it starts to decay. In having to dispose of the bodies, his activities draw the suspicions of the police.
---
Lifechanger was the fourth film for Canadian director Justin McConnell. McConnell had previously made Check Mate (2002) about which I cannot find any details, The Collapsed (2011), an enigmatic film in the aftermath of a catastrophe, the thriller Broken Mile (2016) and the wraparound for the anthology Galaxy of Horrors (2017). I had previously seen The Collapsed, which seemed a potentially interesting idea given disappointing treatment. As a result, I didn't go into Lifechanger with any high expectations – all I can say is I was pleasantly surprised.
The film catches your attention with the originality of its premise. It opens with a woman (Elitsa Bako) getting up out of bed and starting her day. There are several things about the scene that seem wrong – she seems unconcerned about the corpse lying next to her in the bed and more incongruously all of this is accompanied by a male voiceover on the soundtrack. We watch as she adjusts to the body, burns the corpse while the voice laments how the transformations are not taking as long as they used to do. That is before the woman's boyfriend (Mark Rainmaker) returns home, she abruptly kills him, and moments later is interrupted by a detective (Steve Kasan) at the door whereupon she invites him in, comes into him and the abruptly takes over his body. What a great attention grabbing opening for a film.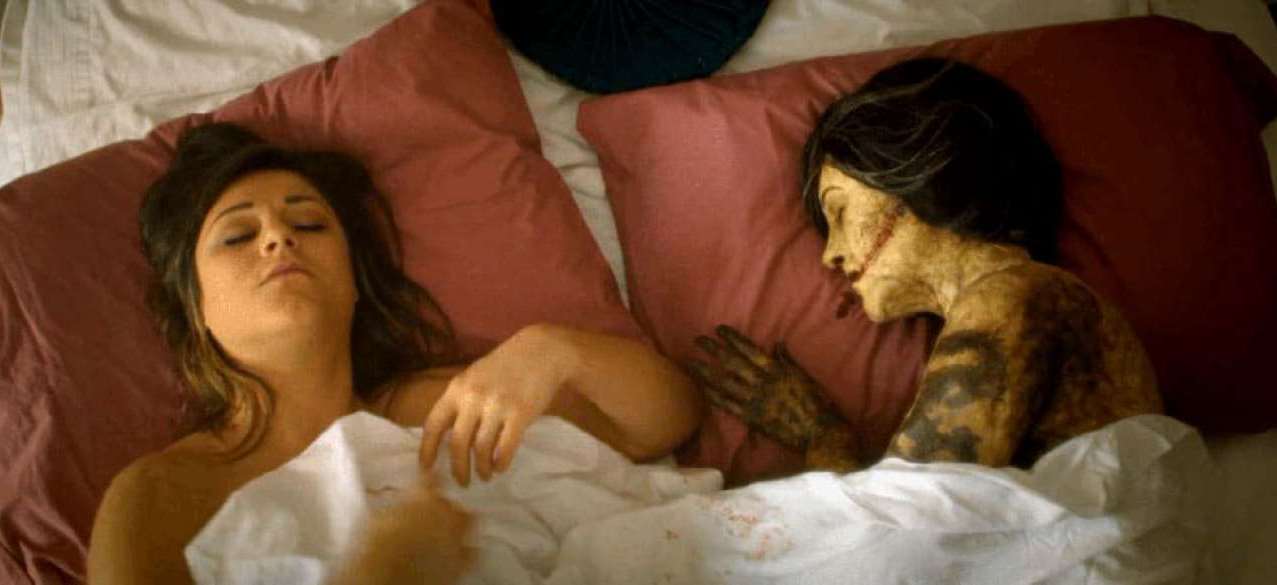 Lifechanger plays out like a horror version of Every Day (2018), a very similar Young Adult work that was released six months earlier concerning an entity that wakes up every day in a new body and how through this it maintains a relationship with a girl. Where Every Day avoided too much about dealing with the moral issues of possession, Lifechanger delves right into the issue of bodyswap, not to mention the icky problems of disposing of bodies and of the people that Drew has passed through being suspected of the trail of killings.
This would merely make Lifechanger another variant on the classic bodyhopping film The Hidden (1987) or the more recent Don't Kill It (2016). Unlike these others, the bodyhopping entity is the point-of-view character. What does give it an added novelty is the romantic plot where through all of his changes, Drew tries to return and connect with Lora Burke, the girl he has fallen for. The uniqueness of this is seeing Drew in each of the bodies and his attempts to befriend, seduce and woo Lora Burke. It gives a uniquely different twist to a familiar plot and provides a strong emotional centre to the bodyswap story all the way to the film's tragic end.
---
---