---
Crew
Director/Screenplay – Guillermo Del Toro, Story – Guillermo Del Toro & Peter Briggs, Based on the Comic Book Created by Mike Mignola, Producers – Lawrence Gordon, Lloyd Levin & Mike Richardson, Photography – Guillermo Navarro, Music – Marco Beltrami, Visual Effects Supervisors – Edward Irastroza & Jonathan Rothbart, Visual Effects – Black Box Digital (Supervisor – Kent Demaine), CafeFX (Supervisor – Everett Burrell), Eden FX (Supervisor – John F. Gross), Fantasy II Film Effects, HATCH, HimAndI Productions (Supervisor – Kevin Kutchaver), The Orphanage, The Pit Crew, The Tippett Studio (Supervisor – Blair Clark), Special Effects Supervisor – Nick Allder, Makeup Effects – Rick Baker's Cinovation (Supervisor – Rick Baker), Production Design – Stephen Scott. Production Company – Dark Horse Entertainment/Lawrence Gordon Productions.
Cast
Ron Perlman (Hellboy), Rupert Evans (John Myers), John Hurt (Professor Trevor Bruttenholm), Selma Blair (Liz Sherman), Doug Jones (Abe Sapien), Jeffrey Tambor (Tom Manning), Karel Roden (Grigori Rasputin), Ladislav Beran (Kroenen), Brigid Hodson (Ilsa), Kevin Trainor (Young Broom)
---
Plot
In October 1944, young Trevor Bruttenholm is present as Nazi agents led by Grigori Rasputin attempt to open a gateway that will unleash gods from another dimension. The Allied Forces foil the plan but the experiment leaves behind a tiny demon, which the soldiers take and nickname Hellboy. In the present day, FBI agent John Myers is reassigned to the top secret Bureau for Paranormal Research and Defense, which is led by Bruttenholm. Myers meets the now adult Hellboy who works for the Bureau and has gained the status of tabloid myth due to his frequent escapes. In investigating and tackling a demonic monster that has been left behind during a museum robbery, Hellboy and Bruttenholm realize they are dealing with the renewed menace of Rasputin and his Nazi associates who are determined to complete the rituals they failed to in 1944.
---
Guillermo Del Toro has emerged as one of the most promising genre directors of the last decade. Guillermo Del Toro first appeared with the highly acclaimed vampire film Cronos (1993), which became a big festival hit. This brought Del Toro to the attention of the American studios who imported him for the quietly understated monster movie Mimic (1997). Del Toro went to Spain for his next effort, the ghost story The Devil's Backbone (2001), another big arthouse and festival hit, and then returned to the American mainstream for the breathtakingly dynamic Blade II (2002), which clearly shows, like Hellboy, that he has a taste for comic-book fantasy. Subsequent to Hellboy, Del Toro went onto the amazing international acclaim of the fantasy Pan's Labyrinth (2006), the giant robots film Pacific Rim (2013), Crimson Peak (2015) and the amphibian man romance The Shape of Water (2017), which won Del Toro an Academy Award as Best Director, the fake clairvoyant film Nightmare Alley (2021); and as co-director of the stop-motion animated Guillermo Del Toro's Pinocchio (2022).
Hellboy was a long-time dream project of Guillermo Del Toro's. Hellboy is based on the Dark Horse graphic novel series created by Mike Mignola. Mignola first began working in the comics industry as a freelance artist for DC and Marvel on series such as The Incredible Hulk, Thor, Swamp Thing, The World of Krypton, Cosmic Odyssey and the acclaimed Batman: A Death in the Family. Mignola originally created Hellboy as an illustration for the cover of a convention program book. The illustration was a throwaway but Mignola became fascinated with the character, who was unnamed except for a belt buckle that said 'Hellboy'. Mignola then co-opted comic-book writer Johnny Byrne to draft a story and sold the idea to the independent Dark Horse Comics line. The character first appeared in print in 1994 and has since become one of the top-selling graphic novel lines for Dark Horse, even spawning a series of original novelizations.
Hellboy the film is not too far removed from various other demonic comic-book superheroes that have crept onto screen in recent years – notably Spawn (1997), Faust: Love of the Damned (2000) and Ghost Rider (2007). If Spawn and Faust tap into the dark avenging superhero look created by the graphic novel era Batman and copies, then perhaps you could say that Hellboy feels (at times) like the demonic superhero equivalent of X-Men (2000). Perhaps X-Men crossbred with an episode of tv's Angel (1999-2004)? Guillermo Del Toro has made some amazing films – in particular, Blade II and Pan's Labyrinth. Alas Hellboy, surprisingly so for what is a longtime dream project of Del Toro's, emerges as disappointing. It is certainly better than either Spawn or Faust, yet it is also disappointing, even though Mike Mignola closely collaborated with Del Toro to bring the comic-book to the screen.
The film is fired up with some exciting and stylish images – a Nazi assassin who wields blades out of his arms and has a metal-masked face beneath his S.S. cap; the coolly aloof character of the possibly alien psychometrist Abe Sapien; the love interest who is a troubled pyrokinetic; and of course the magnificent central character of Hellboy itself, with Rick Baker and his team doing an excellent job of bringing Mike Mignola's creation to life with red skin and filed-down horns.
The film's ace in the hole here is Ron Perlman who has appeared in several of Del Toro's films and reportedly was Del Toro's only choice for the role of Hellboy. Perlman has gained a reputation for roles that involve him buried inside makeup – as the latter half of tv's Beauty and the Beast (1987-90) and in films such as Quest for Fire (1981), The Island of Dr Moreau (1996) and Star Trek: Nemesis (2002), while he has also voiced numerous characters in various animated superhero tv series. Perlman quite excels, showing us the wry humour and phlegmatic toughness inside the red-skinned figure. It is he that is the triumph of the film.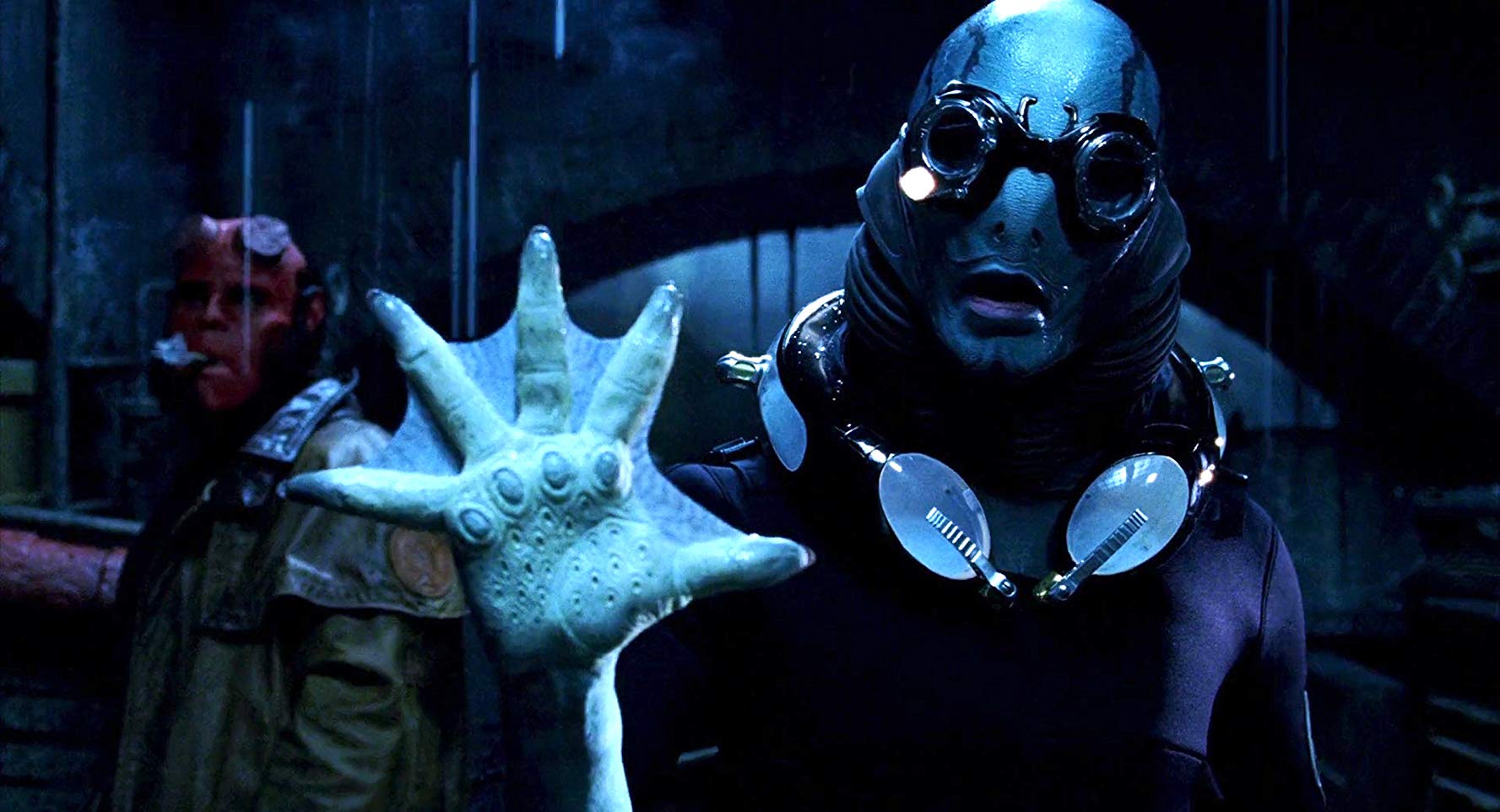 Alas, not quite the same can be said the rest of Hellboy. It feels less like Guillermo Del Toro is tapping anything dark and Gothic, than it does comic-book H.P. Lovecraft. Del Toro has stripped the film of all plot to the point that it is no more than a series of action sequences with Hellboy battling Lovecraftian demon figures. There is flash, bang, slime, energy bolts – but not much else. There is a degree of competence to it but we have seen much of this before and Del Toro does nothing particularly remarkable to animate it – certainly not in the way that he did with Blade II. The sad truth is that beyond Ron Perlman, who is on top form, and Guillermo Del Toro's driving kinesis, there is disappointingly little else to Hellboy.
Part of the problem with Hellboy seems to have been the faulty assumption behind its making – that it would end up becoming a cult item. Guillermo Del Toro spoke how there were two versions of the film – one a stripped-back, fairly lightly plotted and kinetically driven version for cinematic audiences; the other a longer version for DVD release, which adds some 10 minutes of scenes. It is disappointing to now see that film releases no longer simply are – they exist in multiple versions, with scenes being held back for collectors.
Of course, this assumption founders on one crucial fact – that the original version of the film would have been successful and culty enough to warrant the kind of interest that would have people hungry for collectible extras. Alas, Hellboy failed to generate such interest and was greeted with uneven enthusiasm by the audiences that counted the most – the fans. It is exactly this thinking – that the cinematic release is something secondary to the collector's edition that doomed the film from reaching the cult audience it needs to find – the very people who are attracted to collector's editions.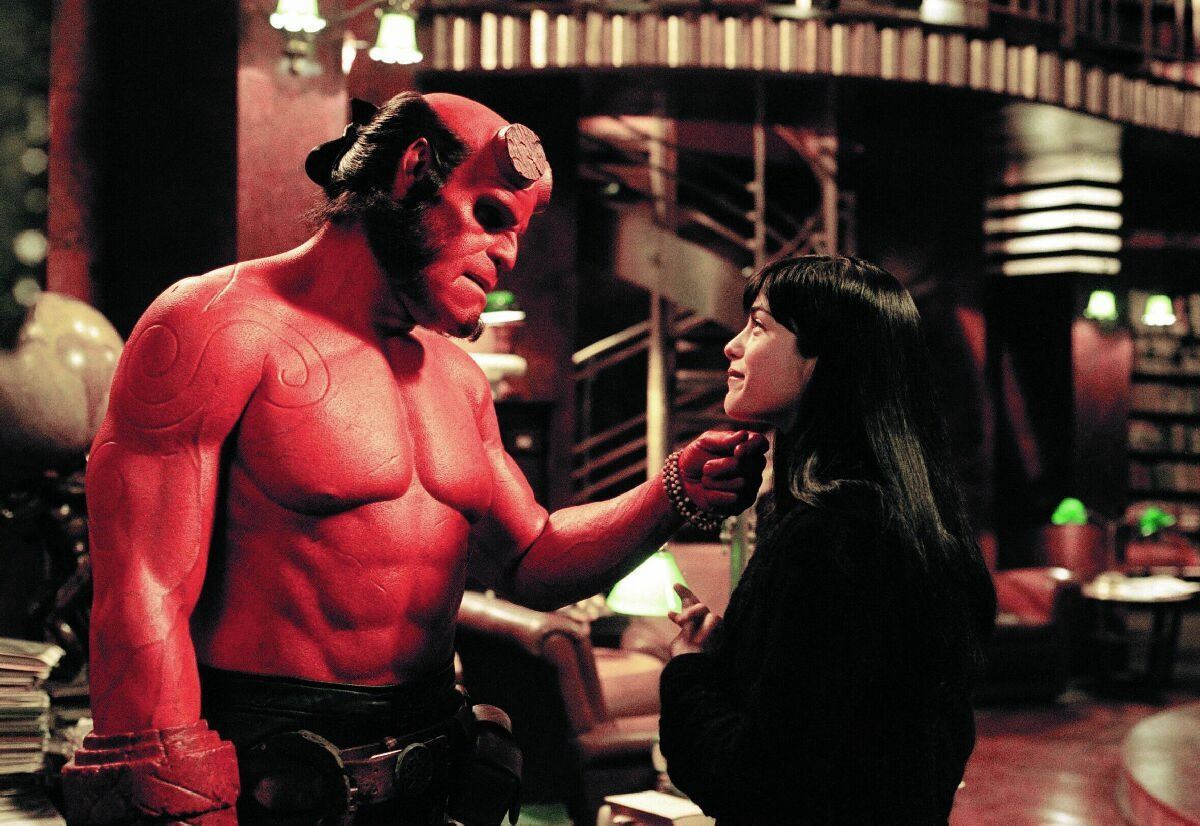 Guillermo Del Toro and all the principal cast returned for a much better sequel Hellboy II: The Golden Army (2008). Ron Perlman, Selma Blair, Doug Jones and John Hurt also loaned their voices to a series of animated Hellboy films with Hellboy Animated: Sword of Storms (2006) and Hellboy Animated: Blood and Iron (2007). Hellboy (2019) was a reboot of the series with David Harbour taking on the title role.
Guillermo Del Toro also wrote/produced wrote/produced Don't Be Afraid of the Dark (2011), Scary Stories to Tell in the Dark (2019), The Witches (2020) and the tv series Guillermo Del Toro's Cabinet of Curiosities (2022- ) and co-wrote The Hobbit: An Unexpected Journey (2012), The Hobbit: The Desolation of Smaug (2013) and The Hobbit: The Battle of the Five Armies (2014). He has also produced other genre works like Chronicles (2002), Hellboy Animated: Sword of Storms (2006), Hellboy Animated: Blood and Iron (2007), The Orphanage (2007), While She Was Out (2008), Julia's Eyes (2010), Splice (2010), Don't Be Afraid of the Dark (2011), Kung Fu Panda 2 (2011), Puss in Boots (2011), Rise of the Guardians (2012), Mama (2013), The Book of Life (2014), Kung Fu Panda 3 (2016), Pacific Rim: Uprising (2018) and Antlers (2021), as well as the tv series The Strain (2014-7) based on his novel.
(Winner for Best Makeup Effects, Nominee for Best Actor (Ron Perlman) at this site's Best of 2004 Awards).
---
---