---
Crew
Director/Screenplay – Jack Woods, Story – Mark Thomas McGhee, Producer – Jack H. Harris, Photography – Mike Hoover, Music Supervisor – John Caper, Photographic Effects – David Allen, Jim Danforth & Dennis Muren. Production Company – Tonylyn Productions.
Cast
Edward Connell (David Fielding), Frank Boers Jr (Jim Hudson), Barbara Hewitt (Susan Turner), Robin Christopher (Vicki), Jack Woods (Asmodeus), Fritz Leiber (Dr Waterman), James Phillips (Sloan)
---
Plot
A reporter goes to a visit David Fielding in a psych ward. The doctors play a tape recording of the story that Fielding told when he first came in a year ago. The reporter learns how Fielding, his friend Jim Hudson and two girls went to join their university professor Dr Waterman at his cabin in the woods. They arrived to find that Waterman's house had been destroyed. After being given an occult tome by a crazed old man in a cave, they were pursued by demonic forces that wanted to get it back.
---
The usual genre footnote that Equinox has is that it was one of the first professional films of a number of people who became prominent names in the effects industry – including stop-motion animator Jim Danforth, who did work for When Dinosaurs Ruled the Earth (1970), Caveman (1981) and Conan the Barbarian (1982); David Allen, later to create the effects work for several of Charles and Albert Band's Ghoulies and Puppetmaster films among others; as well as later-to-be Industrial Light and Magic supervisor Dennis Muren who can place credits like Star Wars (1977), Close Encounters of the Third Kind (1977), Terminator 2: Judgment Day (1991) and Jurassic Park (1993) on his resume.
Equinox even has award-winning fantasy author Fritz Leiber in an acting appearance – he's the professor the group go to visit and turns up undead – as well as a young Ed Begley Jr as an assistant cameraman. The film was originally begun as a student project by Dennis Muren. Producer Jack H. Harris, who did even more successful things several years later with John Carpenter's Dark Star (1974), brought the rights to the original, retained mostly the effects sequences and shot a new film around them.
Equinox is an interesting venture into the occult. It was made not long after the success of Rosemary's Baby (1968) created a cinematic vogue for the occult, and before The Exorcist (1973) and The Omen (1976) introduced cliches of possession and the Anti-Christ. As a result, it tends to tread more into H.P. Lovecraft territory – occult tomes, demonic forces unleashed, stories narrated by survivors gone insane – than into the themes we would later associate with occult cinema.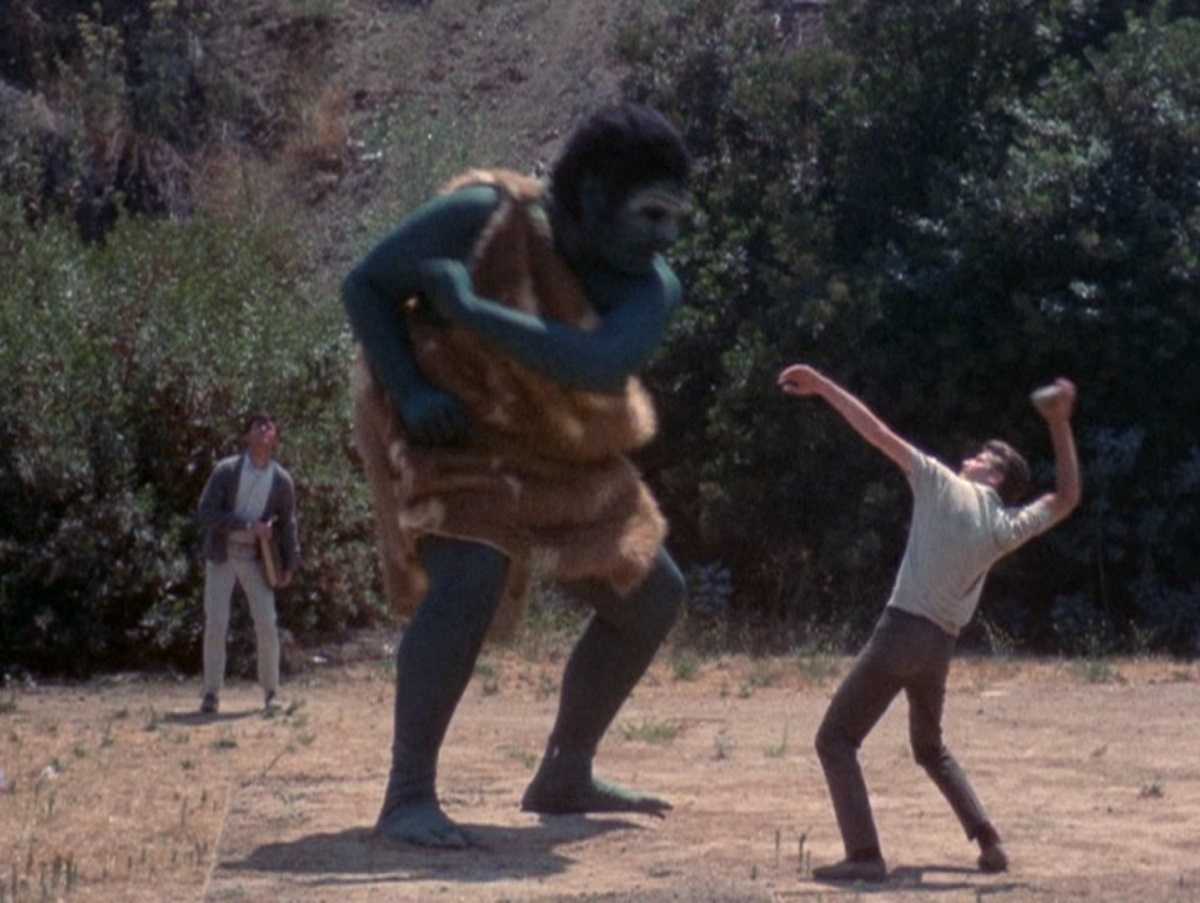 Of course, the one name from the credits that was never heard from again – apart from as the screenwriter of Jack H. Harris's Beware! The Blob/Son of Blob (1972) – was writer/director Jack Woods. One tries to be hopeful about ingénue student efforts but Equinox is not a very good film. The direction is flat and banal. The score tries to pump up drama with frenetic lounge music. The stop-motion animated effects are variable in quality, although the demon's final winged form is good.
The dialogue is often terrible – "Your [university] major was basket weaving?" or "Has anybody got a crucifix or a Star of David?" someone asks out in the middle of the woods. It takes the party more than half the film to work out that the name of the ranger Asmodeus is also the name of The Devil. If Equinox had employed Fritz Leiber for his writing skills rather than his mostly unspeaking acting abilities, it might have emerged considerably better than this.
Jack H. Harris also produced The Blob (1958), The 4D Man (1959), Dinosaurus! (1960) and The Adventures of Taura: Prison Ship Star Slammer (1986), as well as John Landis's first film, the genre spoof Schlock (1973) and John Carpenter's first film Dark Star (1974).
---
Trailer here
Full film available online here:-
---