---
Canada. 1987.
Crew
Director – Tibor Takacs, Screenplay – Michael Nankin, Producer – John Kemeny, Photography – Thomas Vamos, Music – Michael Hoenig & J. Peter Robinson, Visual Effects – Randall William Cook, Stop Motion Animation – David Allen, Mattes – Syd Dutton & Bill Taylor, Special Effects Supervisor – Frank Carrere, Production Design – William Beeton. Production Company – Vista Organization/Alliance Entertainment/New Century Entertainment Corporation.
Cast
Stephen Dorff (Glen), Christa Denton (Al), Louis Tripp (Terry), Jennifer Irwin (Linda Lee), Kelly Rowan (Lori Lee), Sean Fagan (Eric), Scot Denton (Dad), Deborah Grover (Mom)
---
Plot
When workmen cut down a tree in young Glen's backyard, he and his best friend Terry discover that they have inadvertently opened a gateway that can release ancient gods on certain nights of the year – this being one of those nights. With Glen's parents away for the weekend, they try to reseal the gateway only to discover that the rites to release the demonic forces have been accidentally conducted. Now they suddenly find the house is being overrun by the forces of darkness.
---
The Gate received some good write-ups in the genre press when it came out and was reasonably well regarded. Seen a few years later, it proves to be a surprisingly ordinary effort.
It has been construed as little more than a juvenile-oriented variation on Poltergeist (1982). In this regard, it is certainly a competent enough film. The children, which include a thirteen yer-old Stephen Dorff among their number, are drawn reasonably well. There is a certain subversive amusement to the idea of having them find the means of combating the demonic forces inside a heavy metal album.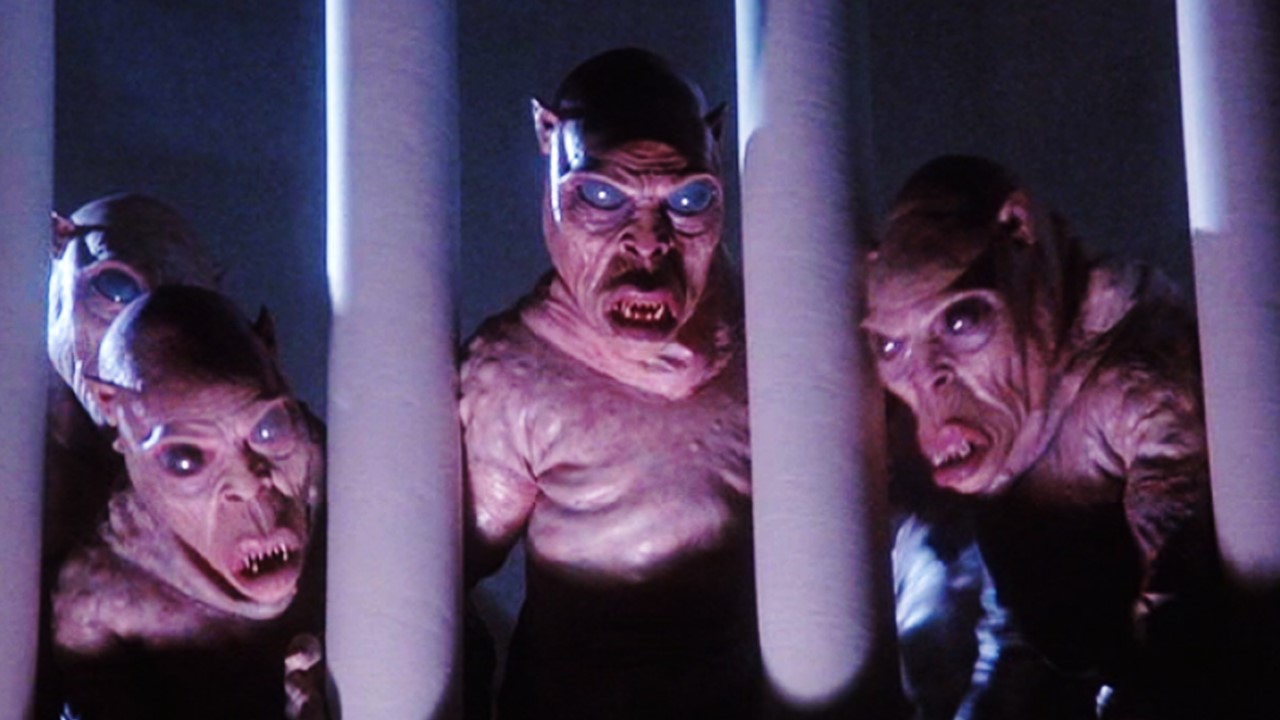 The film is especially good in the area of effects. Some of the effects of bodies collapsing to dissolve into goblins or the workman zombie disappearing into the wall that then closes to reveal no trace whatsoever are well done. However, despite their inventiveness, the effects are only pop-up tricks and The Gate not much more than an Empire/Full Moon film with a larger budget. The film, by the time its scant running time is over, seems frustratingly slight.
The sequel to this, Gate II (1990), is actually a superior film.
Director Tibor Takacs has also made a number of other genre films including the very obscure Metal Messiah (1978) about a futuristic rock star; the excellent I, Madman/Hardcover (1989) about a killer the emerges from a book; Redline/Deathline (1997) set in a near-future Russia; the bizarre Nostradamus (2000) about a time-travelling occult war and the attempt to reincarnate the title character; the Christmas films Once Upon a Christmas (2000) and Twice Upon a Christmas (2001) about Santa's daughter; Rats (2003) about an asylum of intelligent rats; and the monster movies Mansquito (2005), Kraken: Tentacles of the Deep (2006), Ice Spiders (2007), Mega Snake (2007) and Spiders (2013); The Black Hole (2006), a monster movie about the titular stellar mass loose in St Louis; and the disaster film Meteor Storm (2010) and Destruction Los Angeles (2017).
---
---