aka Incident in a Ghostland
---
France/Canada. 2018.
Crew
Director/Screenplay – Pascal Laugier, Producers – Ian Dimerman, Scott Kennedy, Jean-Charles Levy, Nicholas Manuel, Clement Miserez, Brendon Sawatzky, Sami Tesfazghi & Matthieu Warter, Photography – Danny Nowak, Music – Todd Bryanton, Visual Effects – Mathematic (Supervisor – Bastien Muller), Special Effects Supervisor – Casey Markus, Makeup Effects – Doug Morrow, Production Design – Gordon Wilding. Production Company – Inferno Pictures/5656 Films/Mars Films/Logical Films/Kinology/Highwire Pictures/Canal+.
Cast
Crystal Reed (Adult Beth Keller), Mylene Farmer (Pauline Keller), Anastasia Phillips (Adult Vera Keller), Emilia Jones (Young Beth), Taylor Hickson (Young Vera), Rob Archer (Fat Man), Kevin Power (Candy Truck Woman), Mariam Bernstein (Janet), Adam Hurtig (Beth's Husband), Paul Titley (H.P. Lovecraft)
---
Plot
Pauline Keller and her two teenage daughters Beth and Vera travel to the house in the countryside that she has inherited in a late aunt's will. Beth writes horror stories but Vera thinks they are ridiculous and calls Beth's dreams of being a celebrated author delusional. Immediately after they arrive at the house, they are attacked by figures from a candy truck that has been following them. Pauline and the girls put up a vicious fight and drive the attackers away. Ten years later and Beth is a best-selling horror author, having just released Incident in a Ghostland, a book based on her experiences. She then receives a panicked call from Vera and leaves her husband to travel back to the house. Her mother lives there and keeps the unbalanced Vera locked in the cellar, although Vera regularly manages to get free. As things in the house become more surreal and the candy truck attackers reappear, Vera tries to tell Beth the truth about what happened.
---
French director Pascal Laugier has become one of the most intriguing genre names to emerge in recent years. Laugier made his directorial debut with the ghost story Saint Ange (2004), a film of directorial promise but confusing script. It was however with the unique and extraordinary Martyrs (2008) that people began to notice Laugier's name. It was a film that pushed the so called new 'French Extremism' to its most torturous extremes and has turned up on several Best Horror Films of the 2000s lists. Laugier subsequently went on to make The Tall Man (2012), a thriller of mind-boggling plotting contortions and conceptual reversals ) and the Agatha Christie mini-series They Were Ten (2020).
Pascal Laugier's films frequently feature characters we engage with only to abruptly realise they exist in someone's imagination. All of his films hang on what these days is referred to as the M. Night Shyamalan twist ending where everything that you expect is happening with the film is abruptly turned on its head and shown to be something else. The sheer proliferation of these conceptual reversal twist films that came out on the years after The Sixth Sense (1999) has meant that some of them have had to become incredibly contorted in order to still produce original surprises – case in point being The Tall Man.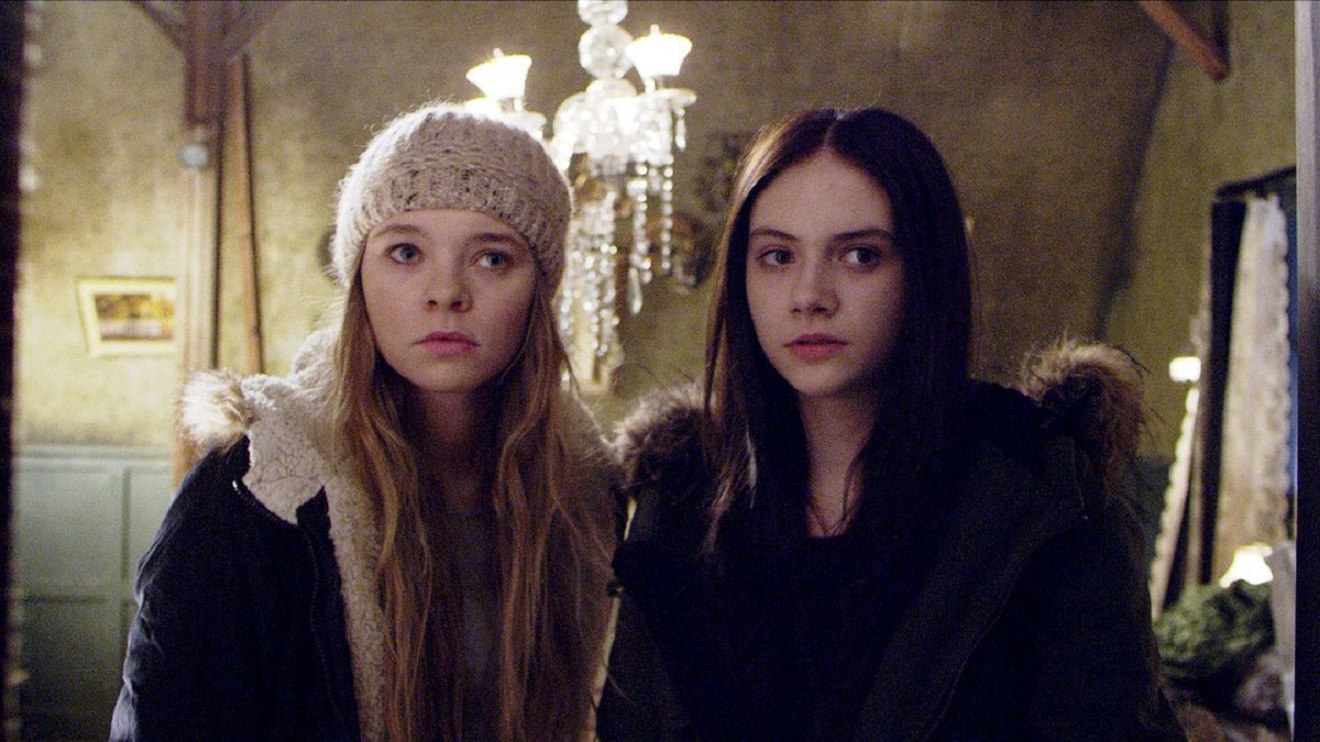 Ghostland opens as the mother and two girls arrive at a house only to be attacked by figures in masks. This seems to be heading along the lines of a home invasion film like The Strangers (2008), although the complaint might be in these section is that the house is so filled with bric-a-brac and in shadow that it is hard to see what is going on much of the time. After the attack is repelled, we then skip forward ten years to where the grown-up Beth has become a successful author but then receives a terrified call from her sister.
She returns to the house where her mother lives and where the now adult Vera is deranged and has to be kept locked up in the cellar, although has a frequent habit of escaping. This seems to be taking the film in increasingly stranger, at times quite surreal directions, where we are not sure if we are watching a Mad Relative Locker in the Cellar film like The Beast in the Cellar (1970) or The Unseen (1981) or what is going on.
The big twist that Pascal Laugier pulls on us is to then reveal [PLOT SPOILERS] that the girls never left the house, are being kept prisoners in the cellar by the Candy Truck killers and that Beth's life as a successful author with husband and child is a fantasy world into which she has retreated. This is maybe not as sophisticated as some of the other twists that Laugier has pulled in his other films but one was happy to go with it.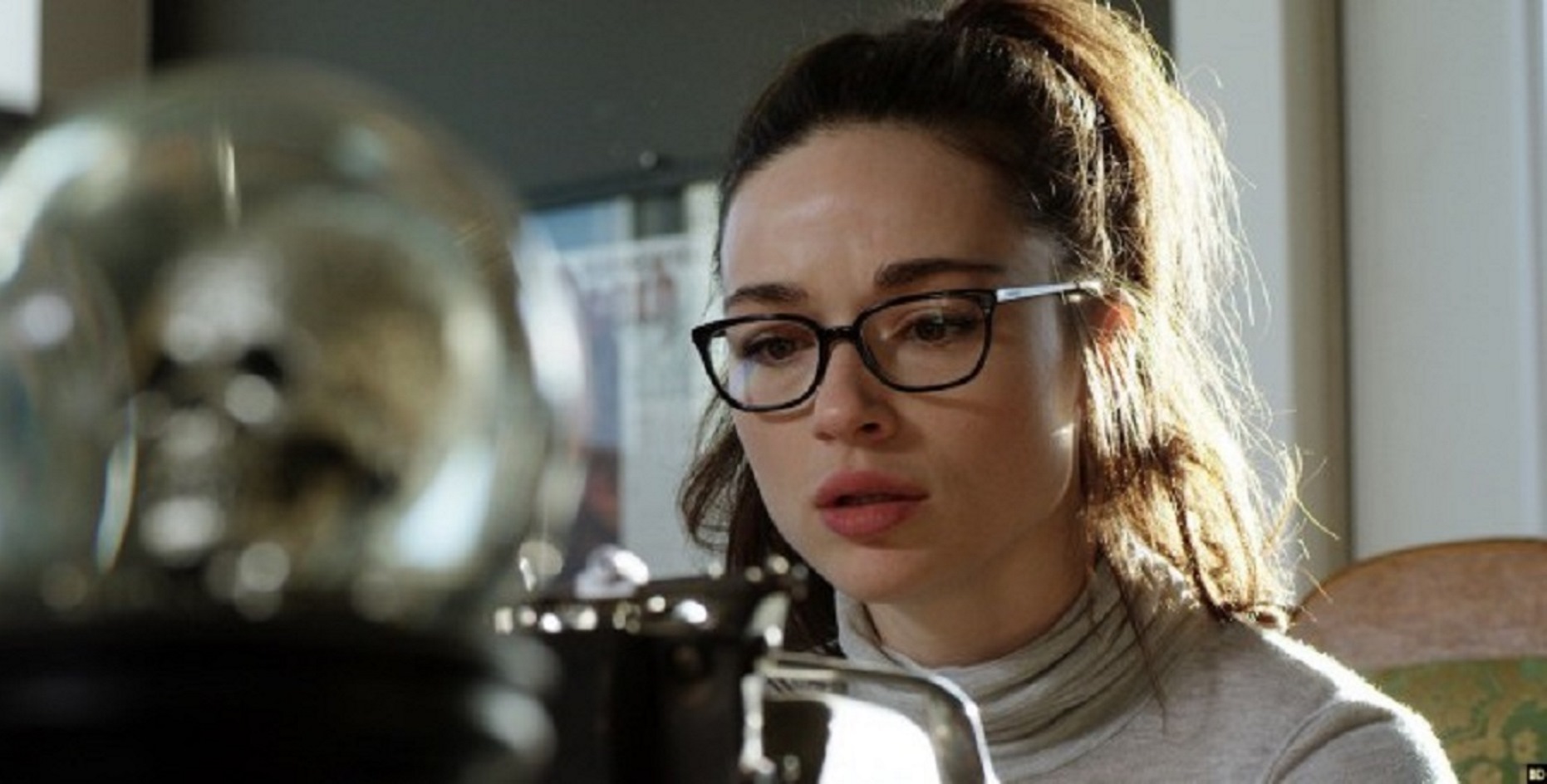 The rest of the film heads in effectively unsettling directions. There is one particularly disturbed sequence where Emilia Jones is dressed up and put in the dollhouse as the home invader known only as Fat Man (Rob Archer) comes in, takes a doll next to her and twists its fingers before applying a blowtorch to it. In a gruellingly uncomfortable sequence, Emilia is then put on his knee exactly as the doll was as he caresses her and then brings out the blowtorch before she stabs him with a hairpin and he staggers about, destroying the room. The film also goes out on a rather bleak ending.
Another intriguing aspect is that Pascal Laugier pays homage to horror writer H.P. Lovecraft, known for his cosmic horrors (although I would not classify Ghostland as being a Lovecraftian film). There is an opening photo of Lovecraft and tribute to him from 'Beth', while later we see a photo of him on her desk. One of the later sequences taking place in her fantasy even has an appearance from Lovecraft (as played by Paul Titley) who commends her on the excellence of her book.
---
---