---
Crew
Director – Eric Valette, Screenplay – Alexandre Charlot & Franck Magnier, Story – François Cognard, Producers – Olivier Delbosc & Marc Missonier, Photography – Jean-Marc Bouzou, Music – Eric Sampieri, Special Effects – Guillaume Castagne, Antoine Riviere & Jean-Claude Schifrine, Production Design – Olivier Raoux. Production Company – Fidelite Productions/Mars Films/Film Office Editions/Canal+/Canal+ Ecriture/Gimages 5.
Cast
Gerald Laroche (Carrere), Philippe Laudenbach (Lassalle), Clovis Cornillac (Marcus), Dimitri Rataud (Paquerette), Didier Benereau (Hippolyte Picus), Felicia Massoni (Claire Carrere), Paul-Alexandre Bardela (Hugo Carrere), Geoffrey Carey (Charles Danvers)
---
Plot
The businessman Carrere has been jailed on fraud and embezzlement charges, although is confident that his wife Claire will arrange to bail him out. He is placed in a cell with three others – the transsexual Marcus, the imbecilic Paquerette and the little-speaking Lasalle. Carrere then discovers that rather than bail him out his wife has taken control of his company and is now suing for divorce. The prisoners discover a book hidden in a hole in the wall. In reading it, they find it is the diary of Charles Danvers, a sorcerer who was obsessed with staying youthful. They realise that Danvers must have written down an occult ritual that allowed him to escape. With this insight, they become certain that somewhere in the book they can find the rite that will also allow them to walk out of the cell and free. However, reading the book requires enacting the other occult rites in its pages.
---
Malefique was a modest French horror film. It received reasonable film festival play when it came out and seemed to bode promising things for director Eric Valette.
With the exception of a couple of scenes, the entire film takes place in a single room – a cell consisting of two sets of bunk beds – and plays out amid four cast members (plus some guards on the periphery of scenes and minor appearances from a couple of others). All four of the cast etch distinctive and memorable characters. Particular standouts are Clovis Cornillac, previously a comedy actor, who is striking as the cross-dressing Marcus, outfitted with a very large set of breasts – he is even seen breast-feeding fellow prisoner Dimitri Rataud at one point!.
The other well worthwhile performance is from Philippe Laudenbach as the guarded but wise elder member of the group. Gerald Laroche, who plays the principal character, has oddly rat-like features and an aloof expression that makes you think he would be perfect casting for a Vulcan.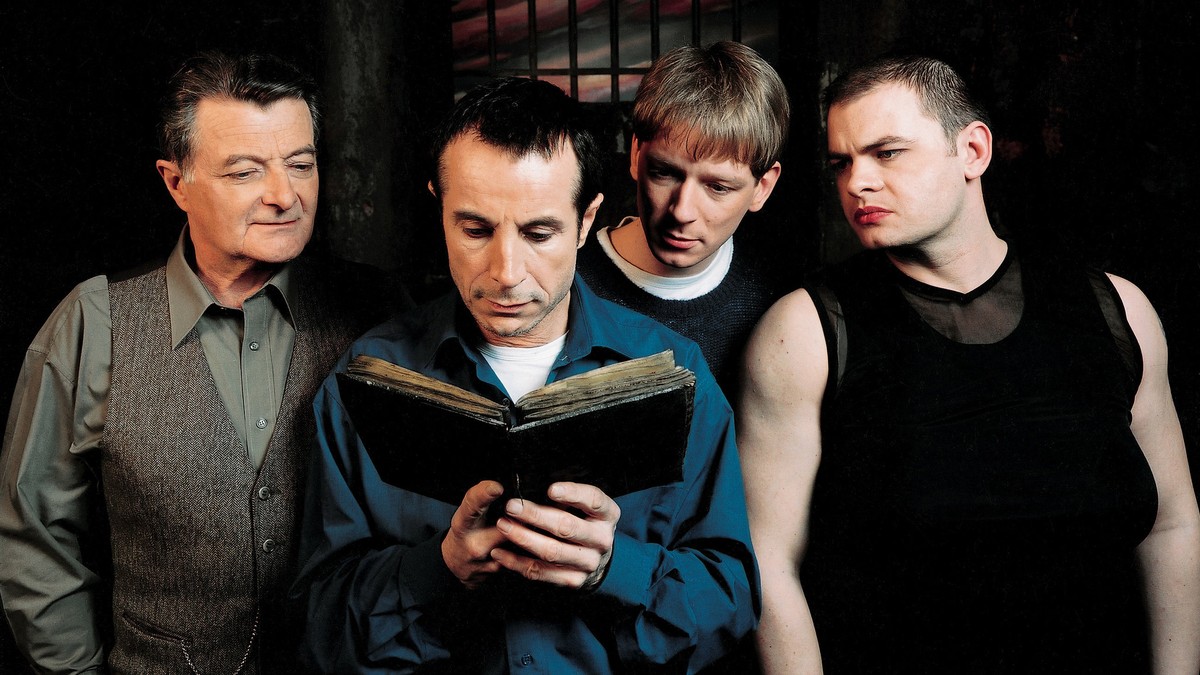 The film builds a tight ensemble as we watch the group discover the book and puzzle over the possibilities it can offer. There soon starts to be an anything-can-happen wildness to what is going on – symbols bursting into flame and exploding, figures levitating into the air, Dimitri Rataud's fingertips being neatly sliced off by the wall, the reappearance of the book after it is thrown out the window, the mysterious replacement cellmate with his video camera. It all amounts to a strong and well made effort, certainly different and quite a bit better than most of the other formulaic fare out there.
Director Eric Valette made his feature-length debut here and subsequently went on to the English-language remake of One Missed Call (2008), the non-genre thriller State Affairs (2009), Super Hybrid (2010) about a shapeshifting killer car, another prison film with The Prey (2011); and the Torture Porn film Thousand Cuts (2017).
---
---