---
Crew
Director – David Blyth, Screenplay – Alan Moyle, Producer – Nicolas Stiliadis, Photography – Ludek Bogner, Music – Jim Manzie, Special Effects Supervisor – Brock Jolliffe, Production Design – Ian Brock. Production Company – SC Entertainment Corp/Prism Entertainment.
Cast
Andrew Stevens (Owen Augustus Urban III), Heather Thomas (Paula Bukowsky), Christopher Plummer (Dr John Alcore), Kim Coates (Dennis), Lydie Denier (Rebecca Murrin)
---
Plot
Owen Augustus Urban III, a creator of designer drugs, is hired by Dr John Alcore, the founder of Life Research foundation, who wants his help in obtaining a cure for AIDS. Owen soon discovers that unorthodox experiments are being conducted at Life Research. He befriends one volunteer Paula Bukowsky. After she is bitten by a crazed test subject, Owen finds that she is starting to transform into a vampire.
---
New Zealand director David Blyth is an intermittent talent. Blyth debuted with the obscure Angel Mine (1977) about suburban kinkiness and then showed some promise with the splatter film Death Warmed Up (1984). However, everything that David Blyth has done since – The Horror Show (1989), which he either quit or was fired a few days into, and the children's film Grampire/My Grandfather is a Vampire/Moonrise (1992), the entirely confused thriller Exposure (2000), the confusing deathdream horror Wound (2010) and Ghost Bride (2013) – have disappointed. Other projects have failed to emerge and Blyth has been reduced to churning out episodes of tv series like Eerie Indiana (1991-2) and Mighty Morphin Power Rangers (1993-6).
Red Blooded American Girl, a small and unassuming vampire affair, is probably the best entry in David Blyth's exceedingly spotty cv. B-budget production houses are surely the environment where David Blyth is best suited – where he can work with other people's scripts and allow his strongest suit – visual style – to flourish.
Red Blooded American Girl conducts the conceptually intriguing idea of offering a scientific rationalism of vampirism. Scientific vampirism has been used in vampire literature before and on screen in the interesting The Return of Dr X (1939) with Humphrey Bogart, The Vampire (1957), Blood of the Vampire (1958), Thirst (1979) and since in fine works like Ultraviolet (1998) and Blood (2000). This is the first 'full-blooded' treatment of the theme and offers up some intriguing ideas – with requisite AIDS metaphors and the idea of salvation via blood transfusion – even if they are unfulfilled. That said, there are other moments where the script seems hastily thought out – like how Andrew Stevens and Heather Thomas are hardly even friends before they are off together conducting investigations.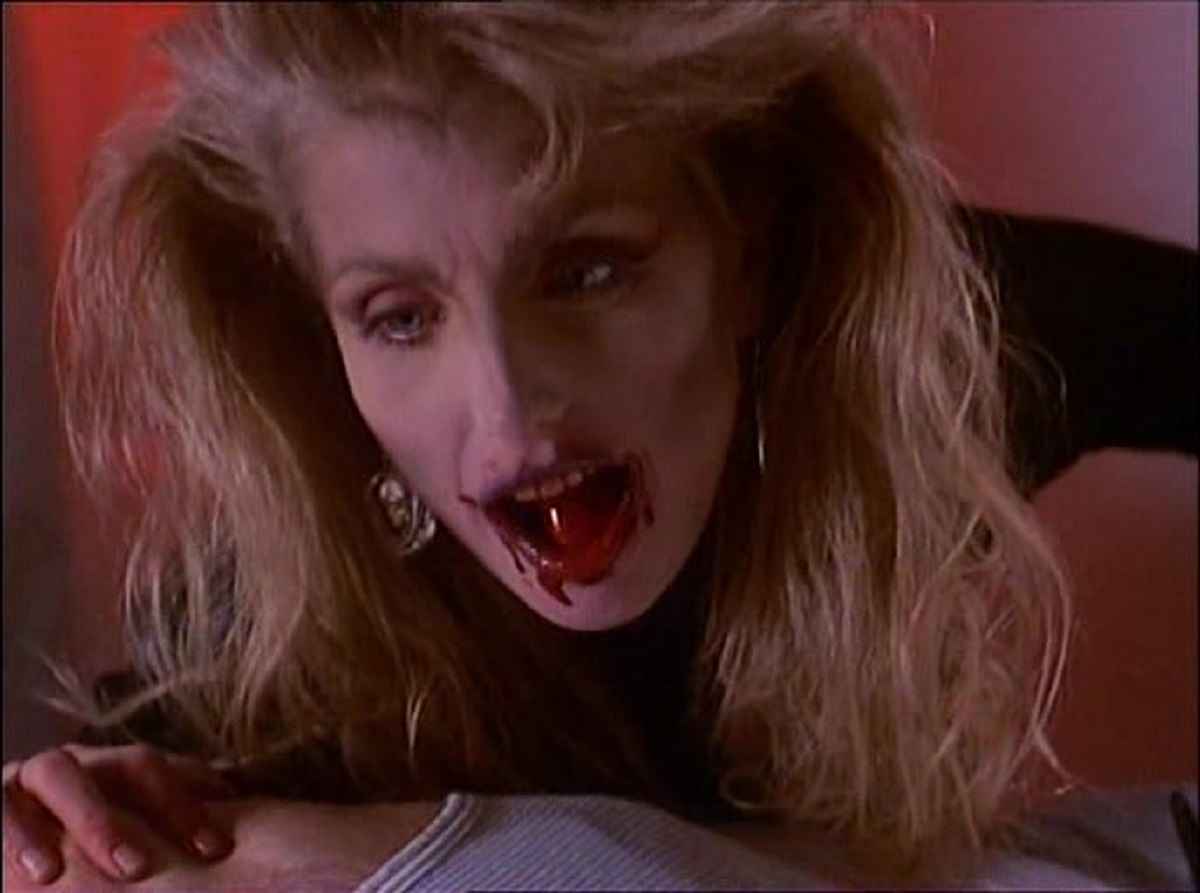 David Blyth works well visually. The scenes in the foundation maintain a sinisterly antiseptic disquiet. Scientific vampirism stories always have difficulty maintaining their horror aspect in that they tend more towards science-fiction and in so doing remove the potential horror by rationalising and thus making the monster sympathetic. Blyth nevertheless maintains the horror element and creates a series of striking and provocative images – like the opening with Kim Coates drugging a naked Lydie Denier, cutting open her neck with a pair of scissors and then drinking her blood. Or the scenes of Heather Thomas cutting herself with a knife and drinking her own blood; and Kim Coates lying in a bath caressing and arousing himself with a blood pack before drinking its contents.
Unfortunately, the scenes between Heather Thomas and Kim Coates are very silly, in fact bring the middle of the film down considerably. Coates's near-rape of her and the scenes in the padded cell verge on camp – although the latter scene does have a good moment where Thomas starts drinking from Coates's foot with him being turned on at the same time as he is being killed. The scenes with Heather Thomas acting a would-be 'vamp' are incredibly bad. Nevertheless, the film survives her.
The film's greatest failing (beside Heather Thomas) is its slimness and its failure to explore the ideas raised in its intriguing plot. Andrew Stevens, who started to make a career for himself as a producer of B-budget films since the film, clearly has fun with his part. Christopher Plummer comes across with suitably ambiguous presence and dignity. Despite the title – which is no great relevance other than its play on words – the film was financed and shot in Canada.
David Blyth later made Red Blooded American Girl II/Red Blooded (1996), which was unrelated to this film, and in fact does not even feature vampires, but is a tatty work of erotica.
---
---