---
USA. 2013.
Crew
Director – Nimrod Zalamanowitz, Screenplay – Fred Edison, Producers – Joey Azouli & Nimrod Zalamanowitz, Photography – Patrick Morris, Music – Aido Shilaku, Visual Effects – Luxfarm (Supervisor – Jimmy Daley), Special Effects Supervisor – Vincent Hughes, Production Design – Jamie Rosegren. Production Company – Meridien Films.
Cast
Aaron Mathias (Mark Goodwin), Nathan Spiteri (Andy), Laura Gilreath (Michelle), Grace Evans (Evelyn), T. Boomer Tibbs (George Sheffield), Tym Moss (Norm), Paul Bright (Dr Brooks)
---
Plot
Mark Goodwin returns to New York from L.A. and an unsuccessful attempt to make it as a filmmaker. His best friend Andy persuades him to join in making a documentary about the abandoned Hudson River Hospital and the legend of Typhoid Mary who was confined there during the 1910s, suspected of being a typhoid carrier, and died under suspicious circumstances. When she finds out that he has sunken most of their savings into buying video equipment, Andy's girlfriend Michelle insists on being part of the project too. As they investigate the hospital, Mark believes he is seeing apparitions. Michelle conducts a seance to contact the forces in the hospital and afterwards becomes possessed. As Mark and Andy dig deeper into what happened to Typhoid Mary, the supernatural forces inside the hospital start to stir.
---
Paranormal Asylum was the directorial debut of Nimrod Zalamanowitz. He had previously worked in various capacities in the film industry as a digital colourist and a producer of electronic press kits. Zalamanowitz next made All American Bikini Car Wash (2015).
Paranormal Activity joins a host of soundalike titles that have borrowed the prefix Paranormal ___ following the huge success of Paranormal Activity (2007) and sequels. See also Paranormal (2009), Paranormal Entity (2009), Paranormal Calamity (2010), Paranormal Effect (2010), Paranormal Proof (2010), Paranormal Experience (2011), Paranormal Incident (2011), Paranormal Adoption (2012), Paranormal Captivity (2012), The Paranormal Diaries: Clophill (2013), 616: Paranormal Incident (2013), Paranormal Island (2014) and Paranormal Retreat (2014). The feel as Paranormal Asylum borrows the prefix again is that by doing so it relegates itself to no more than a routine wannabe straight out of the starting gate.
All of these above-listed are unimaginative copycat Found Footage ghost stories. As Paranormal Asylum starts off with its two ghost hunters prepping camera equipment and venturing into the abandoned hospital, you have to keep reminding yourself that this is not a Found Footage film too. Yet for all that it employs third-person camerawork, it feels like a film that remains steeped in the Found Footage genre – the characters still wield video cameras as they go into action, while the camerawork is ragged and handheld and many scenes are relayed via the camera's lens or video monitors. Maybe this is a post-Found Footage phase the genre is moving towards where the style of Found Footage has seeped into the language of everyday filmmaking.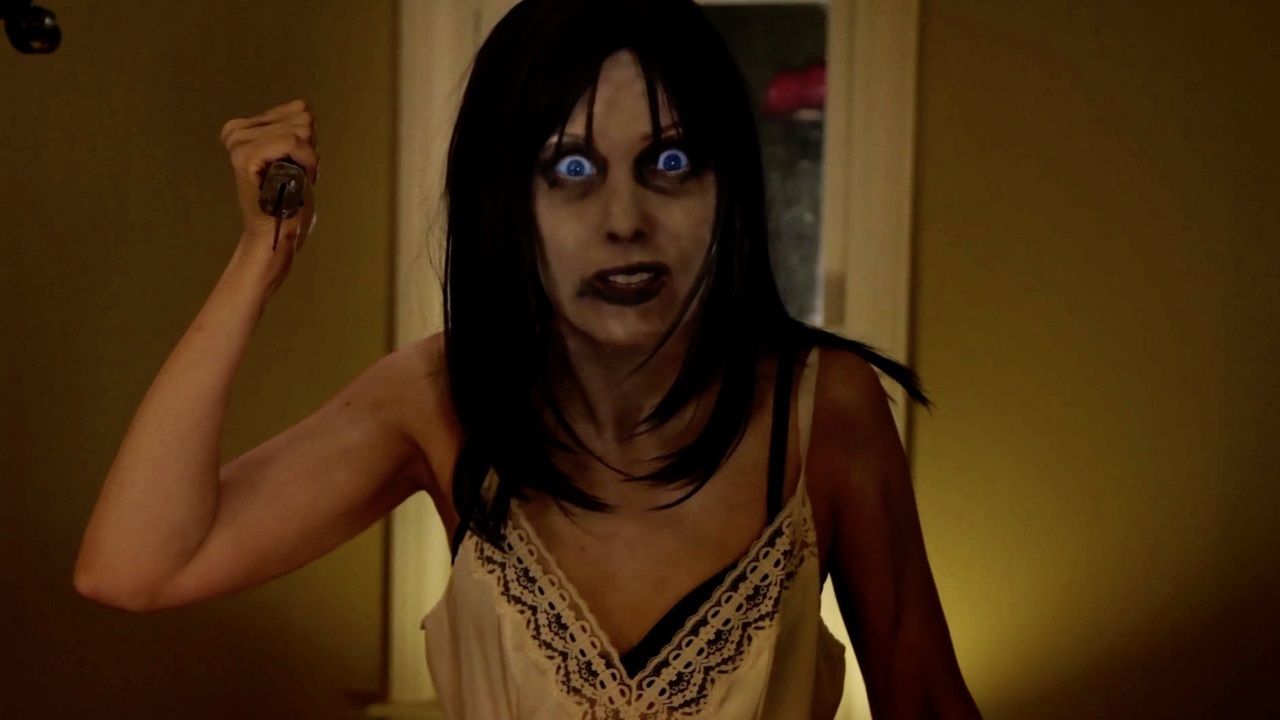 Paranormal Asylum sits halfway between the enthusiastically amateurish and the occasionally effective. There is the odd moment that holds something eerie with ghostly figures appearing on railway lines, in tv monitors or around the hospital and especially a scene where Laura Gilreath gets out of bed and the shadow of something else appears on the wall behind her. On the other hand, the scenes where Laura Gilreath develops glowing eyes just look cheap and schlocky.
Oddly, though the film is set around the titular asylum, very little of it takes place there and most of it instead takes place in the couple's home. The film sets itself up passably well, although the plot starts to go in far too many different directions in the last third – an exorcist introduced and then shot in the next scene, the two friends abruptly falling out and a needlessly complicated last minute left field explanation about what is going on.
The one area that Nimrod Zalamanowitz does very well is the area he has had the most professional experience – as a digital colourist – and the film is beautifully tinted in autumnal colours. The central performers – all unknowns – are adequate in their parts, although there is an absurdly over-acted performance from T. Boomer Tibbs.
The film also makes the claim that it is "inspired by true events" and this holds a grain of truth in that it recounts the real-life story of Irish immigrant Mary Mallon (1869-1938), the so-called 'Typhoid Mary', who was confined to a New York hospital, believed to be typhoid carrier.
---
Trailer here
---