---
Crew
Director – Curtis Hanson, Screenplay – Amanda Silver, Producer – David Madden, Photography – Robert Elswit, Music – Graeme Revell, Special Effects – Bob Riggs, Makeup Effects – Craig Reardon, Production Design – Edward Pisoni. Production Company – Interscope Communications/Nomura Babcock and Brown.
Cast
Rebecca De Mornay (Peyton Flanders/Mott), Annabella Sciorra (Claire Bartel), Matt McCoy (Michael Bartel), Madeline Zima (Emma Bartel), Ernie Hudson (Solomon), Julianne Moore (Marlene Craven), John De Lancie (Dr Victor Mott)
---
Plot
Pregnant housewife Claire Bartel is certain that her gynaecologist Victor Mott was trying to interfere with her during an exam and lays charges of sexual molestation against him. Disgraced, Mott shoots himself. The shock of this causes Mott's pregnant wife Peyton to have a miscarriage. After giving birth, Claire advertises for a babysitter. Peyton applies under an assumed name and gets the job. Once inside the house, Peyton starts weaving an insidious web of planted evidence and even murder to oust Claire and steal her husband and children in revenge.
---
Director Curtis Hanson made some fine works during his career thrillers, beginning with Bad Influence (1989) to films that gained him considerable acclaim with L.A. Confidential (1997), Wonder Boys (2000) and 8 Mile (2002). That said, The Hand That Rocks the Cradle is one film on his resume that heavily disappoints. It was one of a host of conservative psycho-thrillers that came out following the success of Fatal Attraction (1987), usually featuring Family Values at siege from forces beyond the door and/or a deranged female stalker.
For the standout work he conducted elsewhere, Curtis Hanson's handling here is disappointingly crude. He and scripter Amanda Silver telegraph all of the suspense well in advance – the stolen cigarette lighter, what Rebecca De Mornay has in mind when she suggests that Matt McCoy and his ex-girlfriend Julianne Moore plan a surprise party, Annabella Sciorra's tendency to have asthma attacks when she gets stressed out. Everything is so obviously foreshadowed that the film feels like it has been assembled from a computerised constructor-set scenario and untouched by human hand. The one good thing about the film is Rebecca De Mornay whose ice-cold beauty, crystal blue eyes and emotionally detached acting style is rather well suited to the role of the cold-blooded psycho avenger.
The film does try to wear its liberal credentials in wielding much of the then topical hysteria surrounding sexual molestation and child abuse charges into a thriller. Yet for all the liberal topicality of it, The Hand That Rocks the Cradle in fact ends up reinforcing a far more conservative position than it gives the appearance of doing at face value. The actual incident of sexual molestation is handled with an interesting ambiguity – from what we see of the expression on gynaecologist John De Lancie's face, it is never entirely clear whether he is simply giving Annabella Sciorra a clinical examination or is attempting to get his jollies.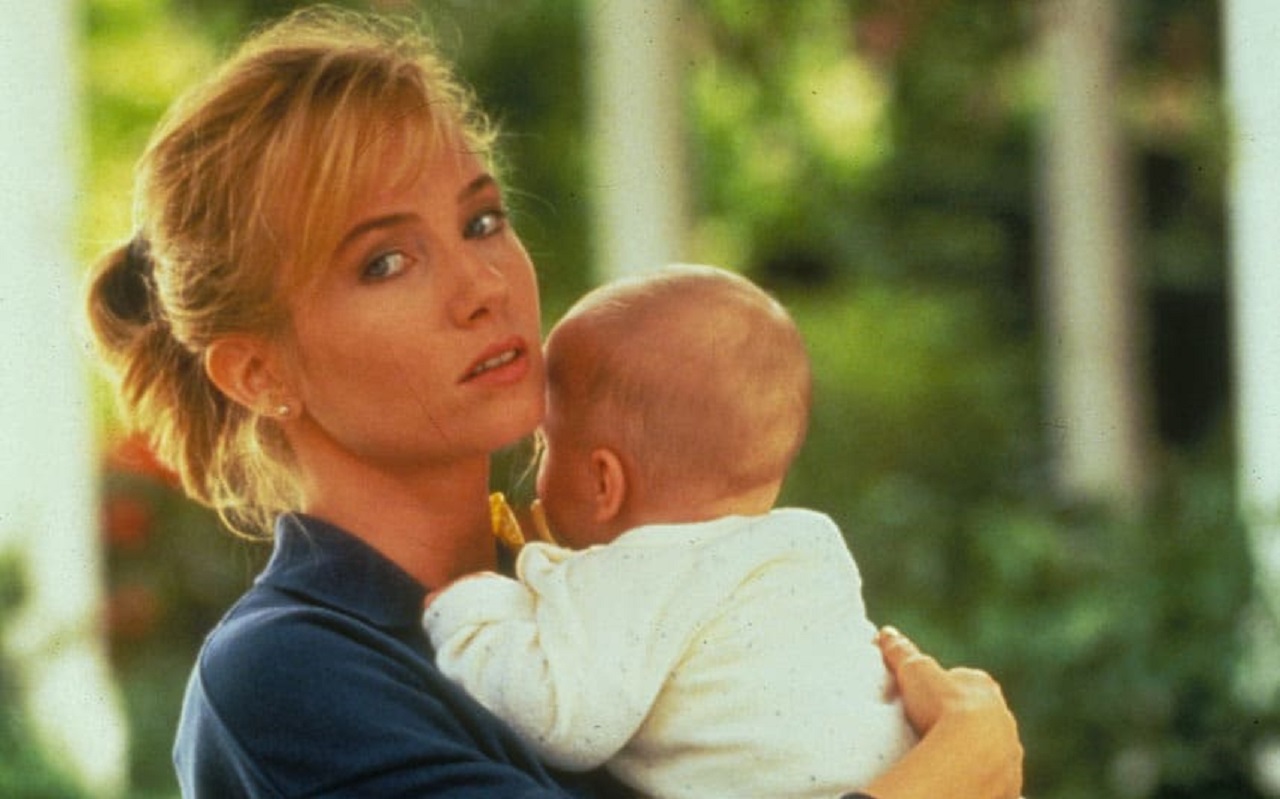 The clear impression given by the scene is that the issue of sexual harassment could be something that exists entirely in Annabella Sciorra's imagination. The rest of the film gives us the sense that Annabella Sciorra is being punished for having overreacted in an ambiguous situation in filing harassment charges against John De Lancie and that if she had not brought the charges her life would not have been turned upside down. Indeed, Rebecca De Mornay exists only as a deux ex machina without any other motivation to reinforce this point.
This is all mirrored in a bizarre ending – during the course of the film, Annabella Sciorra dismisses retarded handyman Ernie Hudson over false sexual harassment accusations as a result of Rebecca De Mornay's planted evidence. The ending where Sciorra earns her 'forgiveness' by this time retracting the false harassment charges against Ernie Hudson and where he earns their acceptance and is rewarded by finally being allowed to hold the baby seems bizarrely condescending.
In genre material, Curtis Hanson made his directorial debut with the psycho film Sweet Kill/The Arousers (1973) and also made Bad Influence (1989) with Rob Lowe as James Spader's psychopathically deranged best friend. He has also written the H.P. Lovecraft adaptation The Dunwich Horror (1969) and White Dog (1982) about a dog trained by white supremacists to kill Blacks.
The script comes from Amanda Silver who, along with her husband Rick Jaffa, subsequently became a top Hollywood screenwriting partnership. Their other works include the Planet of the Apes reboot trilogy Rise of the Planet of the Apes (2011), Dawn of the Planet of the Apes (2014) and War of the Planet of the Apes (2017), plus Eye for an Eye (1996), the monster movie The Relic (1997), Jurassic World (2015), In the Heart of the Sea (2015) and Mulan (2020).
---
---