---
Crew
Director – D.J. Caruso, Screenplay – Carl Ellsworth & Christopher Landon, Story – Christopher Landon, Producers – Jackie Marcus, Joe Medjuck & Tom Pollock, Photography – Rogier Stoffers, Music – Geoff Zanelli, Music Supervisor – Jennifer Hawkins, Visual Effects – Pacific Title and Art (Supervisor – Mark Freund), Special Effects Supervisors – Darrell Pritchett & Robert Cory Pritchett, Makeup Effects – KNB EFX Group Inc (Supervisors – Howard Berger & Greg Nicotero), Production Design – Tom Southwell. Production Company – DreamWorks/The Montecito Picture Company/Coldspring Pictures.
Cast
Shia LaBeouf (Kale Brecht), Sarah Roemer (Ashley Carlson), David Morse (Robert Turner), Carrie-Anne Moss (Julie Brecht), Aaron Yoo (Ronnie), Jose Pablo Cantillo (Officer Gutierrez), Viola Davis (Detective Parker), Rene Rivera (Senor Gutierrez), Matt Craven (Daniel Brecht)
---
Plot
Teenager Kale Brecht is driving back from a fishing trip with his father when they crash on the road and his father is killed. One year later, Kale is doing badly at school. When Kale's Spanish teacher mentions his father's name in dressing him down, Kale punches the teacher out. In court, Kale is sentenced to three months home detention and fitted with an electronic tracking device that alerts the police if he goes more than 100 feet from the house. Sitting at home bored, Kale starts spying on the people in the neighbourhood with a pair of binoculars. He becomes attracted to Ashley, the gorgeous new girl next door, and she befriends him after she catches him spying on her. Kale becomes suspicious of another neighbour Robert Turner after he realizes that Turner has a car identical to one that was driven away from a scene where a woman went missing. Kale, Ashley and Kale's friend Ronnie begin spying on Turner and gain increasing evidence that indicates that Turner might be a serial killer. However, Turner then becomes aware that they are spying on him.
---
One did not know what to make of Disturbia before it opened. The poster art, the intriguing title and the plot synopsis suggested something promisingly dark – perhaps a film that tapped into a voyeurism and the something rotten in the neighbourhood theme of Joe Dante's black comedy The 'Burbs (1989). In the director's seat was D.J. Caruso who greatly impressed with his first film, the visually dazzling The Salton Sea (2002), although equally disappointed with his next – the serial killer thriller Taking Lives (2004), which offered moments of visual style but sank due to a cliched and poorly written script. Any film that comes executive produced by both Steven Spielberg and Ivan Reitman should at the least be regarded as potentially interesting.
I guess all of this demonstrates that one should examine the pre-publicity in more detail or at least watch the trailer prior to seeing a film. It is impossible to describe what a thorough disappointment that Disturbia ends up being on almost every single count. All that we have is a hackneyed rehash of Alfred Hitchcock's Rear Window (1954). Rear Window had photographer James Stewart holed up in his apartment with a cast on his leg, spying on his neighbours across the courtyard through a telescopic lens to relieve the boredom and then believing that he may have seen a murder take place in a neighbouring apartment.
In lieu of James Stewart, Disturbia substitutes teenager Shia LaBeouf on home detention discovering that his neighbour is a serial killer. In both cases, the hero's principal aide gets to be a gorgeous blonde and the climax of both films involves the hero sitting helplessly by as someone else enters the killer's house to gather evidence only to be discovered. (The estate of Cornel Woolrich, who provided the story for Rear Window, later sued the producers of Disturbia for uncreditedly stealing their material).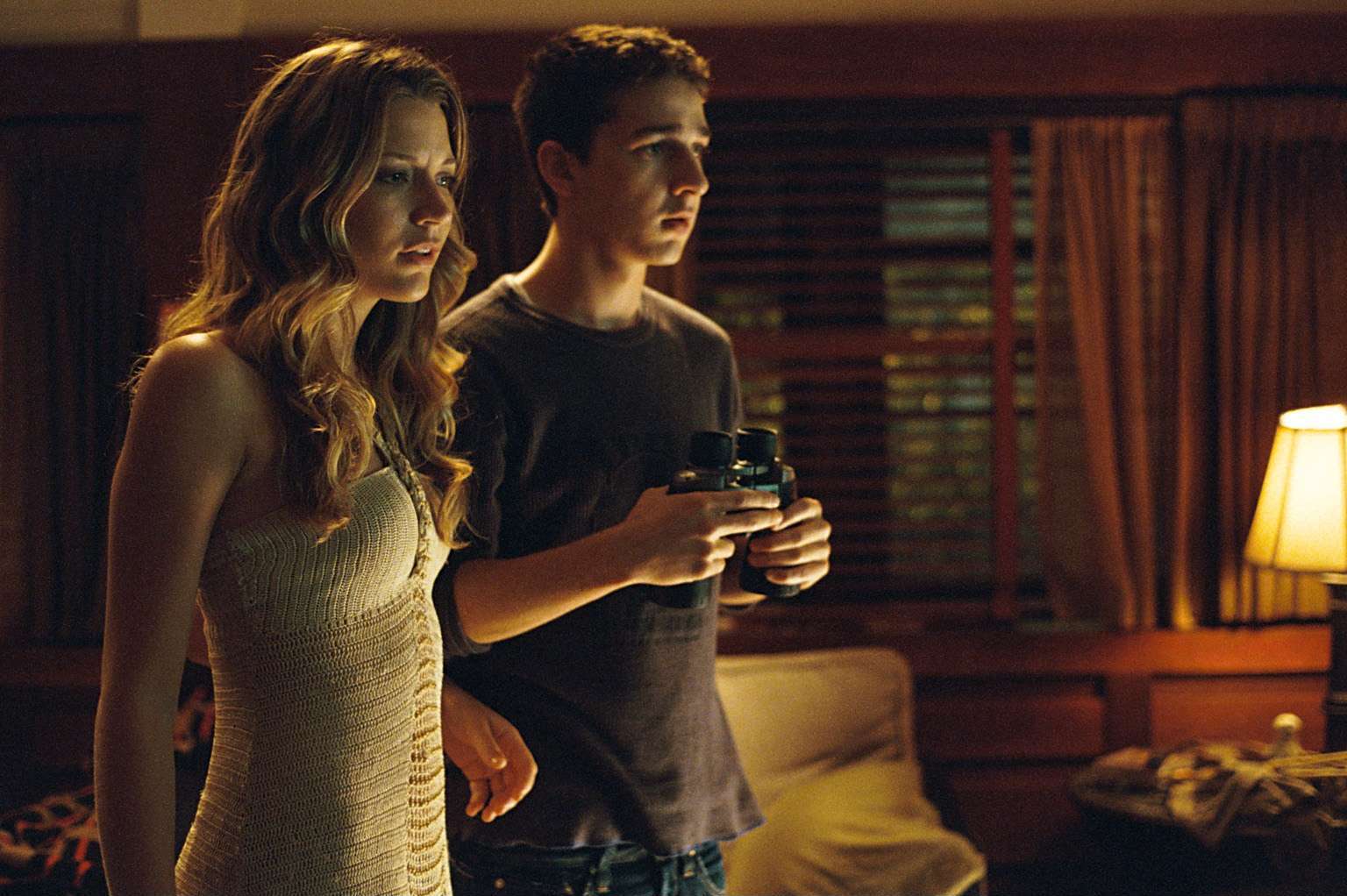 It is sad the lack of imagination with which Disturbia has been put together. The basic idea of the film – and certainly some of the publicity – toys with the subject of voyeurism. There are times that the film sits atop this – the only glimpses we get of people that are not crucial to the action hint at a prurience (a husband having an affair with the maid, the bratty kids that taunt Shia LaBeouf watching porn on cable). Shia LaBeouf (and D.J. Caruso's camera) spend a good deal of time watching Sarah Roemer undressing or in her bikini by the pool.
Here the film starts to tap into the forbidden appeal of voyeurism (at least in a PG rated way where Sarah Roemer undresses with her back to the camera and all that we see of the porn channel is a woman holding her hands over her breasts). If Disturbia had been made as an R-rated film instead of trying to tap the teen horror market, this could have been pushed to an interesting level. However, with the rating that Disturbia has this is glossed over – indeed, once the main thriller aspect begins, the film forgets about the voyeurism element altogether.
While D.J. Caruso demonstrated style on his other films, his work on Disturbia is utterly bland to the extent that the film feels as though it is has been put together with the conveyor belt predictability of a tv movie. The sole scene where Caruso manages to do anything that even vaguely comes close to generating a frisson is the scene where Aaron Yoo ventures into David Morse's garage. David Morse also conveys some threat in a scene where he stops Sarah Roemer in a parking lot outside the supermarket. Aside from this, there is nothing to Disturbia other than the bland turning of wheels of contrivation and a by-the-book plot that is possible to be predicted at every turn it takes. A better director could have played the film for much more in the way of ambiguity and uncertainty but D.J. Caruso only does so in predictable ways where the outcome is never in any doubt.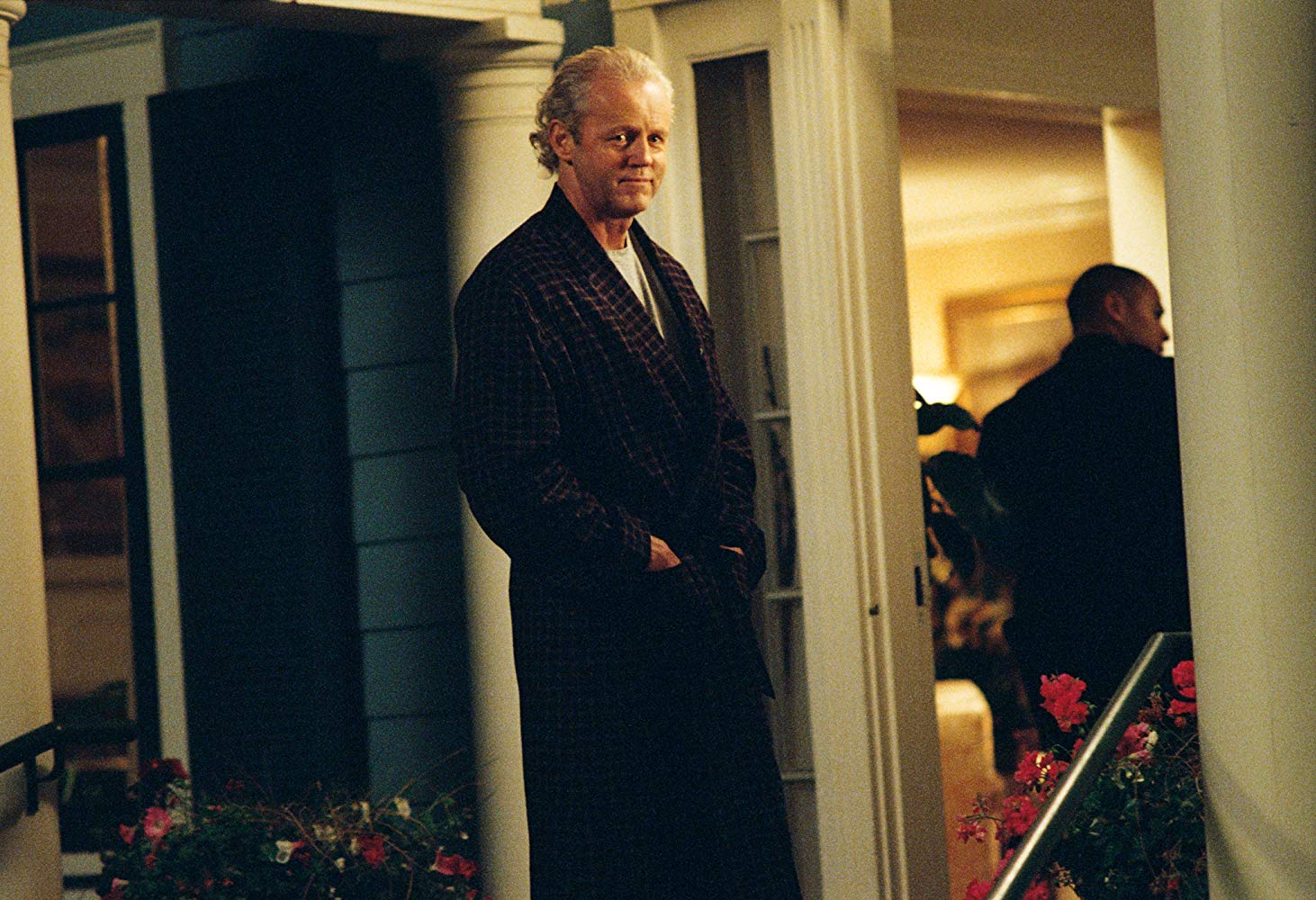 Much of what happens is also highly contrived – David Morse conveniently managing to hide all evidence in the time that the police turn up to search his house; he popping up after having decided to hide in a hole behind a tied-up Carrie-Anne Moss; or the scenes where we think we see him attacking a girl he has picked up in the nightclub that happen to suggest sinister activities whenever Shia LaBeouf is looking and nothing when the others are (and where the end of the film leaves us unsure whether David Morse did kill the woman or somehow managed to contrive to allow Shia LaBeouf to see her leave in her VW bug).
Shia LaBeouf, who was seen as a star on the rise at the time, carries the film adequately, although the find among the cast manages to be Sarah Roemer who gives a flirtatious and sunnily twinkling performance that brings a great deal of life to the film.
D.J. Caruso and Shia LaBeouf subsequently reteamed on the techno-thriller Eagle Eye (2008) with LaBeouf being manipulated by a malevolent A.I.. Caruso next went onto the science-fiction film I Am Number Four (2011) about teenage alien refugee on Earth, the haunted house film The Disappointments Room (2016), xXx: Return of Xander Cage (2017) and the imprisonment thriller Shut In (2022).
---
---