---
Crew
Director – Russell Mulcahy, Screenplay – Steven E. de Souza, Story – Fred Dekker & Menno Meyjes, Producers – Michael Levy & Joel Silver, Photography – Peter Levy, Music – Alan Silvestri, Visual Effects – Available Light (Supervisor – John T. Van Vliet), Production Design – Jaymes Hinkle. Production Company – Silver Pictures.
Cast
Denzel Washington (Nick Styles), John Lithgow (Earl Talbot Blake), Victoria Dillard (Alice Styles), Kevin Pollak (Larry Doyle), Ice-T (Odessa), Lindsay Wagner (D.A. Priscilla Brimleigh)
---
Plot
Nick Styles is working as a cop while studying for his law degree. He is on beat at an amusement park as hitman Earl Talbot Blake takes a hostage while fleeing from a hit gone wrong. Nick goes out on a limb to apprehend Blake and his actions have him declared a hero. He marries and goes onto to become a high-profile Assistant District Attorney. In jail, Blake swears vengeance and collects all the information he can about Nick. With the help of the Aryan Brotherhood, Blake escapes jail and comes after Nick. There he progressively determines to wreck Nick's perfect life – faking the suicide of Nick's business partner in a charity telethon and leaving evidence to suggest that he was a paedophile and had embezzled the charity money; abducting and drugging Nick and then videotaping him having sex with a woman; and then promising to kill the people near and dear to him.
---
Ricochet came out about a month before Martin Scorsese's remake of Cape Fear (1991). One isn't sure whether it is a case of concurrence of theme or one film ripping the other off. Certainly, one would never dare to accuse a filmmaker as eminent as Martin Scorsese of ever exploiting somebody else's trends. On the other hand, Ricochet bears all the hallmarks of a film made to climb aboard the tails of another film's success. Whatever the case, both films are remarkably similar in plot – in which a lawyer is forced to confront a dangerous and clever ex-con they put away years ago who returns and proceeds to systematically tear apart their family and the successful life they have built.
Ricochet had a potentially worthwhile line-up of talent behind the camera. It was directed by Russell Mulcahy, the former MTV director who branched out onto the widescreen with genre entries such as Razorback (1984), Highlander (1996) and The Shadow (1994). Mulcahy has shown himself to consistently be a stylish and above-average commercial director – mindedly Mulcahy seemed to be having a bad year in 1991 when he also turned out the execrable Highlander II: The Quickening (1991).
The script comes from Steven E. de Souza who had written various high profile action films including 48 Hrs. (1982), Commando (1985), The Running Man (1987) and Die Hard (1988), as well as the tv adaptation of The Spirit (1987). That said, Steven E. de Souza seemed to be having a bad year in 1991 too – he also wrote the big bomb of Hudson Hawk (1991). The film was produced by Joel Silver, the man behind most of Steven E. de Souza's action films, as well as the likes of Lethal Weapon (1987), Predator (1987), the Tales from the Crypt tv series (1989-96) and The Matrix (1999).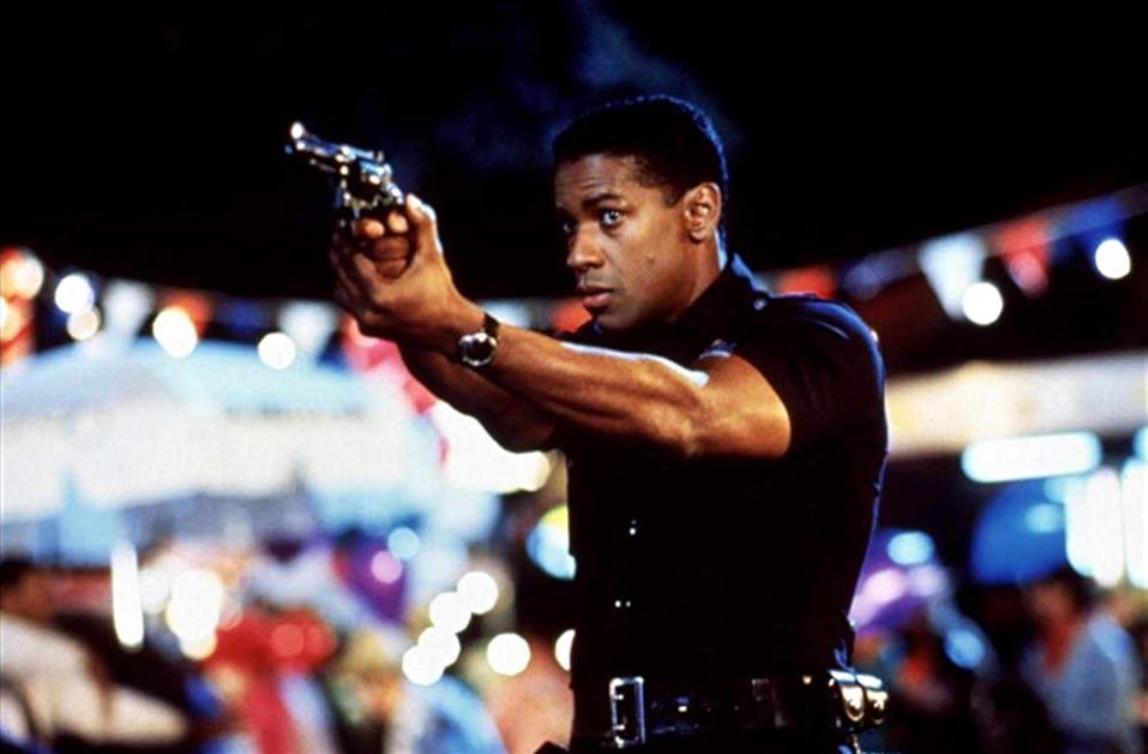 Ricochet suffers from a stupid script that is riddled with major implausibility holes. A large part of the problem is Russell Mulcahy who misconstrues the material. Unlike Cape Fear, Ricochet lacks anything in the way of psychological complexity (let alone believability). Instead of psychologically putting the twists on the hero as Scorsese did, Mulcahy turns all the suspense into big over-the-top action sequences. Both Ricochet and Cape Fear see the villain as a figure who symbolically tears apart the hero's exemplary life but Cape Fear more interestingly makes the villain into a force that exposes the hypocrisy that lies in the divide between the ideal and the reality of the hero's life – exposing his extra-marital affairs and his wayward daughter.
Ricochet contrarily casts its hero as someone who could only be more saintly if an ordained minister played the part – as a cop Denzel Washington was a citywide hero, while he is also a crusading District Attorney who takes a stand against drugs, hosts telethons to raise money for poor children, and has a perfect wife and family. The most Denzel Washington's hero has in the way of failings is covering up from his wife the fact that he was forced to have sex with another woman after being drugged and tied up by the villain. Ricochet does have the interesting idea of casting the story across racial lines – casting a Black actor (Denzel Washington) as the good lawyer and allying the vengeful psychopath (John Lithgow) with a white supremacist group – but then does nothing with it.
Ricochet suffers from inherent stupidity, all due to a badly written script and a director who has a penchant for pyrotechnic excess. The fact that the young Denzel Washington can work as a beat cop to pay the bills while putting himself through law school is one of the script's less believable points, where Steven E. de Souza seems to assume that law enforcement is a career that can simply be taken up in one's spare time like getting a job at a pizzeria or a laundromat.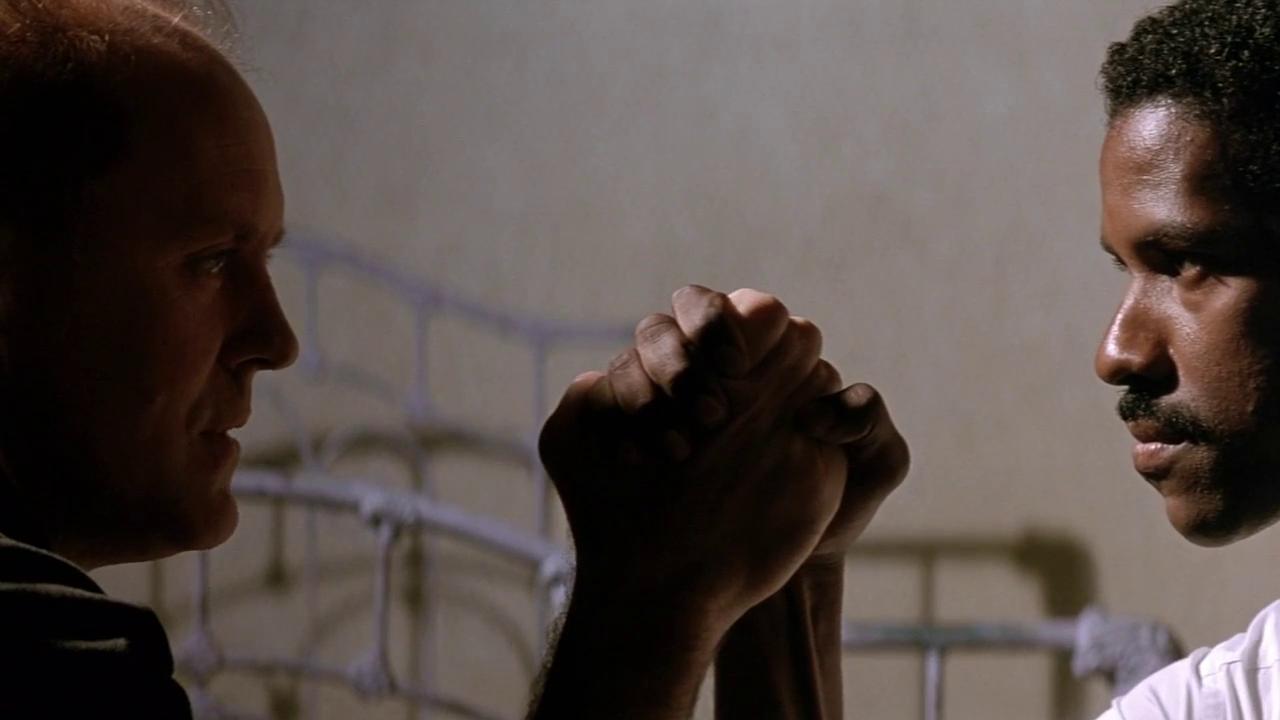 The action scenes become progressively more ridiculous. Mulcahy seems to have a liking for swordfights (this is after all the man who directed the first two Highlander films) and for no particular purpose includes one in the prison. About the point that Denzel Washington pulls out a grenade and threatens to pull the pin in the middle of his brother's drug house unless his brother stays away from his rehab project, one realises that this is not a film with real people in it.
One of the most absurd moments in the film is surely Kevin Pollak's dying moment where he lies in Denzel Washington's arms and gasps out the line: "You're right about Blake. He had to be alive – otherwise how could he kill me." However, Mulcahy manages to top this by staging a climax where Ice-T simply allows Denzel Washington to blow up his drug house in order to clear his own name and then has the drug lords act as the cavalry coming to Denzel's support so that he can stage a final showdown with John Lithgow. As said earlier, this is not a film that has anything to do with real people.
Russell Mulcahy's other genre films are:- the excellent killer boar film Razorback (1984), Highlander (1986), which launched a long-running franchise, its sequel the awful Highlander II: The Quickening (1991), the mystical radio superhero adaptation The Shadow (1994), the revived mummy film Talos the Mummy/Tale of the Mummy (1998), the serial killer thriller Resurrection (1999), the tv mini-series remake of On the Beach (2000), the tv mini-series of Jules Verne's Mysterious Island (2005), the tv mini-series The Curse of King Tut's Tomb (2006), Resident Evil: Extinction (2007) and The Scorpion King: Rise of a Warrior (2008). Mulcahy also wrote/produced the killer shark film Bait (2012).
---
---