---
Crew
Director – Tom Elkins, Screenplay – David Cogeshall, Producers – Paul Brooks & Scott Niemeyer, Photography – Yaron Levy, Music – Michael Wandmacher, Visual Effects – Chapeau FX (Supervisor – Ben Looran), Local Hero (Supervisor – Andrew Wahlquist), Splice, Studio Free Radical & Zoic Studios (Supervisor – Ralph Maiers), Special Effects Supervisor – Jack Lynch, Makeup Effects – MastersFX (Designer – Todd Masters). Production Company – Gold Circle Films.
Cast
Abigail Spencer (Lisa Wyrick), Emily Alyn Lind (Heidi Wyrick), Chad Michael Murray (Andy Wyrick), Katee Sackhoff (Joyce), Lance E. Nichols (Pastor Jordan Wells), Grant James (Mr Gordy), Cicely Tyson (Mama Kay), Brad James (Prentiss)
---
Plot
In 1993, husband and wife Andy and Lisa Wyrick move to a rural property at Pine Mountain, Georgia. Soon after they arrive, Lisa's sister Joyce turns up and moves into an abandoned caravan on the property. Lisa and Andy's young daughter Heidi starts to have visions of a man she calls Mr Gordy. Lisa is dismissive of what Heidi sees but is fighting visions of her own, which have been put down to mental illness. Joyce encourages Heidi, believing that she has The Sight because she was born with a veil over her eyes. Mr Gordy leads them to find coins buried on the property and Heidi is able to identify him as the person in a photo of the real Gordy who died in 1978. At the same time, increasing supernatural occurrences happen and, as they uncover, these are related to when the property was a station on the Underground Railroad used to ferry escaped slaves.
---
The Haunting in Connecticut (2009) was sold as the depiction of a true-life ghost story (in which the investigation was conducted by Ed and Lorraine Warren later of The Conjuring (2013) fame). The film was a reasonable success (earning $77 million worldwide) and this duly mandated a sequel. As various other series based on supposedly true ghost stories such as The Amityville Horror and The Conjuring series have found, real-life does not exactly provide much ammunition for 'the further adventures of ____' and so the series' usually fairly quickly turn to fiction.
The solution with The Haunting in Connecticut 2: Ghosts of Georgia was to turn to a completely different "true-life" ghost story. The first film was based on an episode from the Discovery Channel series A Haunting (2005-7) and here the producers have simply adapted another episode of the series that aired as a special A Haunting in Georgia (2002). This concerns the story of the Wyrick family who moved into a house in Ellerslie, Georgia in 1989. Their daughter Lisa developed invisible playmates she called Mr Gordy and Con who were later found to be the previous owners of the house.
It should be noted that, beyond the connection made by the title, The Haunting in Connecticut and Ghosts of Georgia are entirely unrelated and the only real link is that both are stories adapted from the same tv series. In real-life, there is not even a geographic connection – Connecticut and Georgia are about a thousand miles apart, from the bottom end of New England almost down to the tip of Florida.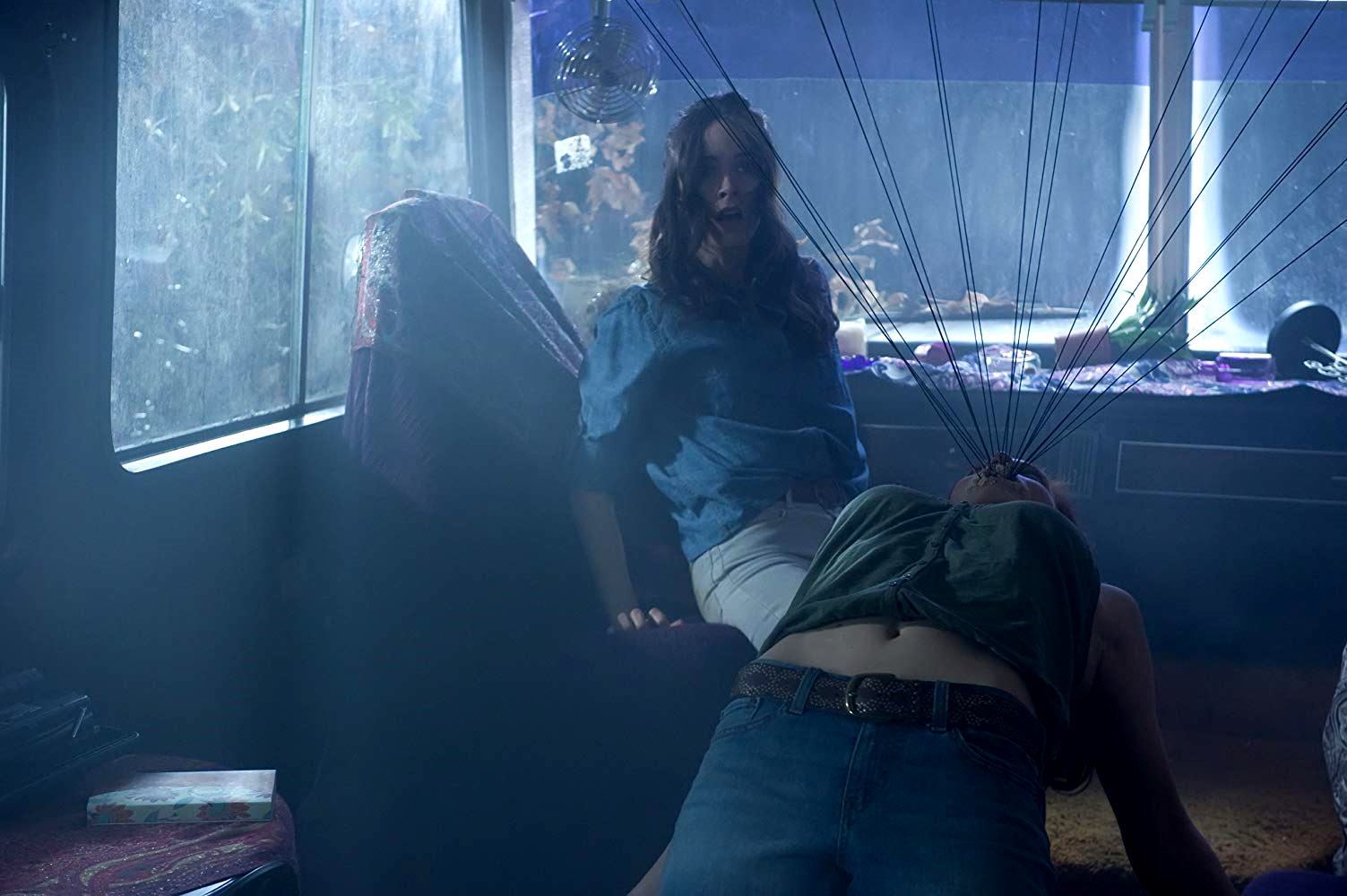 Ghosts of Georgia is directed by Tom Elkins who worked as the editor on The Haunting in Connecticut and has performed similar duties on other films such as The Apparition (2012), Annabelle (2014), Inferno (2016), Flatliners (2017) and Child's Play (2019). The hiring of Tom Elkins is essentially the film's problem. It becomes an editor as opposed to a director's film. It is one where any attempt to scare us has been entirely created in the editing room rather than the staging of any of the scenes. It is a film packed to the brim with slam cuts, blurry figures appearing in black-and-white, cutaway images to bugs and the like. The frame is restless with constant visual affect.
There are one or two shots that might have been spooky such as figures wandering through the periphery or abruptly appearing in front of someone but the film suffers from soundtrack overkill with the score and sound effects departments giving loud unsubtle emphasis with constant slamming and banging such that all effect slips into a tedious monotony that contrarily produces zero effect at all. Stripped down to a plotting level, everything that happens is utterly routine. The sole image that produces any effect is one where Abigail Spencer finds Katee Sackhoff suspended in her caravan from a series of cords strung through her lips.
---
---