---
Crew
Director – Gene Fowler Jr, Screenplay – Ralph Thornton [Herman Cohen & Aben Kandel], Producer – Herman Cohen, Photography (b&w) – Joseph La Shelle, Music – Paul Dunlap, Makeup – Philip Scheer, Art Direction – Leslie Thomas. Production Company – Sunset Productions.
Cast
Michael Landon (Tony Rivers), Whit Bissell (Dr Alfred Brandon), Yvonne Lime (Arlene Logan), Barney Phillips (Detective-Sergeant Donovan), Robert E. Griffin (Chief Baker), Ken Miller (Vic), Joseph Mell (Dr Hugo Warner)
---
Plot
Troubled high school pupil Tony Rivers is sent to psychiatrist Dr Alfred Brandon in the hope of controlling his uncurbed aggression. Instead, the unscrupulous Dr Brandon sees Tony as perfect material for an experiment and uses a serum to hypnotically regress him. This has the effects of causing Tony to turn into a werewolf.
---
The 1950s was the decade when teenagers suddenly found out what it meant to be misunderstood. The voice of the generation was of course James Dean. Around the same time, producer Herman Cohen managed to get hold of a survey that showed that 25% of all cinema attendees were between the ages of 15 and 25. Seeking to tap into this market, Cohen then came up with a contender for one of the great exploitation titles – I Was a Teenage Werewolf.
I Was a Teenage Werewolf is not particularly great or even that good a film, but it does carry a good deal of anger. The title concept makes for an amazingly powerful metaphor and that alone carries the film. Whether it was ever consciously written as such or not is doubtful but I Was a Teenage Werewolf seems to be carrying the anger and alienation of the whole James Dean and hot rod generation on its shoulders. Michael Landon even looks like James Dean and gives a remarkably mean and angry performance. The film rips into the expectations of parents and middle-class values with a surly vengeance.
As Stephen King pointed out, the moment that Michael Landon lap-dissolves into a werewolf and attacks a girl hanging upside down in the gymnasium is like an anarchic blast of primal ferocity that seems to let loose all things – the anger, the anti-authoritarianism and particularly sexuality – that teens were being forced to bite down on to fit into their parents' model of the perfect families. The anger has a paranoia to it too – like the idea that adults secretly regard teenagers as subjects for experiments in anger manipulation or that they regard teen anti-authoritarianism as akin to their being animals.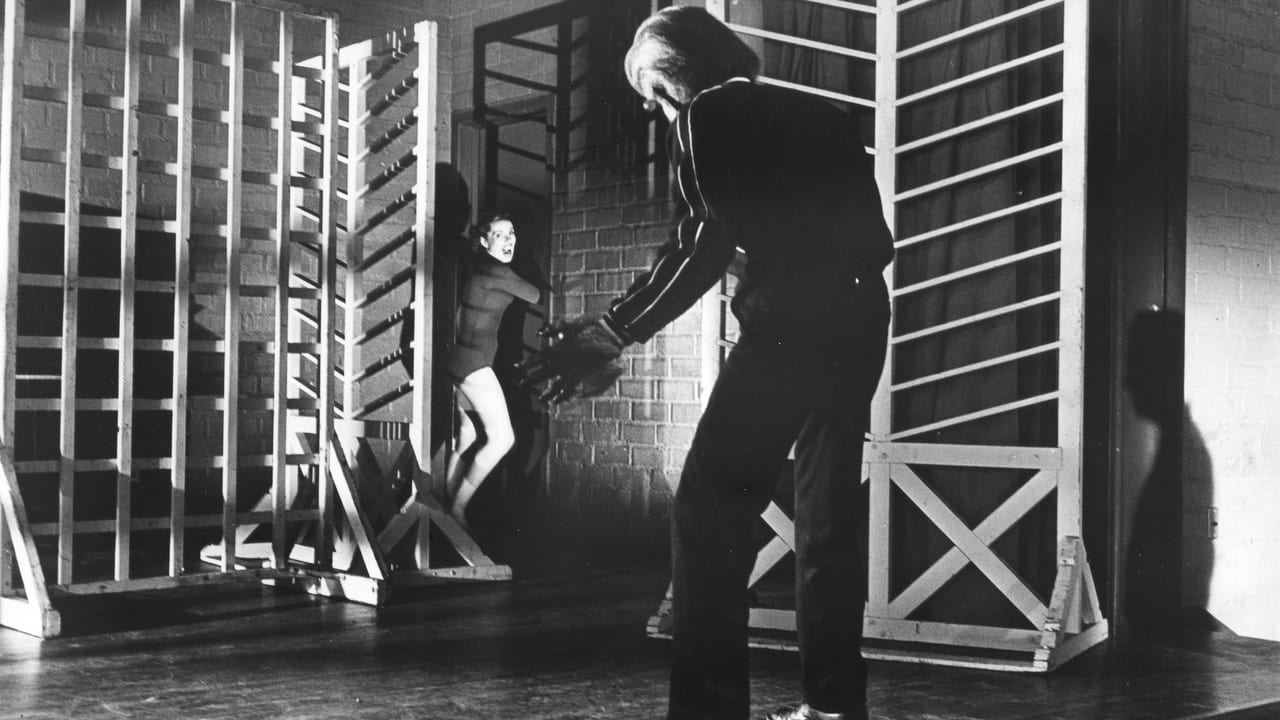 The plot is muddled at times. The explanation for Michael Landon's lycanthropy vies between the suggestion that Landon is a werewolf because he is close to his primitive ancestry; between the doctor's drug experimentation; and between a dash of then trendy Bridey Murphy hypnotic regression – see the film version The Search for Bridey Murphy (1956) for details. It is an odd werewolf film too, not having a single full moon or silver bullet in sight. One can guarantee that no modern day werewolf film would have the authorities accept the existence of a werewolf so matter-of-factly.
One amusing aspect of the film is the arrogant performance of Whit Bissell as the doctor – something that was to reach its height when Bissell played virtually the same role in I Was a Teenage Frankenstein (1957), Cohen's follow-up to I Was a Teenage Werewolf a little later the same year. When asked by the police about his opinion on werewolves, Bissell, with wonderful arrogance replies, "I amuse myself with fantasy, I live by facts."
I Was a Teenage Werewolf has never been sequelised or remade. Teen Wolf (1985) is often said to be a remake but, while on a similar theme of a werewolf in a high school setting, is unrelated and played as a comedy. The I Was a Teenage Werebear segment of Chillerama (2011) was a witty gay spoof.
Herman Cohen followed up the success of I Was a Teenage Werewolf with several other teen monster movies, including I Was a Teenage Frankenstein (1957), Blood of Dracula (1957), How to Make a Monster (1958) and The Headless Ghost (1959). Cohen had earlier also produced Bela Lugosi Meets a Brooklyn Gorilla (1952) and Target Earth (1954). In the late 1950s, Cohen relocated to England where he made a number of lurid Grand Guignol horror efforts including Horrors of the Black Museum (1959), Konga (1961), The Black Zoo (1963), Berserk (1967), Trog (1970) and Craze (1973), as well as the Sherlock Holmes/Jack the Ripper film A Study in Terror (1965). The only other genre film ever directed by Gene Fowler Jr was I Married a Monster from Outer Space (1958).
---
---