---
USA. 1991.
Crew
Director/Screenplay – Dan Hoskins, Additional Scenes Directed by Rodney McDonald, Producer – Maria Snyder, Photography – Tom Fraser, Music – Daniel May, Special Effects Supervisor – Arthur Brewer, Makeup Effects – Edward French, Art Direction – Timothy Baxter. Production Company – Troma.
Cast
Catherine Carlen (Rox), Jamie Rose (Dede), Lycia Naff (T.C.), Kristina Loggia (Jojo), Vicki Frederick (Jewel), Gretchen Palmer (Rusty), Nina Peterson (Tanya), Ed Gale (Bob), Don Calfa (Ralph Willum), Billy Bob Thornton (Donny)
---
Plot
The all-female biker gang The Cycle Sluts arrive in the nowhere desert town of Zariah where they set about seducing every man in sight. Meanwhile, a horde of zombified locals, created by the town's not-altogether-there undertaker, are accidentally released from a disused mine where they are kept locked. As the zombies overrun the town, the Cycle Sluts must overcome the prejudices of the locals and lead the attack to drive off the zombies.
---
Chopper Chicks in Zombietown is the rarest of rarities – a good Troma film, one that is made with obvious care and affection. Indeed, among Troma's usually wilfully crass product – the likes of The Toxic Avenger (1984), Class of Nuke 'Em High (1986) and sequels to either – Chopper Chicks in Zombietown is a jewel.
This is largely due to the fact that it is not an in-house Troma production but rather a film released under their banner. Certainly, the Troma staple of defying all good taste is never left behind – witness the central concept that manages to work together girl biker gangs, zombies, dwarves and a school of blind orphans – "We could start a sideshow," the dwarf perceptively observes at one point – but Chopper Chicks in Zombietown never descends to Troma's usual level of ineptitude or bad taste. The horror side of the film is relatively low-key – the zombies are all played for comedy, come accompanied by jaunty carnival music and rarely pose much of a threat to anybody. Nor does Don Calfa's mad scientist get up to anything either.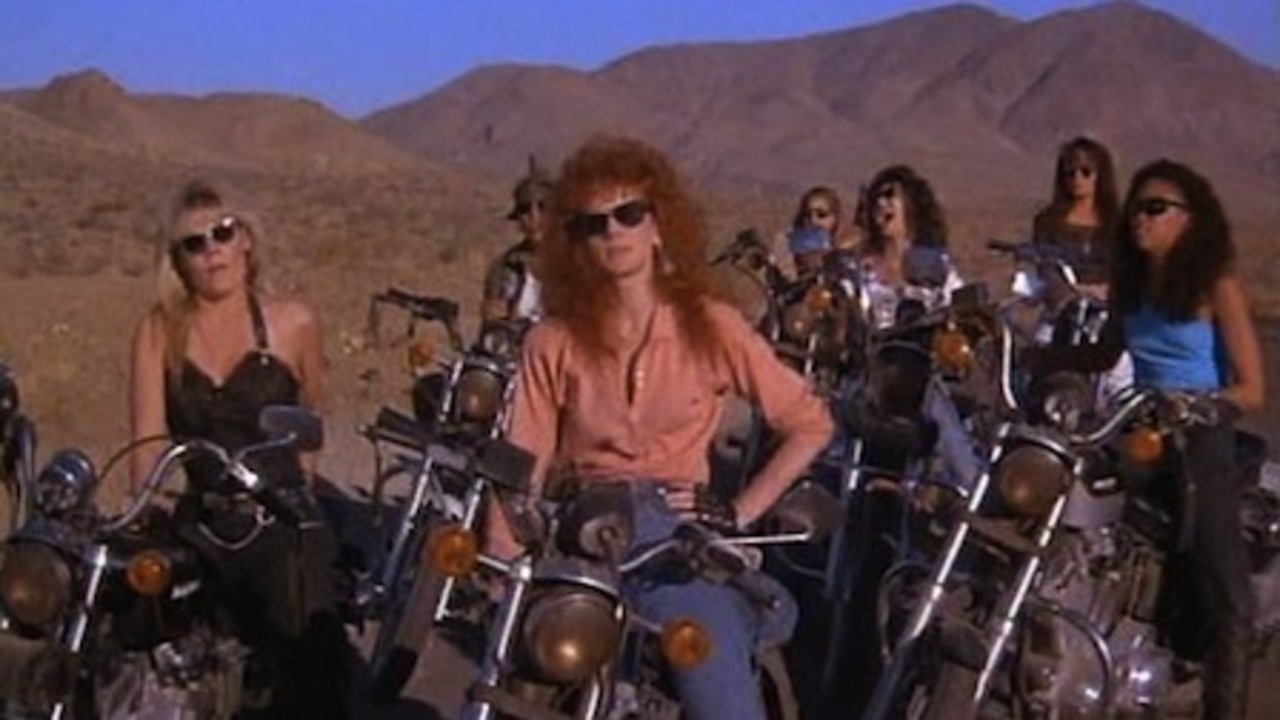 The fun in the film comes with Cycle Sluts themselves. Perhaps what surprises is that they come with surprisingly rounded and often against type characterisations – one is caught between the role her husband wants for her and freedom as a Cycle Slut; another calls home from a phone-box with advice for her children; another is an elective mute. The one that appears to be having the most fun is Catherine Carlen as the hard-as-nails-tough lesbian gang leader Rox who delights in calling herself a bitch, spends her time strutting in black leather and cracking a bullwhip, and in one joyous show-stopping moment blows the locals away by dancing to a hard number on the town bar's jukebox.
Chopper Chicks in Zombietown has largely been conceived as Return of the Living Dead (1985) meets She-Devils on Wheels (1968). The fun of the film is geared towards the climax when the Cycle Sluts, after having fought to overcome the distrust of the locals, take on the zombies with everything from chainsaws to baseball bats, handguns, blowtorches and staple guns. It is an appealing film. That said, Troma's penchant for outrageous bad taste titles – Surf Nazis Must Die (1987), Stuff Stephanie in the Incinerator (1989), A Nymphoid Barbarian in Dinosaur Hell (1990) and Poultrygeist: Night of the Chicken Dead (2006) – seems to have encountered a failure of nerve when it came to this film's title, where they do not seem daring enough to go all the way call the film Cycle Sluts in Zombietown.
The one performance of note that Chopper Chicks in Zombietown holds in retrospect is later-to-be A-list star Billy Bob Thornton who has a minor role as Jamie Rose's redneck husband.
---
Trailer here
Film available online in several parts beginning here:-
---