---
Crew
Director – Michael Fischa, Screenplay – Mark Pirro, Producer – Steven J. Wolfe, Photography – Bryan England, Music – Barry Fasman & Dana Walden, Music Supervisors – David Chackler & Suzan Kapner-Mann, Special Effects/Makeup Effects – Steve Patino's Sho-Glass Props & Special Effects, Art Direction – Bruce Mink. Production Company – Crown International Pictures/Hairy Productions.
Cast
Susan Blakely (Leslie Shaber), John Saxon (Harry Thropen), Katrina Caspary (Jennifer Shaber), John Schuck (Howard Shaber), Diana Barrows (Stacey Pubah), Ruth Buzzi (Madame Gypsy), Geno Silva (Dr Rod Rodriguez), Marcia Wallace (Peggy)
---
Plot
Housewife Leslie Shaber feels frustrated with her husband Howard who is always busy and never pays her any attention. One day she becomes so fed up that she snaps and walks out. Her teenage daughter Jennifer follows at a distance. Jennifer watches as Leslie meets the mysterious pet store owner Harry Thropen and is hypnotised and then seduced by him. Afterwards, Harry blanks all memory of what happened from Leslie's mind. However, the bite on Leslie's toe starts to grow and then she sprouts fangs and fur. As Leslie tries to keep her transformation hidden from the rest of the family, she has to face the fact that she is turning into a werewolf.
---
My Mom's a Werewolf was one of a spate of films that came out in the mid-late 1980s that placed light comedic spins on familiar monster movie characters. Unlike the spate of monster movie parodies that began in the previous decade with Young Frankenstein (1974), the emphasis was not on spoofing horror movie conventions so much as it was in comically uprooting the monsters into the present-day. This fad included the likes of Full Moon High (1982), Once Bitten (1985), Vamp (1986), Teen Vamp (1988), Rockula (1990) and Frankenstein: The College Years (1991), among others. There was even a mini-genre of My___ titled films with the likes of My Best Friend is a Vampire (1987) and My Demon Lover (1987).
Indeed, screenwriter Mark Pirro has almost exclusively made a career as director/writer of low-budget independently-made spoof horror films with titles that include A Polish Vampire in Burbank (1985), Deathrow Gameshow (1987), Curse of the Queerwolf (1988), Nudist Colony of the Dead (1991), Rectuma (2004) and The God Complex (2009).
My Mom's a Werewolf has a slight premise – frustrated suburban housewife finds that she is turning into a werewolf. Director Michael Fischa creates an amiable silliness out of it all. There is the odd amusing line: "I see the mark of the pentacle on your face," says Ruth Buzzi's fortune-teller. "That's just a zit," replies Katrina Casparay. Fischa drags out some frenetically silly scenes with Susan Blakely trying to hide her fur-covered condition as an amorous John Schuck gets into bed, or with her transforming during a visit to the hairdresser.
Things descend into several inanely over-the-top sequences – notably the visit to the dental surgery with a madly overacting Geno Silva. (Although in the overacting stakes, Geno Silva is outdone by Ruth Buzzi with a horrendously fake accent as the fortune-teller). It is enjoyable silly, although ultimately lacking in big laugh-out-loud scenes. In the end, it is hard to get too outraged about the lameness of the material – it is after all exactly what one expects from a film with a title like My Mom's a Werewolf.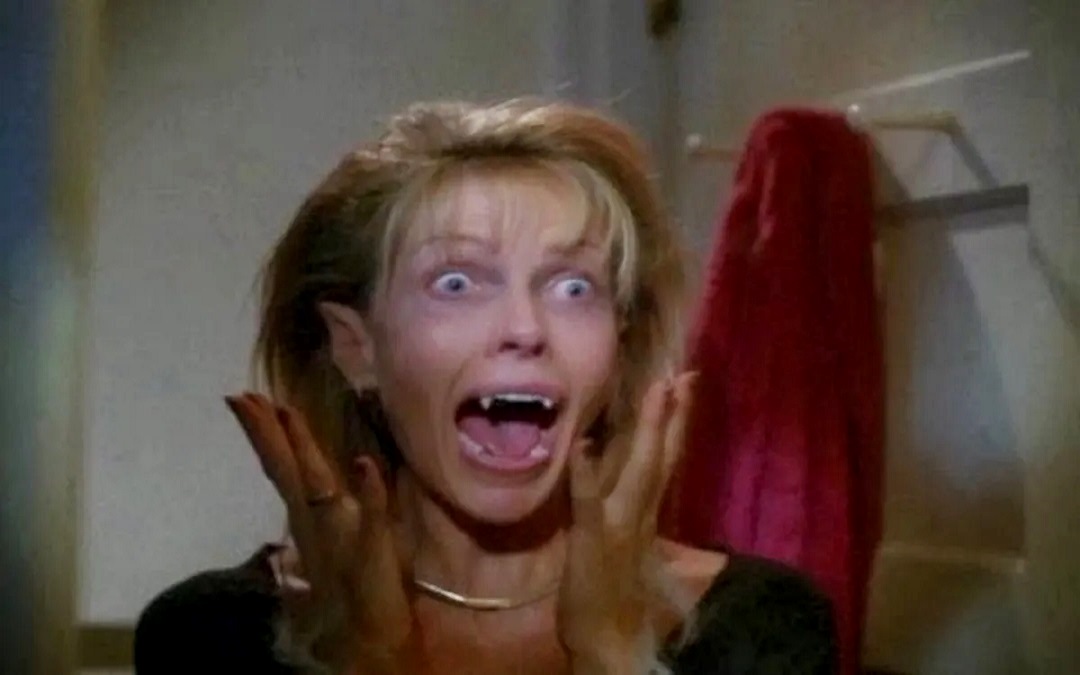 One of the major problems with the film is the conception of John Saxon's werewolf seducer. Traditionally, the werewolf is a tragic figure, someone who has no control over his condition – he is bitten at random and spends the rest of the story fighting against his animal nature. The werewolf has no powers other than those granted by his bestial condition. By contrast, the vampire is a calculating figure who spends most of his story usually preying on women and bending others to his will. For some reason, My Mom's a Werewolf chooses to play John Saxon's werewolf more as a traditional vampire seducer who wields a hypnotic spell to seduce Susan Blakely, which throws the story off-balance somewhat.
Mark Pirro is constantly tipping his genre fan credentials throughout. Diana Barrows is written in as a nerdy fan. There is even a visit to a horror convention at one point where Barrows gets to rhapsodise over finding a copy of Famous Monsters of Filmland #12, while Famous Monsters editor Forrest J. Ackerman is seen to wander past in the background of the shot. Elsewhere, Barrows can be seen reading copies of magazines like Cinemagic and Gorezone and delighting at finding a video copy of Blood Orgy of the She-Devils (1972).
Director Michael Fischa has made a handful of other films, which fall either into the horror or action genres. His other horror films include Death Spa (1988), Mascara Diablo (2005) and Deadtime Stories (2008).
---
---