USA. 2017.
Crew
Director – Kevin Greutert, Screenplay – Jared Rivet, Producer – Tommy Alastra, Photography – Andrew Russo, Music – Anton Sanko, Visual Effects – Tunnel Post, Special Effects Supervisor – Matt Hall, Makeup Effects – Jim Ojala, Production Design – Celine Diano. Production Company – Tommy Alastra Productions/Tentpolster.
Cast
Deborah Kara Unger (Kathy Powell), Stephen Dorff (Jimmy Levine), Johnathon Schaech (Andrew Powell), Ben Sullivan (Justin Powell), Nick Roux (Campbell Powell), Chelsea Ricketts (Samantha)
---
Plot
1983. Andrew Powell and his estranged wife Kathy have hired cult deprogrammer Jimmy Levine to snatch their son Justin back from the clutches of a cult. Justin is brought to their cabin where Jimmy has gathered Andrew, Kathy, their other son Campbell and Justin's girlfriend Samantha in an effort to get through to him. Kept tied up, Justin insists his name is Xanatos and spits contempt on all their attempts to get through to him. As night comes, they realise that members of the cult have followed them there. Dressed in animal masks, the cult surround the cabin and begin an assault where they are prepared to kill the family to get Justin back.
---
Jackals was the fifth directorial film for Kevin Greutert. Greutert emerged as an editor on the Saw series, cutting each of the first five films and then graduating to director with Saw VI (2009) and Saw 3D (2010). With the end of the series' original run, Greutert moved on to make the original ghost story Jessabelle (2014) and the clairvoyance film Visions (2015) for Blumhouse. With Jackals, Greutert has signed up to work with independent producer Tommy Alastra.
I have not been impressed with any of Kevin Greutert's previous films so I didn't have any high expectations when I sat down to watch Jackals. That said, I ended up being pleasantly surprised for the most part. Greutert is making a film about a sinister cult – we have had plenty of these before both in fiction and real world examples. He does not offer any particular new insight into cult behaviour – indeed, the cult members are made as anonymous as possible, hidden behind animal masks for the runtime, and the cult are not even given a name, let alone we told what they believe in.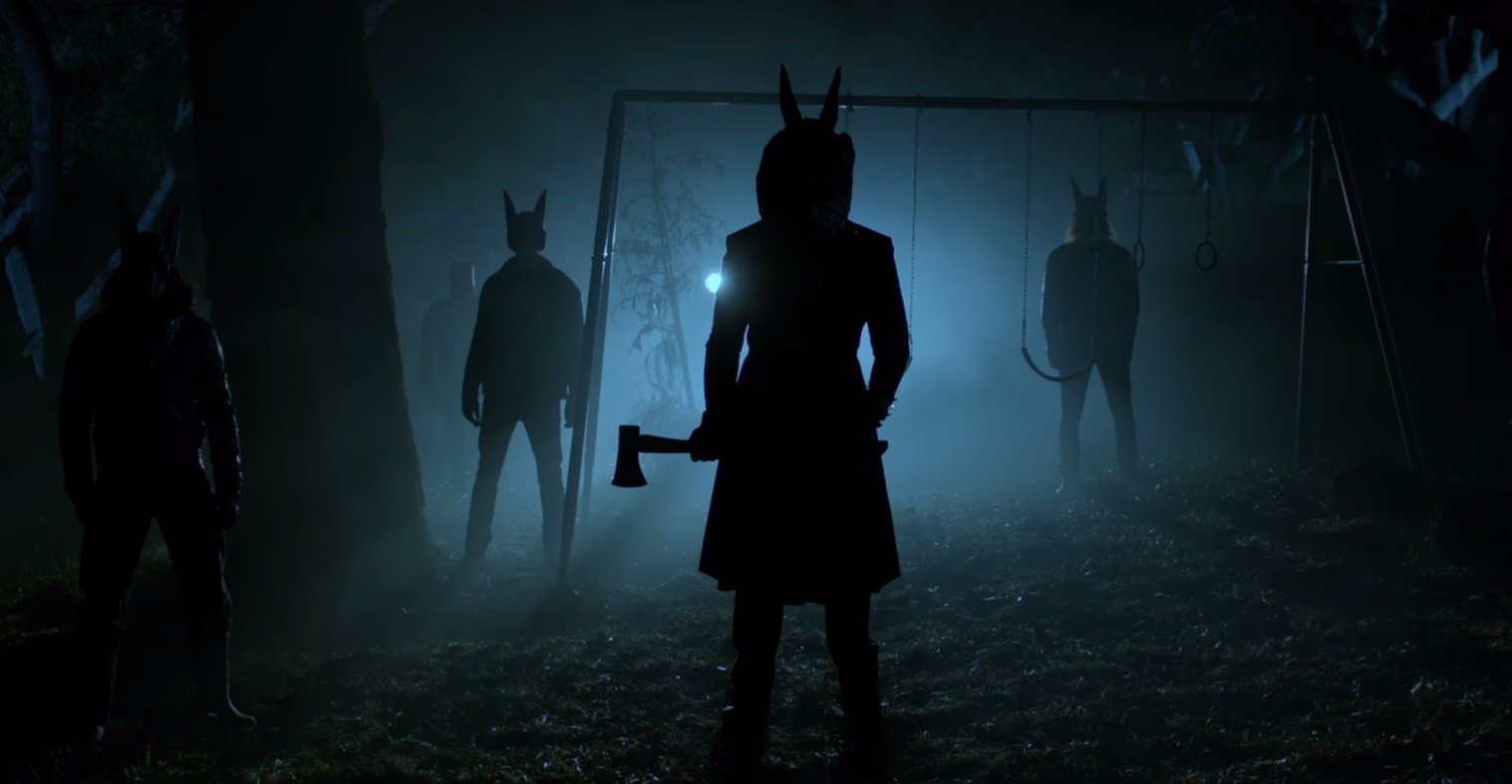 However, what Greutert does do is throw dramatic expectations on their head with several twists that end up catching our attention – like the opening scene where Ben Sullivan is abducted by masked men in a van, which cuts back to Deborah Kara Unger and family anxiously waiting at home where he are led to think they are concerned about the failure of the abducted ones to return, before the van comes up the drive and we realises that this is not an abduction but a cult deprogramming operation. Another big jolt comes with the killing of Stephen Dorff, the second-billed cast member, only 37 minutes into the show.
Of course, the one film we are reminded of with the set-up of a group of people at siege in a home from mysterious attackers hidden behind animal masks is The Strangers (2008). This association becomes overt but Kevin Gerutert still does a reasonable job of maintaining the tension once the cult arrives. None more so than ominous images of the cult members standing outside by the child's swing, outlined by light from behind as the horn section announces them on the soundtrack with a stentorious blare. Greutert does a fair and reasonable job in maintaining the tension of their attacks, the divisions of those within the house and gleeful insanity of Ben Sullivan as he taunts all their efforts. Jackals is not a great or hugely original film but it is one where Kevin Greutert does hold the tension up fairly well.
---
---