---
Crew
Director/Screenplay – Ivan Kavanagh, Producers – René Bastian, AnneMarie Naughton & Louis Tisné, Photography – Piers McGrail, Music – Aza Hand, Visual Effects – Dan Cullen, Special Effects Supervisor – Tom Kerns, Makeup Effects – Studio 7 FX (Supervisor – Leo Corey Castellano), Production Design – John Leslie. Production Company – Park Films/Elastic Film Entertainment/Belladonna Productions/Golden Ratio/Blisspoint Entertainment/Quickfire Films/Eyevox Entertainment/Fis Eirann (Screen Ireland).
Cast
Andi Matichak (Laura/Anne Hansen), Emile Hirsch (Detective Paul Tate), Luke David Blumm (David), Cranston Johnson (Detective Steve), Erin Bradley Dagar (Susan), Blaine Maye (Jimmy Naegle), J. Robert Spencer (Dr Brauhn), Rocco Sisto (Dr Nathan Bradlee), Kristine Nielsen (Mrs Naegle)
---
Plot
Laura flees from members of a pursuing cult as she gives birth. Several years, she has settled down and her son David is in school. Abruptly she sees members of the cult in the house but when she calls in the police they can find no evidence of any intruders. David then falls ill but doctors have no explanation of what ails him. Fleeing from the people all around her, Laura's only answer seems to be returning to the cult she came from.
---
Son was the seventh film from Irish director Ivan Kavanagh. Kavangh first appeared with the horror film Tin Can Man (2007), followed by the non-genre likes of The Solution (2007), Our Wonderful Home (2008) and The Fading Light (2009), none of which were widely seen. I had previously reviewed Kavanagh's The Canal (2014), a modest variant on the modern ghost story. Kavanagh followed this with the Western Never Grow Old (2019).
Son is a deceptive film. From the opening, you get the impression that Andi Matichak is on the run from a cult as she gives birth to the child she is pregnant with. Skip forward a few years and he is now a school age child (Luke David Blumm) and they are settled down in suburbia. We know this is the calm before the storm and things soon start to get weird. Andi Matichak sees cultists in David's room. At the same time, he starts to get sick, although doctors have no answers to what ails him.
We have seen this type of film before with efforts like Servants of Twilight (1991) and Bless the Child (2000) where Cults pursue single mothers obsessively wanting their child because they believe it has some great purpose, while the plot of the child fallen mysteriously ill was previously played in Eli (2019). We know what to expect. Or at least we think we know what to expect.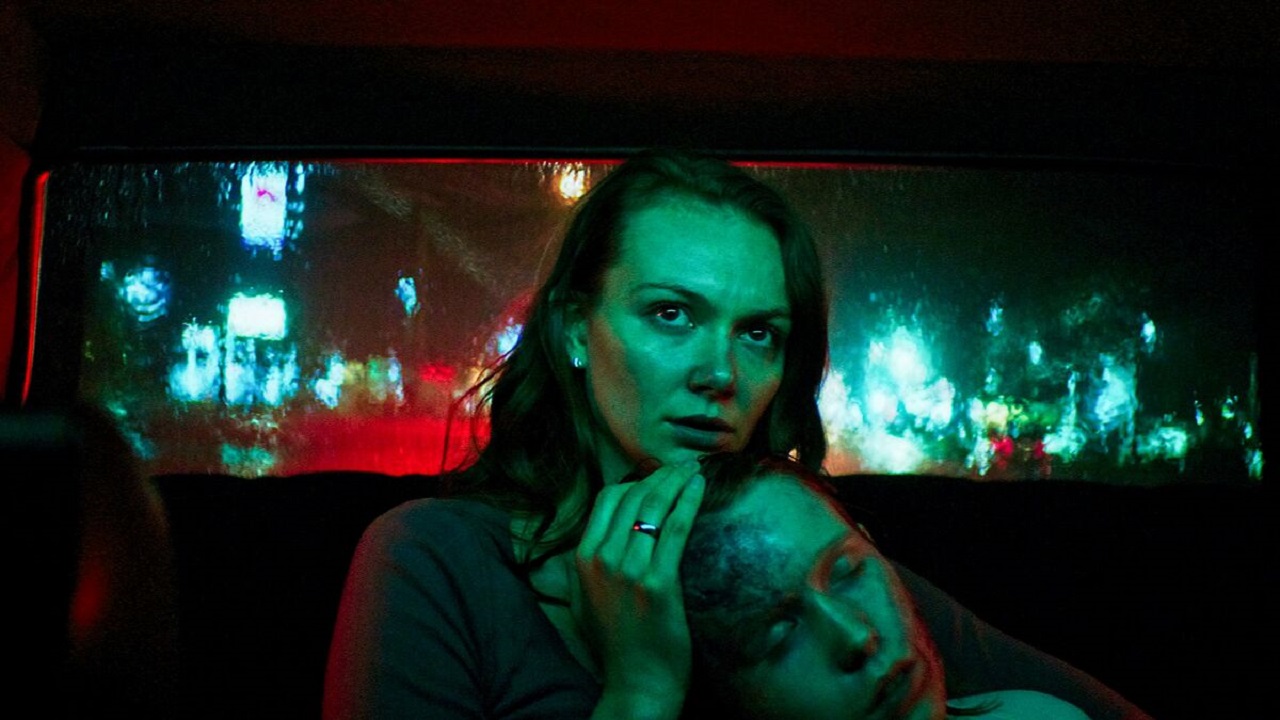 On the other hand, Ivan Kavanagh is willing to twist and play with these expectations. One of these is that we are never entirely sure whether Andi Matichak is imagining things or not. The evidence of the cultists seems scanty setting up a potential Ambiguously Fantastic situation, although detective Emile Hirsch starts to believe these are real towards the end.
As the film progresses, there come a number of jolts. One of these is when Andi Matichak goes next door where she has left David in the care of neighbour (Erin Bradley Dagar) and finds him feasting on Erin's eviscerated body. However, when she paints 'He is Coming' on the wall, it suddenly leaves us wondering if the entire cult is all in her mind. Then we see her returning to visit members of the cult.
[PLOT SPOILERS] The final scenes where we see Andi kneeling down and summoning The Devil to come to her aid, only for Emile Hirsch to enter the room and say there is nothing there just as a figure appears behind her holds some effect. The final coda of the film where David gets to meet his father is quite a chill twist to everything.
---
Trailer here
---