USA. 1993.
Crew
Director – Dominic Sena, Screenplay – Tim Metcalfe, Story – Tim Metcalfe & Stephen Levy, Producers – Steve Golin, Aristides McGarry & Sigurjon Sighvatsson, Photography – Bojan Bazelli, Music – Carter Burwell, Special Effects – Special Effects Unlimited (Supervisors – Jeff Knott & Michael Schorr), Makeup – Michelle Burke, Makeup Effects – Thom Suprehant, Production Design – Michael White. Production Company – Propaganda Films/PolyGram Filmed Entertainment/Viacom Pictures.
Cast
Brad Pitt (Early Grayce), David Duchovny (Brian Kessler), Michelle Forbes (Carrie Laughlin), Juliette Lewis (Adele Corners)
---
Plot
Brian Kessler, a journalist with a fascination with serial killers, persuades his girlfriend, photographer Carrie Laughlin, to take a road trip to California via Arkansas and Texas to visit the sites of famous American murders so that he can write a book on the subject. He advertises for people to join them and share the fuel expenses. The ad is answered by unemployed ex-convict Early Grayce and his teenage girlfriend Adele Corners. Carrie dislikes their uncouth, white trash ways but Brian insists on thinking the best of them. However, as the journey gets underway, it becomes increasingly apparent that Early is a serial killer.
---
In the 1990s, America was engaged in a love affair with its own nihilism. There was a paralysed fascination with staring into the face of increasing social anarchy and disorder. Amidst this, the serial killer became a symbol of the madness that lay beyond the door. In the likes of Se7en (1995), 8MM (1999) and tv's Millennium (1996-1999), there was the fascinated attempt to try and find a moral solution to an imminent-seeming fin du siecle moral apocalypse. And then there were the likes of Wild at Heart (1990) and Natural Born Killers (1994), which dove in and sought to embrace this fin du siecle nihilism.
Kalifornia bears more than a few passing similarities to Natural Born Killers, most obviously being the presence in both of Juliette Lewis as the killer's girlfriend. Like Natural Born Killers, Kalifornia is also about driving a nail into our unhealthy media obsession with the serial killer. Both films are also road movies of sorts – what one might term nihilist road movies. Where they differ is in their approach – Natural Born Killers lets it all hang out, it is hyperkinetic and visually dizzying; whereas Kalifornia is interior and coolly composed, all its effect rests in its characters.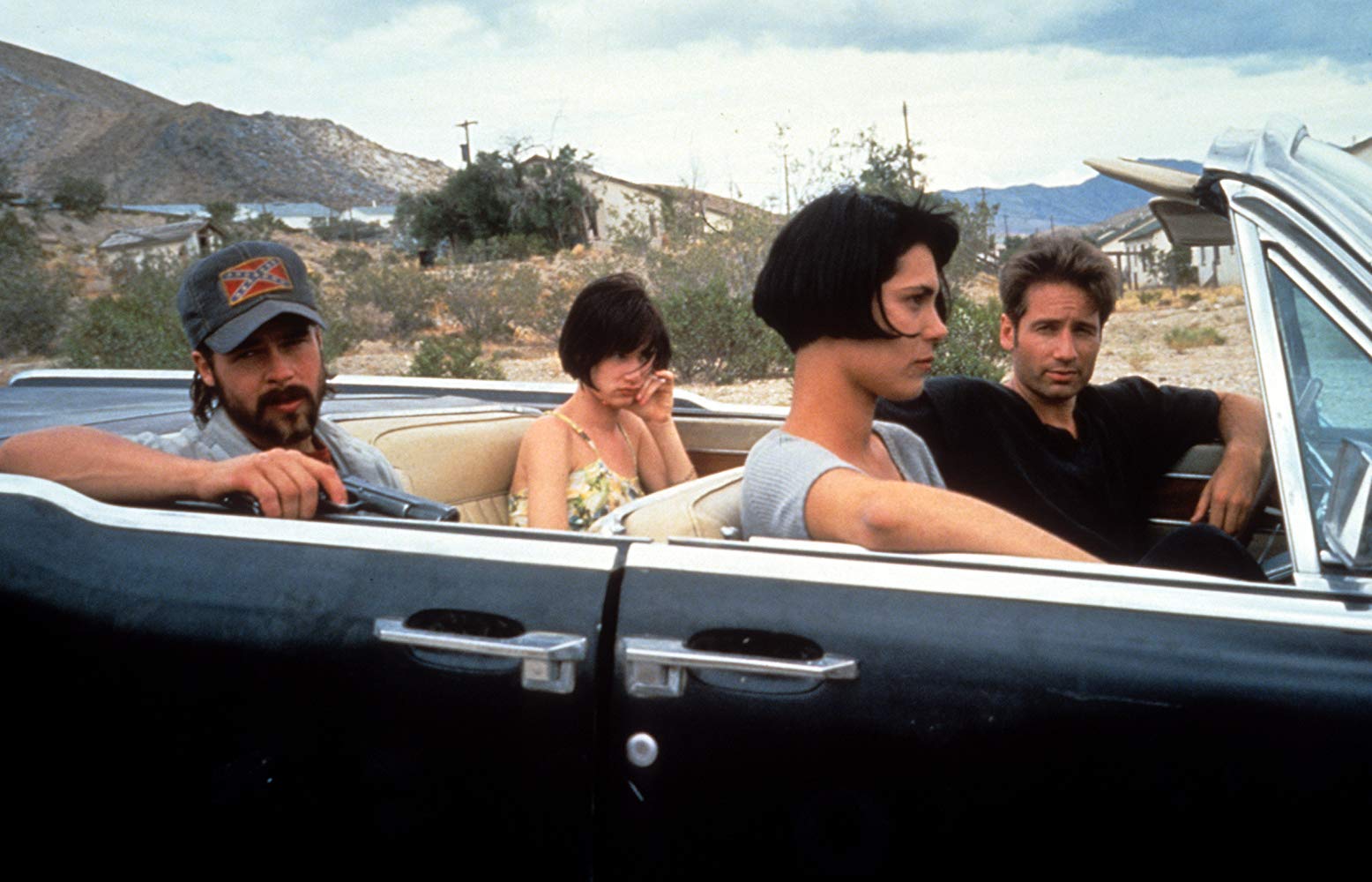 One of the underlying semiotic arguments in many of the recent serial killer films – ie. post-The Silence of the Lambs (1991) – is with the killer's motivation. Many of the films, despite their employment of forensic psychology, try to show that the killer is 'beyond psychological reduction' – The Silence of the Lambs and tv's Profiler (1996-2000) with their creation of psychopathic super-geniuses, or 8MM with its killer pleading that it was nothing to do with the way his father abused him or anything, he just does what he does because he likes it. Kalifornia takes up that argument. Much of David Duchovny's quest concerns him asking what the killers' motives were. Yet for all the psychological speculation waved about, the film's sympathies seem to lie with the character at the party early in the piece who jokes that "they're just plain crazy". Much of the film leads up to two scenes toward the end – one with Brad Pitt wavng a gun about and David Duchovny with patent absurdity trying to ask what he thought of his mother; another with Duchovny trying to plead "He isn't your father" as Brad Pitt shoots a cop. The purpose in these scenes seems to be to demonstrate the absurdity of psychologically reducing the actions of the killer. In the end narration, David Duchovny comes to the realisation that the only difference between himself and Early is the ability to forgive people and to know the moral difference in one's actions. To some extent though, this is an ending where the film has demolished one outlook on madness but only replaced it with another level of platitude about the madness out there.
Kalifornia's success lies in the potency of its characterisations. It has a quartet of exceptional performances. David Duchovny, who was cast just prior to starring in The X Files (1993-2002, 2016-8) and becoming a worldwide sex symbol, with his insistence on thinking the best and Michelle Forbes with her cautious reserve both give fine performances. However, they are eclipsed by Brad Pitt and Juliette Lewis. Brad Pitt's performance is extraordinary for his complete absorption in the detail of the role – looking as though he has just come from a labouring job, the stumbling gait in steel-capped boots, his rough amicability all delivered in a Southern accent, his squinting blink and frequent pig-like snorts. The completeness of the role – especially when compared to the other pretty boy parts Pitt would become cast in following his subsequent superstardom – is exceptional. Juliette Lewis is equally amazing, playing with an empty-headedness that is frequently laughable but made fascinating for the things that come out of her vapidities – like when she tells Michelle Forbes, for instance, how Early beats her (but only "when she deserves it") and how she was raped.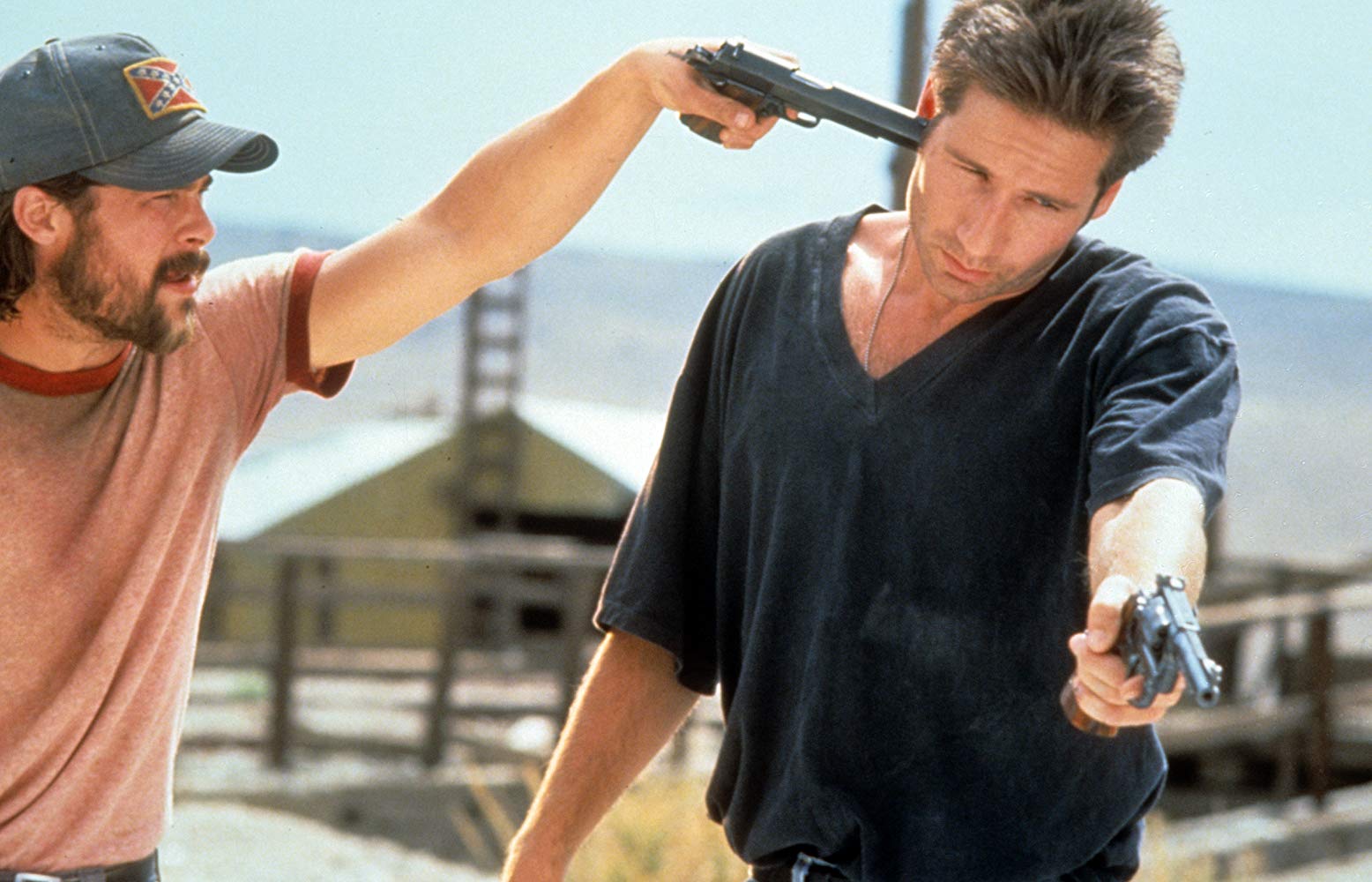 Dominic Sena directs impressively in strong collaboration with photographer Bojan Bazelli. Bazelli's images are beautifully cool – wide-open deserts, the dust-blown nuclear test ranges, scenes lit by photographic flash, car interiors backed by rainlit lightning. One of the most striking sequences is the murder in the gas station restroom where the crisp beauty of the duskily lit interior or odd images like that of the man releasing his colostomy bag at the ankle, and the mounting shock as Brad Pitt stabs the man in the gut and the blood floods all over the floor, is coolly contrasted with the slowly mounting numbers on the fuel gauge outside.
Kalifornia was the debut feature from director Dominic Sena. Sena has since gone onto direct big and empty-headed action films such as Gone in 60 Seconds (2000), the laughable hacker film Swordfish (2001) and the Arctic thriller Whiteout (2009). Sena subsequently returned to genre material with the Mediaeval action/horror fantasy Season of the Witch (2011). Screenwriter Tim Metcalfe had previously written Revenge of the Nerds (1984), as well as several genre scripts including Fright Night Part 2 (1989), Bones (2001) and The Haunting in Connecticut (2009).
---
---