---
Crew
Director/Screenplay – Josh Klausner, Producers – Boaz Davidson, Naomi Despres, John Thompson & William Vince, Photography – Michael Slovis, Music – Brian Tyler, Special Effects Supervisor – Gary Coates, Production Design – Timothy Galvin. Production Company – Millennium Films/Top Floor Productions.
Cast
Juliette Lewis (Jane Emelin), William Hurt (Greg Harrison), Austin Pendleton (Albert Collins), Shelley Duvall (Martha Stewart), Tobin Bell (The Locksmith), Artie Lange (Jerry), Sabrina Grdevich (Cheryl), Heidi Jo Markel (Ashley), Robert Costanzo (The Exterminator)
---
Plot
Jane Emelin takes over her late aunt's apartment in a New York brownstone, much to the displeasure of her older boyfriend, tv weatherman Greg Harrison, who wants her to move in with him. Once in the apartment, Jane finds the other tenants are strange, including the supervisor who has to be prevented from having possession of keys to the rooms and the artist living opposite who Jane thinks she sees killing a woman. She then starts receiving threatening notes from the never-seen tenant on the fourth floor below regarding the noise she is making, followed by an extensive list of rules about how and at what times she is permitted to make noise. When she ignores these, the tenant turns psychotic, greasing the stairwell and causing her to fall, releasing bugs and mice into her apartment, and then threatening her life.
---
The 4th Floor is a considerable find – a routine looking psycho-thriller that you might pass over on the video shelves or on cable that instead defies promise and proves surprisingly good. Any film about weird apartment dwellers necessarily comes informed by Roman Polanski's The Tenant (1976) and The 4th Floor delves into the same sort of creepily paranoid atmosphere that The Tenant generated.
On a plot level, The 4th Floor reads routinely but director/writer Josh Klausner invests it with all manner of creepy incident and unsettling characters – the initially friendly Shelley Duvall who then starts angrily lecturing about invasion of privacy when Juliette Lewis confides her concerns about the fourth floor tenant; mysterious figures in black seen sneaking up the stairs; the apartment supervisor who for reasons only hinted at has to be prevented from having keys to the apartments; Juliette Lewis thinking she has seen, a la Rear Window (1954), a murder across the courtyard, which is probably just artist Tobin Bell but whose creepy manner, hiding copies of her key in his pocket, may indicate otherwise.
The film gets weirder when it comes to the activities of the fourth floor neighbour who leaves disturbing notes about not making noise and then pages of bizarre rules as to the hours she is allowed to move furniture and entertain visitors. Things become increasingly more disquieting with stairs being left greased with the intention of causing her to fall and injure herself and she finding holes drilled through the floor to release bugs.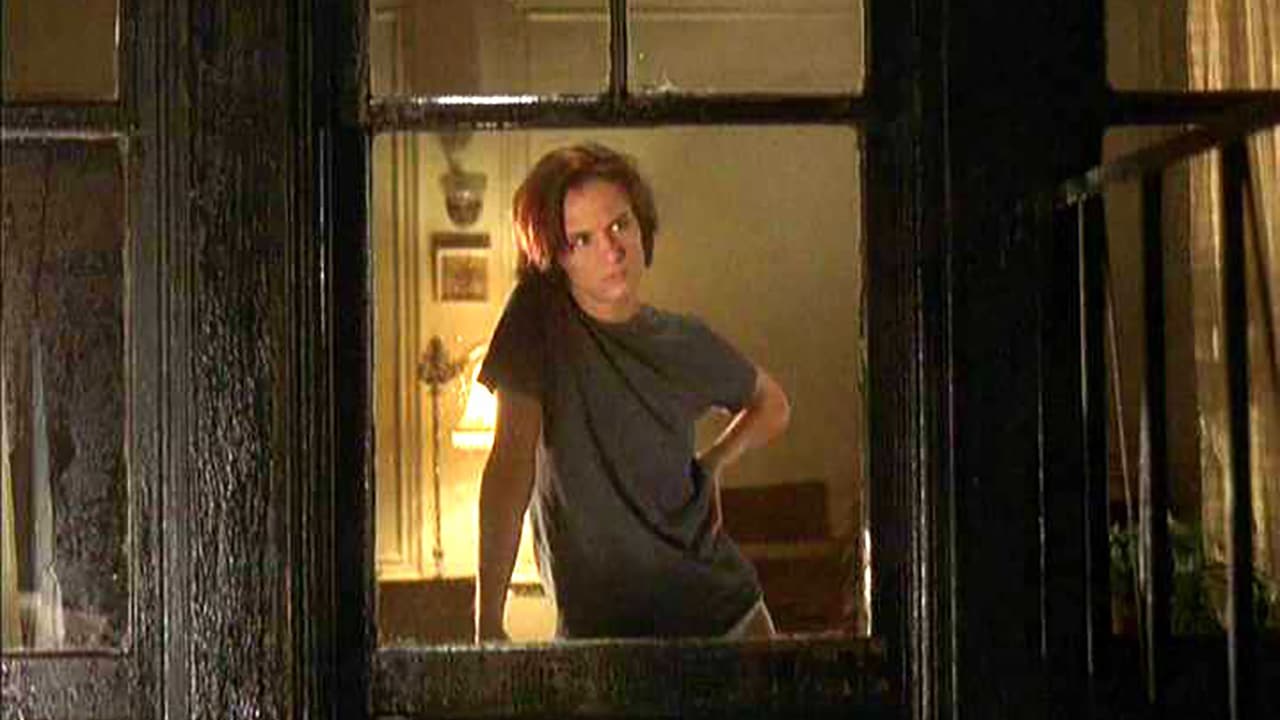 This eventually mounts to a sense of unearthly eerieness – the eye hole in the door that rotates after she departs and her break-in to the fourth floor apartment by torchlight to find patterns drawn on the roof outling where everything in her apartment is. In these scenes, Josh Klausner creates a sense of eerie unworldliness that is downright creepy. The revelation of the mysterious apartment dweller's identity is also highly effective.
There is however another throwaway revelation that comes in the very last shot of the film, revealing that everything has been a set-up. It effectively throws everything that has happened on its head a la the body of Old Dark House thrillers begun with The Cat and the Canary (1927), which usually had bizarre happenings revealed to be an elaborate set-up to rob the heroine's inheritance or some such. Unfortunately, Josh Klausner is so effective at creating an unsettling mood of dis-ease that to toss it away in such a mundane ending is a disappointment.
Josh Klausner did not assume the director's chair for another nineteen years with the non-genre Wanderland (2018). He has also worked as a screenwriter of mainstream fare such as Date Night (2010) and Shrek Forever After (2010), as well as the zombie film Dead Season (2012).
---
---