---
Crew
Director – Bill Condon, Screenplay – Mark Kruger & Rand Ravich, Producers – Gregg Fienberg & Sigurjon Sighvatsson, Photography – Tobias A. Schliessler, Music – Philip Glass, Visual Effects – Introvision International (Supervisor – John P. Mesa), Digital Effects – Topix (Supervisors'– Glenn Kaiser & Daniel Radford), Special Effects – Ultimate Effects (Supervisor – John Hartigan), Makeup Effects – Makeup Effects Lab (Supervisor – Douglas J. White), Production Design – Barry Robison. Production Company – Propaganda Films/Polygram Filmed Entertainment.
Cast
Kelly Rowan (Annie Tarrant), Tony Todd (Granville T. Candyman/Daniel Robitaille), Timothy Carhart (Paul McKeever), Veronica Cartwright (Octavia Tarrant), Michael Culkin (Dr Phillip Purcell), David Gianopoulos (Detective Ray Levesque), Bill Nunn (Reverend Ellis), Faye Hauser (Detective Pam Carver), Matt Clark (Thibideaux), Joshua Gilbran Mayweather (Matthew Ellis)
---
Plot
Dr Phillip Purcell has published a book that dismisses the Candyman story as superstition. While on a lecture tour in New Orleans to promote the book, Purcell says the name of Candyman five times in a mirror to disprove the myth, only to be gutted when Candyman appears before him in a bathroom. Art teacher Annie Tarrant becomes involved when her brother Ethan is arrested for the murder. Investigating the Candyman legend, Annie is drawn to the rundown Esplanade Estate. After she says the name Candyman in a mirror, Candyman appears and begins to kill those around her. Candyman tells Annie that he wants to reincarnate in the body of child with which she is pregnant. Digging further, Annie begins to uncover Candyman's past as the slave Daniel Robitaille. After getting a white woman pregnant, a lynch mob cut Robitaille's arm off and then covered him in honey and left him to be stung to death by bees. Annie comes to realize that the child that Robitaille fathered was her own great-grandmother.
---
Candyman (1992), adapted from a Clive Barker short story, was an overrated but not unimpressive horror film that enjoyed reasonable box-office success. Candyman: Farewell the Flesh was the first of two sequels and would be followed by Candyman: Day of the Dead (1999). All three films feature Tony Todd in the title role. Candyman (2021) was a further sequel written and produced by Jordan Peele.
Farewell to the Flesh attempts to tell an origin story for Candyman, with flashbacks to his life as a slave and explanation offered of the hook hand and all the bees. (One feels though that this is something that weakens the imposing mystery that the character had in the first film). There are good things about Farewell to the Flesh. It brings back the booming, magisterial presence of Tony Todd who contributed enormously to the success of the first film. There is some atmospheric photography, while the sets are colourfully and densely dressed, which adds much to the mood, particularly in the latter half.
On the other hand, while Candyman was modestly effective, Candyman: Farewell to the Flesh is sequel generating entirely by the numbers. Outside of its origin story, Farewell to the Flesh does absolutely nothing new with the Candyman story. The basic idea – a woman being pursued by Candyman – is a rehash of the same plot in the first film. The major difference is that here she is a descendant of Candyman rather than Candyman being in love with her. Big deal.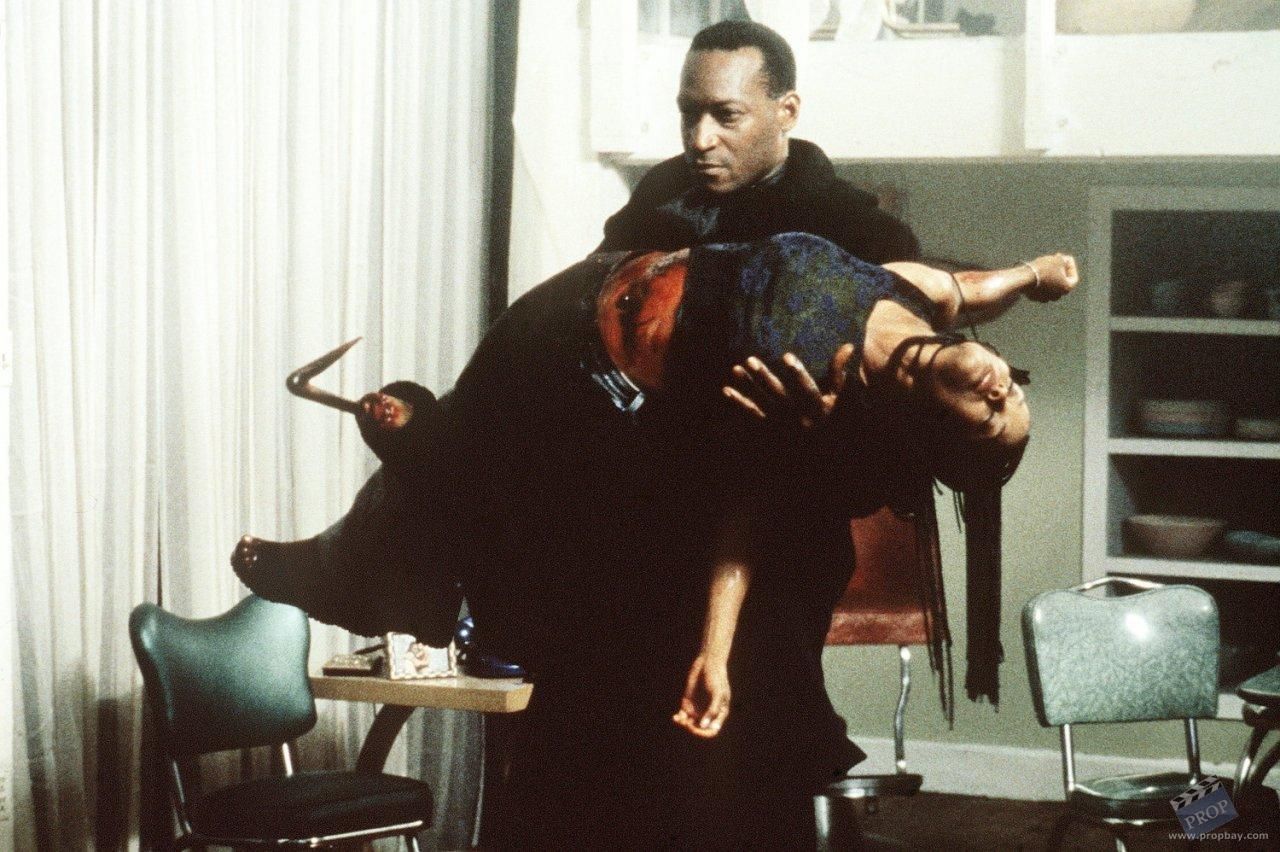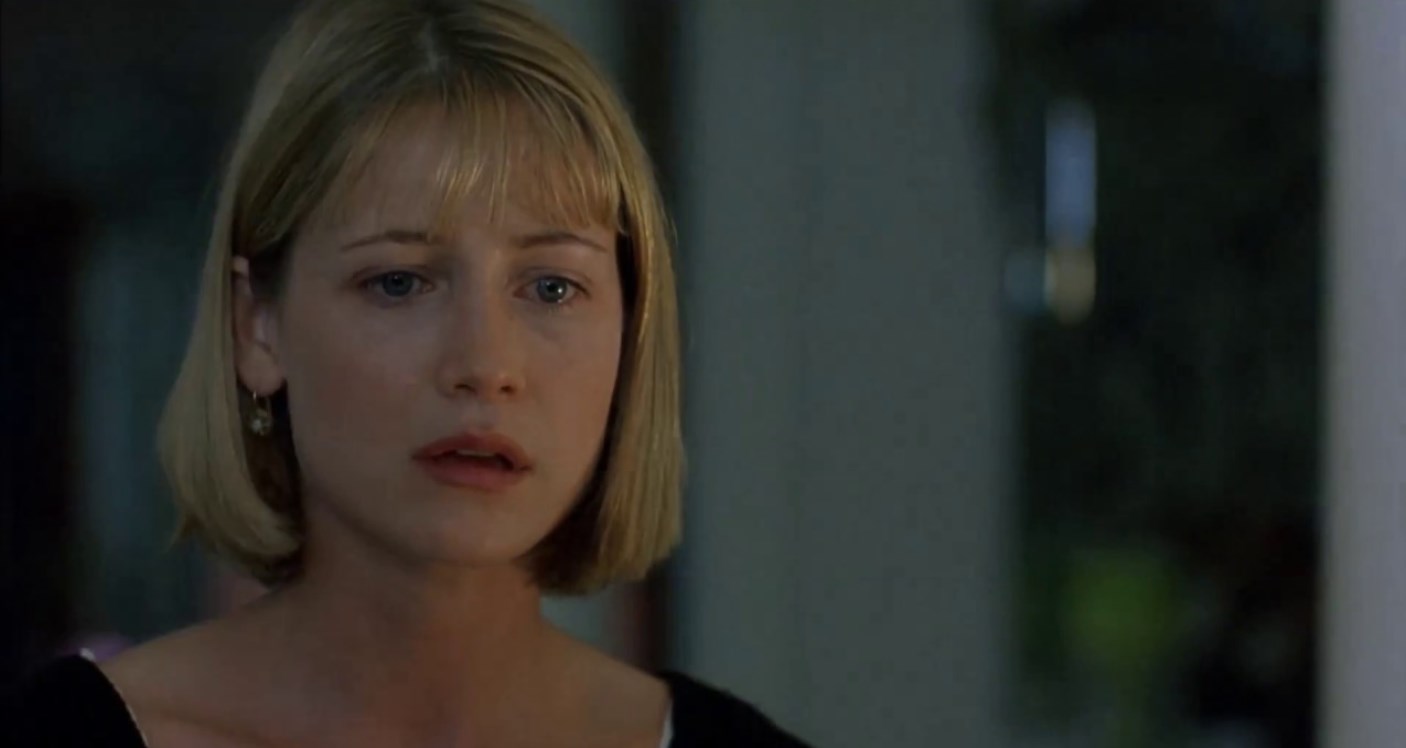 In the first film, Candyman was an urban legend; by the time of Farewell to the Flesh, he appears to have become a major religion on the order of Santeria in a way that strains plausibility – children sit in classrooms drawing pictures of him all day long, there seem shrines and junk temples to him wherever the heroine turns, people she encounters in the street make cryptic comments "Sweets to the sweet."
This is Candyman: Farewell to the Flesh's entire problem – it is constantly trying to create mood and atmosphere but does so at the expense of basic plausibility. Director Bill Condon throws in false shock jumps at every conceivable opportunity – birds landing, derelicts jumping out at the heroine, Mardi Gras dancers slamming against the window, people unexpectedly touching others on the shoulder or entering the room reflected in a mirror. This straining for effect, particularly during the first half of the film, becomes so profusely overdone as to become maddening. Similarly, Condon so overuses Phillip Glass's musical score from the first film that the spooky effect it originally had is reduced to repetitive meaninglessness.
Farewell to the Flesh improves slightly when Condon is allowed to make the shocks pay off. He makes reasonable use of makeup effects – like the scene where Candyman kills Timothy Carhart, gutting him on a hook in mid-air and then cuts his own face open to release bees; or the climax where Kelly Rowan smashes the mirror and Candyman shatters like broken glass. In all other regards however, Farewell to the Flesh is a disappointment.
Director Bill Condon broke into the industry as the screenwriter of Michael Laughlin's duo of genre films Dead Kids/Strange Behavior (1981) and Strange Invaders (1983). As a screenwriter, Condon went onto the later likes of FX 2 (1991), Alec Baldwin's problem-ridden Shortcut to Happiness (2003) and the highly successful musical Chicago (2002). Condon became director with the Southern Gothic psycho-thriller Sister Sister (1987) and then went onto make various tv movies, including two genre entries with the psycho-thriller Deadly Relations (1993) and strange The Man Who Wouldn't Die (1994). Candyman: Farewell to the Flesh was Bill Condon's second theatrical film. Condon garnered considerable acclaim with his subsequent true-life biopics Gods and Monsters (1998), which was also executive produced by Clive Barker, concerning horror director James Whale, Kinsey (2004), Dreamgirls (2006), The Fifth Estate (2013) and Mr. Holmes (2015). He returned to genre material as the director of the two-part Twilight series entry Breaking Dawn Part 1 (2011) and Breaking Dawn Part Two (2012), as well as the live-action remake of Beauty and the Beast (2017). Co-writer Rand Ravich later went on to direct one sf film with The Astronaut's Wife (1999).
---
---