aka Road Kill
---
Crew
Director – John Dahl, Screenplay – J.J. Abrams & Clay Tarver, Producers – J.J. Abrams & Chris Moore, Photography – Jeffrey Jur, Music – Marco Beltrami, Music Supervisor – John Bissell, Special Effects Supervisor – Matt Kutcher, Makeup Effects – Kelly Beatty, Production Design – Robert Pearson. Production Company – New Regency Pictures/Bad Robot/Liveplanet.
Cast
Paul Walker (Lewis Thomas), Steve Zahn (Fuller Thomas), Leelee Sobieski (Venna), Jim Beaver (Sheriff Ritter), Kenneth White (Ronald Ellinghouse), Michael McCleery (Officer Akins), Satch Huizenga (Jones the Ice Truck Man), Jessica Bowman (Charlotte)
---
Plot
Lewis Thomas gets a phone call from his friend Venna, whom he secretly desires. She is dejected because she has just split up with a guy and is wishing she could take a cross-country road trip to sort herself out. On inspiration, Lewis buys a beat-up car and sets out from California to Colorado to pick Venna up. Just as Lewis leaves, he learns that his brother Fuller has been arrested for drunken behaviour in Utah and detours to bail him out. Fuller buys a CB radio and they have fun with it back on the road. Fuller gets Lewis to imitate a girl's voice – calling her Candy Cane, they tempt someone on the other end of the radio by the handle of Rusty Nails. When they sign into a motel for the night, they have further fun by telling Rusty Nails that Candy Cane is waiting for him in Room 17, next door to them, where in fact a bad tempered male patron is staying. However, in the morning, they find that the occupant has been beaten so badly that his jaw had been removed and he left in a coma. Back on the road, Rusty Nails comes after them, tormenting and trying to kill them.
---
Joy Ride comes from John Dahl. John Dahl is a director who specializes in thrillers usually featuring much sexual tension, small American desert town locales and psychotic redneck villains. Dahl has made the fine likes of Kill Me Again (1989), Red Rock West (1993), the sublime The Last Seduction (1994), a disappointing crossover into science-fiction Unforgettable (1996), and one mainstream venture, the Matt Damon-Edward Norton gambling thriller Rounders (1998). Joy Ride was also written/produced by J.J. Abrams, later the creator of cult tv series like Alias (2001-6), Lost (2004-10), Fringe (2008-13) and director of film such as Mission: Impossible III (2006), Star Trek (2009), Star Wars Episode VIII: The Last Jedi (2017) and Star Wars Episode IX: Rise of the Skywalker (2019).
Most of John Dahl's films sit just between indie/arthouse and mainstream releases. Joy Ride, Dahl's most successful release up to that point, was tailored as a mass market multiplex release far more than any of his previous films, it prominently featuring young teen/early twentysomething stars and coming with a big promo campaign. One did not expect much from Joy Ride as the film's release seemed problematic – various release dates throughout most of 2001 had been promised and then postponed and the film went through several title changes before settling on the uninspired Joy Ride.
The film also gives strong indication of having been considerably toyed with in post-production – the credits list four editors for example, not to mention a sizable crew for the shooting of additional footage. Such signs usually signal too many creative cooks in the broth and invariably bode ill for a film. The surprise is that despite all of this, Joy Ride is unexpectedly good.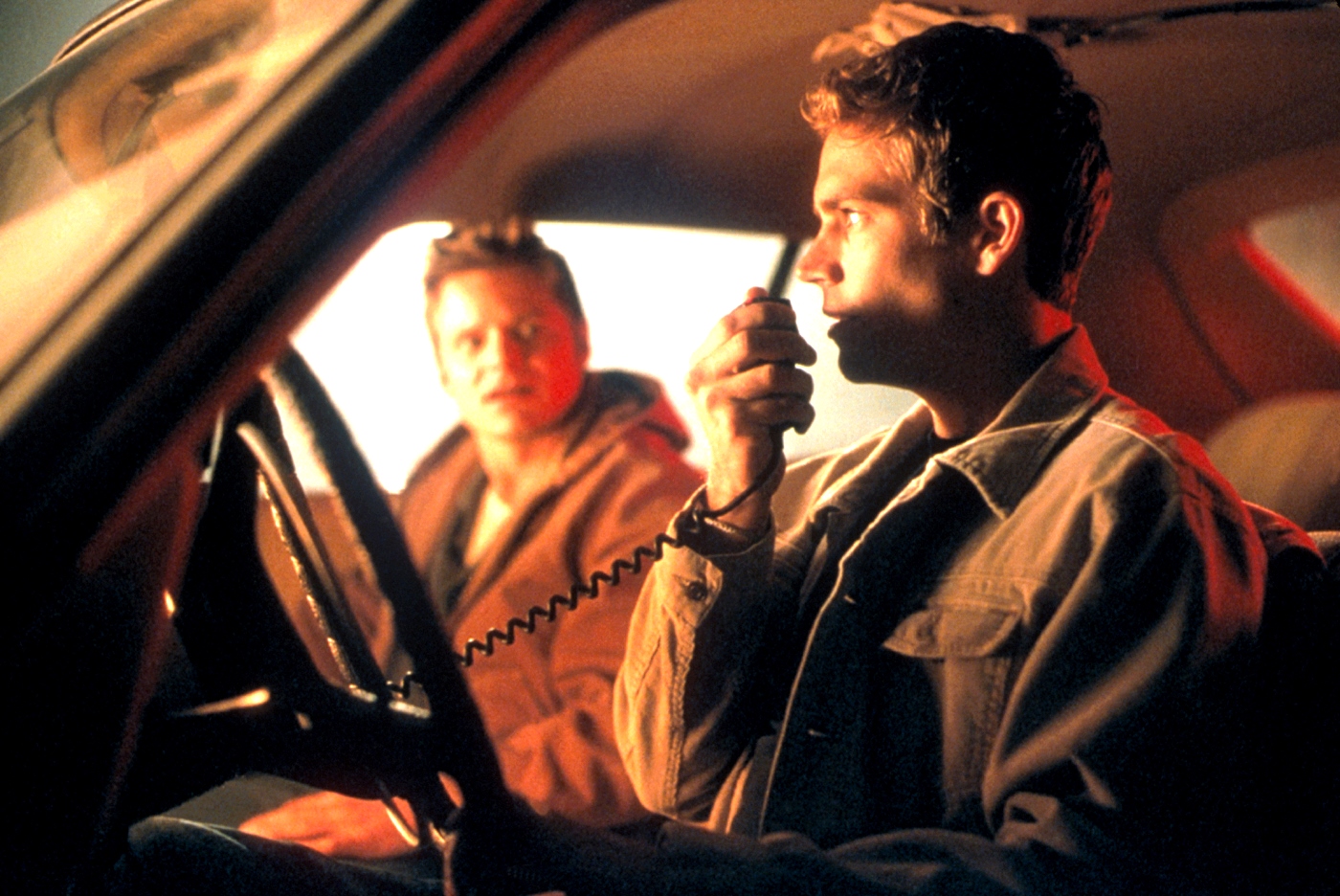 Being such a mainstream release, John Dahl is never allowed to venture beyond what a certain formula dictates – to put its teen protagonists in any real danger of being killed, to scour any truly dark psychological territories or evince a genuinely unnerving sense of paranoia. However, within the limits of such formula, Dahl certainly delivers the goods. The progenitor for this type of film is Steven Spielberg's Duel (1971) – and Dahl happily pays homage to Duel with his sinister pursuing truck and a never seen antagonist who is only ever identified by his voice (an uncredited Ted Levine).
Joy Ride is shot for the widescreen, making fine use of the wide-open desert highways and horizon-to-horizon cornfields of Middle America. Dahl drives the film with a high degree of intensity – scenes like the pursuit by the ice truck, the car being crushed against a tree by Rusty Nails' truck, the pursuit through the cornfield and the gripping climax with Leelee Sobieski tied to a chair with a shotgun rigged to blow her head off when the door opens.
Dahl is a considerable stylist – the attack on the occupant in the next room is filmed focused on the two brothers who slowly come together on either sides of the frame in front of a blank section of wall where everything is only relayed by muffled sounds. In one beautiful touch, Dahl closes in on the banal painting of a seascape as the situation intensifies and suddenly the clouds in the painting are momentarily lit up by a flash of lightning from the storm outside the room, which seems reflected from within the painted cloud – it is a tiny, almost inconsequential throwaway touch, but the artistry of it is quite splendid.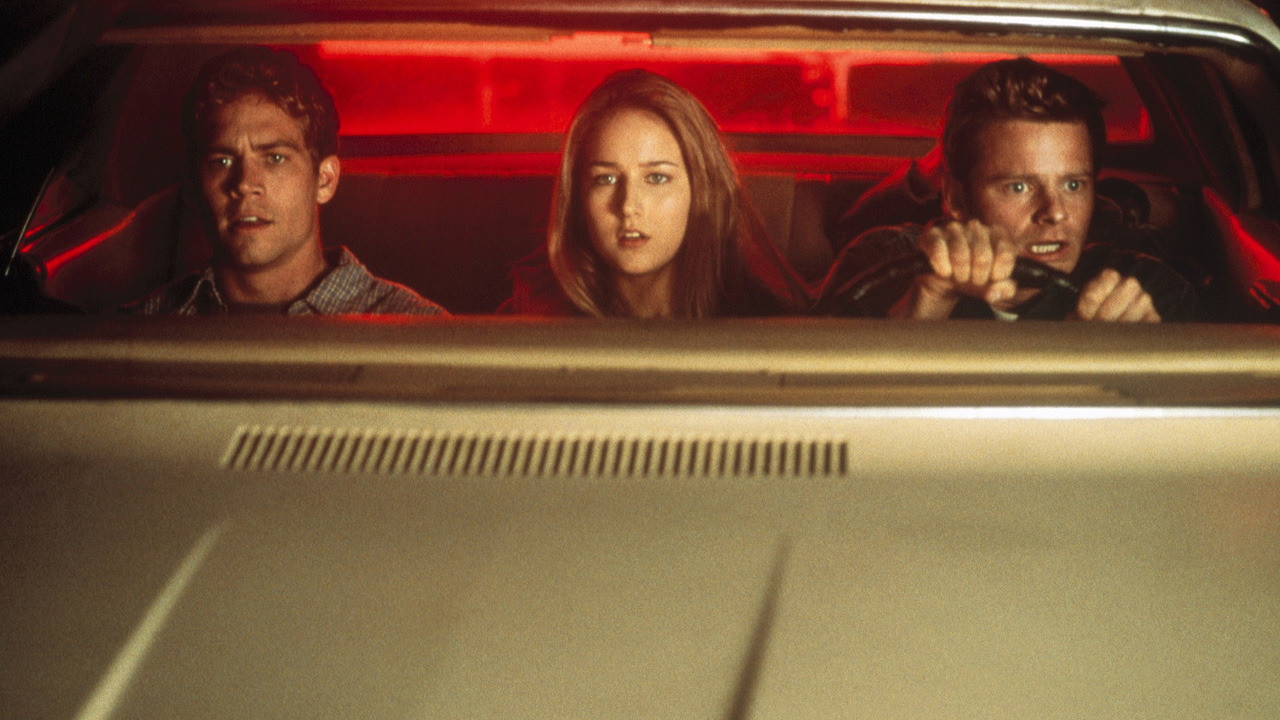 Joy Ride was one of several similarly themed films that came out the same year, featuring young teens encountering dangerous menaces that pursue them as they travel through the backroads of rural America. Others included The Forsaken (2001) and Jeepers Creepers (2001). All three films echo the similar themes that filled films like Deliverance (1972), The Last House on the Left (1972) and The Texas Chain Saw Massacre (1974) two decades earlier – that rural backroads America is filled with someone or something that has a psychotic dislike of city slickers. All three films also seem to offer unconscious puritanical messages for their teen protagonists too – "Don't Pick Up Hitch-Hikers" in The Forsaken; "Stay Out Of Things That Don't Involve You" in Jeepers Creepers; and "Don't Play Practical Jokes On Strangers" here.
There were two sequels with Joy Ride 2: Dead Ahead (2008) and Joy Ride 3: Road Kill (2014), featuring Rusty Nails as he menaces different group of teenagers across the backroads.
(Nominee for Best Director (John Dahl) at this site's Best of 2001 Awards).
---
---