---
USA. 2009.
Crew
Director – Dave Parker, Teleplay – David J. Schow, Based on a Screenplay by John Dombrow, Story – John Carchietta, Producers – Robert Meyer Burnett, John Carchietta, Carl Morano, Roee Sharon Peled & Jonathan Tzachor, Photography – Ilan Rosenberg, Music – Frederik Wiedmann, Visual Effects – Freestyle VFX (Supervisor – Eran Barnea), Pyro Effects – Zarko Karatanchev, Makeup Effects – Monster FX (Supervisors – Ron Karkosa & Mark Villalobos), Production Design – Antonello Rubino. Production Company – Dark Castle Home Entertainment/Fever Dreams LLC/Ludovico Treatment.
Cast
Sophie Monk (Alexa Concannon), Tad Hilgenbrinck (Tyler), William Sadler (William Wyler Concannon), Janet Montgomery (Serina), Alex Wyndham (Lalo), Raicho Vasilev (Babyface), Ewan Bailey (Sonny), Joy McBrinn (Belle)
---
Plot
Tyler is a film student who is obsessed with the lost 1980s horror film 'The Hills Run Red'. It was the one and only film made by director William Wyler Concannon. Both Concannon and all prints of the film vanished twenty years ago after a handful of screenings. Tyler is determined to find a print and sets out to make a documentary about his search. He tracks down Concannon's daughter Alexa where she works as a stripper. First cleaning Alexa out of her drug habit, he then gathers his girlfriend Serina and best friend Lalo and they set out following Alexa's directions to visit the locations that were used in the film. However, as they do so, it appears that Babyface, the hulking deranged masked killer from the film, is alive and stalking them.
---
The Hills Run Red is another of the films from Dark Castle Entertainment, who have gained a reasonable profile in the 00s, having produced the likes of House on Haunted Hill (1999), Thir13en Ghosts (2001), Ghost Ship (2002), Gothika (2003), House of Wax (2005), The Reaping (2007), Return to House on Haunted Hill (2007), Orphan (2009), Splice (2010), The Apparition (2012), The Factory (2012) and Seance (2021), as well as several non-horror efforts with Guy Ritchie's RocknRolla (2008), Ninja Assassin (2009), Whiteout (2009) and a number of action films. Unlike most of Dark Castle's other films, The Hills Run Red played briefly at the Seattle International Film Festival and then went directly to dvd release. For some reason, the screenplay is listed as a 'teleplay', suggesting that the film was made for television – probably cable due to the fact that there is a considerable amount of toplessness and gore.
Director Dave Parker is a relative newcomer who had previously made the compilation film Bimbo Movie Bash (1997), Full Moon's Kraa! The Sea Monster (1998) and the zombie film The Dead Hate the Living (2000), as well as the subsequent The Dead Reborn (2013) and It Watches (2016), as well as the Sweet Tooth episode of Tales of Halloween (2015). The most interesting name on the credits is that of Splatterpunk author David J. Schow. Mostly known for his grim and gore-drenched novels, Schow has written or contributed to a number of film scripts including Leatherface: Texas Chainsaw Massacre III (1990), Critters 3 (1991), Critters 4 (1992), The Texas Chainsaw Massacre: The Beginning (2006) but most promisingly the original The Crow (1994). The Hills Run Red is also co-produced by Robert Meyer Burnett, director of the hilarious Star Trek fandom comedy Free Enterprise (1998).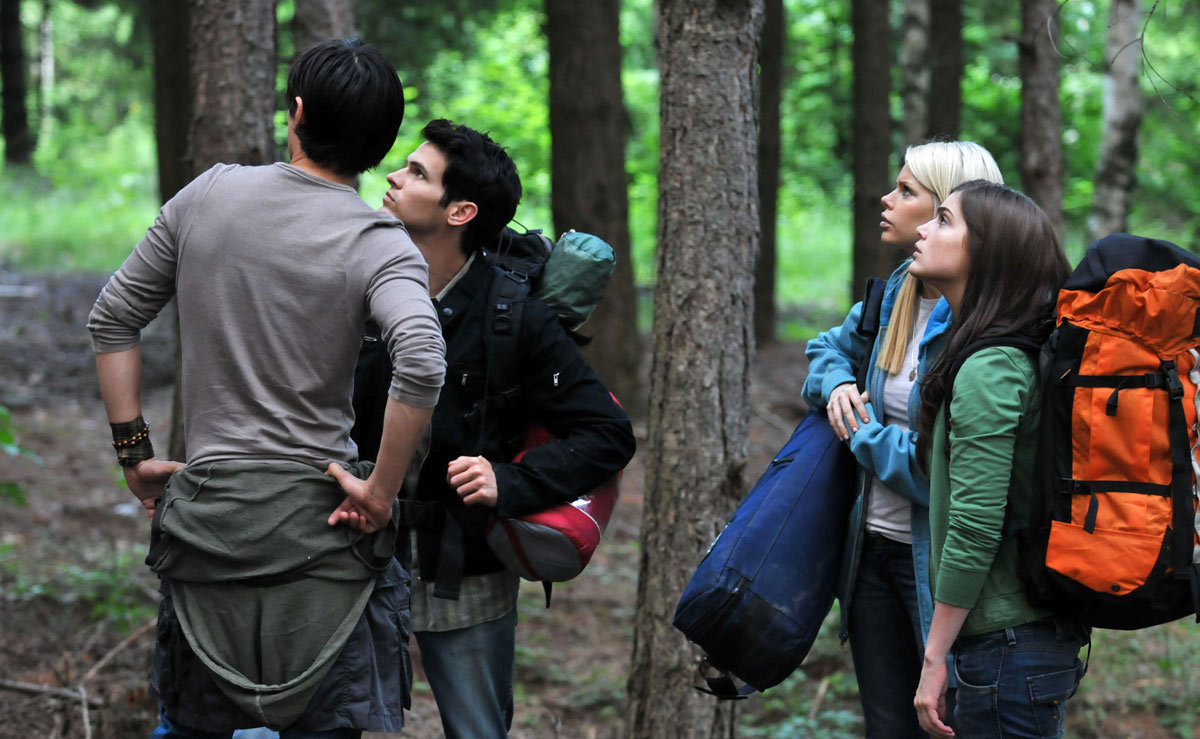 I must admit to not having high hopes for The Hills Run Red before sitting down to watch it. The title felt like too noticeable an attempt to mimic Wes Craven's The Hills Have Eyes (1977) and in particular its recent remake The Hills Have Eyes (2006). It seemed an obvious attempt to jump aboard the 00s revival of the Backwoods Brutality genre of which there have been just a few too many unimaginative variants in recent years.
On the other hand, as The Hills Run Red kicks in, David J. Schow's script continually subverts and wittily plays off any expectations that the genre leads one to anticipate. The film buff angle is an interesting one and one that lends The Hills Run Red a level of witty meta-fictionality along the lines of Scream (1996) – even though it is not quite a Scream of the Backwoods Brutality genre (although when you think about it, the idea has merit that someone is no doubt likely to conduct any day now). The usual line-up of teen characters is better drawn than it usually is.
Dave Parker and David J. Schow rack up a reasonable degree of tension during the running around the woods. The only thing that disrupts this is the need to throw in unnecessary random gore scenes taken from the film-within-the-film, probably to pump up expectation as the story keeps all its deaths until the end and has none of the random killings throughout that you get in a standard Backwoods Brutality or slasher film. There is one particularly nasty scene where Babyface has a woman hung from a tree with hooks through her shoulders and feet and then pulls away a rope holding her up whereupon the hooks tear her apart in a gush of gore.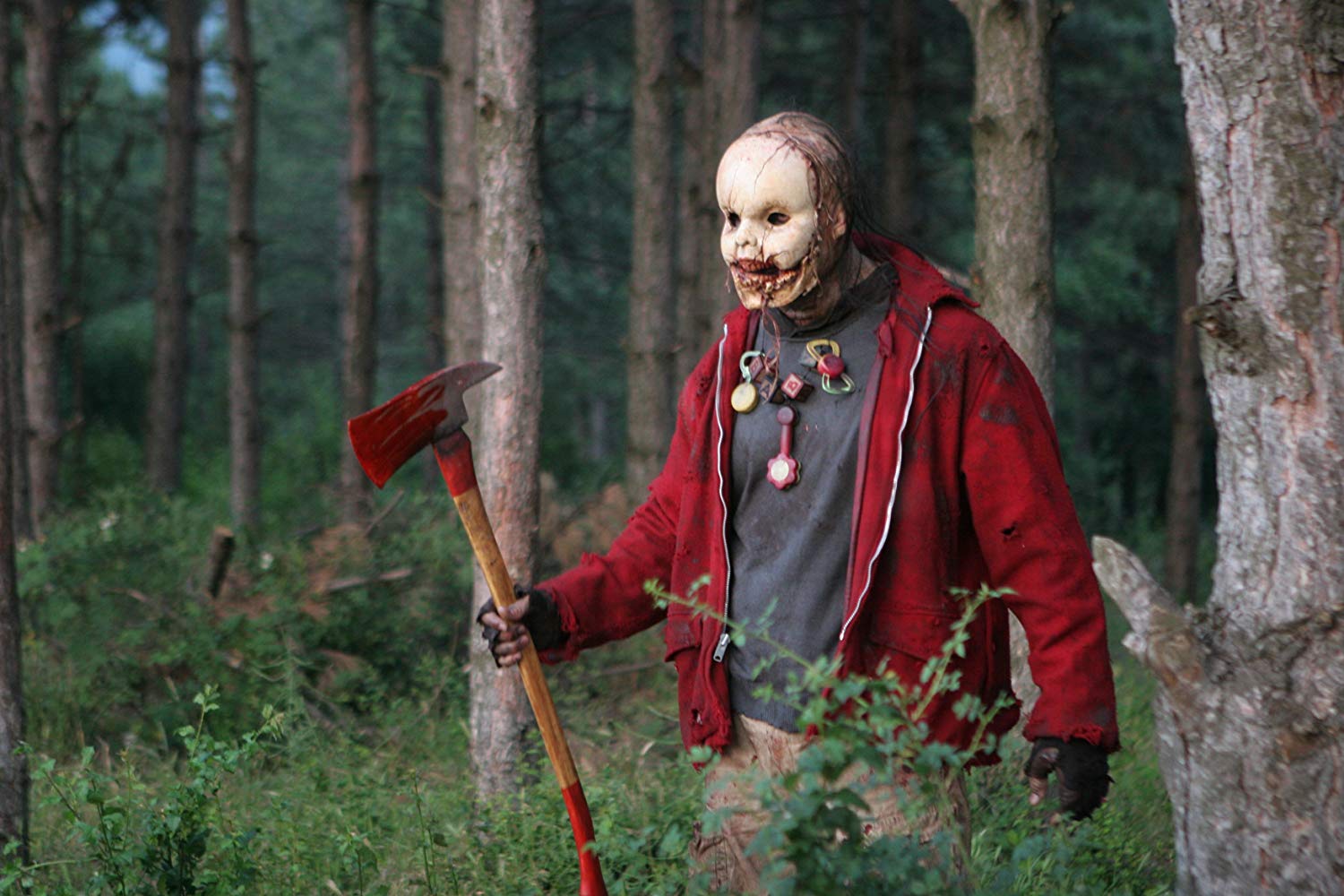 For two-thirds of its running time, The Hills Run Red plays out as an above-average Backwoods Brutality film. However, from the point that it introduces its reclusive filmmaker, the plot heads off at a completely different (and demented) tangent. The dialogue becomes laced with a series of hilariously black lines as David J. Schow intersperses the butchery process with film jargon. William Sadler finds daughter Sophie Monk has started torturing the victims herself and angrily remonstrates her: "You know, there's one thing I hate worse than bad timing, it's actors that think they can direct." Later William Sadler announces: "Enough of the subtextural shit, cut to the kill." There are savagely black ironies – Janet Montgomery tries to calm the seemingly intellectually handicapped Babyface character by singing The Mockingbird Song as she has seen Sophie Monk do, only for him to interrupt her with a cheerful "You can keep singing if that makes you feel better." The film goes out on a wonderfully disturbed ending with Janet Montgomery chained up in the shed and Sophie Monk sitting down to sing Mockingbird as she places her face up against Janet's pregnant stomach.
Sophie Monk, previously a hot body and not seemingly any more than that, acquits herself reasonably well, even if the film takes ample opportunity to get her disrobed. Tad Hilgenbrinck, who seemed blank in Lost Boys: The Tribe (2008), gives a far better performance here. The most recognisable name in the cast, William Sadler, rises to the occasion and gives a performance filled with the flintily acerbic sarcasm he has perfected.
---
---