---
Crew
Directors – James Mather & Stephen Saint Leger, Screenplay – Luc Besson, James Mather & Stephen Saint Leger, Based on an Idea by Luc Besson, Producers – Marc Libert & Leila Smith, Photography – James Mather, Music – Alexandre Azaria, Visual Effects – Windmill Lane Visual Effects – Dublin (Supervisor – Richard Bain), Special Effects Supervisor – Mike Crowley, Production Design – Romek Delmata. Production Company – Europa Corp/Canal +/Cine +.
Cast
Guy Pearce (Snow), Maggie Grace (Emilie Warnock), Vincent Regan (Alex), Joseph Gilgun (Hydell), Lennie James (Harry Shaw), Peter Stormare (Scott Langral), Jack Ido (Hock), Peter Hudson (President Jeff Warnock), Tim Plester (John James Mace), Mark Tankersley (Warden Barnes), Nick Hardin (Hostage Negotiator), Anne-Solenne Hatte (Kathryn)
---
Plot
Washington D.C., 2079. The CIA agent Snow is arrested following an operation in which his colleague Frank Armstrong was killed. His interrogators present evidence that Snow killed Armstrong but he denies this. Snow is sentenced to thirty years in cryogenic stasis at the orbiting prison M.S. One. President Warnock's daughter Emilie is visiting M.S. One on behalf of a charity to determine the humane treatment of the prisoners. However, Hydell, the psychopathic inmate she is interviewing, snatches the gun from her Secret Service agent and gets free. Hydell lets all the prisoners out of stasis and they overthrow the station, with Hydell's brother Alex taking charge and making the personnel hostage. As Alex makes his demands for their freedom, Snow is offered a pardon if he will agree to enter the station and rescue Emilie. This requires Snow having to board in secrecy during a hostage negotiation and then fight his way past 427 of the Earth's toughest and most brutal criminals in an operation that rapidly starts to go wrong.
---
Lockout was a French-made science-fiction/action film that emerged on English-speaking shores – indeed, was shot specifically for English language – to a reasonable degree of success. It comes from newcomer directors James Mather and Stephen Saint Leger. Also on board is cult French director Luc Besson, known for stylish action films like Nikita/La Femme Nikita (1990), Leon/The Professional (1994) and the previous sf/action hybrid The Fifth Element (1997). Besson has produced and/or written a number of other action and genre films throughout the 00s and here comes up with the story and co-writes the screenplay for Lockout.
The ancestor of Lockout is without a question John Carpenter's Escape from New York (1981), which has been announced as a remake for a number of years now. In Escape from New York, Kurt Russell was a convicted criminal who was sentenced to the prison that Manhattan Island has been converted into who is then offered a pardon if he will singlehandedly go in amongst the hardened criminals and rescue The President whose plane has crashed. Even more so, Lockout resembles John Carpenter's Escape from New York sequel Escape from L.A. (1996), which has Kurt Russell going into the ruins of Los Angeles to find the President's daughter. (Indeed, one suspects that by simply renaming its hero, Lockout could easily be Escape from Earth, the third Escape film that Carpenter touted for a time).
We have seen a number of films in recent years paying direct homage to Escape from New York – Neil Marshall's Doomsday (2008), while Luc Besson previously produced and wrote another copy with Banlieue 13 (2004) and its sequel Banlieue 13: Ultimatum (2009), which set the action in a walled-off Parisian neighbourhood. The idea of the breakout from the ultra-tough orbiting prison was previously conducted in Fortress 2: Re-Entry (2000). [In 2015, John Carpenter actually won a court ruling against Europacorp, Luc Besson's production company, for infringing his copyright].
Lockout is a film that, like Star Wars (1977), exists as a series of homages to a shared movie-going experience. Guy Pearce's Snow is Kurt Russell's Snake Plissken by way of the smartass wisecracking hero who would normally be played by Bruce Willis. The psychopathic crazies and hardass government agents are all by the book characterisations. You can see pieces of plot being wheeled into place in obvious ways to set things up for later in the show.
James Mather and Stephen Saint Leger essentially direct the film down around the level of a comic-book – the sort of absurdly ultra-violent comic-book that Arnold Schwarzenegger films of the 1980s like Commando (1985) and The Running Man (1987) existed as. Plenty of people are shot, brutally dispatched and the like but not in any particularly grim and nasty way. People's motivation and the set-up required for scenes is never any more complicated than that that would take place in a thought balloon and everywhere Guy Pearce is present to toss off another wryly cynical one-liner. The action scenes are never particularly seat-edge or astoundingly original but the film is assembled in an entertaining package that moves slickly.
I am not entirely sure if Guy Pearce is a natural fit in the role of the tough loner action hero. Although he has bulked up for the part, Pearce is by nature a far more introverted and intellectual actor. He seems slender of build and withdrawn, more suited to internalised and tightass roles. The role of Snow seems one that is more suited to an actor such as Arnold Schwarzenegger, Sylvester Stallone or Bruce Willis who would either dominate the room with the toughness of their presence or go in with flip humour. You can see Guy Pearce performing at playing that part but I don't think it comes across as a natural persona from the inside as it in the case of these other actors.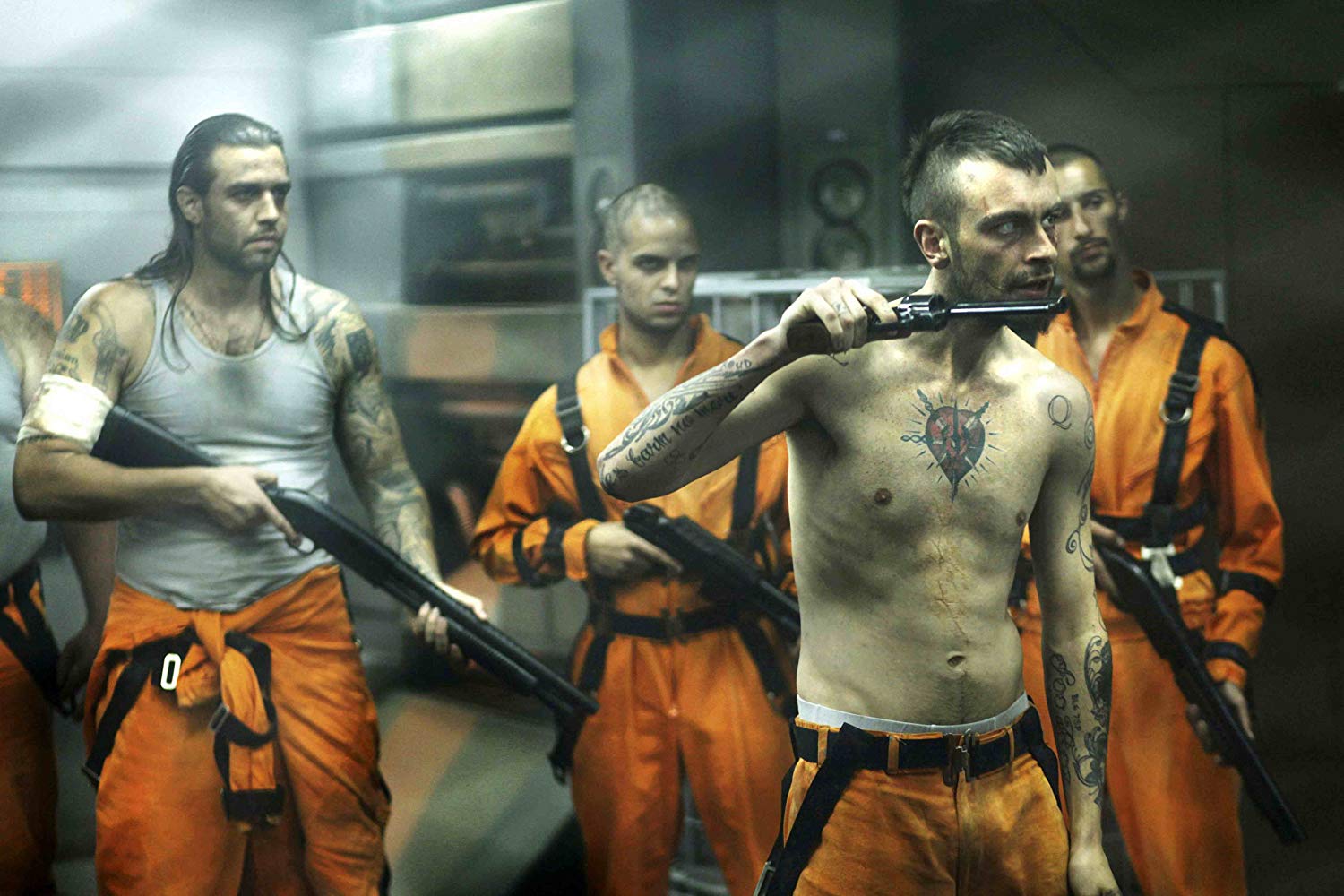 In the performing stakes, the show is largely captured by British actor Vincent Regan who presents a worthily intelligent adversary where Regan seems determined to deliver his performance by channelling Gerard Butler. Joseph Gilgun determines to go batshit crazy as the psycho of the piece and seems to be having the time of his life every time he turns up on screen.
Unlike Luc Besson's not dissimilar The Fifth Element, which came with a highly detailed conceptualisation of the future, the world of 2079 is shown as being not very different to today where people seem to do little more than drive present-day cars, have identical fashions and visit contemporary hotel rooms. The only major social advancement seems to have been the idea of housing criminals in orbit – although I am not that certain the idea of cryogenically freezing criminals, an idea that also takes place in Sylvester Stallone's Demolition Man (1993), would work as an idea of penal reform.
Surely the idea of locking criminals away is firstly to remove them from active danger to society and secondly, to make them pay in terms of time for the acts they have done, and thirdly, although this seems a disappearing concept in the US penal system, to offer rehabilitation. As imprisonment becomes increasingly something about making criminals pay harshly by people who feel personally aggrieved or morally outraged, cryogenic suspension would surely mean that said people would feel cheated that the criminal can wake up in thirty years' time to live their lives unchanged with no potential for remorse or suffering having been inflicted.
---
---