aka District 13: Ultimatum; Sector 13: Ultimatum
---
Crew
Director – Patrick Alessandrin, Screenplay/Producer – Luc Besson, Photography – Jean-Francois Hensgens, Music – Da Octopusss. & Trak Invaders, Visual Effects Supervisor – Alain Carsoux, Visual Effects – Duran Duboi (Supervisors – Anais Bertrand & Severine De Wever), Mechanical Effects Supervisor – Georges Demetrau, Special Effects Supervisor – Muhamed M'Barek-Toske, Production Design – Hugues Tissandier, Choreography – Cyril Raffaelli. Production Company – Europacorp/TFI Films/CIBY 2000/Canal +/Cinecinema/Sofica Europacorp.
Cast
Cyril Raffaelli (Captain Damien Tomaso), David Belle (Leito), Philippe Torreton (The President), Daniel Duval (Walter Gassman), Pierre-Marie Mosconi (Roland), Elodie Yung (Tao), MC Jean Gab'1 (Molko), La Fouine (Ali-K), Fabrice Feltzinger (Little Montana), James Dean (Karl the Skin), Salim Boughidene (Samir)
---
Plot
The year 2013. France now has a new government. The presidential advisor Walter Gassman has made a covert deal with a construction company that want to raze District 13 to build new high-rise towers in its place. To further this plan, Gassman has DISS operatives shoot two policemen and dump their vehicle inside District 13. They then start shooting and film as the locals respond by assaulting the police car with gunfire, afterwards leaking the tape to the media to portray how anarchic District 13 is. This brings police and the District 13 locals to the point of war. With The President not knowing what to do, Gassman quickly steps in with a plan to evacuate District 13 and use fighter jets to bomb the towers. Meanwhile, the original shooting of the two cops by Gassman's right hand man Roland has been filmed by youths who slip the recording to Leito. This immediately has him hunted by DISS agents. At the same time, Damien Tomaso has been arrested on trumped-up drug charges. He manages to call Leito before he is locked up and Leito conducts a daring breakout from the police station. The two of them return to District 13 where they organise the remaining gangs that refuse to leave in order to strike back and expose the truth about what is happening before The President is persuaded to unleash the fighter planes.
---
Banlieue 13: Ultimatum is a sequel to Banlieue 13 (2004), the stylish French action hit written/produced by Luc Besson. Banlieue 13 took a thin patina of science-fictional ideas mostly borrowed from Escape from New York (1981) and pimped it up with some amazing stunt work from parkour inventor David Belle. It was a modest hit that made the name of director Pierre Morel. Banlieue 13: Ultimatum features return performances from the first film's two stars Cyril Raffaelli and David Belle, as well as Luc Besson back on script and as producer. The director this time is Patrick Alessandrin, Luc Besson's former assistant director on Le Dernier Combat (1983) and Subway (1986) who has made a handful of minor films as director with 15 August (2001) and the possession film Mean Spirit (2003).
Banlieue 13: Ultimatum starts in well. Patrick Alessandrin offers up a more detailed version of the culture inside the wall – something that felt underdeveloped in the original – with scenes showing the internal politics of various ethnic neighbourhoods, people and even children casually prowling the streets with guns, drugs being smuggled in hidden inside a shipment of watermelons.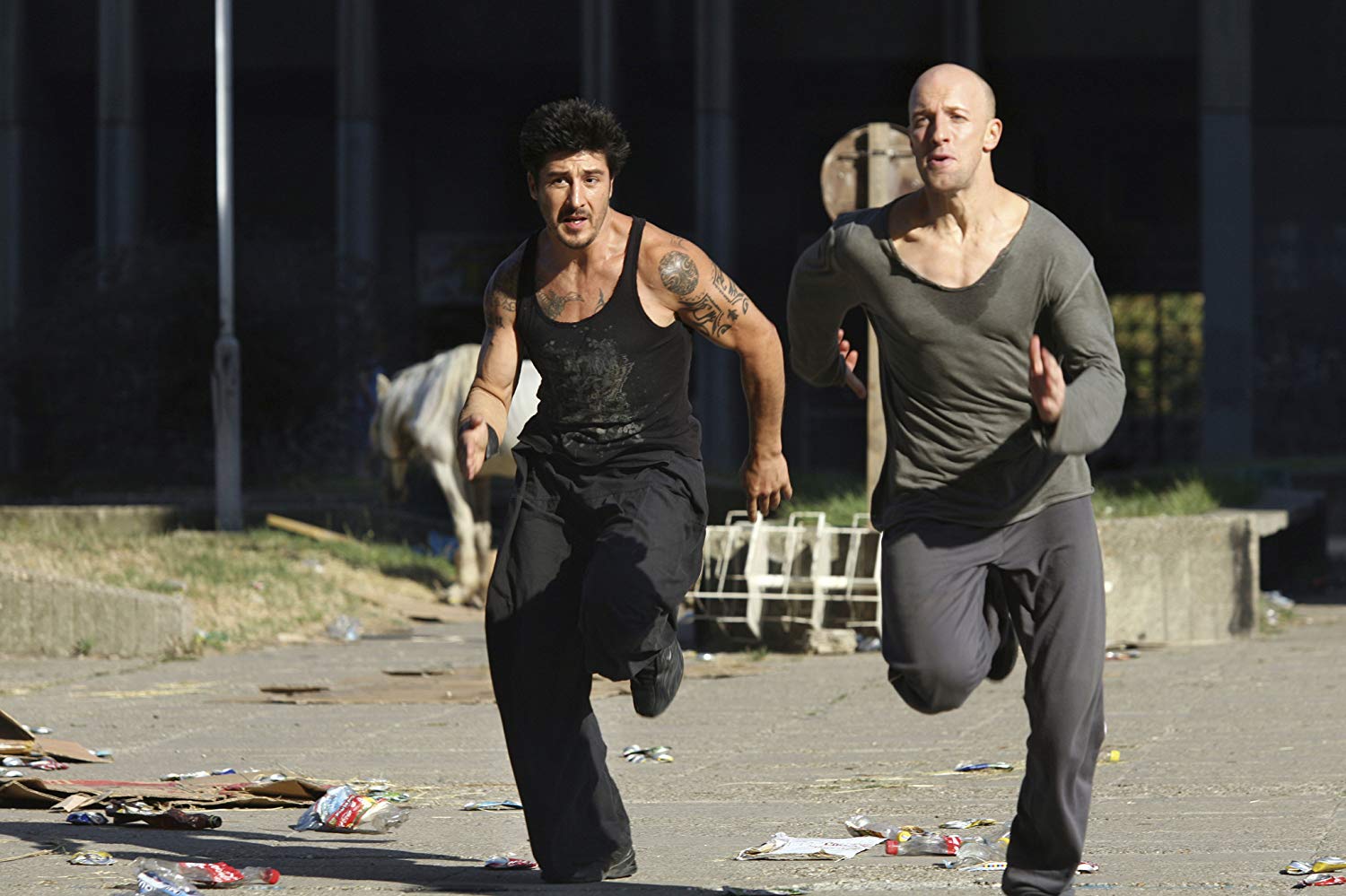 On the other hand, Alessandrin fails to open with the same charged initial sequences that propelled Banlieue 13 into high gear – the early scenes here with David Belle being pursued through the neighbourhoods are surprisingly tame when compared to the two electrifying sequences that kicked Banlieue 13 off. The film does pick up considerably a few scenes later in the sequence with Cyril Raffaelli breaking into a drug kingpin's nightclub lair (in drag, no less!) where he must deal with dozens of opponents in a series of lightning fast combat moves that involve wielding a Van Gogh painting as weapon.
Finally, some way into the film, we get a huge high-energy sequence with David Belle doing his parkour thing – leaping off a balcony and straight up to the next level; conducting Herculean leaps between the tops of apartment towers; sliding down corrugated sheets; trying to outrun an SUV of pursuers through the marketplace.
There is another highly energetic fight sequence later in the show with Cyril Raffaelli and David Belle fighting their way out from the police station, even bizarrely at one point stealing a car, crashing it through the second storey level of the police headquarters and then driving through the hallways. There is also the uniquely cool new character of Tao (Elodie Yung) who goes into attack with razor-tipped hair braids.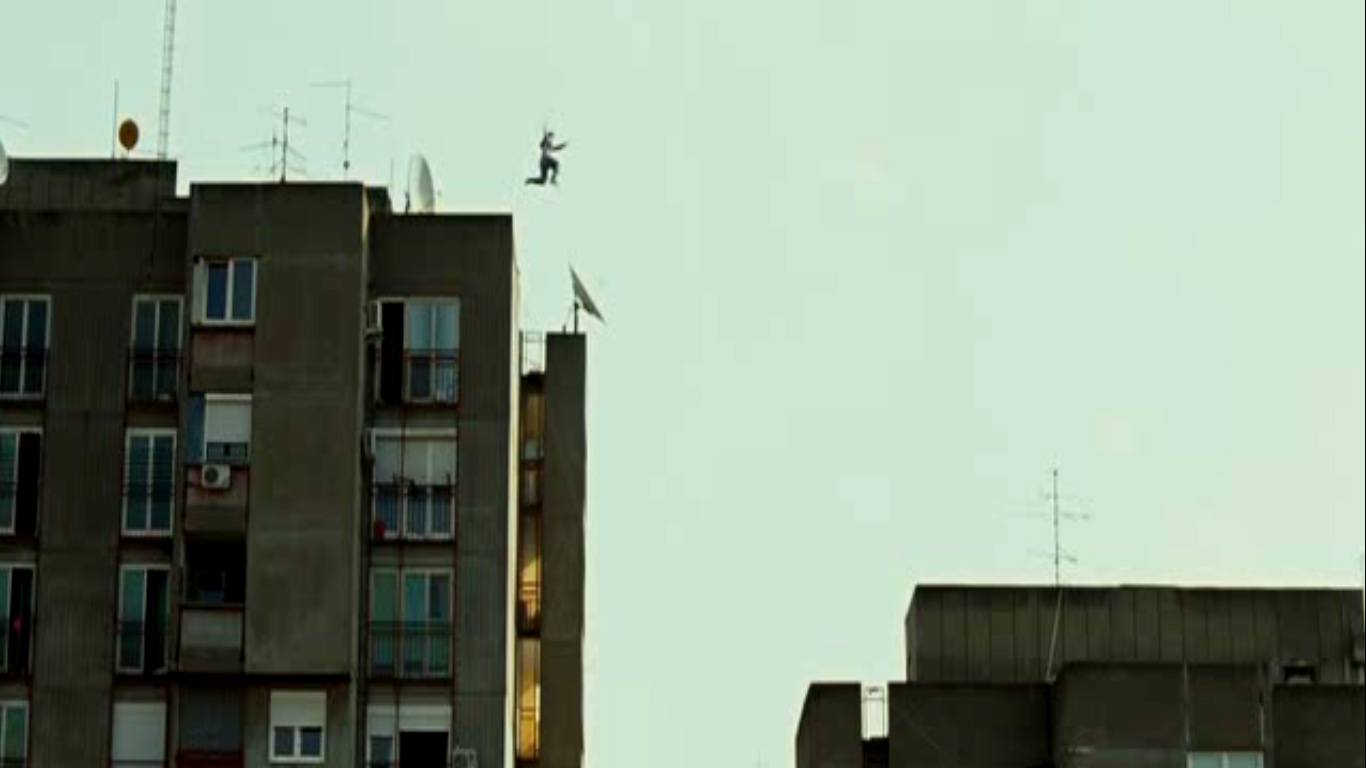 The plot is ultimately only a variant on the first film with a few of the details changed ie. the basics now made into more of a prison breakout film, followed by another standard plot set-up – that of rallying the criminal underdogs of the neighbourhood to take war on the corrupt authorities. The disinfestation units clearing out the ghettos with lethal force is a plot device we have seen in other science-fiction films such as Bronx Warriors 2 (1983) and Robocop 3 (1993). As with Banlieue 13, the science-fictional elements of the plot are slim to the point that with very little tinkering it could have simply worked as a regular action film.
There are some undeniable plot and credibility holes in the film. I was never particularly sure why Cyril Raffaelli was arrested and drug charges trumped up against him. Most bizarre are the dramatic elements that the climax hangs on where the group are acting to stop the decent president from being persuaded by the corrupt general who is in bed with the real-estate developers to unleash military fighter jets to raze the towers in the neighbourhood – maybe things might be different in France but where I come from the business of demolishing buildings is usually left to cranes and bulldozers, not Air Force fighter jets firing missiles on a flyby exercise.
Patrick Alessandrin next went on to direct the English-language Surviving the Wild (2018).
---
---