---
Crew
Director/Producer – Roman Polanski, Screenplay – Roman Polanski, John Brownjohn & Enrique Urbizu, Based on the Novel Le Club Dumas by Arturo Perez-Riverte, Photography – Darius Khondji, Music – Wojciech Kilar, Visual Effects – Dubois Special Digital Effects, Eclair Numerique, Mikros Images & Sony Pictures Imageworks, Special Effects Supervisor – Gilbert Pieri, Production Design – Dean Tavoularis. Production Company – Le Studio Canal +/Via Digital/Araba Films/Kino Vision/Live Entertainment/Origen Productions Cinematgraficas/Orly Films/Bac Films/TF1 Productions/R.P. Productions.
Cast
Johnny Depp (Dean Corso), Emmanuelle Seigner (The Girl), Frank Langella (Boris Balkan), Lena Olin (Liana Telfer), Barbara Jefford (Baroness Frieda Kessler), Jack Taylor (Victor Fargas), Jose Lopez Rodero (Pablo & Pedro Ceniza), James Russo (Bernie Ornstein)
---
Plot
Dean Corso, a frequently unscrupulous dealer in rare books, is hired by wealthy publisher Boris Balkan, a collector of ancient occult tomes. His assignment is to authenticate whether Balkan's copy of the book 'The Nine Gates of the Kingdom of Shadows', one of three still in existence and reputedly co-authored by Satan himself, is genuine or a forgery. Corso's quest takes him to Spain and France. However, as he views each copy and starts to discern a cryptic puzzle hidden inside the illustrations, the owner of each volume is afterwards found murdered. Attempts are made to kill Corso but he receives protection from an enigmatic girl with seemingly supernatural powers. Gradually, Corso realises that the book and the mysteries it holds will unleash Satan upon the Earth.
---
Roman Polanski is one of the great directors. His contribution to genre material has not been inconsiderable, having included masterworks like the madness point-of-view film Repulsion (1965) and the highly influential Satanic impregnation film Rosemary's Baby (1968), as well as the lesser known but highly absorbing identity-exchange horror film The Tenant (1976), and one non-starter, his heavy-handed venture into knockabout comedy with The Fearless Vampire Killers/Dance of the Vampires (1967).
It is almost impossible to discuss Roman Polanski without ever referring to his controversies and the shadow his personal life casts – the tragic murder of wife Sharon Tate by the Manson Family in 1967 and his enforced flight from the US in 1980 to avoid charges of having sex with a thirteen year-old girl. Polanski's career since 1980 has languished in a backwater, lacking the brilliance of his earlier work. There was the standout of Death and the Maiden (1995) and the later return to form with The Pianist (2002) and Carnage (2012), but the majority of Polanski's work has been generally forgettable efforts such as Pirates (1986), Frantic (1988), Bitter Moon (1992) and The Ghost Writer (2010).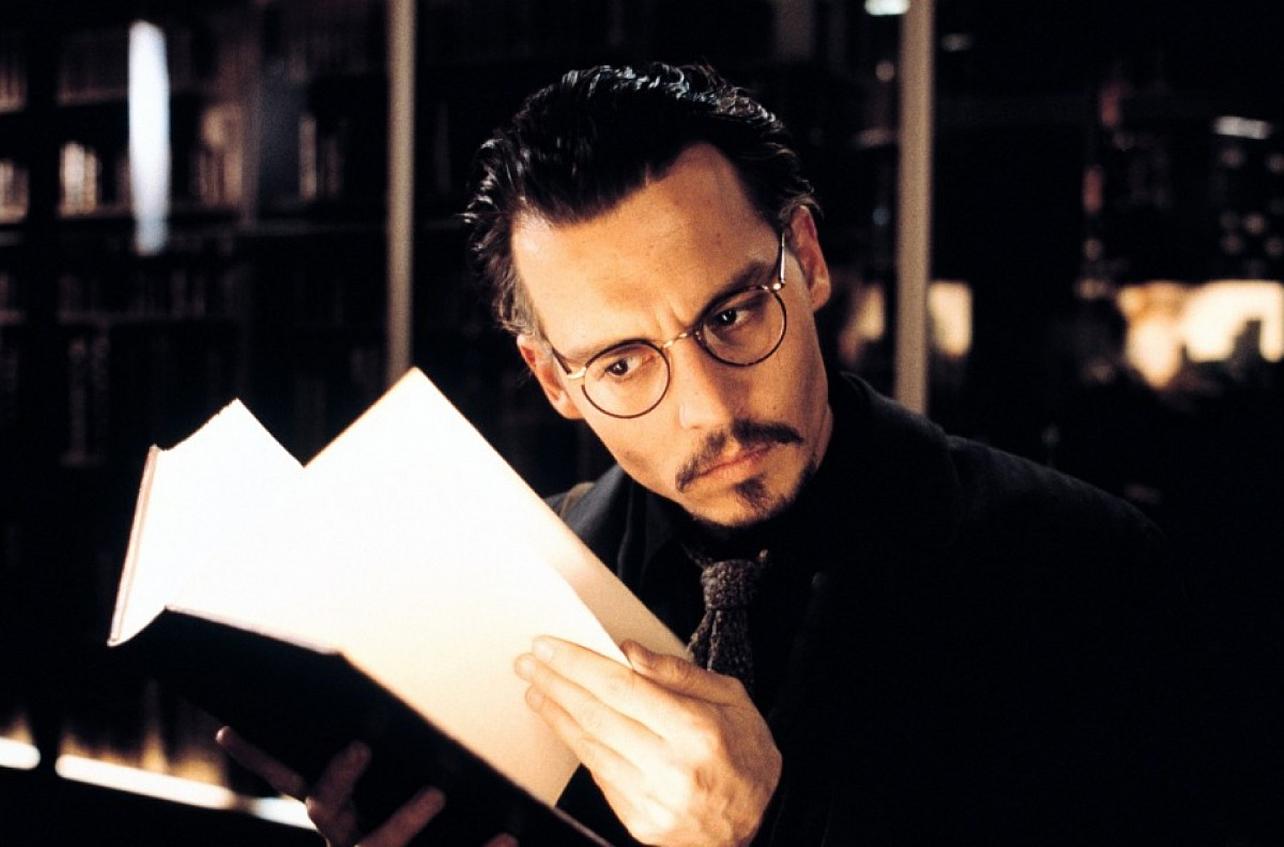 The Ninth Gate was Polanski's long awaited return to genre material. Polanski called the film his "Rosemary's Baby meets Eyes Wide Shut (1999)", and also alluded to his admiration for The Saragossa Manuscript (1965). The Eyes Wide Shut analogy seems a contemporary comparison more than anything else. Like Eyes Wide Shut, The Ninth Gate features conspiracy societies that conduct occult ceremonies in scarlet and black hooded robes. However, with Eyes Wide Shut, Stanley Kubrick was really deconstructing a whole lineage of secret conspiracy society films rather than being one in itself. The Ninth Gate does come close to Eyes Wide Shut's image of the robed society in actuality being a bored social elite dressing up with Polanski briefly making contrast between sinister robed societies and a real Satanism, accusing them of only being play Satanists.
The Ninth Gate also includes occasional elements of The Saragossa Manuscript with Polanski playing convoluted games of synchronicity as the illustrations from the book start to play out in actuality. Certainly, there is the connection to Rosemary's Baby in that both are films about Satanism, although both are also very different stories. The film that The Ninth Gate resembles most is Angel Heart (1987) – both films feature an unbeliever on an occult detective trail on the behalf of a mysterious wealthy benefactor of diabolic connections where each contact made during the course of the investigation is found murdered.
One was hoping that The Ninth Gate would be a welcome return to form for Roman Polanski. While not a bad film by any means, it sits along there with Pirates and Frantic as one of Polanski's not-quite-rans. It lacks the absorbing directorial flourishes of films like Repulsion, The Tenant or MacBeth (1971). Certainly, there is a good deal of accumulating suspense and paranoia familiar to Polanski films like Rosemary's Baby and The Tenant – sinister images of people watching, a pair of feet outside the window of James Russo's basement shop dropping a cigarette as they depart and another pair coming and stomping it out – which gives the film an engrossing atmosphere.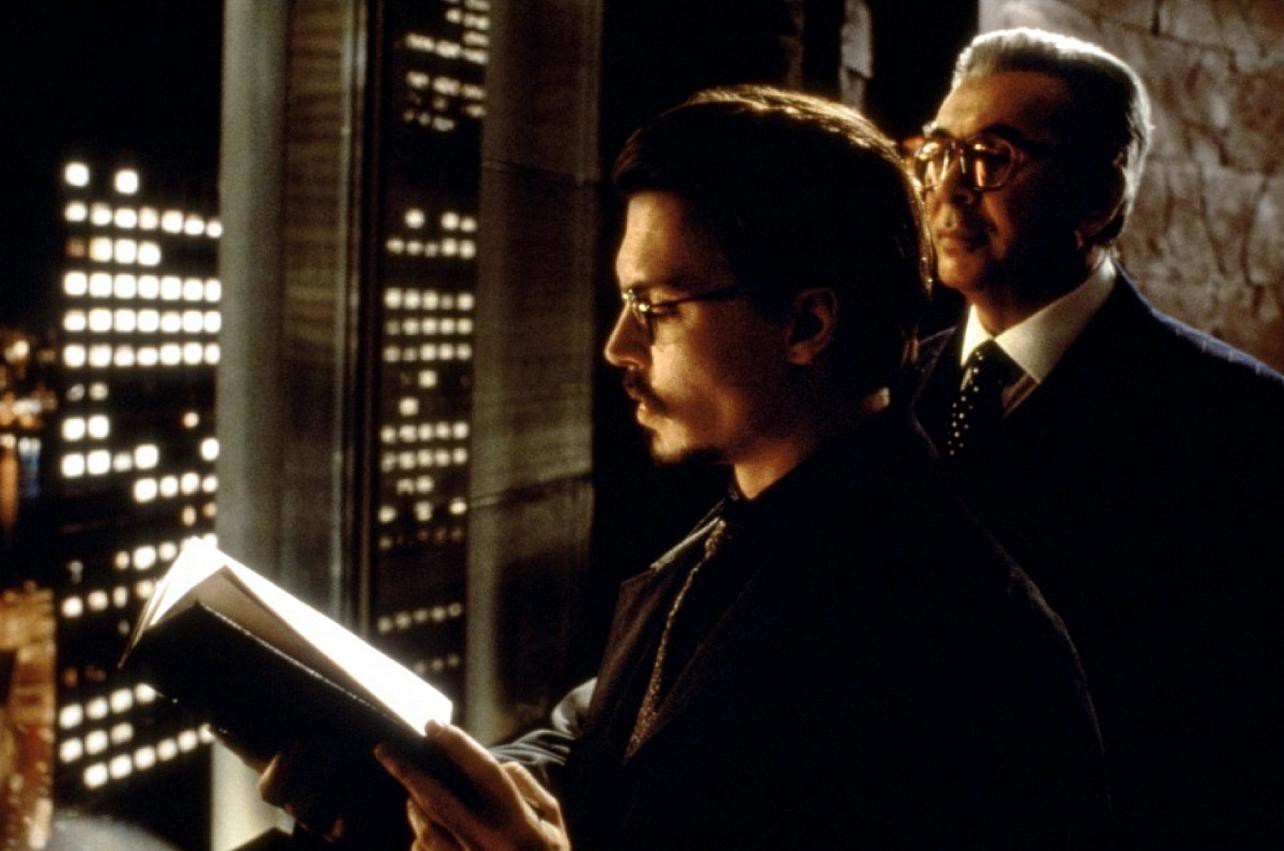 The film is also filled with intriguingly offbeat background characters – the peculiarly friendly twin brothers who finish each other's sentences; the Baroness's butch secretary; the sinister bodyguard with the dyed-blonde hair; the wheelchair-ridden baroness and her casual mention of bored depravities; and, of course, the enigmatic, supernaturally-empowered figure of Emmanuelle Seigner's apparent guardian angel.
While he absorbs one, Roman Polanski never gives any of the atmosphere the opportunity to play off in a big flourish. You cannot deny that the film has you enwrapped by the end, but the end is where Polanski oddly falters. We see Johnny Depp complete the mystery but the film then comes to an inconclusive halt. Deliberate ambiguity is left hanging about exactly who Emmanuelle Seigner is. The final image of Johnny Depp departing off through the titular gate in a blaze of light drops a frustrating curtain across the show, leaving its mysteries all ones that deliberately occur off-stage.
(Winner for Best Musical Score at this site's Best of 1999 Awards).
---
---