---
Crew
Director – Dennis Dimster-Denk, Screenplay – Jonathan Glassner, Producers – Peter Abrams, Robert J. Levy & Natan Zahavi, Photography – Tom Jewett, Music – Tim Truman, Special Effects Supervisor – Eddie Surkin, Special Effects Makeup – Matt Marich, Production Design – Marcia Calosio & Nigel Clinker. Production Company – Tapestry Films.
Cast
Brian Bonsall (Mikey Collins/Trenton), Mimi Craven (Rachel Trenton), John Diehl (Neil Trenton), Ashley Lawrence (Shaun Gilder), Josie Bissett (Jessie Owens), Lyman Ward (Mr Jenkins), Whitby Hertford (Ben Owens), David Rogge (David)
---
Plot
Nine year-old Mikey Collins hates his adopted family and kills them off, drowning his adopted sister in the swimming pool, dropping a hairdryer in the mother's bath and beating the father's head in with a baseball bat, then blaming everything on an intruder to the police. He is subsequently adopted by Neil and Rachel Trenton to whom he proves a perfect child. However, schoolteacher Shaun Gilder becomes suspicious and starts digging into Mikey's past where she discovers that he has killed off all those that he thinks do not love him.
---
Mikey is a routine video-released psycho-thriller. It prefigures the higher profile The Good Son (1993) released a few months later. It is a variant on the psycho child theme that has appeared in a number of other works such as The Bad Seed (1956), The Godsend (1980), Bloody Birthday (1981), Relative Fear (1994), Daddy's Girl (1996), Joshua (2007), Case 39 (2009), Orphan (2009), We Need to Talk About Kevin (2011), The Boy (2015) and Better Watch Out (2016).
Mikey could have been an okay film but it is ruined by banal direction. Dennis Dimster-Denk's set-ups are too quick to rely upon cliche – the dispatches of the principal cast are all dreadfully campy, comic-bookish set-ups that play on thunderingly obvious connections with Mikey's interests that have been established earlier – his bow-and-arrow set, his marbles.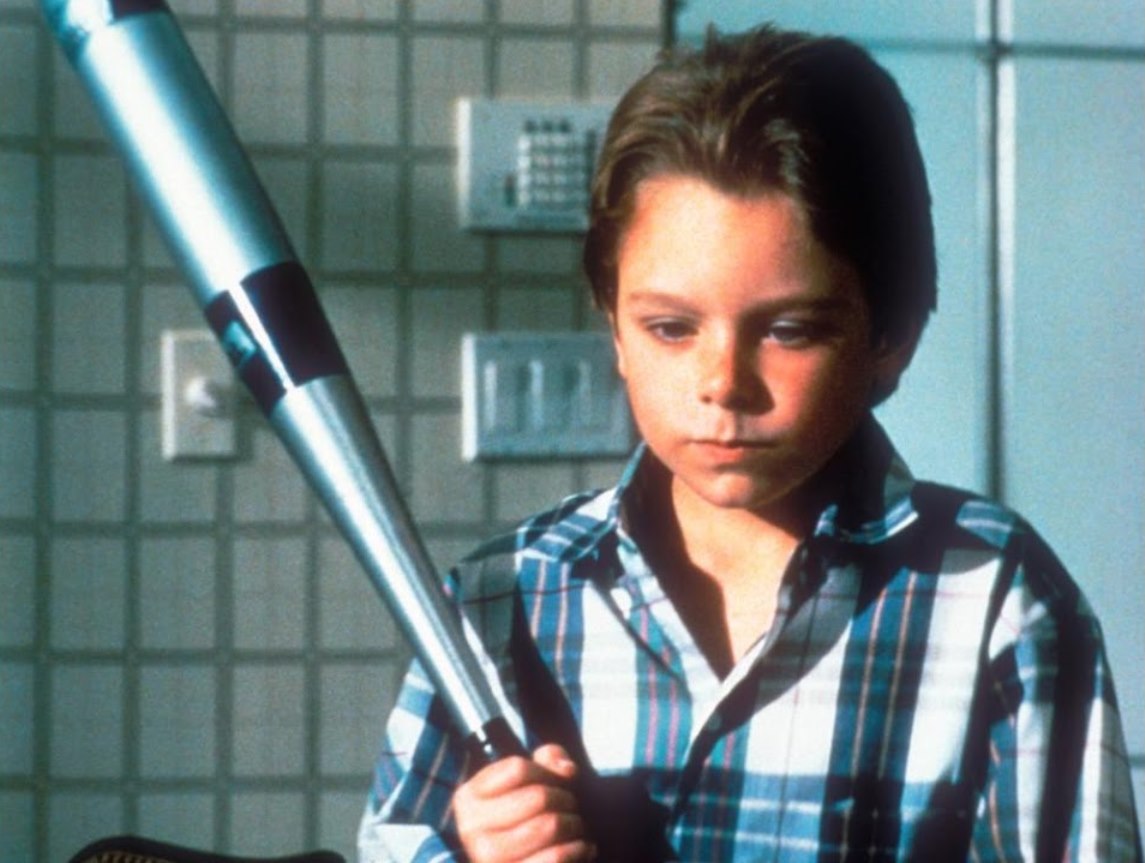 Although it could be said though that the direction is only something that the script deserves – some of the plot's connections are not credible, such as Ashley Lawrence's schoolteacher who develops her suspicions of Mikey based solely on his drawing a picture of a turkey biting a human head off and his cheating at a game of marbles.
Mikey seems to have been modelled on The Stepfather (1987) – it seems so consciously borrowed one could almost call it The Stepson. Instead of a father looking to adopt a perfect family and killing them when they fail to meet his expectations, here we have a child looking to adopt a perfect family and killing them when they fail to meet his expectations.
However, Mikey lacks the necessary imagination and is far from anything like the scabrous attack on Family Values that The Stepfather held. It does have some of the same sense of black humour that The Stepfather did though – "But I'm a better killer" Brian Bonsall sweetly states in comparison to the first family's daughter's virtues being upheld. "What are you doing?" asks Matt Craven as Brian Bonsall watches the video of himself toasting David Rogge. "Watching Mikey's Funniest Home Videos," comes the natural rejoinder.
---
Trailer here
---