---
Crew
Director/Screenplay – Rob Zombie, Producer – Andy Gould, Photography – Alex Poppas & Tom Richmond, Music – Rob Zombie & Scott Humphrey, Special Effects Supervisors – David Blitstein & M. Kan Cooney, Makeup Effects Supervisor – Wayne Toth, Production Design – Gregg Gibbs. Production Company – Universal.
Cast
Sid Haig (Captain Spaulding), Bill Moseley (Otis Driftwood), Sheri Moon (Baby Firefly), Karen Black (Mother Firefly), Chris Hardwick (Jerry), Rainn Wilson (Bill), Erin Daniels (Denise Willis), Jennifer Jostyn (Mary), Tom Towles (Lieutenant George Wydell), Walton Goggins (Deputy Nash), Harrison Young (Donald Willis), Michael J. Pollard (Stucky), Matthew McGrory (Tiny Firefly), Dennis Fimple (Grandpa Hugo), William Bassett (Sheriff Huston), Robert Allen Mukes (Rufus 'RJ' Firefly)
---
Plot
A group of four friends are on a cross-country tour where one of them is writing a guidebook about offbeat tourist sites. They happen by the horror ride at a gas station run by Captain Spaulding. Spaulding tells them about a nearby mental hospital where a doctor, nicknamed Dr Satan, went amok, conducting surgical experiments on patients. They go searching for the hospital, picking up a female hitchhiker along the way. Their tire is then shot out in the rain. The hitchhiker gets them a tow to her nearby house where they meet her exceedingly strange family. Forced to stay the night, they are then made prisoners and tortured by the family.
---
Rob Zombie (or to give him his birth name, the somewhat more mundane Robert Cummings) is a horror fan. Rob Zombie first made his appearance with the band White Zombie. [Indicative of Zombie's obsessive fascination with horror cinema, the name of the band was taken from title of the Bela Lugosi voodoo film White Zombie (1932)]. White Zombie's debut album was La Sexorcisto: Devil Music Vol 1 (1992) and they went onto the likes of Astro Creep 2000: Songs of Love, Destruction and Other Synthetic Delusions of the Electric Head (1995) and Super Sexy Swingin' Sounds (1996), which combined a ferocious metal and dancebeat brand of Industrial, combined with horror-themed lyrics and often fed through with excerpts of dialogue sampled from B horror movies. After the band's split-up, Rob Zombie went solo with albums such as Hellbilly Deluxe: Tales Of Cadaverous Cavorting Inside the Spookshow International (1998), American Made Music to Strip By (1999), The Sinister Urge (2001), another borrowed B movie title, and Educated Horses (2006). Throughout his musical career, Rob Zombie has relished playing his self-created zombified B movie persona up to the hilt. Moreover, Rob Zombie's creative interests have not been just limited to music – he has also designed the album covers and the sets for the group's stage tours, directed all the band's music videos and several for other groups, even contributed the animation for a sequence in Beavis and Butthead Do America (1996).
Rob Zombie has clearly held a longtime interest in directing his own horror films. He was at one point assigned to the directorial chair of The Crow: Salvation (2000) from his own script. Disagreements with the producers led to Zombie's firing and their proceeding with a new script and director, with Zombie only contributing a single song to the soundtrack. Zombie was then given a modest B budget to make House of 1000 Corpses. House of 1000 Corpses was propelled into controversy when Rob Zombie delivered his completed print of the film to Universal in January, 2001. A trailer had been released to theatres in late 2000 but after seeing the film, Universal executives got cold feet when they realised that the film was likely to be hit with an NC-17 rating for violent and horrific content. US theatre chains normally dislike NC-17 and in some cities papers will refuse to carry advertising for NC-17 rated films.
This also came right in the midst of the point when Democratic senator Joe Lieberman was threatening to introduce legislation that would punish cinema chains from screening trailers for R-rated films during PG and lesser rated screenings or even letting underage kids into rated screenings. This resulted in a panicked industry backtrack where studios sought to cut R-rated films and give them more generally acceptable ratings in the belief that Lieberman's legislation would kill off promotion – examples included Soul Survivors (2001) and Rollerball (2002).
Later, Universal tried to backpedal and unconvincingly claimed that the problems they had with House of 1000 Corpses were nothing to do with violent content but rather because it had too downbeat an ending. Rob Zombie proved reluctant to cut the content any and Universal eventually declined the opportunity to release House of 1000 Corpses at all. For a time during 2002, MGM picked the distribution rights up but after Zombie made some scathing comments about MGM executives on MTV, that release too was dropped. Eventually enter Lions Gate, the distributor of often controversial films such as Lolita (1997), Dogma (1999), American Psycho (2000), Bully (2001) and Irreversible (2002), who finally released House of 1000 Corpses in April, 2003.
The upshot of this controversy was that it served to give House of 1000 Corpses a reputation as a work of grim and unrelenting horror. The great irony is that without such controversy House of 1000 Corpses would have in all likelihood not attracted much attention and probably quickly made its way to video release. In fact, in terms of the expectation that had been built up concerning it, the finished product proves a heavy disappointment. In regard to its content, there is almost nothing that is terribly disturbing or beyond the pale of the average horror film. Films of the 1970s such as The Last House on the Left (1972) or The Texas Chain Saw Massacre (1974) were a good deal more grim and unrelenting, and films like Dawn of the Dead (1978), The Evil Dead (1981) or even the average Friday the 13th sequel have a much higher gratuitous gore and/or nudity content than House of 1000 Corpses does. (This was a couple of years before the Torture Porn fad exploded its entrails into cinema screens where, had House of 1000 Corpses come out during that period, none of this controversy would even have existed). Certainly, there is not a single thing in House of 1000 Corpses that leaves one in any way grimly shocked or with the feeling that one has seen taboo boundaries broken, stepped over or even in the slightest way bent out of shape.
When House of 1000 Corpses was finally released in 2003, even though it had been made three years earlier, it came out amidst a host of remakes and other horror films that directly look back to late 1970s/early 1980s horror and gore cinema – the likes of Cabin Fever (2002), Resident Evil (2002), 28 Days Later (2002), House of the Dead (2003), Wrong Turn (2003), Shaun of the Dead (2004), Frontier(s) (2007), and a bunch of remakes like The Texas Chainsaw Massacre (2003), Toolbox Murders (2003), Dawn of the Dead (2004), Assault on Precinct 13 (2005), The Amityville Horror (2005), The Fog (2005) etc. With House of 1000 Corpses, Rob Zombie clearly looks back to The Texas Chain Saw Massacre. Actually, this is an understatement – House of 1000 Corpses is blatantly imitative of Texas Chain Saw. Both have a near-identical plot set-up in which a group of young city kids pick up a disturbed hitchhiker and then innocently drive to a backwoods property where they are brutalised and tortured by a grotesque family of in-breds who live in a vast, mouldering house of filth and debris. In both films, the family includes one hulking, oversized and near imbecilic member who hides his face behind a mask.
Outside of his slavish copying of Texas Chain Saw, Rob Zombie peoples House of 1000 Corpses with an overabundance of horror and exploitation movie tropes – an opening on a tv horror host, backroads freakshows, psychotic and deformed in-breds, sinister clowns, missing cheerleaders, mad scientists conducting brain experiments, abandoned asylums, zombies, burial alive. Not satisfied with that, Rob Zombie also packs the film with bit actors from B horror movies – Sid Haig, from Spider Baby or, The Maddest Story Ever Told (1968) and numerous Blaxploitation films of the 1970s; Bill Mosely, who has played a number of horror roles, most notably as the deranged Vietnam Vet Chop Top in The Texas Chainsaw Massacre 2 (1986); Karen Black, a once celebrated actress who has played in an amazing number of low-budget horror films throughout the 1980s and 90s; Tom Towles, who has also been in a number of B horror movies, including Henry: Portrait of a Serial Killer (1986) and the remake of Night of the Living Dead (1990); and Michael J. Pollard who has appeared in numerous horror films usually playing a simple-minded person.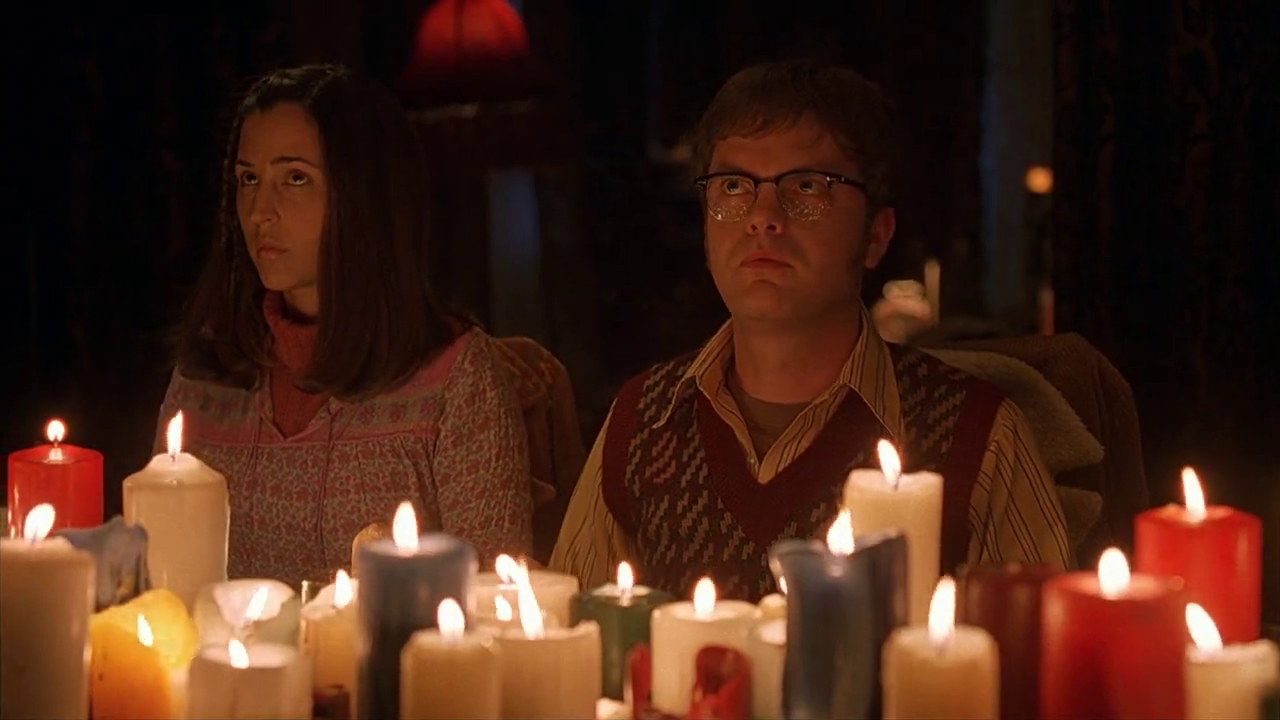 While one has no doubts whatsoever that Rob Zombie is a fan of horror movies, where he does falter is in his determination to go all the way and deliver as the advertising has it "The most shocking tale of carnage ever seen." Rather than leaving one bolt upright, gripping onto the seatrests as many of the aforementioned 1970s classics did, House of 1000 Corpses contrarily leaves one laughing at Rob Zombie's perpetual posturing for shock effect. The film is shot in a fast cut-up way where Rob Zombie keeps throwing random violence, snarled taunts, scenes shot on video and different film stock and cutaways to mock B film and tv recreations of various horror events into our faces. It is fast and busy but has more to do with perpetual pop-up effects than it ever does coherent, linear narrative. The sum result of the film is more like a WWF wrestler leering out of the screen into one's face and shaking his fist and threatening how he is going to pulverise his opponent and/or the audience – only to get in the ring and end up losing the match. The entire film feels like a snarled taunt that eventually reveals itself as a bark without bite that fails to deliver on anything but the most basic requirements.
Moreover, House of 1000 Corpses gives the impression that Rob Zombie's sympathies throughout lie not with the bunch of whitebread kids who have strayed into the lures of an in-bred psychotic family but with the psychotic family themselves. Zombie invests little character development and almost no sympathy with the kids. All his colour and interest is with the family of in-breds and Sid Haig's bad-tempered clown proprietor snarling insults at the kids. This is certainly a unique perspective for a Backwoods Brutality film. Imagine, if you like, Deliverance (1972) told from the perspective of the hillbillies and getting gleeful about their torture of the city slickers. The downside of this is that when it comes to the climactic scenes with the characters being pursued and tortured, there is no a shred of sympathy that goes out towards them, as we only have either been placed in a position of deriding their city ways or regarding them as part of the scenery; there is nothing here akin to the genuinely nightmarish pursuit of Marilyn Burns by a chainsaw-wielding Leatherface that occupied the midst of Texas Chain Saw. Indeed, the film's perspective – of taking the side of the freaks taunting the ordinary kids – makes it a mean-minded film that seems to revel in its own badass orneryness.
There is the occasional moment where Rob Zombie shows the glimmerings of style and something more – the final pursuit through the underground labyrinth where we see one of the family conducting experiments encased in an unearthly device that looks like a mobile dentist's apparatus; a grotesque re-enactment of Marilyn Monroe's famous Happy Birthday number by Rob Zombie's real-life wife Sheri Moon; one shot where Bill Mosely makes deputy Walton Goggins put down his gun and then Zombie's camera backs away to a wide-angle crane shot where he holds the scene still for almost a minute before Mosely fires a shot through Goggins' head. It is in these scenes that Zombie digs at and touches upon a genuine horror rather than a perpetual posturing for affect. Alas, there are not nearly enough of such scenes like this and House of 1000 Corpses is routine.
Rob Zombie made two sequels featuring many of the same cast with The Devil's Rejects (2005), which is a much more polished film than this, and the subsequent 3 from Hell (2019). Subsequently, Rob Zombie went onto direct the remake of Halloween (2007) and its sequel Halloween II (2009), the animated The Haunted World of El Superbeasto (2009), The Lords of Salem (2012), 31 (2016) and The Munsters (2022).
---
---