---
Crew
Director/Screenplay – Ana Asensio, Producers – Ana Asensio, Larry Fessenden, Noah Greenberg, Chadd Harbold & Jenn Wexler, Photography – Noah Greenberg, Music – Jeffrey Alan Jones, Visual Effects – Neal Jonas, Production Design – Almitra Corey. Production Company – Glass Eye Pix/Palomo Films.
Cast
Ana Asensio (Luciana), Natasha Romanova (Olga), Caprice Benedetti (Vanessa), David Little (Dr Horovitz), Nicholas Tucci (Niko), Larry Fessenden (Rudy), Phil Nee (Mr Zhou), Tanya Rodina (Yvana), Brian Kleinman (Brian)
---
Plot
Luciana is a Spanish immigrant struggling to make ends meet in New York City. Her Russian friend Olga has to bow out of a job she has that evening but offers it to Luciana who is astonished to learn that she can make $2000 for a single night's work. For the job, Luciana is required to obtain a cocktail dress and arrive at an obscure warehouse location, which proves a struggle with her lack of funds. She arrives to find Olga is there after all but will not talk about what the job entails. She and the other girls wait as each is taken into a room with wealthy paying customers for obscure purposes.
---
Most Beautiful Island is the directorial debut of Spanish actress Ana Asensio. Asensio has been working in Spanish film, tv and theatre since the 1990s and relocated to the US in the 2010s. Asensio makes Most Beautiful Island for Glass Eye Pix, the company behind a number of smart modern horror releases – Stake Land (2010), The Innkeepers (2011) – and for whom Asensio had earlier made an acting appearance in their non-genre film Like Me (2017). (Glass Eye head Larry Fessenden has a small role in the film as one of the bouncers at the event).
The title would seem to refer to Manhattan – the sole reference comes in one scene early in the show where Ana writes the phrase on a piece of paper (although if you look at the trailer, the phrase is overlaid across an aerial shot of Manhattan Island, suggesting that that is the island being referred to).
The opening credits make the ominous claim that Most Beautiful Island is based on a true story. Given that Asensio, a Spanish immigrant living in New York is playing a Spanish immigrant living in New York in the film, you assume this is autobiographical – something that really makes you wonder what it is that Asensio ended up having to do to make a living in New York City. Asensio makes for an unusual lead – she is tall, bony and angular and never seems to smile much, not exactly the figure that draws you in as sympathetic. However, the whole of the sympathy in the film lies with her and her situation.
Much of the first half takes us through a fly on the wall eye look at what a poor immigrant has to do to survive in the city – from catching taxi rides without being able to pay the fare, tearing clothing in a changing room so as she can get a cocktail dress at a reduced rate, having to hide her bag in a trashcan on the street after she is told she cannot bring it into the venue. There are some rather alarming and seemingly unfaked scenes where she is babysitting and has to deal with two unruly children, one of whom runs across the street and vanishes while she is distracted.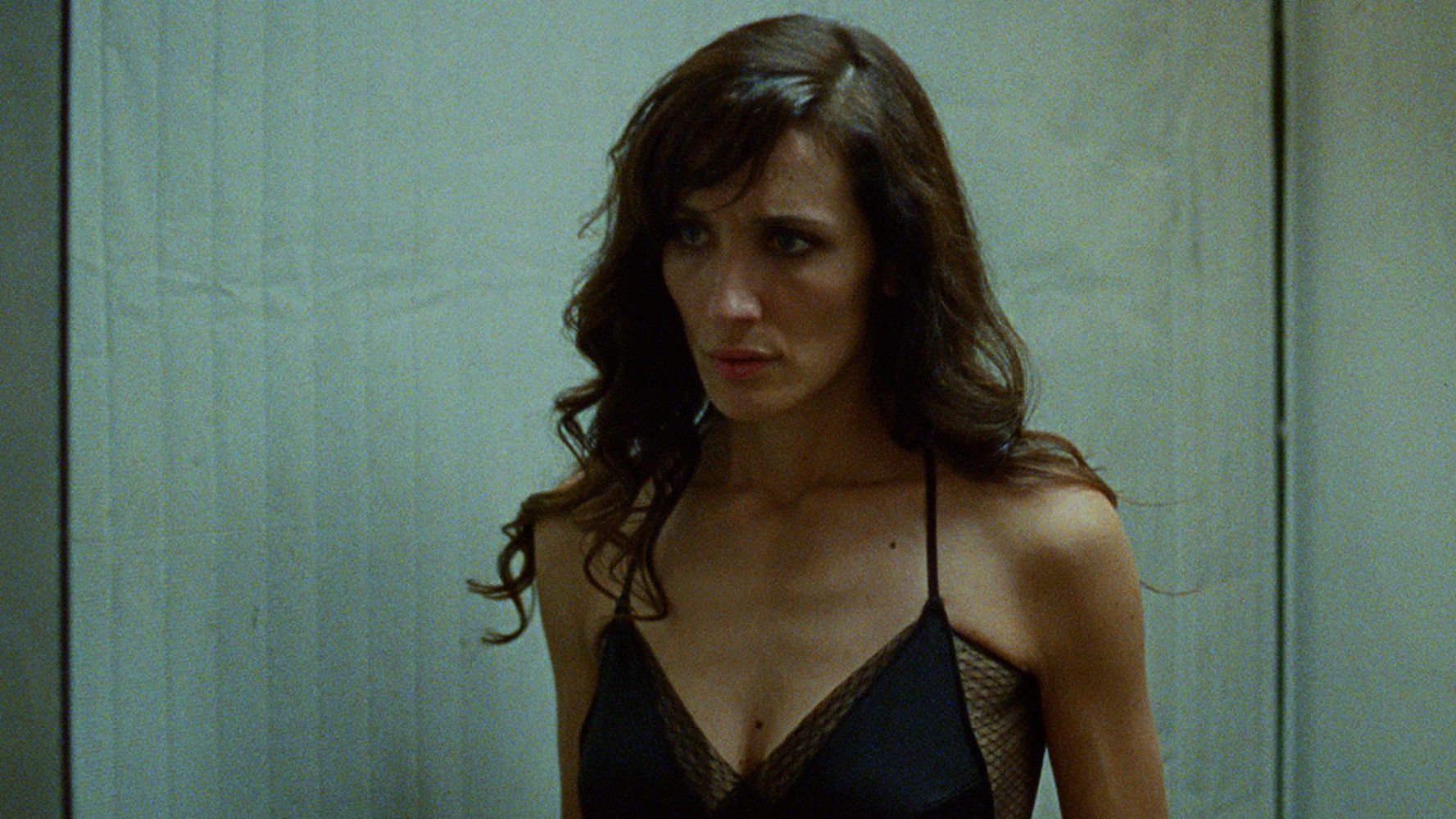 Asensio does a great deal to build up mystery about the game that she has been selected to participate in – be it the difficulties in getting to the venue, her puzzle at finding Natasha Romanova there when she said she could not make it and then Natasha's refusal to answer any questions, to the screams coming from the girls after being taken into the other room.
When we eventually do get to accompany Asenio into the room near the end, the revelation of what she is required to do holds a creepy fascination [PLOT SPOILERS] – the same one that Sean Connery underwent in Dr No (1962). There is a hair-raising intensity in watching Ana and Natasha Romanova lying there motionless as the spiders crawl all over their nude bodies. The film is eventually rather slight (clocking in at only 80 minutes) – it feels more like a punchline for a short film than a feature – but you cannot deny that Ana Asensio pulls it off with some effect,
Glass Eye Pix is a company that was set up by Larry Fessenden, the director of Habit (1997), Wendigo (2001), The Last Winter (2006), Beneath (2013) and Depraved (2019). Glass Eye Pix has become an increasingly underrated presence in the horror field in the last few years with films such as The Off Season (2004), Zombie Honeymoon (2004), The Roost (2005), Automatons (2006), Trigger Man (2007), I Can See You (2008), I Sell the Dead (2008), The House of the Devil (2009), Satan Hates You (2009), Bitter Feast (2010), Stake Land (2010), Hypothermia (2011), The Innkeepers (2011), Late Phases (2014), Darling (2015), Psychopaths (2017) and The Ranger (2018).
---
---