---
Crew
Director – Adrian Garcia Bogliano, Screenplay – Eric Stolze, Producers – Larry Fessenden, Brent Kunkle, Greg Newman & Zak Zeman, Photography – Ernest Herrera, Music – Wojciech Golczewski, Visual Effects – S3D VFX (Supervisor – Marius Henry Hoyo), Creature Effects – Kurtzman's Creature Corps, Creature Effects Supervisors – David Greathouse & Beki Ingram, Makeup Effects – Peter Gerner & Brian Spears, Production Design – Lisa Myers. Production Company – Glass Eye Pix.
Cast
Nick Damici (Ambrose McKinley), Ethan Embry (Will McKinley), Tom Noonan (Father Roger Smith), Lance Guest (James Griffin), Erin Cummings (Anne), Rutanya Alda (Gloria Baker), Tina Louise (Clarissa), Caitlin O'Heaney (Emma), Al Sapienza (Officer Bennett), Bernando Cubria (Officer Lang), Karen Lynn Gorney (Delores Kaye), Larry Fessenden (O'Brien), Dana Ashbrook (Westmark), Laurent Rejto (Delivery Man)
---
Plot
Ambrose McKinley, a blind and aging Vietnam Veteran, moves into the Crescent Bay retirement home following the death of his wife. On his very first night there, his neighbour is attacked and torn apart by a creature, which then breaks in and slaughters Ambrose's dog. Ambrose learns that such attacks occur at the retirement village once a month but are dismissed by authorities as a wild animal. Ambrose begins preparing for the coming full moon. He turns his home into a trap and has silver bullets made up. However, his son and the other people around him begin to think that Ambrose is losing his mind.
---
Glass Eye Pix is a company that was set up by Larry Fessenden, the director of Habit (1997), Wendigo (2001), The Last Winter (2006), Beneath (2013) and Depraved (2019). Glass Eye Pix has become an increasingly underrated presence in the horror field in the last few years with films such as The Off Season (2004), Zombie Honeymoon (2004), The Roost (2005), Automatons (2006), Trigger Man (2007), I Can See You (2008), I Sell the Dead (2008), The House of the Devil (2009), Satan Hates You (2009), Bitter Feast (2010), Stake Land (2010), Hypothermia (2011), The Innkeepers (2011), Darling (2015), Most Beautiful Island (2017), Psychopaths (2017) and The Ranger (2018). Fessenden also makes in an acting appearance in many of these films – he can be seen here as the scruffy undertaker we meet in the opening scene.
Late Phases was a US debut for Adrian Garcia Bogliano, the Spanish-born director who made Here Comes the Devil (2011), the B is for Bigfoot episode of The ABCs of Death (2012) and subsequently Scherzo Diabolico (2015) and Black Circle (2018).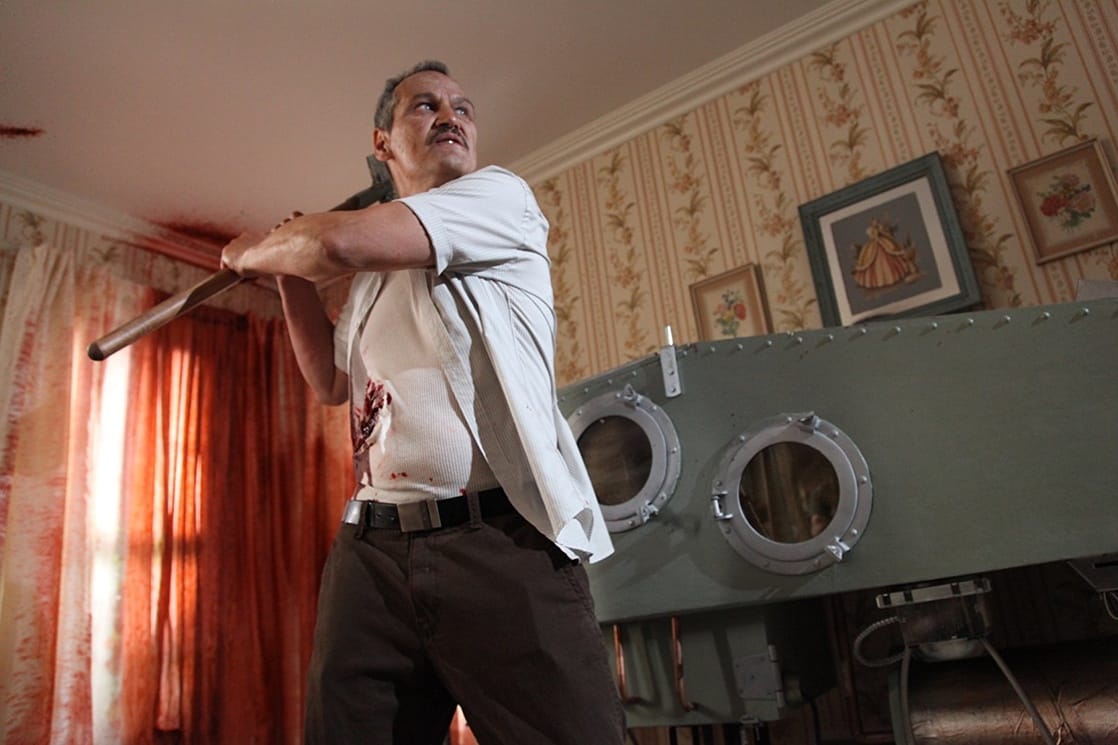 There was the classic werewolf film Werewolf in a Girl's Dormitory (1963) – a film more celebrated for its attention-grabbing title than for actually being a good film. In the same vein, Late Phases could easily be titled 'Werewolf in a Retirement Village'. This is an amusing concept that the film surprisingly chooses not to treat tongue-in-cheek – as say the not dissimilar Bubba Ho-Tep (2002) did with its mummy in a retirement home premise – but to play seriously. Even more so, the film uniquely chooses to cast its werewolf hunter as a blind man. This is an undeniably original touch as you wonder how something like that could possibly work. Nevertheless, the film plays it out with completely logical regard and in entirely fascinating ways.
There is an extremely good performance at the heart of the show from Nick Damici. Damici is not exactly a household name but has done strong and effective work for Glass Eye before, he in particular being associated with director Jim Mickle, having both acted in and written the scripts for all of Mickle's films so far – Mulberry Street (2006), Stake Land, We Are What We Are (2013) and Cold in July (2014). Damici – made up to look some twenty years older than he is in actuality – gives a fantastically good performance, one that is tough, harshly self-contained and independent but also surprisingly sympathetic.
Late Phases is a cool and careful film. Adrian Garcia Bogliano draws you in with the sheer banality of life in the retirement village and then throws in the jolts of the werewolf attack – none the more effectively so than the opening few scenes where Damici hears the attack on neighbour Karen Lynn Gorney through the wall and then the unseen creature enters his apartment.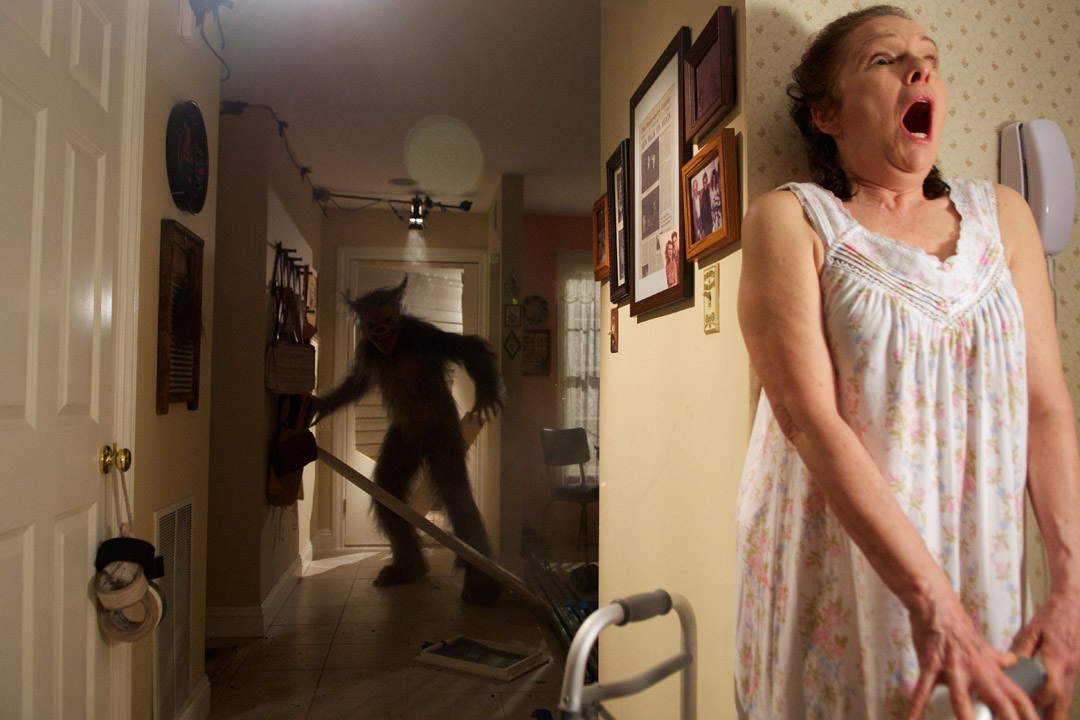 There are also some excellent werewolf effects – especially a sequence where the wolf tears its way out of its human skin in front of Tom Noonan's initially disbelieving priest where the entire change is seemingly denoted during the space of a single take where the camera keep moving back and forth between the two parties (even if the eventually transformed creature that we get is nothing particularly outstanding). The result makes for one of the most original treatments of the werewolf theme that one has seen in recent years.
We also get some unusual casting. Among the seniors at the retirement home, there is an aging Tina Louise, who once played Ginger in Gilligan's Island (1964-7); Caitlin O'Heaney, a minor actress perhaps best known here as the slasher heroine in He Knows You're Alone (1980); and Karen Lynn Gorney, who once played the romantic interest opposite John Travolta in Saturday Night Fever (1977). In a central role is Lance Guest, who one remembers as a teen/twentysomething star in films like The Last Starfighter (1984) and Jaws: The Revenge (1987), who is now cast well on the less glamorous side of his fifties as an assistant at the church. There is also a one scene appearance from Dana Ashbrook, who one remembered as a bad boy in a few films and the cult tv series Twin Peaks (1990-1), who is now well into his forties. The sense you get through all of these castings is of familiar faces now grown into a less-than-glamorous senior years – as only befitting the film's theme.
(Nominee for Best Makeup Effects at this site's Best of 2014 Awards).
---
---