---
Crew
Directors – James Franco & Pamela Romanowsky, Screenplay – Adam Rager & Matt Rager, Producers – Christa Campbell, Jay Davis, James Franco, Lati Grobman, Vince Jolivette & Scott Reed, Photography – Pedro Gomez Millan, Music – Adam Crystal, Visual Effects – Carlos Rincones & Chris Salmassy, Special Effects Supervisor – Carlos Rincones, Makeup Effects – Heidi Mistic, Production Design – Scott Enge. Production Company – Dark Rabbit Productions/Campbell Grobman Films/Jeff Rice Films/Redwire.
Cast
Allie Gallerani (Isabel Porter), James Franco (Dr Cairn), Joe Pease (Roderick Porter), Tim Blake Nelson (Dr Lemelle), Lori Singer (Madame Werner), Eric Roberts (Dr Torrington), Josh Duhamel (Detective Thomas), Scott Haze (Gunther), Zoe Bleu (Lucy), Amber Coney (Margaret), Val Lauren (Dr Jacobs), Tamzin Brown (Nurse Oaks), Carmen Agenziano (Apothecary)
---
Plot
Baltimore, 1893. Overcome with grief after the death of her parents, Isabel Porter decides to check herself into the Rosewood Institute to recover. There Isabel is placed into the care of Dr Cairn who sees that her problems are having an independent spirit that is suppressed by those around her. He challenges her to take the step to free herself. She allows him to place her into a regimen that involves beatings, torture, drugs and being hypnotised where she is stripped of her identity. Finding himself locked out of seeing her, her brother Roderick begins to investigate, finding that Rosewood is being controlled by the mysterious but powerful Aconite Society. Under his control, Cairn has placed Isabel at the centre of the Society's secretive rituals.
---
James Franco is a star name who has appeared in numerous roles. Less recognised is his work as a director. When he directs, Franco chooses subject matter that is off the beaten track and decidedly non-commercial. Following his first full-length effort The Ape (2005), a comedy about a man with a talking ape flatmate, most of Franco's work has been in the letters – The Broken Tower (2011), a documentary about the poet Hart Crane; Sal (2011), a dramatisation of the life of murdered actor Sal Mineo; adaptations of William Faulkner with As I Lay Dying (2013) and The Sound and the Fury (2014); Bukowski (2013), a biopic of the poet and writer; the Cormac McCarthy adaptation Child of God (2013); Tenn (2015) about the young Tennessee Williams; and the John Steinbeck adaptation In Dubious Battle (2016). And then there have been those that are downright eccentric – My Own Private River (2012), which turns outtakes from My Own Private Idaho (1991) into a tribute to River Phoenix; Interior. Leather Bar (2013), a reimagining of the missing 40 minutes of hardcore gay scenes that were cut from Cruising (1980); and The Disaster Artist (2017) about the making of the bad movie classic The Room (2003). In genre material, Franco has also directed the post-holocaust set Future World (2018). Pamela Romanowsky, Franco's co-director on The Institute, is not as well-known a name as he is. She had previously directed and written two films, both non-genre, with The Color of Time (2012) and The Adderall Diaries (2015), both of which starred Franco.
The Institute makes claim to be based on the true-life story of the Rosewood Center. This was originally established as the Asylum and Training School for the Feeble-Minded on the outskirts of Baltimore in 1888 with the intent of housing indigent children and training them for reintegration back into society. It was brought to public attention in 1937 by Leo Kanner, the discoverer of autism, that the wealthy of Baltimore had created a legal arrangement where the inmates would be turned over into their custody. Thereafter they were treated as unpaid domestic help, essentially slave labour, and frequently subject to abuse. Over 166 of these girls had been released to society families by obliging judges.
When it comes to The Institute, these details have been considerably embellished. Rather than a school for indigent children, Rosewood is now an asylum catering to upper class clientele and lavishly dressed (although the poor are kept hidden in the basements). It is presided over by Dr Cairn who is obsessed with a form of brainwashing that involves BDSM and the administering of drugs to cause the girls to lose their identity and assume roles in plays he puts on for society patrons. (There is no historical record of any Dr Cairn or the use of any such treatments).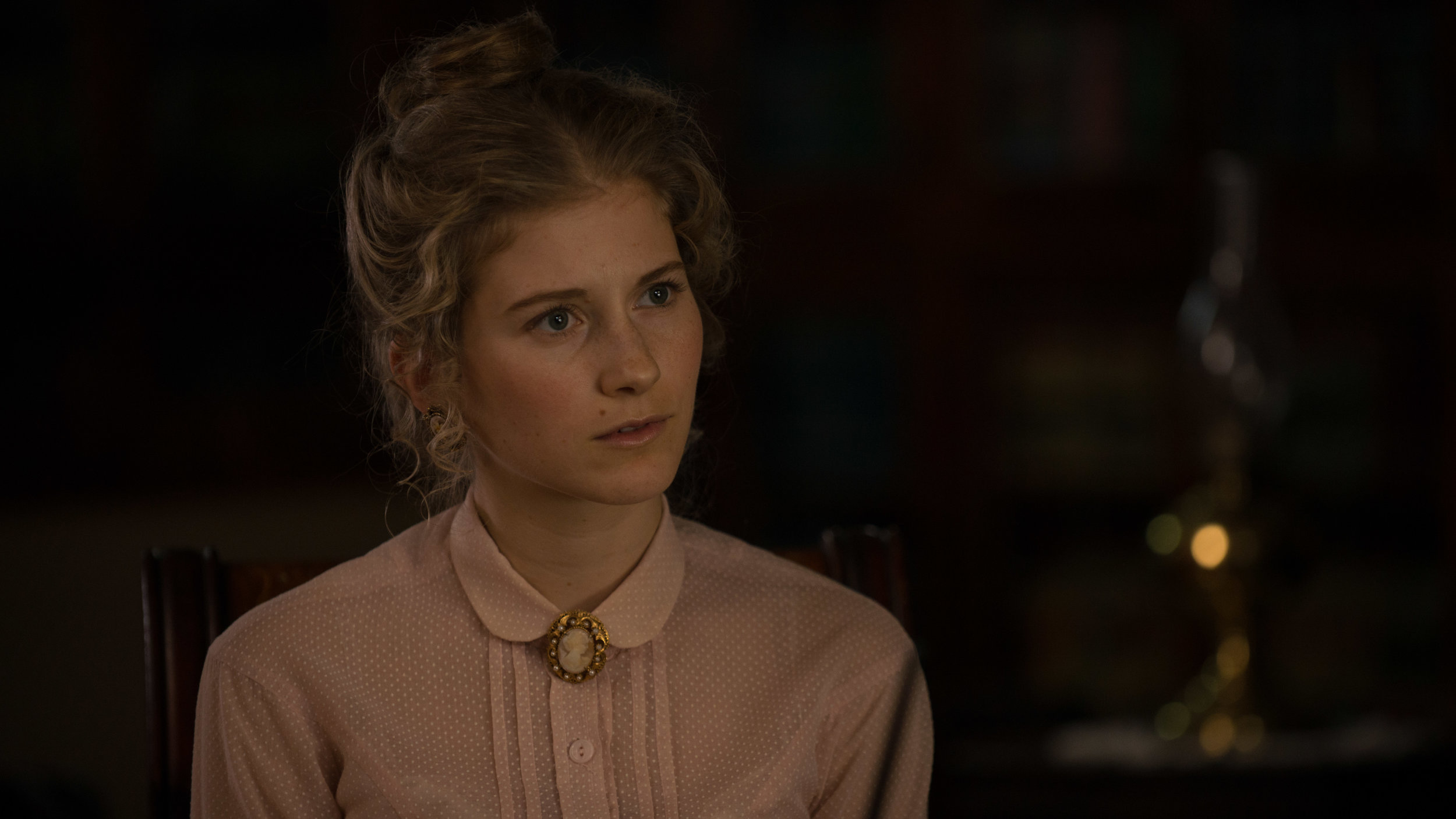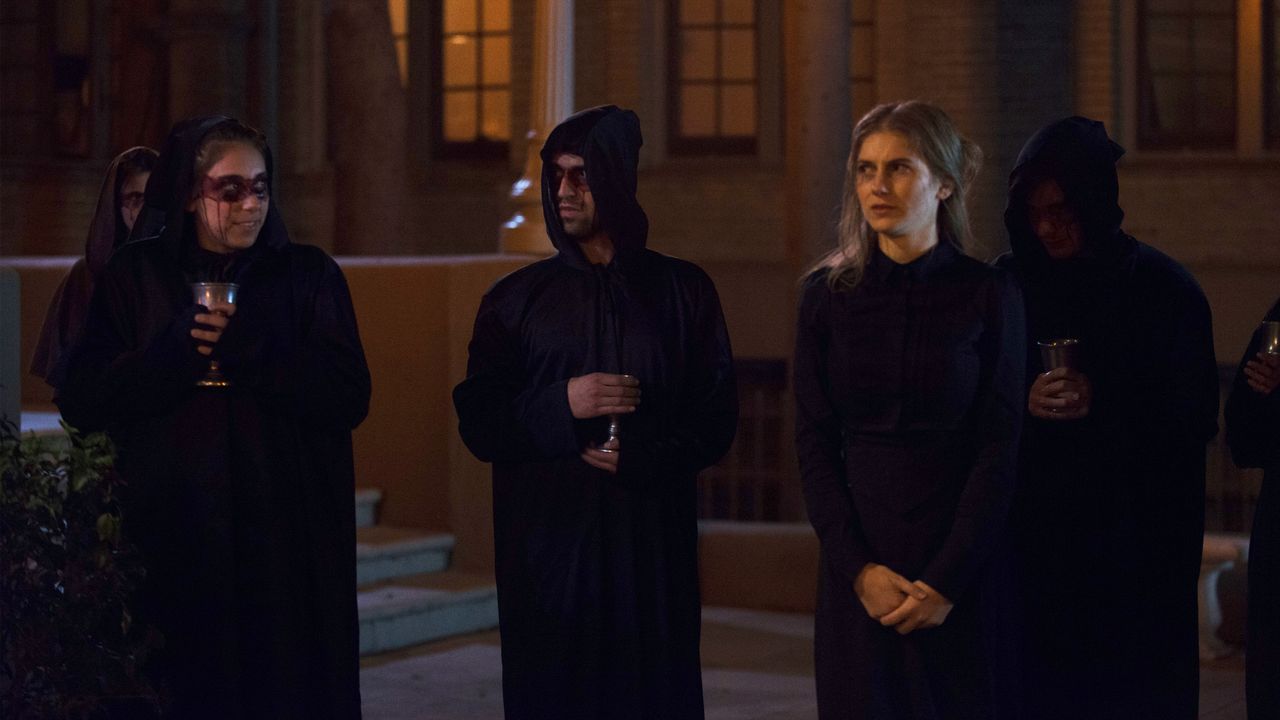 Clearly, Franco and Romanosky found the idea of the inmates being sold as slaves too mundane and have conflated the story of the Rosewood Center into more something more akin to Eyes Wide Shut (1999). Exactly what is going on in the rituals is a puzzle – somewhere between an orgy and a restaging of Nathaniel Hawthorne's short story Young Goodman Brown (1835), while a later set-up seems to be a restaging of Edgar Allan Poe's The Pit and the Pendulum (1850) using a live victim. (Which one suspects is something that has more to do with James Franco trying to shoehorn his pretensions to high literary ambitions onto a film than anything else).
I was heavily disappointed with The Institute. An historical film is left with a certain onus when it comes to credibility and this simply fails to create an inherent suspension of disbelief in its depiction. Some of the actors look uncomfortable when it comes to stepping into period costume and dialogue. More so though, the film has been shot in a way that desaturates and renders everything in a dim and dusky dun colour that looks like it is taking place in a grayscale monochrome.
The one thing you do have to complement Franco and Romanowsky for is a completely wild cast list. Aside from well known faces like Tim Blake Nelson and Eric Roberts in substantial roles and James Franco himself as the sinister psychiatrist, we also have a now middle-aged Lori Singer as a fierce and authoritarian nurse; heartthrob Josh Duhamel as a detective; Carmen Argenziano in a single scene appearance as a pharmacist; and even apparently former Baywatch (1989-2001) star and Playboy Playmate Pamela Anderson in there somewhere unrecognisable as one of the society ladies.
---
---