---
Crew
Director/Screenplay/Creature Design – Akiz, Producers – Akiz, Amir Hamz, Simon Ruhlemann & Christian Springer, Photography – Clemens Baumeister, Music – Christoph Blaser & Steffen Kahles, Visual Effects – Liga 01 Computerfilm, Visual Effects Supervisor – Sven Rabe, Production Design – Anne Schlaich & Vera Koch. Production Company – 000-Films/Bon Voyage Films.
Cast
Carolyn Genzkow (Tina Peterson), Julika Jenkins (Vera Peterson), Arnd Klawitter (Daniel Peterson), Wilson Gonzalez Ochsenknecht (Adam), Sina Tkotsch (Barbara), Lynne Femme (Moni), Alexander Scheer (Psychologist), Kim Gordon (English Teacher)
---
Plot
Teenager Tina Peterson returns from a rave where she thinks she saw a strange creature. She then claims to see the creature in the kitchen at night, raiding the fridge for food. However, her parents find nothing. They think maybe that Tina is suffering from psychological problems and send her to a psychologist. Even though she is given pills, she continues to see the creature invading the house and her room, searching for food. Upon her psychologist's advice, she tentatively reaches out to touch it and soon comes to befriend it. Her parents then come in and find her sleeping with it curled up beside her and call the authorities who take it captive. All of this is covered up and blamed on Tina's fraying mental state. She fights against this and the prejudice from her classmates who ridicule her for seeing creatures. She becomes determined to rescue the creature from captivity.
---
Der Nahctmahr is a feature film from the director known only as Akiz (although his mother might know him by the name of Achim Bornhak). Akiz is known as an artist and has had a career directing commercials in which he has made several short films and three tv movies, which are not known outside of the German language. Der Nahctmahr is German for The Nightmare but more unusually was released with the German title preserved presumably so as to avoid confusion with Rodney Ascher's documentary The Nightmare (2015) earlier in the year.
Der Nahctmahr starts very well. The intense trance atmosphere – a visually blinding flicker of strobe lighting and a pounding techno soundscape – slides us into a certain frame of mind (even if all the mock warnings about this at the opening never have any relevance to the rest of the film). We are instantly drawn to the frail, nervous Carolyn Genzkow who seems to exist almost entirely as a set of long, tall legs.
As Carolyn Genzkow starts seeing things, Der Nachtmahr seems to be heading in the direction of its Rodney Ascher's The Nightmare and its fascinated delving into the realm of reality-bending dream states. For a time, Der Nahctmahr feels like it has been construed as a feature-length spinning out of the central image of Henry Fussli's painting The Nightmare (1781). Akiz tricks it out with allusion to other fantastical creatures in the arts with an English class discussion on the poems of William Blake – and where the teacher is played by no less than Kim Gordon, the bassist/guitarist of cult band Sonic Youth.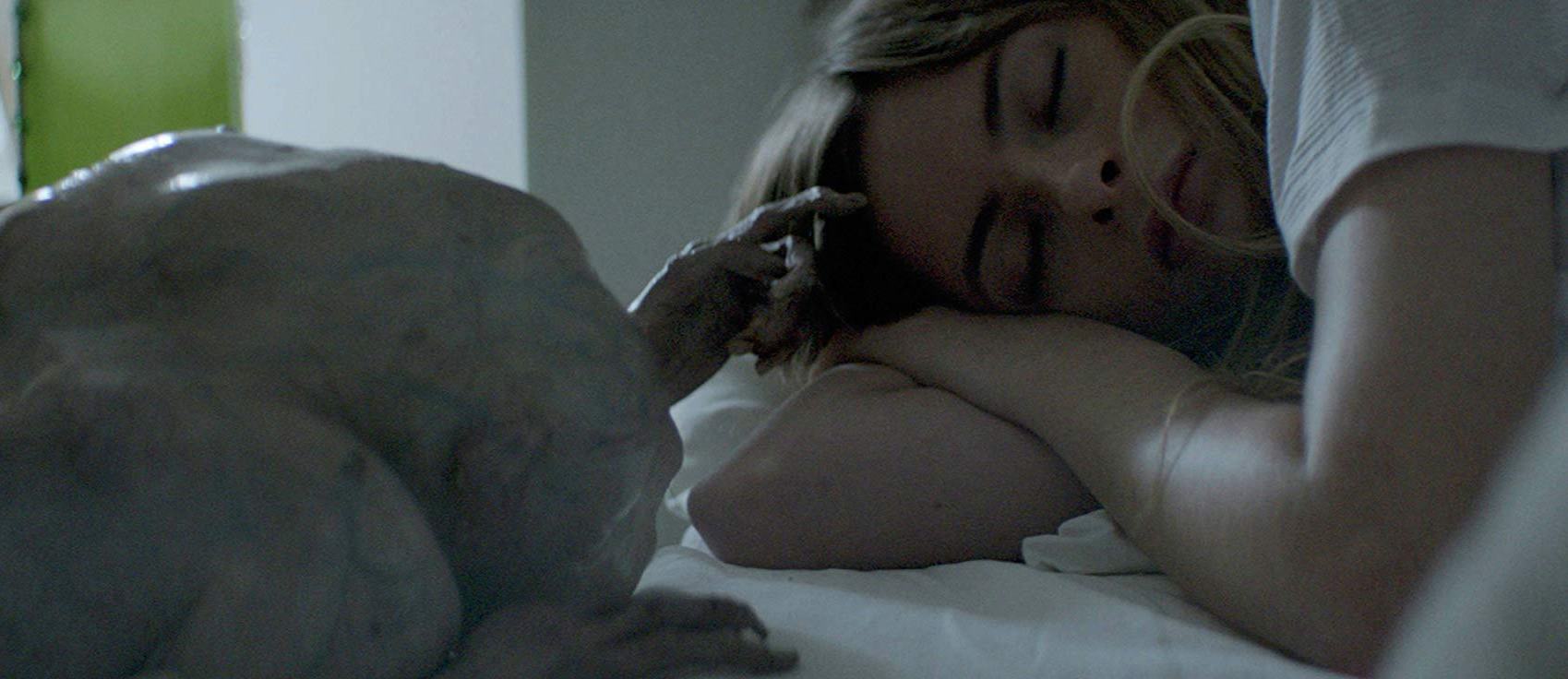 The scenes with Carolyn Genzkow trying to deal with the existence of the creature and being disbelieved/ridiculed by peers and family are familiar ones for anyone who has watched enough genre films – see everything from the original Don't Be Afraid of the Dark (1973) and the Nightmare at 20,000 Feet segment of Twilight Zone – The Movie (1983) to Communion (1989), Absentia (2011) and the recent The Babadook (2014). The disappointment of Der Nahctmahr is that it never ends up being as interesting as all of this suggests it is going to be.
About the point where Akiz lets all of this uncertainty and dream state telescope down into resolution, Der Nachtmahr undergoes an abrupt tonal shift. Here it is no longer a film about a girl dealing with the eruption of the intensely uncanny and becomes more akin to E.T. – The Extra-Terrestrial (1982) following her discovery of a (never-explained) empathic bond with the creature and as she rescues it from imprisonment by authorities. The film does reach an interestingly odd ending – I kind of liked seeing her become its protector and the final image of them driving off together, not to mention the way the film never deigns to offer any origin for it – but it never recovers from its lurch from the uncanny to the cuddly.
---
---