---
Crew
Director – Christopher Nolan, Screenplay – Hillary Seitz, Based on the Screenplay by Nikolai Frobenius & Erik Skjolbjaerg, Producers – John Formichella, Broderick Johnson, Andrew A. Koskove, Edward McDonnell & Paul Junger Witt, Photography – Wally Pfister, Music – David Julyan & Jamie Reid Tait, Special Effects Supervisor – Randy Shymkiw, Production Design – Nathan Crowley. Production Company – Alcon Entertainment/Witt-Thomas/Sector Eight/Insomnia Productions.
Cast
Al Pacino (Detective Will Dormer), Robin Williams (Walter Finch), Hilary Swank (Detective Ellie Burr), Martin Donovan (Detective Hap Eckhart), Nicky Katt (Fred Dugger), Maura Tierney (Rachel Clement), Jonathan Jackson (Randy Stetz), Katharine Isabell (Tanya Francke), Paul Dooley (Captain Charles Nyback)
---
Plot
Los Angeles detectives Will Dormer and Hap Eckhart, who are both in the midst of an Internal Affairs investigation over evidence-planting allegations, are sent to the small town of Nightmute, Alaska to investigate the murder of teenager Kay Connell. Upon arriving, Dormer finds that he cannot sleep because of the 24-hour sunlight. At the same time, Echkart tells him that he is thinking about making a deal with Internal Affairs for immunity. Dormer sets a trap for the killer. Pursuing in the fog, Dormer shoots at the killer but hits Eckhart by accident. Afterwards, Dormer covers the killing up, substituting the bullet taken from the body for one from the gun dropped by the killer. The killer then starts calling Dormer, taunting him that he knows that he was the one who shot Eckhart. Dormer tracks the killer down as being Walter Finch, a local thriller writer. Finch wants them to cooperate to blame the murder on Kay's abusive boyfriend. Dormer tries to swing the investigation to incriminate Finch, all the while hiding his own guilt in shooting Eckhart.
---
Christopher Nolan's Memento (2000) was for my money the best film of 2001 – a thriller full of ingeniously original ideas and an extraordinarily fresh and striking narrative approach that stood out amid the dross with a rare intelligence. It was the year's runaway arthouse hit. It brought director Christopher Nolan, whose second film it was, huge acclaim. Insomnia was Nolan's follow-up. Clear evidence of the acclaim that Christopher Nolan won can be seen the calibre of the stars he has lining up to work with him here – including three Oscar winners (Al Pacino, Robin Williams, Hilary Swank), not to mention Steven Soderbergh and George Clooney listed on the credits as Executive Producers.
Insomnia joins a stack of films – from Three Men and a Baby (1987) through Point of No Return (1993), Just Visiting (2001), Vanilla Sky (2001), Funny Games U.S. (2007), The Girl with the Dragon Tattoo (2011), Contraband (2012), Pusher (2012) and the spate of Asian horror remakes following The Ring (2002) – that remake foreign-language films for American audiences seemingly on the bizarre assumption that Americans are too illiterate to be able to read subtitles. The original film in question was the Norwegian thriller Insomnia (1997), which featured Stellan Skarsgård as a Swedish cop travelling to Norway to investigate a murder. The remake essentially charts the same terrain as the original but the script subtly amplifies and emphasises different aspects. What is crucial to both films is the moral angle – the story is a thriller that is less about the solving of the crime than it is the chain of events following a detective who tries to cover up the fact that he accidentally shot his own partner while pursuing a suspect. Most noticeably, the remake has made the suspect into a psychopath and made them into a star nemesis opposite Al Pacino. This brings Insomnia squarely into serial killer thriller territory, rather than the original, which was simply a police investigation thriller and did not feature the killer as an adversary playing cat-and-mouse games.
The most disappointing aspect of the remake is the way that it cleans up the central character of the detective. This is most clearly evidenced in the scene where the detective shoots the bullet into a dog in an alley – in the original, Stellan Skarsgård shoots a live dog, whereas here Al Pacino with less moral contention shoots into the body of a dead dog he finds in an alley. In the original, Stellan Skarsgård's only initial crime was that he had become involved with a witness; the remake invents an entire backstory about an Internal Affairs investigation. This adds a subtle difference to the story – while the original explored the dilemma of a cop who made a mistake during the course of the film and crossed the line to cover it up, the remake creates a wider backstory in order to show that Al Pacino is a decent cop used to bending the rules to do good who ends in getting into a situation that is over his head.
The ending of both films is the same, but this version invents a big shootout climax that banally redeems Al Pacino, allowing him to die and tell the still uncorrupted Hilary Swank not to lose the way. The original by contrast ended with the killer eliminated and Stellan Skarsgård returning to Sweden having successfully covered up his own crime and no-one left the wiser. One film draws an easy moral arc about moral redemption, the other comes to a point of closure that leaves the audience feeling uneasy.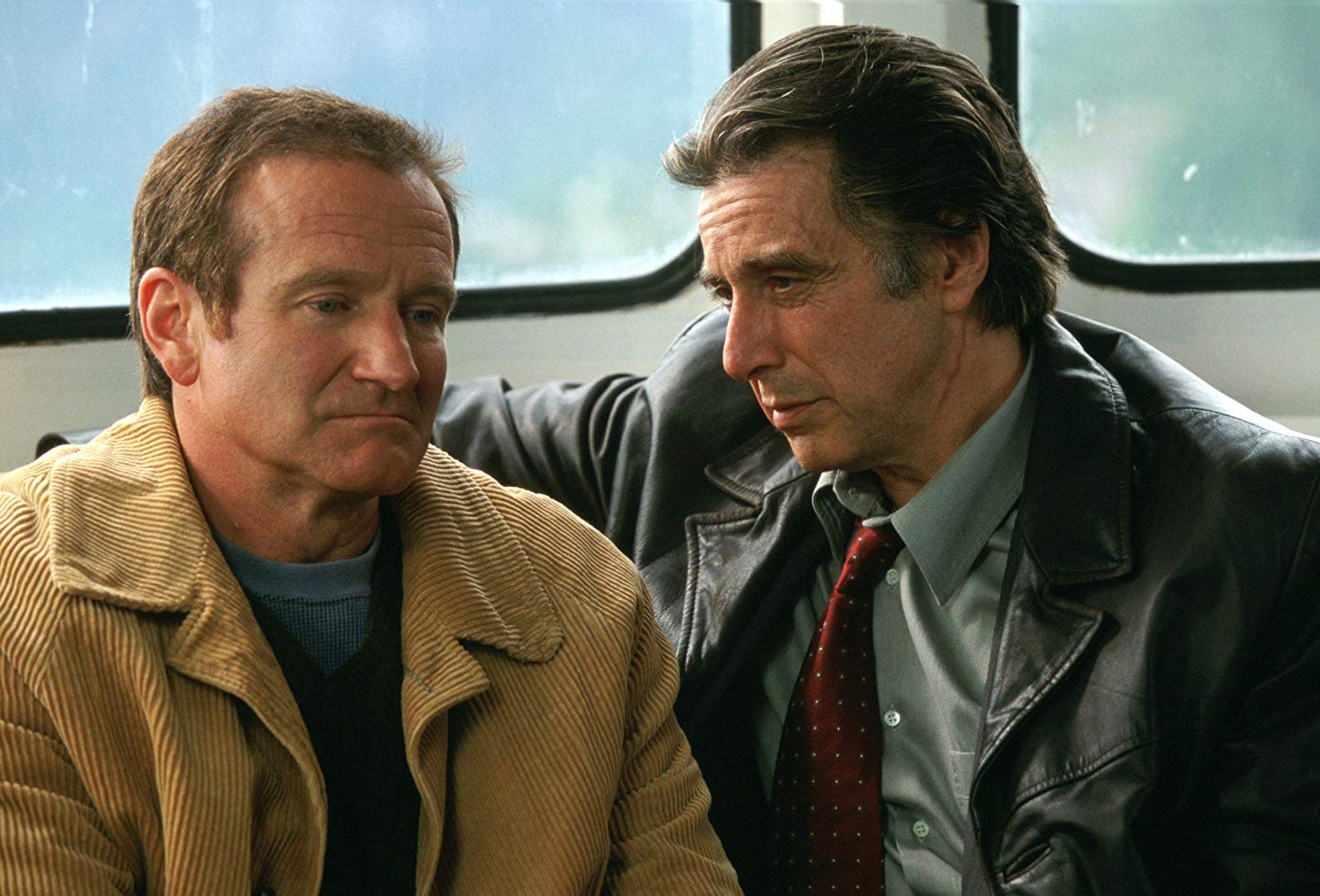 A recurring theme in Christopher Nolan's films seems to be of protagonists at extreme states of consciousness – in Memento, Guy Pearce was having difficulty in sustaining a single unbroken span of consciousness, while here Al Pacino's problem is exactly the opposite, he has the problem of not being able to switch his consciousness off. While a reasonably absorbing film, Insomnia is far the lesser than Memento. Through its dazzlingly original reversed narrative scheme, Memento placed us inside Guy Pearce's confusion and deliberately undermined our expectations at the same time. Contrastingly here, we never travel inside Al Pacino's insomnia – Al looking haggard and method acting his head off and a few blurred handheld camera moves do not make for a charting of internal mental processes. We see surprisingly little of the confusion of Al Pacino's character and hallucinations as a result of the titular insomnia. While Memento existed as a sharp, brilliantly disjunctive narrative structure, Insomnia is merely a good plot turning. Crucially, Christopher Nolan fails to approximate the visual sense of isolation that the original film did – where the Norwegian original showed us blinding white-on-white snow of 24 hour sunlight, the remake seems dour and shadowy in look – one wonders what it is that is keeping Al Pacino awake here.
Insomnia was touted as being one of Robin Williams's breaks away from cute, mushy films and taking on of new dark, sinister roles – see also Who Killed Smoochie? (2002) and One Hour Photo (2002), which all came out within the space of a few months. Robin Williams is not too bad – notably he employs the soft gooey persona he has used through several recent films which, when transplanted into a psycho role like this, has sinister effect. Christopher Nolan also gets fair performances from the likes of Hilary Swank and Nicky Katt. Only the fine and underrated Maura Tierney is written off in a forgettable role. (Unlike the original, Al Pacino does not end up sleeping with her, although there is a scene where she inexplicably ends up asleep on his bed without any explanation as to what she is doing there, which gives the impression that such a scene has been cut).
Subsequently, Christopher Nolan went onto reinvigorate the Batman movie franchise with Batman Begins (2005), The Dark Knight (2008) and The Dark Knight Rises (2012). He also directed the original likes of The Prestige (2006) about rival Victorian stage magicians, the mind-bending Inception (2010) about dream espionage, the space exploration film Interstellar (2014). the non-genre War film Dunkirk (2017) and the SF film Tenet (2020). He has also produced Man of Steel (2013), Transcendence (2014), Batman V Superman: Dawn of Justice (2016) and Justice League (2017).
(Nominee for Best Supporting Actor (Robin Williams) and Best Supporting Actress (Maura Tierney) at this site's Best of 2002 Awards).
---
Trailer here
---