aka Cybernatural
---
Crew
Director – Levan Gabriadze, Screenplay – Nelson Greaves, Producers – Timur Bekmambetov & Nelson Greaves, Photography – Adam Sidman, Visual Effects Supervisor – Russell Sadeghpour, Visual Effects – Cash Only & CGF, LLC, Makeup Effects – Autonomous FX, Inc., Production Design – Heidi Koleto. Production Company – Bazelevs/Blumhouse.
Cast
Shelley Hennig (Blaire Lily), Moses Jacob Storm (Mitch Roussel), Will Peltz (Adam Sewell), Renee Olstead (Jess Felton), Jacob Wysocki (Ken Smith), Courtney Halvorsen (Val Rommel), Heather Sossaman (Laura Barns)
---
Plot
Teenager Laura Barns has committed suicide after a video of her passed out drunk was uploaded to the internet and she was taunted and socially humiliated. Six of her friends now meet online for a Skype group video chat. However, a mysterious and unidentified seventh person known as Billie keeps joining the chat and cannot be gotten rid of. They then begin to receive taunting messages from Laura's Facebook account. Billie's presence becomes increasingly threatening, telling them if they log off or leave the conversation then they will be killed. As each of them remains there, they begin to be killed in grotesque and horrible ways as Billie determines to expose their secrets and their complicity in Laura's humiliation and death.
---
Russian director Timur Bekmambetov made a big splash in the West with Night Watch (2004) and has gone onto make a number of other works, including the English-language Wanted (2008), Abraham Lincoln, Vampire Hunter (2012) and Ben Hur (2016). Bekmambetov has been even more prolific as a producer with his name attached to genre efforts like the animated 9 (2009), the NASA Moon landing/alien possession Found Footage film Apollo 18 (2011), the alien invasion film The Darkest Hour (2011), a production of The Snow Queen (2012) and the cyborg action film Hardcore Henry (2015), as well as Unfriended/Cybernatural, most of which have been made for English-language audiences. The director here is Levan Gabriadze who had previously directed segments for the Bekmambetov-produced Russian-language anthologies Yolki 2 (2011) and Yolki 3 (2013).
The film originally screened under the title Cybernatural in its film festival premieres before this was changed to Unfriended for widespread theatrical release. It is one of the most unique films that one has seen in some time. The entire film takes place where the camera is focused on a computer screen for the duration. The drama mostly plays out in a Skype video conversation, although there are multiple windows opening up into other programs such as Gmail, Chatroulette, Spotify, YouTube, Instagram, even rather subversively the bit torrent downloader UTorrent. There is also Facebook, although clearly for copyright reasons this is mocked up to look the same but comes without the identifying blue 'F' logo.
This is the most original form of presentation of a film that one has seen in some since probably Paranormal Activity (2007), which was notedly also produced by Jason Blum. That said, when I saw Unfriended, I had not seen Nacho Vigalondo's Open Windows (2014), which was released around the same time and similarly takes place with the film screen being a computer monitor with various programs and video screens popping up – although it far more adventurously manages to swing an elaborate abduction and caper plot, even a car chase and several mind-bending twists, during its running time. Nor had I seen the dvd-released The Den (2013) about a snuff internet site, which conducts the same computer screen as film screen idea but not in a single unbroken take. Soon after, we had a series of other social media/screen perspective horror films and thrillers, including Jeruzalem (2015), Friend Request (2016), a blatant copy of Unfriended, Nerve (2016), Selfie from Hell (2018) and Host (2020).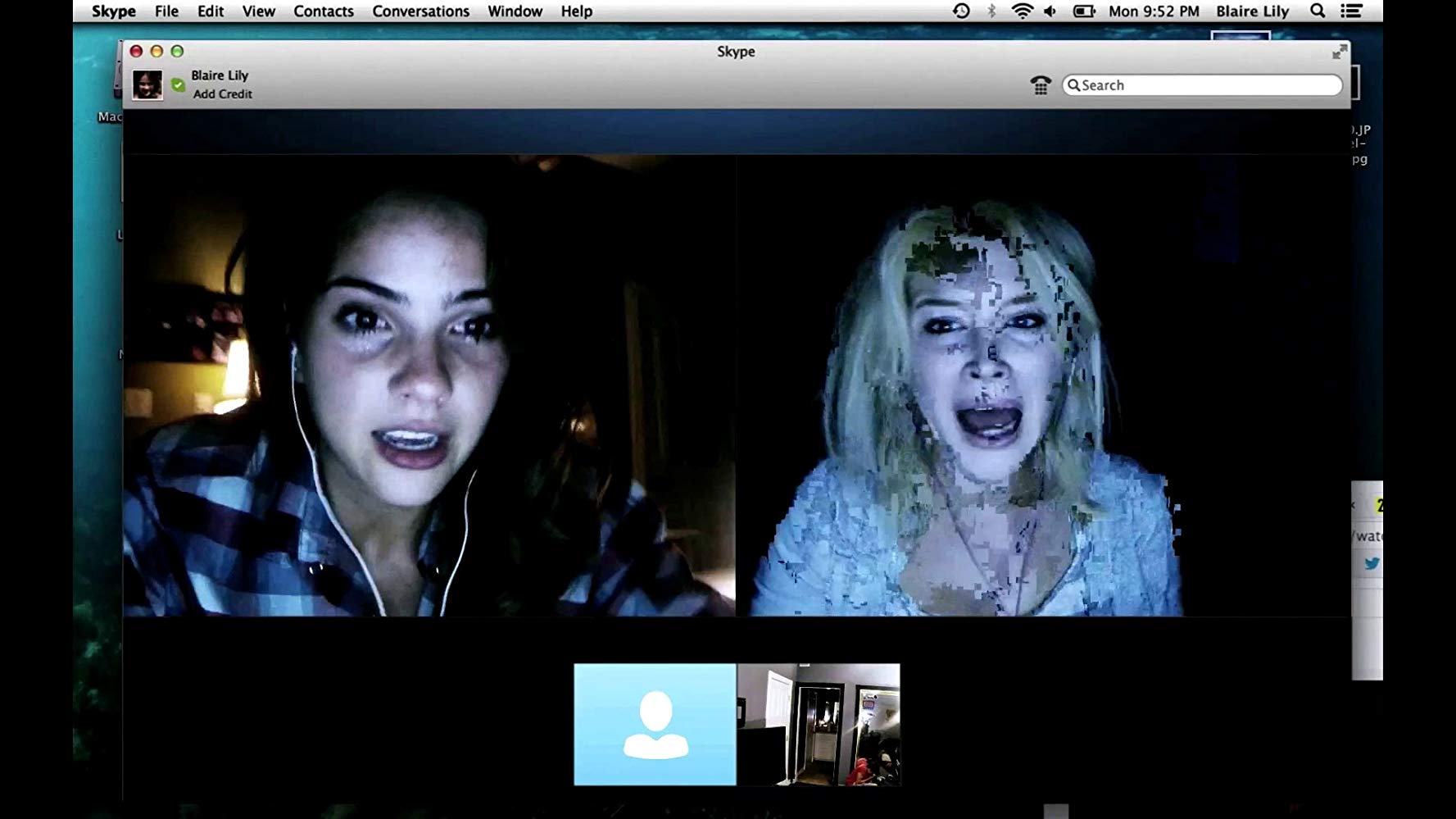 Moreover, to add to this, Unfriended was shot in a single unbroken 82-minute take – an arduous form of filmmaking that is known as the 'long-take'. Other examples of this have included Alfred Hitchcock's Rope (1948), Russian Ark (2002), PVC-1 (2007), Cut (2010), Pig (2010), The Silent House (2010), Silent House (2011), Fish & Cat (2013), Victoria (2015), King Dave (2016), Red Mile (2016), Rendez-Vous (2019), Corona (2020) and Crazy Samurai Musashi (2020), before the genre was hilariously parodied in One Cut of the Dead (2017). The scenario and what has happening was changed around several times so that even the cast didn't know what was happening and their reactions were authentic as they played out.
This certainly takes some getting used to. Essentially, we are watching a static screen for much of the running time, which only changes as windows pop up or else we get to watch multiple video images within a frame. Moreover, all the notification dings and bleeps have such a familiarity to anyone who is a regular user of such media that it is disorienting going to a movie and watching them coming at you in the dark rather than from your phone or computer screen. (You suspect that the true medium for watching Unfriended/Cybernatural would actually be downloading it and then watching it on your computer screen – in the dark!). The audience fidget and talk through the opening scenes as it doesn't feel like you are watching a movie. That said, it is not that long until we become absorbed in the drama playing out before us. And this soon manages to get an audience wound up – one scene in particular will make you think twice about using blenders again. The teens all play with conviction, especially as the film starts to dig its claws into their lives and expose their secrets.
By its very format, Unfriended has to work a lot harder than the average horror film (or even its closest equivalent the Found Footage film) to generate suspense out of scenes but it does so by the end. If it played out as a regular horror film, what we would get would be a fairly straightforward supernatural retribution story – perhaps a paranormal version of I Know What You Did Last Summer (1997), albeit one that has been specifically tied to the modern issue of cyber-bullying and cleverly uses the medium back against its perpetrators. Nevertheless, the unique method of telling delivers the story rather effectively.
Unfriended: Dark Web (2018) was a sequel.
Jason Blum and his Blumhouse production company have produced a number of other genre films including:- Hamlet (2000), Paranormal Activity (2007) and sequels, Insidious (2010) and sequels, Tooth Fairy (2010), The Bay (2012), The Lords of Salem (2012), The River (tv series, 2012), Sinister (2012) and sequel, Dark Skies (2013), Oculus (2013), The Purge (2013) and sequels, the tv mini-series Ascension (2014), Creep (2014), Jessabelle (2014), Mercy (2014), Mockingbird (2014), Not Safe for Work (2014), Ouija (2014) and sequel, 13 Sins (2014), The Town That Dreaded Sundown (2014), Area 51 (2015), The Boy Next Door (2015), Curve (2015), The Gallows (2015), The Gift (2015), Jem and the Holograms (2015), The Lazarus Effect (2015), Martyrs (2015), Visions (2015), The Visit (2015), The Darkness (2016), Hush (2016), Incarnate (2016), The Veil (2016), Viral (2016), Amityville: The Awakening (2017), Get Out (2017), Happy Death Day (2017), The Keeping Hours (2017), Split (2017), Stephanie (2017), Bloodline (2018), Cam (2018), Delirium (2018), Halloween (2018), Seven in Heaven (2018), Truth or Dare (2018), Upgrade (2018), Black Christmas (2019), Ma (2019), Prey (2019), Don't Let Go (2019), Sweetheart (2019), Black Box (2020), The Craft: Legacy (2020), Evil Eye (2020), Fantasy Island (2020), Freaky (2020), The Hunt (2020), The Invisible Man (2020), Nocturne (2020), You Should Have Left (2020), Black as Night (2021), The Black Phone (2021), Dashcam (2021), Firestarter (2022), M3gan (2022), Mr Harrigan's Phone (2022), Sick (2022), They/Them (2022) and Unhuman (2022).
---
---