(Calvaire)
---
Belgium/France/Luxembourg. 2004.
Crew
Director – Fabrice du Welz, Screenplay – Fabrice du Welz & Romain Protat, Producers – Michael Gentile, Eddy Geradon-Luyckx & Vincent Tavier, Photography – Benoit Debie, Music – Vincent Cahay, Special Effects – Alain Couty, Production Design – Manu de Meulemeester. Production Company – Centre du Cinema et de l'Audiovisuel de la Communaute Francaise de Belgique/Fonds National de Soutien a la Production Audiovisuelle de Luxembourg/Le Parti Productions/Studio Canal/Tarantula/Teledistributeurs Wallons.
Cast
Laurent Lucas (Marc Stevens), Jackie Berroyer (Paul Bartel), Jean-Luc Couchard (Boris), Philippe Nahon (Robert Orton), Brigitte Lahaie (Mademoiselle Vicky), Gigi Coursigni (Madame Langhoff)
---
Plot
Small-time singer/entertainer Marc Stevens departs on a tour of the north of Belgium. However, he becomes lost and his van breaks down on a back road. He seeks shelter at the nearby inn run by Paul Bartel. Bartel promises to fix the van but instead Marc discovers him sabotaging it. Bartel then knocks Marc out. When Marc comes around, he finds that Bartel has tied him up and placed him in a dress. Bartel insists that Marc is his wife Gloria and keeps him prisoner so that they can be back together again.
---
This (principally) Belgian made thriller is a highly effective venture into the Backwoods Brutality genre as popularised by 1970s films like Deliverance (1972), The Last House on the Left (1972) and The Texas Chain Saw Massacre (1974). This is a genre that has undergone a revival in the 00s with the likes of House of 1000 Corpses (2003), The Texas Chainsaw Massacre (2003), Wrong Turn (2003), House of Wax (2005), Wolf Creek (2005), The Hills Have Eyes (2006), Severance (2006), Storm Warning (2007), Timber Falls (2007), The Hills Run Red (2009), The Last House on the Left (2009) and Macabre (2009), as well as Euro efforts such as High Tension (2003), Sheitan (2006), Them (2006), Frontier(s) (2007), King of the Hill (2007), Eden Lake (2008) and Deliver Us From Evil (2009). While most of these modern American ventures are films that merely look back and copy what Texas Chain Saw set up, The Ordeal is a work of impressive originality.
The Ordeal starts disarmingly. Director Fabrice du Welz has a sardonic eye for off-centre characters – Laurent Lucas and his tatty cabaret act; the elderly lady (Gigi Coursigni) who takes his eye contact during the performance as a sexual overture; the girlfriend?/one-night stand? (played by French X-rated actress Brigitte Lahaie) longingly looking on as he drives off; the seemingly intellectually handicapped Jean-Luc Couchard who obsessively wanders the woods looking for his missing dog; and especially Jackie Berroyer's sublimely funny performance as the roly-poly unthreatening innkeeper who insists on telling jokes and hearing Lucas sing songs.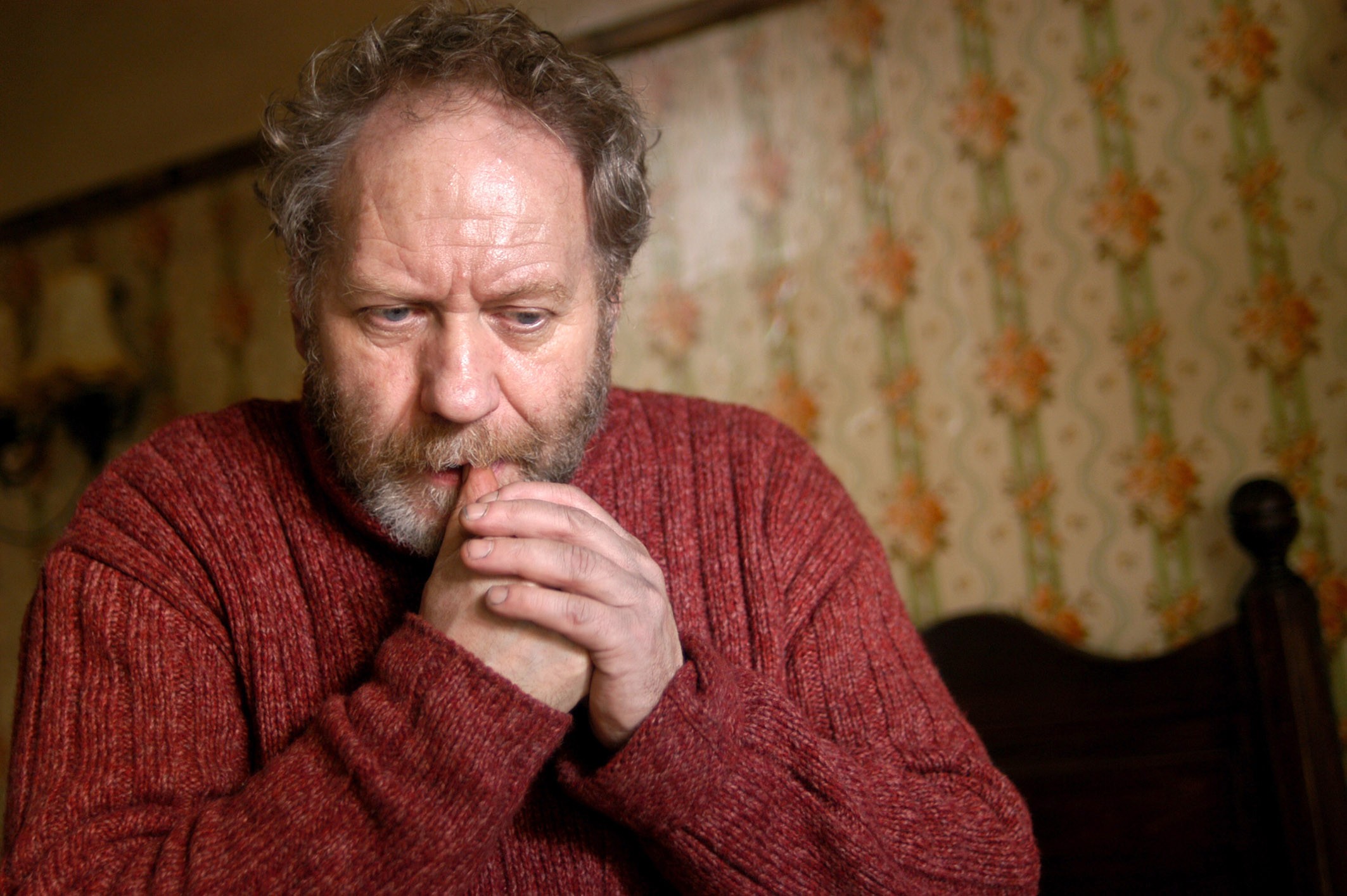 These characters and early scenes keep the audience amused. Even a scene where Jackie Berroyer breaks into Lucas's van and steals his cellphone and some personal photos has the audience laughing rather than concerned. (For some reason, the film names Jackie Berroyer's character Paul Bartel, possibly in homage to the American director/actor Paul Bartel, who after all made the cult classic black comedy Eating Raoul (1982) about a couple luring people to their apartment and then killing them).
The vision of Backwoods Gothic becomes increasingly weirder by the moment – like when Laurent Lucas goes for a walk and happens across a group of locals who hold down and then have sex with a barnyard animal – before we get to the scene where Jackie Berroyer suddenly starts smashing up Lucas's van with a sledgehammer and then brains him with a car battery. Thereafter we are plunged into nightmare territory – Laurent Lucas tied up in a dress while Jackie Berroyer clips his hair, insisting that he wants to make him ugly to protect him from the locals; of Lucas tied up on the rear forklift of the tractor and humiliatingly being raised up and down by a gleeful Berroyer as they drive off to cut a Christmas tree; Berroyer crucifying Lucas in the barn; and the scenes where Lucas sits at a table pitifully wailing with Berroyer and Jean-Luc Couchard imitating him and laughing their heads off at the opposite end.
The film keeps getting weirder – how Jackie Berroyer and everyone around persist in referring to Laurent Lucas as the missing wife Gloria; Jean-Luc Couchard saying he has found his dog and returning with a pig. This is none the more so than the visit to the local pub where a piano player starts madly banging the keys and the patrons (all brutish males) get up and start dancing with a clomping ungainliness. This is the point that the film seems to have genuinely entered a totally whacked out territory and leaves you wondering what on Earth is going on.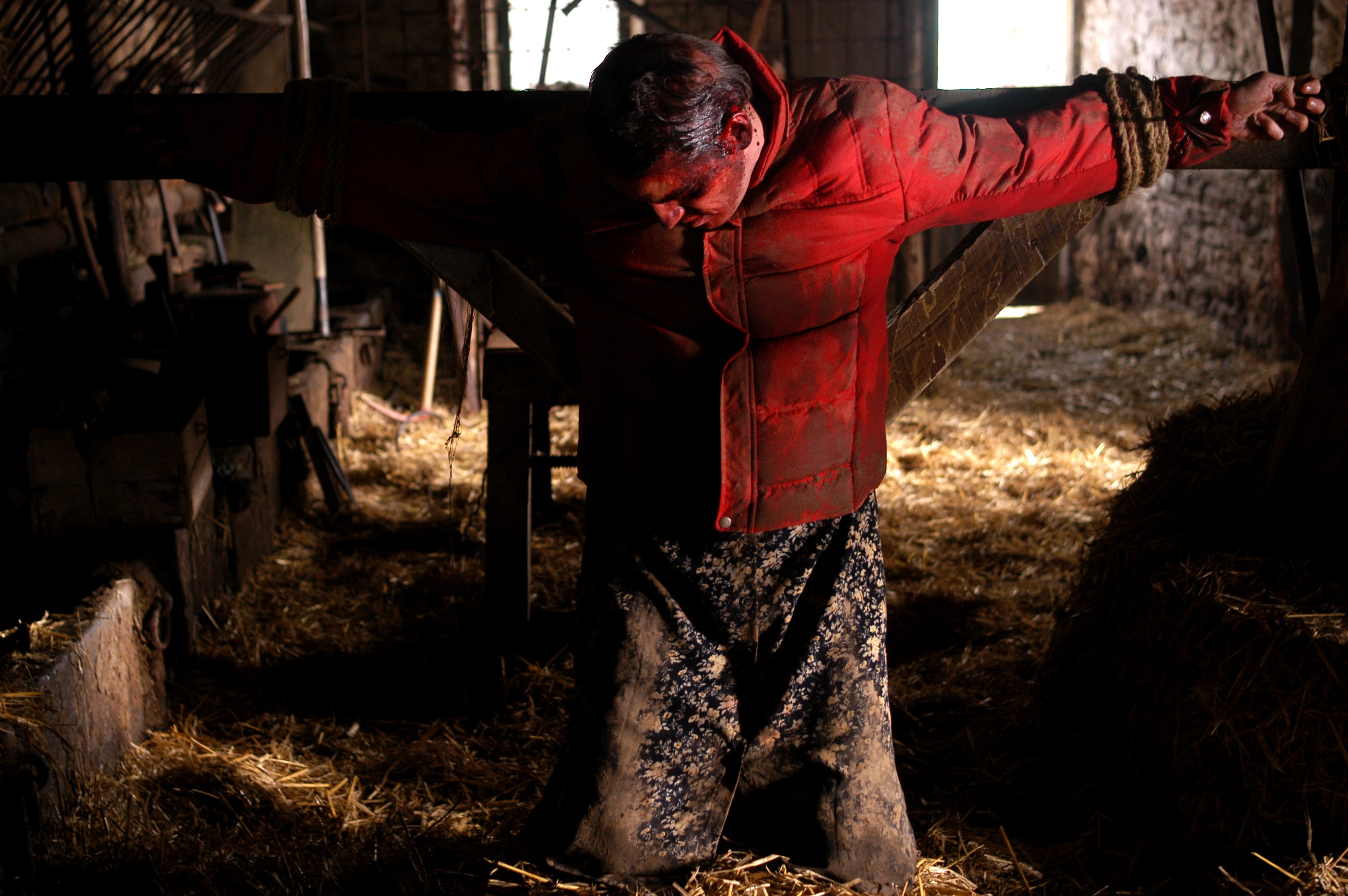 It certainly takes a stretch of credibility to think of such a small country as Belgium in the same way that you think of the backwoods areas of the American Midwest as potentially lurking with disturbed hicks. As a result, The Ordeal takes on much more of a surreal overtone, as though we have travelled into another world where the familiar social rules no longer apply. Certainly, many things seem to be going on – the wife Gloria whom all the locals seem to share; the normalcy of bestiality in the area; the mystifying lack of any women – that make it difficult to accept that the film is taking place in this world. The scene that comes near the climax, shot from above as all at once the locals attempt to rape Laurent Lucas, as a pig runs loose in the house while its squeals come amplified on the soundtrack, and the locals finish off the siege-holders with shotgun blasts, has a genuinely hellish sense of nightmare to it.
Director Fabrice du Welz subsequently went onto make Vinyan (2008) about a Western couple on a quest into a haunted Southeast Asian jungle; Alleluia (2014), an updated retelling of the Raymond Fernandez-Martha Beck murder spree; the revenge film A Message from the King (2016); Adoration (2019) about teenage runaways; and Inexorable (2021) about a sinister stranger.
(Winner in this site's Top 10 Films of 2004 list. Nominee for Best Supporting Actor (Jackie Berroyer) at this site's Best of 2004 Awards).
---
---