---
Crew
Director – Kim Chapiron, Screenplay – Christian Chapiron & Kim Chapiron, Producers – Vincent Cassel & Eric Neve, Photography – Alex LaMarque, Music – Nguyen Le, Visual Effects – Mac Guff (Supervisor – Rodolphe Chabrier), Production Design – Marie-Helene Sulmoni. Production Company – 120 Films/Le Chauvre-Souris/Studio Canal/Canal +/Cinecinema/Wild Bunch/Regio Ile de France.
Cast
Vincent Cassel (Joseph), Olivier Barthelemy (Bart), Roxane Mesquida (Eve), Nicolas Le Phat Tan (Thai), Leila Bekhti (Yasmine), Lady Ly (Ladj), Julie-Marie Parmentier (Jeanne), Quentin Lasbazeilles (Gilou), Georgette Crochon (Marie)
---
Plot
Three friends, Bart, Thai and Ladj, are thrown out of a nightclub after the drunken Bart gets into a fight. Eve, a girl that Thai has met in the club, invites them back to her place. Joined by the barmaid Yasmine, they head to Eve's place in the country. Once there they find themselves surrounded by her disturbed family and a village of intellectually handicapped in-breds. As the guys fight over who is going to get which girl, they realise that the patriarch Joseph has something sinister planned for midnight.
---
In recent years, European directors have been making a concerted effort to revitalise the Backwoods Brutality cycle of the 1970s. The original cycle began with American films like Deliverance (1972), The Last House on the Left (1972) and The Texas Chain Saw Massacre (1974), which usually featured innocent city slickers running afoul of psychopathic backwoods hicks. The Backwoods Brutality cycle has found renewed interest in the 00s after the remake of The Texas Chainsaw Massacre (2003). Amid the subsequent rise of the Torture Porn cycle, there was a spate of French films that all came out around the same period – including High Tension (2003), Them (2006), Frontier(s) (2007), Inside (2007) and Martyrs (2008) – that was nicknamed 'French Extremism'.
Sheitan is another of these European Backwoods Brutality films, made by debuting French director Kim Chapiron. Indeed, Sheitan has a number of similarities to Xavier Gens's gore-drenched Frontier(s) wherein a group of youths of mixed ethnic persuasion end up at a remote home in the countryside where they are toyed with by a crazed family. Sheitan never goes as far as Frontier(s) did in brutalising and slaughtering the characters; it is more a work that keeps surrounding the protagonists with the bizarre and gross. Although, what must be said is that Sheitan plays up the racial angle far more so than Frontier(s) did in a scene with Vincent Cassel at the dinnertable calling the presumably Thai Nicholas Le Phat Tan a bunch of racial slurs and then launching into a wild attack on atheism vs faith.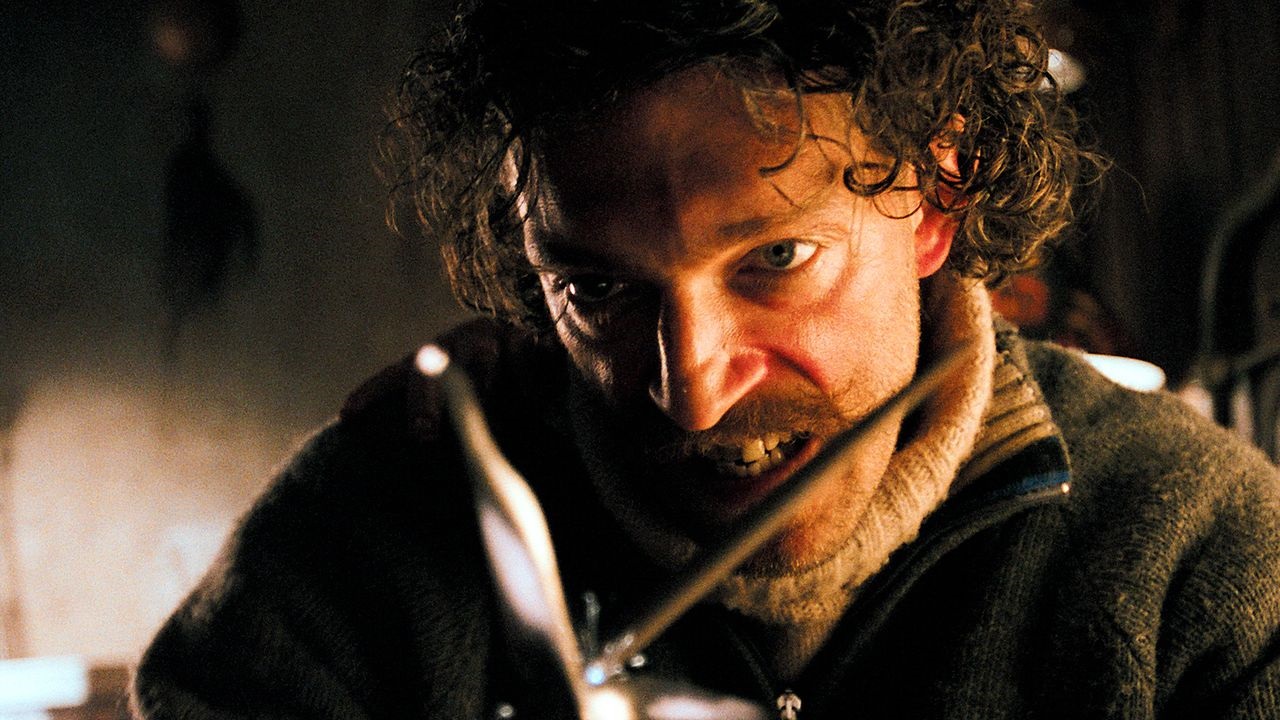 The film takes us on a journey into the countryside where, not unlike the surroundings in The Ordeal, it is clear that things are not right – the village seems to be filled with an unnerving number of in-breds who are not the full pack of cards; Olivier Barthelemy is taken by a local girl (Julie-Marie Parmentier) but she quickly proves to be overfriendly and when they go to the cave pool for a swim she sits calmly masturbating the dog. After maliciously pushing Olivier into the pool, she is surrounded in the water by the half-wits who seem to be trying to rape her.
Later as Leila Bekhti relaxes in the bath and Olivier Barthelemy and Nicholas Le Phat Tan engage in a threesome with Roxane Mesquida downstairs, Vincent Cassel's patriarch keeps peeping in through the window. Vincent Cassel, the only recognisable face aboard (he also co-produces the film), has clear fun with his role, madly grinning from ear to ear with a half-wit stare as though auditioning in advance for the role of The Joker.
There are casual closeups thrown in of crows devouring the intestines of a dead rat in the woods. There is a funny flashback to the story of Olivier Barthelemy's making out with a girl who had a gross vagina where suddenly her pudenda are represented by an arrangement of meat and vegetables.
The film is loaded with mythological/religious references – it starts out at a nightclub known as Club Styx, we meet a dog named Cerberus, Vincent Cassel and wife are named Joseph and Marie/Mary and have a daughter named Eve, there are heavily symbolic crosscuts between the finding of the snakes with the burying of the apples, while the tagline of the film is simply 'Christmas Eve'.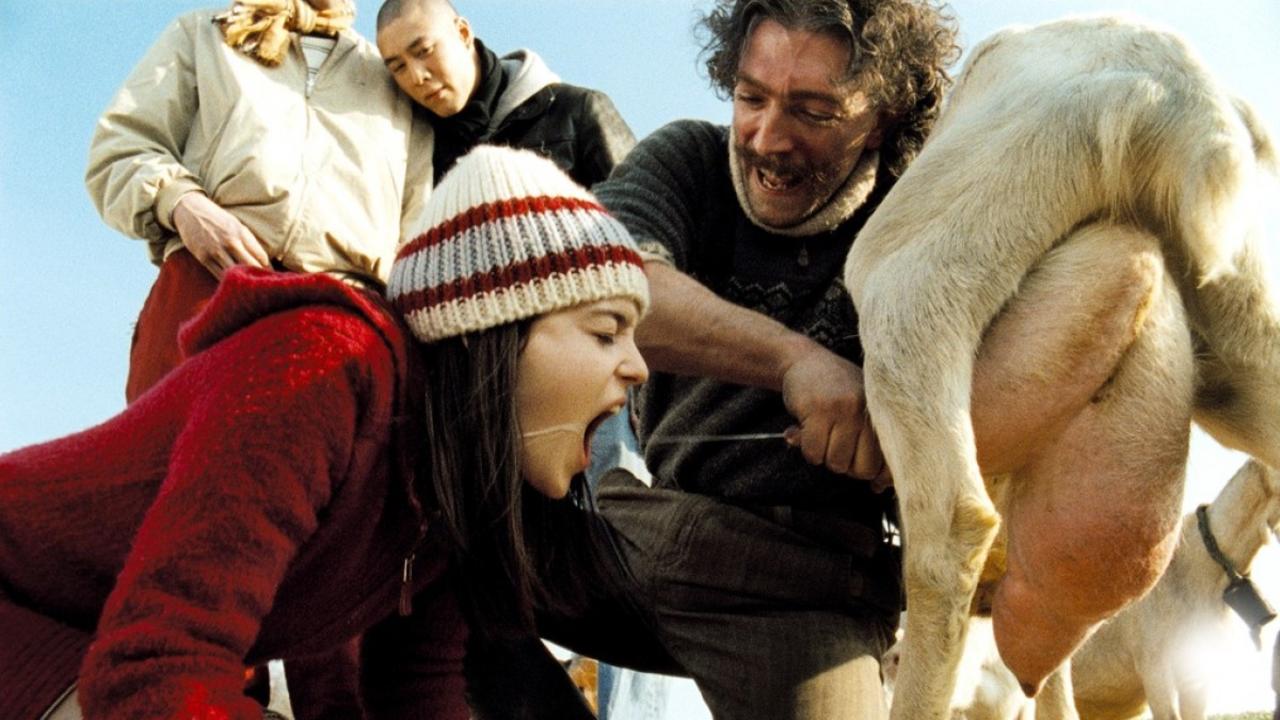 All of this seems to be building towards the suggestion of something nasty happening. [PLOT SPOILERS]. In the last few minutes, Kim Chapiron hurries us through a profusion of perverse images – Vincent Cassel kissing his way up his wife (Georgette Crochon)'s pregnant belly and then she saying Hail Mary's before she fellates him; Cassel beating up intellectually handicapped Quentin Lasbazeilles as Crochon gorily gives birth in the foreground.
Thereafter though, [FURTHER PLOT SPOILERS]. Sheitan seems to lose its head of steam and everything fragments in different directions. It becomes confusing trying to work out what is going on. There is the suggestion that it is some sort of deathdream a la An Occurrence at Owl Creek Bridge (1961) and Jacob's Ladder (1990) due to Olivier Barthelemy being hit on the head with a bottle at the nightclub at the start, before a confusing coda that pulls back to show that his eye has been removed to fit into one of the dolls. Quite what Kim Chapiron was trying to say with these scenes is something that eludes me. It is the case of a film building up something admirably perverse and then losing it when it comes to the payoff.
Kim Chapiron next went onto make the non-genre likes of Dog Pound (2010), a tough and brutal depiction of life in a juvenile detention facility, and Smart Ass (2014) about students who start a prostitution ring.
---
---